An Interview with Los Angeles Based Death Metal Band
'Hereticide'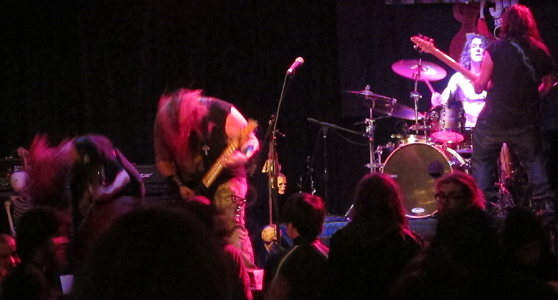 which took place mid March 2014.
Interview by Glenn Milligan
Why did you decide to call yourselves Hereticide?
The literal definition of the word is the killing of heretics. Most people seem to refer the word heretic to people opposing the Catholic church, but the actual definition is "a professed believer who maintains religious opinions contrary to those accepted by his or her church or rejects doctrines prescribed by that church."
Meaning it could pertain to religious killings both modern and ancient. So, the word Hereticide to us, other than sounding cool phonetically, embodies the sound we go for in our music, pure chaos and slaughter. It also allows us a lot of lyric freedom to talk about historical events and whatever we come up with in our twisted heads.

Who came up with the band logo and what were the influences behind it?
Our guitarist and vocalist Jared Keefer came up with the logo. He says, "I loved the look of black metal, and underground death metal logos; in that they look brutal and accurately represent what you hear musically from the band. The problem with them though is that they are often to f*ck*ng hard to read. So, when I went about creating our logo I wanted to make it look like similar to the logos of Decrepit Birth and the old Dying Fetus logo, but make it as tangible as possible."
What turned you onto music, especially Death Metal?
Jared: My dad was a big fan of all the classic rock stuff such as The Eagles and Tom Petty and the Heartbreakers. So, I'd always listen to that stuff with him and I started to get into it. Then I started seeking out heavier music, so I found Lamb of God, then eventually found Cannibal Corpse and that was the moment I had found what I was wanting to hear musically.
Nick and Dylan both agreed that they were attracted to the intense dark themes and power of the fast upbeat sound of death metal inspired by such bands as Death, Nevermore, Pantera, and Amon Amarth.
Greg: First time I ever listened to Pantera my world changed, their sound so aggressive, powerful and groovy left to me in awe and after that I wanted to find more amazing bands in metal that had the extreme sound and power that they brought into my world.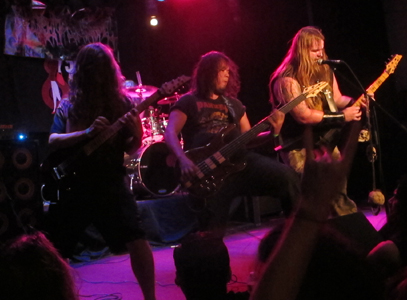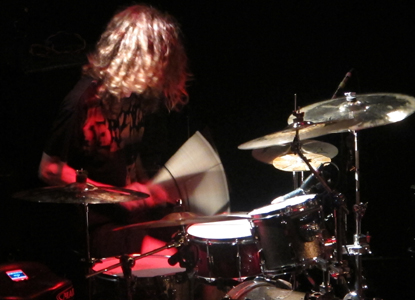 What turned you onto your chosen instrument?
Jared: I have always idolized guitar players like Eddie Van Halen and Dimebag Darrell. So much so as a kid that I'd often only know the name of the guitar player in bands I liked and really didn't care who the other dudes were haha. So, when my parents bought me my first guitar I fell in love.
Nick: I found it easier to portray emotion through my instrument than through speech.
Dylan: I played all instruments in my projects but finally played the drums and enjoyed them the most.
Greg: I have always loved the sound of the low end and how it works with the drums to amplify guitar and vocals, my main inspirations to pick up the bass though were definitely the brutal grooves of Rex Brown of Pantera and the awesome bass grooves of John Paul Jones of Led Zeppelin.

What brought you all to LA in the first place?
We all moved to LA in order to attend school at Musician's Institute in Hollywood.

Your thoughts to the Metal scene there and why?
The metal scene in LA is still very underground in that there are only a few venues that have heavy music nights. So that is a bit hard for bands like us, but when there is a night for heavy music people seem to show up which is promising. Overall, We think the LA metal scene has a lot of potential and will rise again here in the next few years.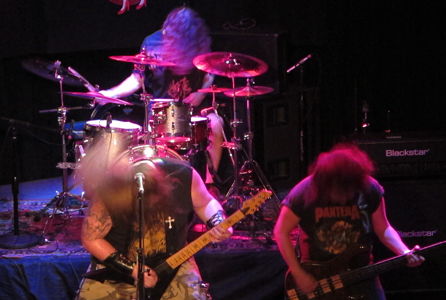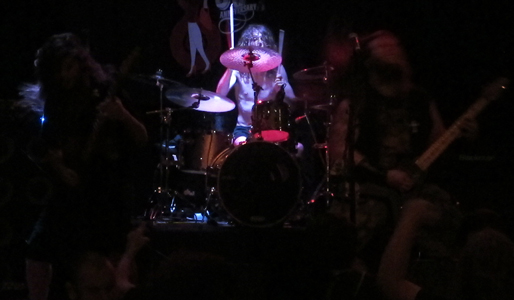 There are many venues in the area but which ones stood out as your preferred ones and for what reasons?
The main venue we loved until it's recent change in direction was the Joint because it was one of the few places in the greater Los Angeles area that you would not pay but in fact be paid based on attendance with a 80/20 split in favor of the band. It also offered many different nights such as a blues night, heavy metal nights and many artists famous and upcoming played there.

You've written a nice handful of songs. Which ones are you most proud of and why?
The one that stands out the most for the band would be 'Into the Abyss' as it is the first song where the whole Hereticide gang contributed to its epic formation of structure, riffs, solos, and vocals. It signalled the beginning of an awesome collaborative experience for the rest of the album as the whole song writing process was super smooth, it was like it was meant to be.

How was the Whisky Show for you on the 28th of January 2014 and what were the highlights of it?
The Whisky show had one of the best crowd reactions with awesome mosh pits, high energy from the people as they chanted our songs and to top it all off they gave us an encore of which we were the only ones to receive the pleasure of performing one of our crowd favorites, "Drop the Hammer."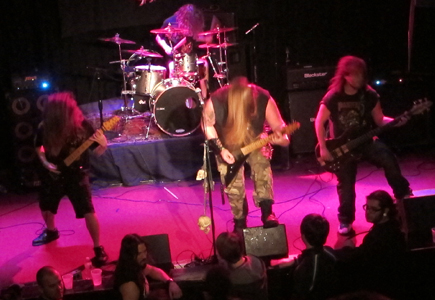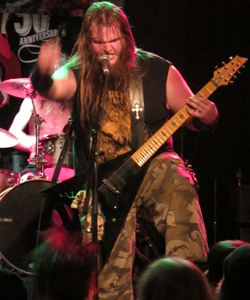 How do you think you stand out from other bands of a similar style overall either locally or on a larger scale?
We bring elements of all of our favorite bands into our song writing ranging from Extreme Death Metal to Groove Metal. Each song we write has its own unique signature that displays our influences both old and new.

What are the bands future plans over the next five to ten years?
We plan to expand our fan base across the United States starting with Southern California and then expanding further with upcoming tours, at metal festivals and definitely tearing it up in the underground in America because that's where music especially Metal is dominant in today's music scene.

When not on stage or working in the band overall, what other things do you guys like to do with regard to hobbies and interests?
Transcribing and playing our favorite tunes, playing video games, having fun in the great outdoors like hunting, hiking, and partying.

If you had the chance to tour with any particular band or play a particular venue or festival, which ones and why?
If time travel were possible we would love to play with Pantera at the Monster of Rock Moscow 1991 because they have greatly influenced our musical style and it's F*ck*ng Pantera!!! We would also love to play with Van Halen because Van Halen, enough said. Venues such as Wacken, Download or the other many awesome musical festivals that are held in Europe would be awesome to play because the music scene is always and will always be amazing.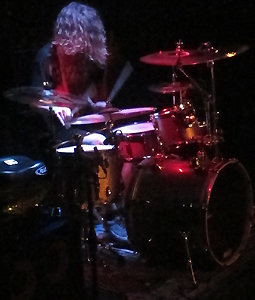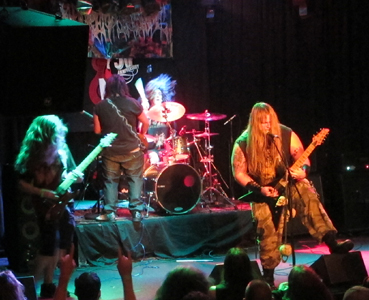 A big thankyou to Hereticide for their killer answers & especially Bassist, Greg Kate for liaising with the other band members and placing it all together!