An Interview with the Awesome Rock Guitarist
'Iain Ashley Hersey'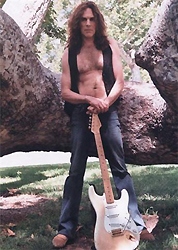 whose 3rd album 'Nomad' is available via Perris Records

that took place on 26th July, 2009.

Interviewed by Glenn Milligan

Glenn: What was it like for you growing up in New England and how did it set you up as wanting to be a guitarist?

Ian: As a kid it was actually a great place to grow up as well as a lot of opportunities to play. I don't know if New England set me up so much to be a guitarist but growing up in Maine, there wasn't a whole lot else that I wanted to do as I wasn't into sports, so at least up there one could practice all the time without distraction.

Also growing up in a remote area like that also really fueled the desire to get out of there to move on for bigger places.

Glenn: Why Guitar as opposed to other instruments?

Ian: I actually started on piano but was not into it. Mom made me take piano lessons, which I hated. According to her, instead of practicing I would ask her to play the lesson and apparently I had a good enough ear that I could just memorize them. Eventually the piano teacher caught on.

Latter seeing the Monkees on TV I wanted to start playing guitar so Mom set me up with lessons. Pretty boring really as we played out of some Beatles song books but it did get me started as well as reading at an early age.

Later, I got back into keyboards and still love it to this day. Now I wish I hadn't given it up at the time.

Glenn: What was your first guitar? What made you choose it and when? Who bought it?

Ian: Some stupid acoustic with the strings a mile off the fingerboard. Next I graduated to a Howard with four Pick-ups. A terrible guitar, which my parents bought for me for $100.00 from a cousin in the Boston area. He also had an early '60s SG which is the one he should have sold me but I didn't know as I was very young at the time and just a beginner.

I also do remember looking around a local music store in the area and saw a Gibson single cutaway, thin solid body arch top with a dark tobacco sunburst color. This was probably around '67 or '68 so it would not of been before the reintroduced production Les Paul's of '68 which were either Gold Tops or Black Customs. I really should have bought that one but at the time I didn't even know what a Les Paul was.

At this point I can only speculate but I did make up for it for by the time I moved from Boston as I had owned four different vintage '50s Les Paul's, including a very nice looking, playing, sounding '59 Flame Top.

The Les Paul's have all moved on to new homes long ago but since than I have had a very nice assortment of '50s 'Strats', which helps ease, the pain a bit.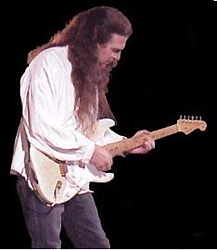 Glenn: What were the first songs you played and what was it about them you liked so much?
Ian: 'Grand Funk Railroad'? I just thought Mark Farner was so cool with his long hair and all. Later I got into the British blues, rock thing. John Mayall, Cream. Later the heavier bands like 'Zeppelin', 'Purple', 'Hendrix', Jeff Beck's 'Truth' and 'Beck Ola' albums.
Glenn: What initially made you want to go to Berklee College of Music in Boston as opposed to any other college?
Ian: It had a good reputation as a Jazz school, which was what I wanted to get into at the time. It was also pretty close.
Glenn: Why did you decide to relocate to Los Angeles and what were the differences for you personally between LA and Boston?
Ian: Actually between LA and Boston I also lived in New York City for a number of years.
Anyway, It was just a logical move for me at the time as I was living in Sacramento, playing in Northern California, Oregon and Nevada five to six days a week, four sets a night.
The band I was working with dissolved as the vocalist disappeared without a word as apparently he had found himself a better deal. So I signed up to go to Musician's Institute more as a way to relocate and get establish in LA as I could get financial aid money to make the move.
Differences between LA and Boston are like comparing apples to oranges. At heart I'm an 'East Coast' boy. I much prefer the East coast attitude but at the same time LA served a purpose at that time.
Glenn: What were the major highlights of being in LA that you'd like to talk about?
Ian: When I first moved there, there was a lot going on musically. A really good musical scene at the time. Today it is not, way too many tribute bands, the band wagon thing and still way too much of the promoter, club BS, which is why I am currently in Nashville which does have a very good scene as well as no shortage of great players.
Glenn: What led to you signing a deal with Perris? Why Perris as opposed to others around?
Ian: They seemed into what I was doing as well as I wanted a label change. The last two albums were on European labels so I thought a US label would be good, as I hadn't had an official release or any distribution State side.
Glenn: Where did the cover idea come from and why did you decide to call the album 'Nomad'?
Ian: Carsten, the vocalist on Nomad came up with the title as at the time I was just moving around a lot. Europe, Maine, Los Angeles. At the time we were thinking about titles and he just suggested 'Nomad' as it seemed I was one. The graphics I did and worked with a lot of ideas but at the end of the day I choose the American Indian theme, as they were so nomadic as well do have some Native American in my blood.
Glenn: What problems did you encounter as a result and how did you get over it?
Ian: I was not aware of any problems other than the finacials.
Glenn: What were the highlights in writing and recording the songs and why?
Ian: Working with Carsten is always a pleasure…he is such a great vocalist as well as very productive and creative.
Glenn: What would you say your favourite songs are on 'Nomad' and why? What influenced them?
Ian: 'Nicotine Dreams', 'Sacrifice the Sun', 'When Will my Love Fade', 'LA Connection'. As far as influence, I just write and play what feels natural to me. I love stuff with a heavy edge, teeth but also has that bluesy undercurrent, vibe.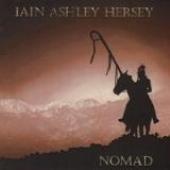 Glenn: How did you come to get 'Doogie White' on the album and what were highlights of working with him?
Ian: Carsten set it up. As far as highlights go…we only communicated via e-mail. He did his tracks in London and I did mine in Maine. I sent my tracks and Doogie's to Stefan 'Seegi' Sigler, the producer in Germany and he married the parts. Pretty uneventful actually but I would certainly welcome the opportunity to play live together.
Glenn: Why did you decide to choose the Rainbow song 'LA Connection' for Doogie to sing – apart from the fact that he is an ex-vocalist of the band?
Ian: I choose that tune, as it was a tune I always loved every since it came out on Rainbow's' 'Long Live Rock and Roll' album as well as I really loved the guitar riff. At the time I felt like I was stuck in Maine, feeling a bit burnt, missing my lady in LA and just really wanted to get back to LA so lyrically it really hit a chord with me… "Carry home my broken bones". It was a song I could really identify with.
As far as Doogie goes…I just wanted him to do something and again I believe Carsten suggested he do that one but it was a logical choice. Would of loved to have Ronnie sing on it but he is so busy with his own stuff. At the very least hope I did it justice as well as Ronnie and Ritchie appreciate my nod of the head to them as well as making newcomers not familiar with the tune, go back to hear, check it out, buy the original. 'Killer' as well as very overlooked track!
Glenn: Whom else would you like to work with if you had the chance and why?
Ian: That list could go on and on…there are just way too many great vocalists and players that I respect, admire and would love to work with. If I started rattling off names I know there would be some I would forget as well as take up this whole interview.
Glenn: When and where will you be touring and under what circumstances?
Ian: At this point there are no touring plans. Perhaps some isolated shows here and there to get some stuff going which is why I'm in Nashville no longer LA. As far as under what circumstances, I am open but since I would be working under my own name…it is my responsibility to see that the other players are taken care off, so it would also have to depend on what they would be willing to do.
If someone wants to hire me for a tour or present an established band situation…I would be open.
Glenn: You got any cool road stories worth telling?
Ian: Nothing I should repeat…I don't want to get myself in trouble.
Well there is the bass player story. I was working with this guy in Helsinki, Finland who got wasted on a 5th of Vodka during the day and during the gig just kept playing louder and louder, oblivious to anyone, anything. Other than himself, he was having a great time, as well as constantly "'F*ck*ng' up", to the point I was seeing red as his tone and volume were 'shattering' my nerves. I finally told him to get off the stage and go back home.
I believe the vocalist finished the night on bass as he could also play bass.
Glenn: What have been the best gigs for you so far and why?
Ian: The show I did in LA with Graham Bonnet and David 'Swan' Montgomery was a very fun, cool show. Working with great vocalists is always a treat.
Glenn: Are you in planning for your next album and what you got down so far?
Ian: Honestly, for the next album I would like to do an all-instrumental one. Something I have wanted to do for a very long time. It just seems I keep getting steered, side tracked towards the guitar, vocal thing. Nothing against singers…but they do bring their own signature, sound to the table which can kind of 'Pigeon Hole' one in a certain genre. I'd like to give the guitar a chance to be the voice as Jeff Beck is doing. My favorite material that I have done and am most proud of is some of my insrumental stuff.
For the next one, I actually would like to release a CD of all the instrumental tracks from both the 'Fallen Angel' and 'Holy Grail' CDs as well as a track I did with Stuart Smith on his first album. I think there is some great stuff there as well as it shows a deeper side to my playing. Also like to see where it sits with the public.
Glenn: What are you most proud of both musically and on a personal basis?
Ian: Again my instrumental stuff. I just feel it has more of a timeless aspect to it as well as more crossover appeal. On the personal side of things…you should ask my lady of the last twelve years. She still apparently thinks I'm a 'keeper'.
Glenn: What other things would you like to talk about that I haven't mentioned in the interview?
Ian: 'Life', 'The Pursuit of Happiness', being financially solvent. Anything but politics, which I absolutely hate!
Glenn: What are your favorite parts of New England and why?
IAH: Southern New Hampshire would have to be the top of my list as it is a very nice area as well as only an hour out of Boston, which is a very cool city. North Western Maine, where I grew up, in the Appalachian Mountain area, very much overshadowed by the Maine coast, is beautiful and nice for short periods but a little too remote for a long stay.
Glenn: What do you most miss about New England and why?
Ian: The Fall. The weather is great and the foliage is beautiful.
Glenn: What is it like for the Rock scene these days?
Ian: Unless you're a very established act…it's in the 'Sh*tt*r' and even some of these established acts are not doing as well as they used to. Honestly I feel the music industry is in a transition mode at the moment. While people aren't necessarily buying product like they used to one cannot replace live music. Of course one can buy a live DVD but would you rather watch an adult movie or experience the real thing!
Glenn: What would you like to say to fans that may be reading the Interview?
Ian: I very much appreciate the support as well as those that still actually buy the music, spread the word; which helps to perpetuate it, keep it alive and enables people like myself to do the next one. All my best to you.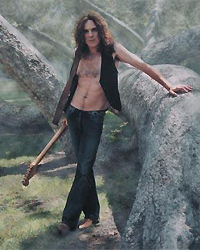 A Big Thankyou to Iain for taking the time out of his busy playing schedule to answer all these Q's for us.