An Interview with
'Ira Black'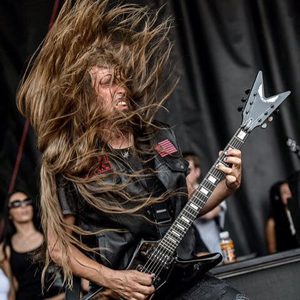 Guitarist of Attika7 & Lizzy Borden
and formerly of Where Angels Suffer, Viscious Rumors, Metal Church, Heathen and many more over the years that took place mid January, 2015.
Interview By Glenn Milligan.
Glenn: So how did it all begin with your interest in music and wanting to become a guitarist early on in life? - tell us about your formative days, first guitars/bands/gigs etc
Ira: I started playing guitar at age 10. My father Gary "Wailin" Black was a working blues guitarist and singer for 40 years. That was a definite influence but it was my stepfather, "Papa" Joe DeMaio that showed me my first chords shortly before my 10 th birthday. I got a black Memphis "Les Paul" copy for my 10 th Birthday. I never put it down, I was obsessed with guitar and the rest is history. My first official band was called ARCANE. The first official show we played was with Tommy Tutone in 1988 at the local fairgrounds, I was 17.
Glenn: What led you from playing small bands to bands in the big league of Metal which you are in today?
Ira: I joined a band called UTERIS, (later U-TERIS), a local Sacramento, California band, that had some affiliation with Tommy Skeoch from TESLA and Darren Minter from HEATHEN. I met Lee Altus from HEATHEN (and now EXODUS) at a party and shortly after Darren invited me to a HEATHEN rehearsal in San Francisco. They asked me if I wanted to join the band by the end of the night with no audition. So I said yes and moved to San Francisco within 24 hours!
Glenn: You've been in many bands over the years (60 by all accounts) and you no doubt have some favourite moments in several of them. What can you tell us about these moments?
Ira: The first big festival I played was the "BANG YOUR HEAD" Festival in 2001 with VICIOUS RUMORS. I have very fond memories of that, even better than my first sexual experience, lol. Another great experience was playing the infamous THRASH OF THE TITANS BENEFIT SHOW for Chuck Billy. I played with HEATHEN as a reunion show for the band. This led us to getting booked on the bill for WACKEN OPEN AIR in 2003. Well, I was also playing with VICIOUS RUMORS, who also got booked to play WACKEN. So as it happened I played with two bands at WACKEN, on the same day, one hour a part. That was an incredible day for me!
Glenn: What do you remember of the UK/European Tour that you did with 'Where Angels Suffer' that featured Stet Howland & Chris Holmes (ex-WASP), Steve Unger ( Metal Church and Rich Lewis of Animal? What can you tell us about that with regard to the overall experience, time off from playing and also being on stage with the band?
Ira: Well, as I did most of the business on that tour, it was a lot of work for me. All the guys in the band were are 10-15 years older than me and had a lot of experience on more lavish tours. The UK-European Tour, though hard, proved that a new band of seasoned pros still had what it took to be successful, against all odds. Of course all the possible things that could happen with Chris Holmes did happen, I'm saving that for the book! Playing live with the band made it all worthwhile no matter how hard it was on the off time!
Glenn: You have got a hell of a head of hair! How do you keep it in such incredible quality and how long did it take you to get it to that length?
Ira: I've been growing my hair for 30 years so I've had plenty of time to get it right. Ha Ha. At age 14, after seeing BLACK SABBATH'S "Born Again" Tour with Ian Gillian, I thought, I'm never going to cut it. I'll be the baddest guitarist with the longest hair.
Glenn: What are the most awkward moments that you've experienced with having hair of such a great length? You must have some far out stories to tell about this right – spill the beans bro….
Ira: Awkward hair moments huh? Ha Ha! Well, there's always the random guy whistling at me passing by in a car, til I turn around and ruin his day! Lol. Also, my hair use to get caught in my headstock of my guitar when I was banging my head, so I had to learn how to do it without getting it caught up. Now it gets caught in my band member's guitars when they pass me on stage.
Glenn: What are your favourite guitars to play and what was it about these guitars that makes them special for you?
Ira: Well, let me say that I also played acoustic guitar over the years as much as electric. So that needs an honorable mention. As far as my favorite guitar to play, that would have to be DEAN GUITARS. Their guitars play just right and the look is perfectly metal. They've taken some classic designs and re-formatted for some great looking modern guitars. I also have a signature model with them, it's an ML with inlaid metal flames, as of yet, it's not available for mass production. Fingers crossed!
Glenn: Are you endorsed by any particular companies and if so, which ones, how did it come to be and how is your relationship with them?
Ira: Yes, the wonderful world of endorsements! Great topic with NAMM coming up! I've been with DEAN GUITARS for 11 years now, which is the best relationship I've had with a company. We're practically married! Lol! It's more like a friendship! Elliot and Josh are great.
I've recently landed some newer, awesome endorsements. I'm with BLACKSTAR AMPS. I hit it off great with Loren Molinare right before my band ATTIKA7 hit the road on the MAYHEM TOUR in 2013. Loren and I stayed in touch and he introduced me to Joel Richardson at last years NAMM 2014. I filmed an artist endorsement for THE FLY MINI AMP, which you can see on YouTube. Some big things are in the works with them, coming up!
I recently signed a contract with EMG Pick-Ups, a long-time friend Tommy Levitt-Armstrong, who recently played with TESLA for a bit, just became their A&R person. He rang me up and said what pick-ups are you using? Coincidentally, DEAN GUITARS had just sent me two seven-string guitars with EMG pick-ups for KNOTFEST. So, I said "I'm using EMG pick-ups", cuz I was and they are awesome! Then Tommy revealed he was working for EMG. I will be doing a performance segment for EMGTV on their YouTube channel soon.
I am also endorsed by J.H. Audio, they make my custom in-ears, and every guitar player's wet dream, I'm endorsed by Floyd Rose Tremlo's. I am blessed!
My band ATTIKA7 (as a band) is endorsed by D'Adario Strings, RockStar Energy Drinks and Affliction Clothing.
Glenn: You must have seen so much while on tour with numerous bands, so tell us about the places that really stand in your mind that for some reason you cannot seem to shake and like going back and experiencing them when you can?
Ira: I love playing the festivals cause its great to see all my friends and the fans from the Metal Community. BANG YOUR HEAD FESTIVAL, SWEDEN ROCK and WACKEN…they are the best, die hard, true fans that live and breathe metal! England is nice, cause there's no language barrier and I love the history and culture as well. I visited Stonehenge in 2008 and it blew my mind, I look forward to going back one day.
Glenn: Got some good road stories you can tell?
Ira: Oh I have plenty, we could do this whole interview about my stories, but here's a great one. There was an ice sculpture artist at the BANG YOUR HEAD festival in 2001 and one of his sculptures was a 2-foot tall penis, which was sitting on the bar in the beer garden tent. I grabbed this ice penis along with this crazy devil mask that was on the counter and headed for the main stage. Dee Snider from TWISTED SISTER was performing, so he became my victim…
So I climbed the stairs backstage then I put this devil mask on and hobbled onto the stage with this 2-foot ice penis perfectly held at my groin. The timing was so perfect, the band was in the middle of a song breakdown, just bass and drums playing while Dee does his infamous call and response audience participation bit. Dee is shouting, "I'm a S-M-F", and the band stops as Dee drops to his knees, pointing the microphone stand to the audience to chant S-M-F! I arrive to Dee right at this exact time. I grab his sweaty shoulder while he's on his knees, I can tell I scared the shit out of him by the way his head whips around. He looks at me with this devil mask with this half startled; half WTF look…and I just stroke the ice penis a few times. Dee has this baffled look on his face. So, I head over to the stage right mic stand and start singing S-M-F with the call and response bit. Then after only one time around, I feel a choke-hold come from behind around my neck and I'm dragged off stage. I drop the ice penis and run off stage. Now keep in mind, there a TV screen in the beer tent, I told everyone to watch the screen. When I arrive back to the tent, everyone is cheering, I'm like a Heavy Metal Hero. Everyone is congratulating me and my bassist asks, "You ever see that movie "Strangeland"? I start to think about how crazy Dee was in that movie and he say's, "I hope Dee's not mad at you". I started to worry about it, but then Dee's bassist came up to me later and said "Hey man, it's Rock-n Roll, as long as no one got hurt". I found out later that they "choke-holded" me offstage because they had pyro getting ready to go off, so thanks "choke hold" guy for being my hero! Lol! Now that the cats out of the bag… "Sorry Dee"!! BTW… I was edited out of the DVD, I would pay to get that footage, contact me if you have it!
Glenn: You are on tour in Europe with Lizzy Borden right now, what do you most look forward to with regard to performing in this continent and being in Europe overall?
Ira: Well, it was my first time back in Europe since the WHERE ANGELS SUFFER Tour, so it was nice to see a lot of my friends and fans, also playing in Russia for the first time, which was awesome! The fans were great on this tour! Playing with Lizzy Borden again was a lot of fun, the guys in the band are like family to me! I get to play a lot of guitar with LB, especially since we're doing it as a four piece, so I'm having to really play my ass off, missing another guitarist. And I get to do a 5 minute solo, which is heaven for someone like me. Also, I had a day off in Rome, my girlfriend flew in and we did a tour of The Vatican. We did the whole thing; saw The Sistine Chapel etc… I'm kind of a conspiracy theorist/ researcher so The Vatican is a very interesting place to me. You know they run/ own the world, or so their doctrine has made this claim in their historical past. Check out the Jesuit Order, the military/ religious order that has infiltrated The Vatican, basically Priests with guns! The Black Pope, The Freemasons, the Knights of Malta, Illuminati, Council of 300. These are great topics for metal music and Europe is where this stuff originated. Lotsafun!
Glenn: There must be some home comforts that you take for granted in the USA that you don't seem to be able to find in other parts of the world be. What would these things be and what are a good substitute for them elsewhere and why?
Ira: I've been vegan for 20 years. I don't eat ANY animal products so it can be hard on tour. I eat of salad, pasta with marinara and falafel on tour. Every once in a while I run into people who know about the vegan concept and make me something nice!
Glenn: Tell us all about the creation of your show 'Pedal To The Metal' or in other words, where the idea came from, what/who you have had on the show, who is coming up and the most special moments so far?
Ira: We have shot about 20 episodes. It was the brainchild of Evan Seinfeld, my singer from ATTIKA7.
When our band was on the MAYHEM FESTIVAL TOUR in 2013, Evan was interviewing the other bands on the road under the name BADASS TV. He had all this compiled interview/ tour footage, so he decided to turn it into a studio/ TV show. I'm called a co-host, but I mostly play guitar on the show. We've had Gilby Clarke, Wayne Static (R.I.P.), Sin Quinn (MINISTRY), Monte Pittman (MINISTRY), Tommy Victor (PRONG), Chuck Billy (TESTAMENT), Doyle, TosinAbassi, POWERMAN 5000 and Ricki Rachman, ESCAPE THE FATE, OF MICE AND MEN, FIVE FINGER DEATH PUNCH, ROB ZOMBIE, MACHINE HEAD, CHILDREN OF BODOM, BUTCHER BABIES, MEGADETH, EYES SET TO KILL and ANIMALS AS LEADERS.
Glenn: I want to give you the opportunity to talk about Wayne Static who sadly recently passed away because he was recently on 'Pedal To The Metal' with you. How was that show with him and what things stood out about Wayne that you will remember him for?
Ira: Yeah, Wayne was a great guy and an awesome guest on the show. He was a down to earth guy. He had some great Rock-n-Roll stories, the kind that get you in trouble! Lol! He was a DEAN GUITAR endorser, so we talked about that, being in the DEAN family.
Glenn: What is 'Black Attack Music' as it sounds an interesting concept to say the least?
Ira: I named one of my guitar patches "Black Attack" in the late 80's, so I kind of just had the name hanging around in the wings of my life. I needed a company name to handle music business, so I formed "Black Attack Music". Now it's sort of become my nickname with ATTIKA7. My cut (vest) has a patch that says BLACK ATTACK.
Glenn: You've had to learn a vast amount of songs for various people over the years so which ones have been the most challenging to nail and why?
Ira: When I played with the band HEATHEN, that was the hardest music to learn, but it made every other bands music so easy to play in comparison. HEATHEN's music is super intense…galloping thrash metal grooves and over the top shredding solos and tons of harmonizing going on everywhere. I always say one HEATHEN song is the equivalent to most bands entire album.
Glenn: There have been no doubt many descriptions of your style of guitar playing but how would you describe it personally and what/who influenced your style and it what ways?
Ira: This is a large question… I've been playing for 34 years now, so I've been through so many stages of growth. I would say I'm an inventive, diverse, shredding, solid guitarist and I'm also an avid song writer. Some of my influences are YngwieMalmsteen, Steve Vai, Jimi Hendrix, Jeff Beck, Randy Rhoades, Tony Iomi, Vivian Campbell and Dimebag Darrell. I grew up on all of Mike Varney's Shrapnel Records Collection too.
Glenn: When not playing guitar either on stage or in the studio, what do you enjoy doing Ira to relax or quite simply get away from the music business overall?
Ira: I spend time with my family. We have a family vacation couple of times a year. We have taken a few cruises and I'll take my son snowboarding.
I just bought an RV, so we'll be doing some cool stuff with that soon.
Glenn: How do you fit so much into your schedule since there are only so many hours in a day and yours appears to have 48 in it as opposed to 24 – right?
Ira: That's funny! Well, I have learned to get a lot done in a short amount of time, and that's MY secret! Funny enough, in 1999, I was working as a loan officer for a home mortgage company and they sent me to a 3-day seminar with Anthony Robbins, the motivational speaker. Remember, he was in that movie Shallow Hal?
Anyways, it changed my Life instantly, for the better.
I ended up making $25,000 the next month as the top salesman for the entire company the following month, so I immediately quit the job after that. I figured that it was time to follow my heart and go for what I Love, music, and figure out the business part. I joined Vicious Rumors at that time and went on to do many things with them.
Here's the secret, no Satanic ritualistic sacrifices….
I make to-do lists and business plan lists etc. and execute them with diligence!
Boring but true.
Glenn: What would you like tell us all about the band 'Attika 7' especially since the band is starting to make an impact?
Ira: Attika 7 is an incredible band of some badass dudes. All the guys are very successful and driven personalities. I have never been in a band so poised for success as A7. We are managed by John Reese, who puts on the Mayhem Festival Tour and co-managed by David Aguilera, who used to manage the Butcher Babies.
Our singer is Evan Seinfeld (ex Biohazard, HBO's OZ and VH-1's Supergroup). The other guitarist is Rusty Coones (Rane Quinn from Sons Of Anarchy), Tommy Holt is our drummer (ex U.P.O.) and Gus Crynns on bass, who is also producing our new music.
Glenn: Attika 7 are going to be doing a Motorcycle Run on January 29 starting from Rusty Coone's 'Illusiom Motorcyles' Shop in Orange County and finishing at The Whisky. How did it all come to be as it must have taken quite a bit of to get that organized?
Ira: We decided to do a showcase at The Whisky to generate some interest in the band from the industry. We are looking for label that will really push the band.
People call Attika 7 a Biker Metal band cause we all ride and we play Metal….
Rusty has a motorcycle shop called Illusions Motorcycles, so it was par for the course to do a pre-show motorcycle "run". I will be debuting my new Harley that I just got from Rusty as well at the show! It's a Dyna Street Bob.
Glenn: Can you tell us all about it or as much as you are allowed to at this moment in time?
Ira: We're going to have some special guests from "Sons Of Anarchy".
Glenn: What are you looking forward to about the Whisky performance since it's such a prestigious venue to end the run and night with?
Ira: It will be my first official time playing with A7 in a club setting at The Whiskey, seeing I've only played outdoor Festivals with them so far. We did the Mayhem Festival Tour, The Uproar Festival Tour and Knotfest. So I'm really looking forward to this and it's at The Whisky, kinda historical really.
Glenn: What else would you like to discuss that we haven't covered in the interview and also that hasn't been discussed elsewhere in other interviews over the years?
Ira: I'm actually a well accomplice and avid acoustic guitarist, been known to make women cry with my acoustic songs. Well I think it was the acoustic songs…..lol
Glenn: What moments in your career so far have left you feeling proud of yourself and why? There must be quite a few over the years right?
Ira: I always feel like the word success is better suited as an action, as succession, cause that's the key to achievement. If you keep getting to do what you Love over and over, that's succession, which can be described as success. Of course you have to learn how manifest the better experiences along the way so you can enjoy it!
I'm proud that I've stuck to my guns and keep getting to play music around the World, record music and that people are still interested in it.
Glenn: What are you most looking forward to in 2015 and why?
Ira: I'm looking forward to unleashing the new Attika 7 music, and hopefully doing the Mayhem Festival Tour in 2015.
Glenn: Many people say that Los Angeles / Hollywood has changed over the years and there have been many pros and cons of this. What is your own stand-point on this and what has led you to think this way?
Ira: Everything changes, that's Life! I only visited Hollywood back in the 80's and 90's cause I grew up in northern California. L.A./ Hollywood is still the music capital of the World. There's 20-50 shows every night in L.A., Bands are still playing every night at The Whisky. Gene Simmons is wrong, Rock is not dead, it's just changing as it always has. I stay positive in "What's next?" So as long as I'm alive, so is Rock!
Glenn: What are your preferred places in the Los Angeles area for Rock & Heavy Metal music and why with regard to clubs, live music and overall sociable moments there these days?
Ira: I go to the strip all the time, The Whisky, The Roxy, The Viper Room, The Rainbow, The Troubadour, The Avalon, The Fonda Theater. In the valley, I go to Paladino's and Skinny's Lounge; there's always something to do in L.A. which suits me just fine.
Glenn: What would you like to say to your fans that have been reading this interview?
Ira: The fans are my fuel, without them, I would go nowhere, so I am so appreciative! One of my favorite things to do is meet with my fans, all the bands that I have played with, always do meet and greets. It's a great way to stay more in touch with the fans. I have become great friends with a lot of people that started out as fans. Beyond the fact that music is my Life, the icing on the cake is to get out in the World and show my appreciation to the fans!
So Thank YOU!
See you on the road!