An Interview with Italian Rock Singer
'JC Cinel'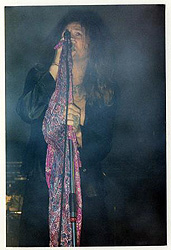 The Lead Vocalist for Wicked Minds and is an awesome Southern Rock Edged Solo Performer.
Interviewed by Glenn Milligan in early February 2009.
Why did you decide to become a vocalist & who were your influences?
I started out in the 80's as a singer guitarist…I still play most of the guitars in studio…but on stage a band needs a front man that really concentrates on singing…..my main influences of course come from the 70's rock either British or American…Beatles, Bad Company, Who Led Zeppelin, Cream. Yes, Humble Pie ,Deep Purple but also Doobie Brothers, Crosby Stills and Nash, Buffalo Springfield, America, Eagles, Tom Petty, Greatful Dead , Lynyrd Skynyrd, Allman Brothers. As far as singers,,,Paul Rodgers(I saw him live with Queen a few months ago and I tell you he's still amazing) David Coverdale, Lou Gramm, Gregg Almann, David Crosby….
Why did you decide to do a 3 month stint in the USA and what were the highlights of it for you? What did you learn from it and who did you get to meet?
I spent three months in Nashville to develop a few contacts with producers in the music city and to promote my new album "Before My Eyes". I had a wonderful time playing the clubs in Nashville where people are really open minded about all different styles of music…I had the chance to perform at the famous Bluebird cafè and hook up with great musicians that are now friends such as Johnny Neel (ex-Allman Brothers Band) who has has recorded hammond organ and piano on four of my songs that will be part of my next album, Mike Cullison, Mike Stergis (former guitarist of Crosby, Stills and Nash in the 80's and 90's). Spending time, recording and writing with all these people I learned the importance of good song-writing and that music is a way of living and if you believe in what you do you have to travel all around the world to have your music heard.
Who would you say were your favourite bands you have been part of and why?
I always love all of the bands I sang and played with……of course being the singer of Wicked Minds has been rewarding and allowed me to share the stage with rock legends such as UFO, Wishbone Ash, Uli Jon Roth….and play great festivals in Italy and Europe.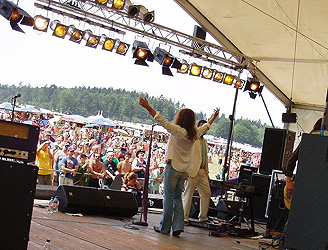 What were your highlights in your Southern Rock Band 'Poison Whiskey' and how did it come to be - what sorta stuff did you play?
Poison Whiskey was a party band,,,,we played most cover songs by the bands I loved such as Lynyrd Skynyrd, ZZ Top, Deep Purple, Gary Moore, Grand Funk….but there has never been any other goal than have fun…and that's all we did,,, we played a lot of clubs and festivals and we were opening act for Robin Mc Cauley during a summer festival in Italy…
What would you say were the differences and similaries between the clubs in Italy and USA?
I can tell you… so many things,,,but the main difference is that Italy sees music as mere entertainment,, people come to the gigs with the only expectation of having fun,,,,sing along with the cover songs…and that's all…In USA, Great Britain, and all over Europe there is a lot of interest about music, new bands…people are curious ….…they buy records after the gigs and all the merchandising …they ask you questions they are so interested…and that's what music is all about…
Similaries is that wherever you go club owners don't want to spend much money….
How is your part of Italy like for Rock & Metal and are the best parts for it?
As I was explaining before Italy in my opinion is not the best place to be if you want to be a rock or Metal musician…I mean ..you have so many bands and some are good but the chances of getting signed or taken seriously are really slim….rock is not part of our culture as far as labels and interest….this is why so many good bands get signed by foreign labels…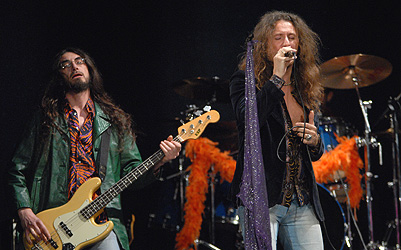 Whats your personal preference with regards to electric or acoustic or does it depend on the mood and/or situation for you?
I always loved both of them…of course acoustic is more the way I write my songs…looking for good chords progressions and melodies…..but I like to add the edgy sound to many of my songs…it's a balance that kind of sums up my style….i think that by blending acoustic and electric you have so many influences and colors to add to your songs. Of course the mood helps…
What have been your favourite and memorable tours and for what reasons?
My first tour in Nashville was great…it was my first time as a musician in the States and I tell you it was great and people showed a lot interest and passion….with Wicked Minds at Burg Herzberg Festival in Germany was amazing…playing in front of 10-000 people….like a Woodstock festival… with such big rock stars coming after you…and the german TV interview after the show… it was thrilling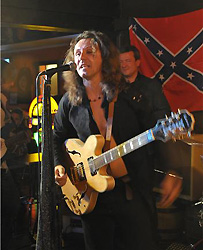 What cool tour stories can you tell?
We played in Nice…france…several times and it was like going back to the 70's….we lived all together in a very low price apartment….you had people sleeping in the corridors…..girls running from one room to another…it was really wild…I know it sounds like a cliché….but when you're part of it..it's thrilling…..
What are your fave numbers on your solo cd 'Before My Eyes' and what influenced many of the songs on there?
Nr 2 "Feel the moment" and Nr 5 "Brush my cymbals" represent my southern hard rock side which with catchy refrains and hard blues riffs a little bit in the style of Bad Company and Led Zeppelin and Nr 1" Ships in the wind" and nr10 "Voices from nowhere" show my love for acoustic nuances and harmonies and even a little bit of world music with open chords progression and modal melodies….what I like in my latest album "Before My Eyes" is that I tried to put together so many different influences in a personal style that I think sounds good for airplaying but at the same time is very articulated and with lots of things going on…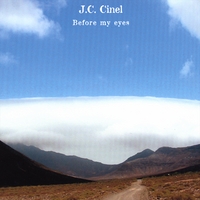 Where did the idea for the album cover come from?
I was in Fuerte Ventura island …and as I saw this image I thought it was the perfect picture for my cover representing very well my personal concept of the journey with blue skies dusty roads and clouds…..to signify the life and choice of an artist with lots of dreams so many roads to walk down and always tons of doubts hanging over his head …I immediately took out my camera an took a shot….
What do you like most about being frontman of the band Wicked Minds?
Being the frontman of Wicked Minds has given me the opportunity to think mainly as vocalist….trying to write good melodies in the hard rock style and focusing on singing and feelings transmission the most…..and of course using and taking my voice the top….to get the the best performance in style of the seventies hard rock singers…of course my care for good lyrics, harmonies and arrangement has been, I think, and important breakthrough for Wicked Minds sound…
If you had the chance, who would you like to duet with and why?
David Coverdale and Paul Rodgers are the top of the list as far as hard blues singers…their way of singin and feeling blues has been so important for so many singers for decades and their vocal approach and style is still the most copied today….David Crosby, Roger Mc Guinn, Don Henley, Gerry Beckley, Timothy B.Schmidt are my favourite west coast and harmony singers….i love singing harmonies it gives so much power to the songs and refrains…. I think what they have achieved with their bands such as Eagles, Poco, America, Crosby Stills and Nash is unbelievable….they wrote some of the best songs in west coast and country rock music and they have influenced so many singer song writers of the 80's 90's and still today.
What other places in the world would you like to play and why?
I love to play everywhere…I still belong to the old school of artists and bands …take your music everywhere and play and sing your songs with all your heart….music is a way of living not a pastime….i do believe in this line….unfortunatelly today some things seem to have changed …..….even musicians….
What are your hobbies and interests you enjoy outside music?
I love reading a lot…..philosophy, literature….. books that can teach you something…I don't read to kill time…..i love essai movies…going to art exhibtions…I love especially modern and contemporary art….i used to love sports too. .especially soccer I was quite good at it…but today it's all about money and business and that's what kind of pulled me away from it…..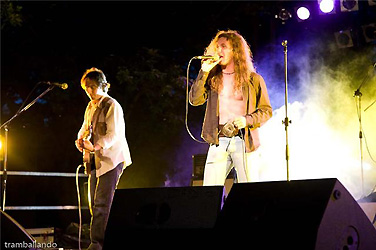 What things are you most proud of so far and what other things would you like to achieve in your career?
I am so proud that I always followed what I was feeling inside…I always played the music I loved ….choosing this, sometimes you take the long way to get there…but it's ok….i would love to keep on recording my records and hope to reach ,of course always a wider audience and raise always more interest by people and labels or promoters… giving me the possibility to feed my dream and carreer and play all around the world.
Feel free to add in any other cool stuff to it that I aint covered that you got coming up soon in the future.
I want to thank you first Glenn for your support and interest since my joining Wicked Minds and my solo project too…it's great to know out there there are people who still share the same vision of life…..i want to anticipate I am working on my new album which is going to be out by the end of 2009….there will be many guests some of them very prestigious such as Johnny Neel (ex Allman Brothers band) and other great friends and skilled musicians who are sharing this music dream with me…I want to thank all people around the world who showed interest in my music and they still do.

Check out my new website to look at my videos, have more info for gigs, read reviews or to purchase my records…….thank you all….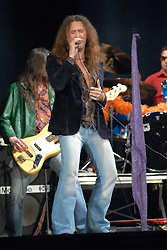 www.jccynel.com
www.myspace.com/jccinelitaly
Cheers.
Thanks Again JC and Special thanks also to Nicky Baldrian