An Interview with Jack Russell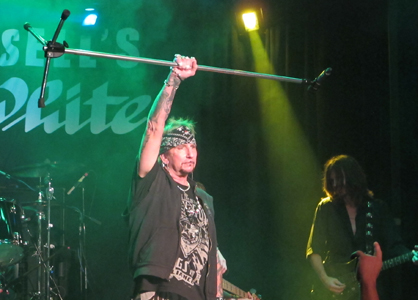 The leader and frontman of Jack Russell's Great White
that took place on Saturday 8th March 2014.
Interview by Glenn Milligan
Glenn: Hi Jack, you doing good man?
Jack: Yeah doing good man, everything's great.
Glenn: Awesome that's great. What was it like for you as a solo artist going it alone with your own version of 'Great White'.
Jack: You know it's just… I gotta tell you the truth – it's been a total blast because there's not 30 something years of animosity – some little things people have done and little slides and big slides. They're not there so we'd not known each other that long to have any grievances with each other and if we do we talk about them right away. So that way they don't turn into some huge thing. Like we have weekly meetings - we sit and just talk, "Hey look is everybody okay with everybody".
Some might go, "Yeah you know, the other day you said something that kinda hurt my feelings", "Oh sorry about that bud", you know. So it helps the band become close and stay close which is great. But as far as being on stage with another band, hey I've been on stage with tons of musicians – it's all great. It was awesome.
Glenn: How did you originally put Jack Russell's Great White together? What qualities did they have to have and where did you get them all from?
Jack: Well initially they were my solo band – Jack Russell And The Shelter Dogs and when all this came down I thought, 'Well hell, I already got a ready-made band. So I just asked them if they wanted to do this and they said, "Yeah, we wanna do it", so we just went out and started playing it and doing it and now there's been some changes made and I found the perfect band I've been looking for if there is such a thing for umpteen years now. I'm 53 and I've been doing this since I was 11 and these were the best players I've ever had and great songwriters and just very nice guys. They don't have any drug or alcohol problems which is great for me. That goes without saying. We talked about it and said, "Look if you've got any drug or alcohol issues – don't ever bother to call", cause I just can't have that around me, we don't want it around me – don't wanna deal with drunks, you know?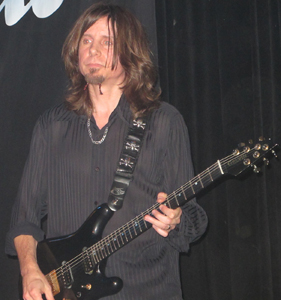 Glenn: Yeah that makes total sense. I was talking to the drummer from Skin who is now your drummer – how did that come about?
Jack: Dickie?
Glenn: Yeah.
Jack: He was a friend of my guitarist, Robbie Lochner and he came down, auditioned and I was like, "Dude this guy just rips". He doesn't look like he would really. He's got this small kit and you're thinking, 'Oh okay, he's not got those huge arms or anything', but the guy's a powerhouse man – he really is. His tempo is immaculate. I've never heard anybody play to the click or without a click whose tempo is that immaculate.
Glenn: Yeah I mean I remember seeing him when he was in Skin in the UK a few years ago and he was spot on then. So you know – good choice.
Jack: Yeah, thank you. It all seemed to kinda fall together I mean as things do in my life. I thank God. It's like things just happen and people get put in the right place and then the next thing you know you got something really cool.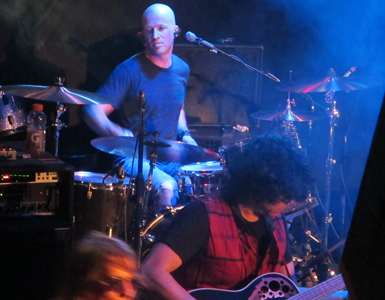 Glenn: Awesome. What about Chris?
Jack: Chris was a friend of Dickie's. He does some work in another band they have together which is like a prog thing or something or some music that I wouldn't understand or like but you know, that's where he came in and he's just a great bass player and a really nice guy. I mean all these guys, the amazing thing is they all sing like lead singers so the backgrounds are just unbelievable. I've never had backing vocals like these – these are really great.
Glenn: Awesome.
Jack: Sometimes we do stuff in songs where one of the other guys will do a lead part and another guy will do a lead part so we can show that aspect of the band, you know?
Glenn: Yeah it saves you as well. You don't have to like balls out (with your vocals) all the time. You can relax and know you've got your back-up as well.
Jack: Oh absolutely yeah.
Glenn: Yeah. How was the 50th Anniversary Whisky show for you that I met you at after and what were the highlights of it for you?
Jack: You know it was just… it was the first time Tony (Visconti) was on guitar and keyboards and he was a little nervous but he pulled that off and it was great because I really got a sense of what this band could be (after) a couple of months rehearsal and a number of shows under our belt. It's really exciting. Now we're working on new material and I'm really excited about that. So things are sailing along smoothly.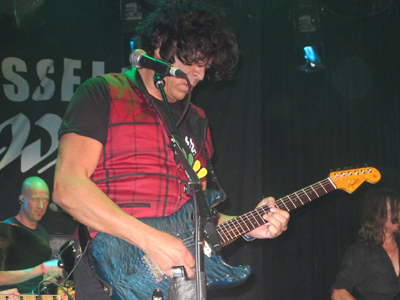 Glenn: Yeah, when you are rehearsing what do you like best about the rehearsals that you did and what songs stood out that really gelled together really quickly?
Jack: At the first rehearsal?
Glenn: Mmm.
Jack: God, you know pretty much everything. Everybody had worked so had doing their homework. It was like we just played right through everything. There was no like, 'Oh wow – this needs some work'. No we just changed some of the endings and changed some of the intros so they wouldn't be the same old boring thing and other than that it was just playing the songs now because everybody works hard on their own which is what I expect.
Glenn: Yeah, it's like when I saw the band, it's like you'd been together for years. You didn't even notice there was like any join or any splicing. It was just like, 'Jack Russell's Great White'. You wouldn't even realise that it was a new band. It was that good.
Jack: Thank you and that's what we stole for. I think most of that is due to the chemistry of the people involved. Everybody really likes each other and I mean genuinely likes each other and they're all very, very amazing musicians and that doesn't hurt. I finally feel no diss to anybody else that I've got people in my band that are of my standard.
Glenn: Got ya. That makes sense.
Jack: I mean that's not dissing anybody else – it just feels right to me, you know?
Glenn: Yeah. Are there any particular songs that you do of the old Great White that you do that you really like doing and then there's other ones that you think, 'It's a major song in my career from the previous band, I best do it even though I get sick of doing it'. Does anything come off that stands out to you like that?
Jack: I don't really feel that way. I mean especially now with the new group of people. It kinda makes it all new. Like I said, we've made some changes in some of the songs to keep them from turning into stale crackers. It's an all new experience. I mean the band is definitely, for me, the best band I've ever played with – that's just my opinion. Somebody else can say, "That's just ridiculous", but that's just my opinion and everybody's got one. But for me they're just really good musicians.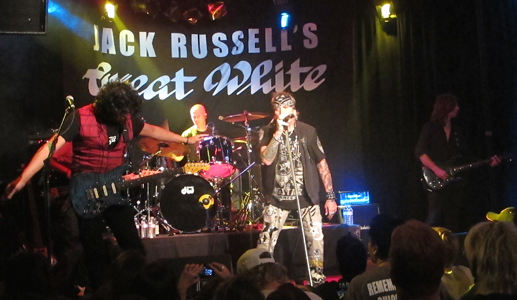 Glenn: Let's talk about the new album.
Jack: We haven't finished it yet. Right now we're just working on stuff. We're right now doing demos in my guitarist's recording studio in Santa Ana and we're gonna figure out what songs we're gonna put on the album. I mean, I wanna record everything. We've got like 20 songs I wanna record and then figure out which out of 20 I wanna re-record for the album. I wanna make sure that only the best of the best go on this record because it's a very important record man. I mean people are expecting a lot. People who come to the table they are gonna be like, 'Oh man – really?
Glenn: Yeah. Do you feel apprehensive that you feel like, 'God I've gotta make this album count', like a nerve thing with it being the new Jack Russell's Great White as such?
Jack: You know – yes or no. I mean I ask the talented guys in the band and some of the songs that we have already are just so mind-blowing. I'm like, 'Oh well, that's just too good'. So I'm not really concerned about that you know?
Glenn: Yeah.
Jack: I just wanna make sure it's a cohesive record that it rocks hard enough because I have a tendency, I'll be honest, I like the ballady stuff because I love singing it but you know, we're rocking this one up. There's gonna be a couple of songs on there that the chicks will be all 'Ahhhh… I'm loving all this' but, you know, we're gonna rock it up a bit man because the last album that I was with my former band mates on which I think was a great record still, I will never ever say anything about that. It was just a little of the softer side of the band. It may be a little too much for some people but I still stand by it as being a great record from a great band.
Glenn: Yeah exactly. Are there any particular songs that you can talk about that stand out that you really wanna get on the album that you're really proud of writing – either by yourself or as part of the band?
Jack: There's a song called 'Ordinary' which is just amazing. That song to me is probably one of the shining moments of my career. There's a song called 'Sugar Bowl' which my bass player wrote and it was about when he first got married. Him and his wife ran in a shop and the first thing they bought was a sugar bowl and he talks about his marriage through the years and the decline of it and he refers to the sugar bowl as being.. as talking about that is the marriage and it's just… I can't explain it but it's just one of the most chilling songs I've ever heard. It's just a really unusual way to talk about love and it's great. It's a great song. It's very bluesy, very… yeah it's cool.
Glenn: Yeah I remember you saying it's gonna be a proper like old-school, more like an 80's Rock, Rock 'n' Roll big album. Can you enlighten on that on exactly what it's gonna be or can we expect some surprises in styles as well?
Jack: I'll tell ya, it's gonna be a very eclectic record. I don't wanna give too away because at this point we're not even that close to where I could tell you what it's gonna be. I haven't even picked out the songs yet so I can tell you those two songs will definitely be on it but other than that I don't really know yet. There's still a lot of songs we're still working on, gotta finish up and then we all gotta sit and have out discussions and fight each other over which songs go on the album, you know?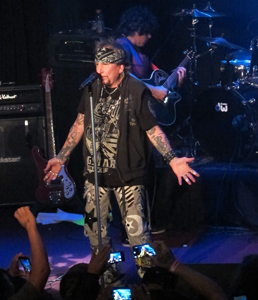 Glenn: Yeah, haha. I was actually gonna ask you what you are gonna title the album and what was gonna be on the cover but I guess that's not even decided yet?
Jack: Well we know the title but I really don't want to let it out right now.
Glenn: I don't blame you.
Jack: It's really cool. It's like the perfect title. Tony came up with it and I literally hit the floor laughing. I was like, "That is like such a great title", so when you hear it, you'll get it. You'll go, "Oh yeah, I get what he means".
Glenn: Yeah because if you bring out a title some other band could steal it and if you've got no copyright on your title you're f*ck*d aren't you?
Jack: Well exactly. That'd be the worst thing. Like some other band calls or puts out or uses the title – "You dicks!".
Glenn: Exactly, so what have you been up to recently?
Jack: Well just working on songs, doing the occasional show, getting ready for the Summer Tours, hanging out with my wife. I mean, I'm sitting on the boat right now and it's a beautiful sunny day. It's hot. It's great man. We're getting ready to go in the studio and mix up some guitar tracks and then come home and just hang out with my wife. Unfortunately my wife's been very ill for the last, almost a year so I'm having to deal with that and that's just the one downside to everything that's going so well, you know?
Glenn: Yeah. I know it's a bad thing. So now I know you really are 'Captain Jack' aren't you because you've got your boat.
Jack: Oh yeah, absolutely. I am a Captain as well. I have my Captains licence.
Glenn: Yeah?
Jack: Yes.
Glenn: That's great. I never realised.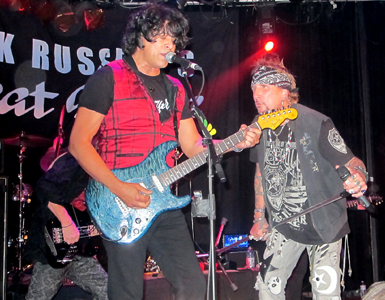 Jack: Not that it does me any good. I mean if I wanted to charter my boat out to take fishing or whatever then it would make sense but the idea of doing that just does not like appeal to me at all you know?
Glenn: Yeah.
Jack: At one time when I was younger it did but now it's like, 'Nahh, I'm a musician'. I'll fish on the off-time.
Glenn: Because it's responsibility on the water as well with other people with you – it's just a bit daunting.
Jack: Yeah of course. I mean for me it's like the only idiots on my boat I want are the ones I invite you know?
Glenn: Yeah exactly. So what shows have you got coming up that you are excited about?
Jack: Okay I get excited about every show. M3 (Rock Festival @ Merriweather Post Pavilion on 26th April) – we're doing that again this year on the main stage and that's exciting. We got some shows coming up in Florida and North Carolina this weekend. We've got Sturgis, we've got two or three nights there. I don't have the calendar but I'm good. It's starting to fill up. We're getting really excited. It's gonna be a good year.
Glenn: Awesome.
Jack: Then we're doing Panama City during Spring Break – that's always fun.
Glenn: Yeah, cool. So here's a question for you, when are you coming to the UK?
Jack: You know we've just talked to somebody about doing a European Tour and we're not sure whether they're just kinda an obsessed fan or a real person because they contacted one of the band members and then they said they would contact our Manager and then they contact the band member again and say, "Oh yeah, I talked to the Manager" and the Manager's like, "No they didn't", so I'll write that one off. So yeah we do definitely plan on doing that.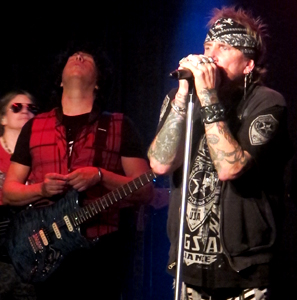 Glenn: Awesome.
Jack: I mean it's been unexplored territory especially for this band and I can't wait to see the jaws drop when they watch the band play. My voice is sounding really good. I mean if you were at the Whisky show you could tell.
Glenn: Oh yeah. It was perfect. It couldn't have been any better.
Jack: I appreciate – thank you. Well I've been really taking care of myself. I quit smoking finally after all these years. Of course I stopped drinking and all the bad stuff and it's really helped my voice out a lot. I realise that I've been doing something wrong in my warm-ups for 10 years and I finally figured out what that was and now my voice is like butter every night.
Glenn: Yeah. What were you doing wrong as I sing a bit myself?
Jack: I was just doing it a little bit too hard when I was doing my warm-ups – my scales you know?
Glenn: Yeah.
Jack: I was doing it a little too hard. I was trying to make noise too soon and now I'm quiet and you can't really hear the notes. It more like (makes a lip vibration sound) and that's about as loud as I get and it made a huge difference. Like WOW! When I went to sing it was like how it should be when your voice is nice and warmed up. It's like singing is as easy as breathing.
Glenn: Yeah I noticed that when you were up upstairs (in the Whisky dressing room), you put that CD on and you were warming it off. I could tell that you were hitting notes but you were really quiet on it and you don't hear many people do that and I've done it myself and it really works.
Jack: I know that (does a loud vocal exercise).
Glenn: Yeah all those scale stuff and all the exercises and that.
Jack: Yeah you don't need to do that. You don't need to do that. I realise that and my old teacher used to tell me that. You don't need the.. you know, sing so loud – save it for the show. I broke one bad habit – I used to sing all day long. Just sing all day long during the day and I just… Like now I warm up… I do like six warm-ups over a period of six hours and they're just short but in between I just keep myself quiet instead of singing all day long and by the time I get to the stage I've sang 12 sets.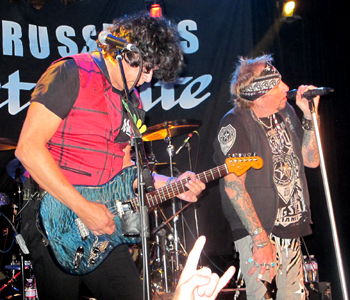 Glenn: So you like being on your boat when you're not on stage – that's the one for you yeah?
Jack: What now?
Glenn: Yeah. That's what you enjoy outside of being on stage.
Jack: Oh yeah. This is my church. This is my like… It's as close to heaven as I'll probably ever get. All kidding aside it's just a great place to spend my time – my and my wife and we love it down here. It's just our little cosy little place to hang out. She's the one woman I've ever known that I can be in a small space with and never get tired and never feel smothered. Any of my other wives, there's no way I could have lived in a boat with 'em. I would have drowned 'em because you have to really mesh to live in a small place and it's a big boat but still never the less it's still small. You can't really get away from somebody if you want to. There are other rooms but you know still.
Glenn: Do you go around sailing a lot to different areas?
Jack: I don't sail. This is a powerboat. I'm just a sport fisher. I'm into getting in and getting some lines on the water and catching some fish. I couldn't sail if I had to. It's just too slow.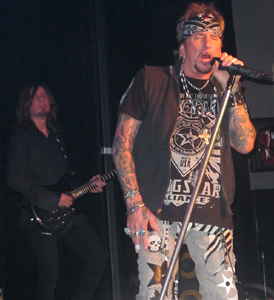 Glenn: Got ya. So what sort of music do you like to listen to when you are not on stage? Is it similar sorts of styles or all different types of styles?
Jack: You know, I'm still living in the 70's and 80's – I gotta be honest. I'm still listening to music I grew up on which is great just like my fans are. They're still listening to our music – 40 or 50 years years old which is awesome. Thank God. But that's just the music I was weaned on. I just… it brings back so many memories and I always like to go harking back to those times and put on a song and go, "Oh yeah, I remember being high at school doing this song. My friend Val Brent used to walk to school – you know, just things like that – you just remember certain things, you know?
Glenn: Yeah. If you had a chance to play any particular venues you've never played yet, where would they be and why?
Jack: Mmmm, God, I would love to play Wembley Stadium. Ha! If we could have it and we could pack it – you know? Which is like, you might as well picture me winning the lottery to some hundred and some million. But that's where I'd play if it was a sold out house – it would be great. It'd be my dream.
Glenn: I guess the consolation would actually be being on a bill at Wembley Stadium as like a big 80's Rock Band Concert if that ever happened?
Jack: Yeah that's be great sure if I was even on the bill that'd be great.
Glenn: Yeah, exactly yeah.
Jack: I mean playing Wembley Arena – that was cool.
Glenn: Yeah, I know he's just been offered about 5 dates – Jeff Lynne from ELO by Live Nation to do the O2 or something. Yeah if you could jump on tour with some of these guys that'd be great or some sort of little package thing or anything like that.
Jack: Yeah that'd be great yeah.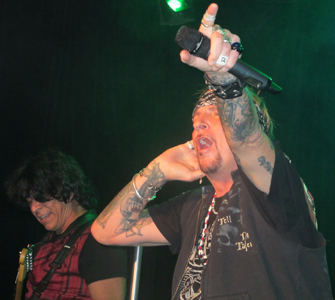 Glenn: You've had so much in your life that you've deal with. Could you imagine yourself writing an autobiography about things?
Jack: I'm working on it right now actually.
Glenn: There you go. How far are you into it?
Jack: Mmm, maybe a third of the way.
Glenn: Yeah. Awesome.
Jack: There's so much and I'm gonna have to leave out so much. I mean there's so many stories and hilarious things that have happened in life – unbelievable stuff. I might as well call it, 'You're not gonna believe this' but I'm writing it anyway.
Glenn: Yeah that's awesome. I mean there must be so many good tour stories that you're gonna be talking about anyway?
Jack: Yeah absolutely. There's so much more than that. I mean, my story is not just about Rock and Roll and doing drugs and women. I mean there's so much more to my life that will really boggle your mind. It's just jaw dropping. It's like, "You what? You got away with what?". It's been incredible. I am so lucky and so blessed even to still be alive at this point.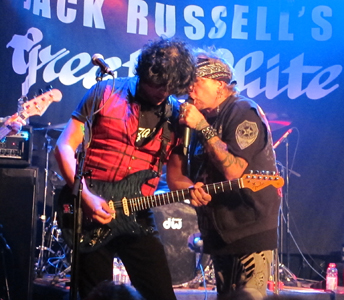 Glenn: I mean back in the day you could get away with a lot more. These days it's so… all the legalities and this and that – you can't do this, you can't do that, you gotta check peoples birth certificates… I mean I'm talking about back in the day but you can't do a lot of the things that you could do then now.
Jack: Oh no, the 80's man was the generation irrepeatanism. You could do whatever you want especially if you were a Rock Star. You could get away with anything because you were expected you to act like a kid and when you did it was no big deal. They just laughed, "Oh God, just look at that guy, ain't he cute." You know, you've just destroyed the whole restaurant. "Can I have your autograph?", You know? You sure don't get it on the 'Wall Of Fame'.
Glenn: So what's the worst thing you've ever done then as a Rock Star as in the things that go off on tour? Can you talk about that?
Jack: On tour. Well probably being Xanex and crashing our tour bus into the median…
Glenn: Holy Sh*t!
Jack: On the freeway doing 70 miles an hour and swiping the whole side of the bus up. Nobody even woke up but the next day man, the Manager came to my room and just threw me on the floor, he was screaming at me, "You idiot, what the hell were you thinking of?". I'm like, "Well clearly I wasn't,", you know? "Oh you knucklehead."
Glenn: That's brilliant. I guess there'll be no more things like that happening ever again? No more tour buses where you're driving?
Jack: Nah man, I'm all done with that stuff.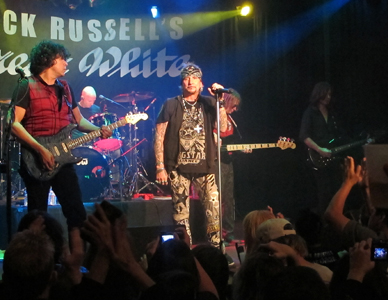 Glenn: I'm kidding.
Jack: I'm 50 years old man. I've got lucky enough. I don't think that… if I was a cat I'm already in debt.
Glenn: Yeah, you're on about -5 or something. Never mind the nine lives. That's funny. Where do you see yourself in ten years then if you don't mind me asking?
Jack: Ten years?
Glenn: Yeah.
Jack: Mmm… married, living on a boat, playing music, writing songs. Maybe some more books. I've got some childrens books I'm working on that are really, really cool. You never know. Who's to say? Life is so full of curveballs. You never know where you'll end up. So I just kind of like pray for the best and try and get to stay without getting the crap beat out of me.
Glenn: Yeah that's nice. What are you most proud of?
Jack: Most proud of?
Glenn: Yeah.
Jack: Surviving myself.
Glenn: And do you know what, I actually put that as a question, 'What's your key to survival?'.
Jack: You know, having a God and Angels around me that just put up with my nonsense and hopefully I'm bringing more into the world that I'm taking out with my music.
Glenn: Yeah, well that's awesome. That's great.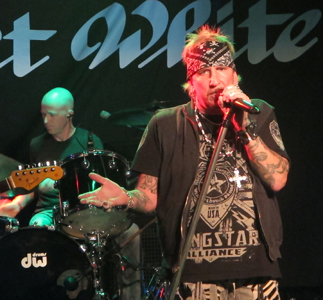 Jack: Hey thanks man, I really appreciate your time.
Glenn: Oh that's cool.
Jack: Alright man, it's been great talking to you. Thanks Brother.
Glenn: Thanks Jack. Take care brother.
Jack: Bye.
Glenn: See you later.
Jack: You got it man.
Glenn: Thanks dude, see you later.