James Kottak - Scorpions Drummer and frontman of KrunK
1. How do you manage your time between KrunK and Scorpions - it must be a
tight schedule?
The Scorps work about 5-6 months a year.
The rest of the time is 100% Krunk time. It's easy when you love what u do!

2. Has the scene or status in LA changed much since you formed Krunk? How?
The scene in LA is pretty dead right now and has been since the grunge era. Matters not to KRUNK! LA RULES!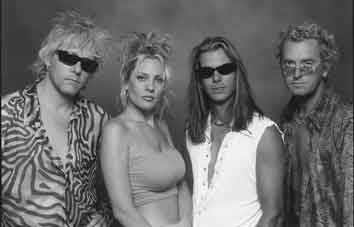 3. What's the chances of a tour that features both Scorpions and KrunK ?
Or do you consider the styles of the two bands too different for it to
work?
I keep Krunk and The Scorps totally separate. In Krunk, I am Jimmy Ratchitt, 26, out of control....basically an idiot....sort of an insane genius.
With the Scorps, I am James Kottak, 34, responsible father of 3, drummer, vocalist professional!

4. How was the reunion with Uli Jon Roth etc at Donington Rock and Blues?
The reunion did not happen. If it did, we weren't there.

5.In Krunk, what is it like working alongside your wife - does it tend to
make the band a stronger unit?
Athena is an EXCELLENT drummer in the trashy sort of way. It's way cooler to turn around and see a hot chick with GREAT boobs than some sweaty geezer. When performing, I don't think of her as 'my wife'.....
6. How does it feel to switch instruments etc from one band to the other?
Switching instruments is no problem.....it's my job.

7. What type of music do you like performing most of all - or is it great
to have that contrast?
I love playing hard rock and roll drums......w/the Scorpions....hitting as hard as humanly possible. I love hard rock when playing drums but prefer stuff on the punky side when singing and playing guitar.

8. Who are your favourite drummers and why - how have they influenced you?
Of course Buddy Rich for his persistence, John Bonham for his feel and sound.

9. What albums have influenced you a lot from a drumming point of view?
I got most of my 'fast' stuff from Gino Vanelli cd 'Brother to Brother' Mark Craney is an incredible drummer. AC/DC Back in Black for feel
10a.What is it like being a member of the Scorpions?
Playing w/The Scorpions is GREAT! They treat me like family. Still one of the biggest bands in the world! Last year alone we played in over 30 countries.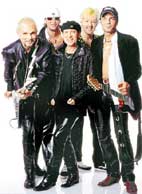 b. What's your average day consist of?
While on the road, there isn't all that much down time.
Between travelling, sound check, and the show, rest is a commodity.

11a. What made you (Scorpions) decide to do the concert/album/video etc
with the orchestra?
Actually, it was the Berlin Philharmonics idea. They first approached the band in 1995. We've done MANY shows around the world with different orchestras including Russia, (10 shows), Portugal, France, etc...
b. How did it go?
It was a cool novelty type thing, but I wouldn't want to do another cd.
c. Would you do it again?
Shows are OK now and then. I prefer to ROCK.....5 piece!

12. What material in the Scorpions are you most proud of and why?
I co-wrote a song on the Eye To Eye cd called DU BIST SO SCHMUTZIG. It was the first song the Scorps ever put on a cd singing in German.
I also sang on the track....my part in English!

13. Do you get free choice on how you want to play the drums in the
Scorpions i.e. are things jammed to get the right groove for the song(s)
or is material sometimes written on more of a stricter basis?
When I first joined, I did compromise my drumming a bit to reflect Hermans (former drummer of 15 years) style. Gradually over the years, things have relaxed.
Most times there will be a demo version of new material. Then we take it from there.... Not much jamming.

14. How did Krunk get roles in 'The Glass House' + do some of the
soundtrack? Did you know the Director/Actors/Producers previous or did
they come directly to you guys ?
A friend of ours was doing production for the rock scenes and he recommended us......unfortunately, we ended up on the cutting room floor........boo!

15. On the Krunk web-site, why isn't there a link to the Scorpions
web-site?
I don't know!

16. How did you initially become a member of the Scorpions? What was it
like at first to join such a highly regarded legendary band? Was it
nerve-racking or did it seem like a natural progression?
My former band Kingdom Come opened for the Scorpions for 4 months in America. The phone rang one day and it was the manager asking if I would be
interested. I thought about it for a few days....called back.... I was pretty burnt out on drumming at the time I flew over 10 days later to check it out....it was cool....I joined.
I had previously played on a few Scorps tracks for Pure Instinct (1995) w/Kieth Olsen producing who I've recorded 15 + cds with. I also did an MSG cd

17. Do the Scorpions plan to play more gigs in Britain? Where and When?
There are no tour plans at the moment. We just finished the world in support of ACOUSTICA.

18a. What are you favourite songs? (my faves are Generation x, Ten
Shots to the back of the head, Get out of my Kountry, Tommorow and No Krunk
till Hammersmith)
Today I like U WISH U WERE ME, TOMORROW
b. Who came up with the idea of recording 'Tomorrow - why ?
I was in Vegas feeling all show bizzy.... Playing guitar at 7 in the morning after an all night bender.....BOOM!!! Just popped into me head!!

19. Is it the ultimate dream for Krunk to play the Hammersmith - The one
Motorhead recorded their live album at ?
I played at The Hammersmith w/Kingdom Come....twice!
Athena and I were just in London in June and took our picture out in front of the place.....HA!

20. What are your favourite Krunk and Scorpions moments and why?
Scorps....We played for 750,000 people in Crakau, Poland!!!!
Last year...INCREDIBLE
Krunk opened for Motley Crue a couple of years ago........9,000 Crue heads.....we won 'em over big!!!!!
21. What's next for both bands?
Scorps to do a ROCK cd in 2002....finally Krunk returns to the studio in Oct. with a REAL producer!!!

22. What cool road stories have you got which are highly amusing and
worth telling?
I wouldn't want to incriminate anyone...........HA!

23. What's the chances of a brother/sister tour i.e. Tommy Lee's Methods
of Mayhem and Krunk - that'd be pretty cool!!! ?
That would be way cool but doubtful.

24. What could you see yourself doing if you wasn't a member of Krunk or
Scorpions?
I don't have a clue.....sell shoes????
Check the review of KrunK's 'Greatist Hits' album under K in the CD Reviews section.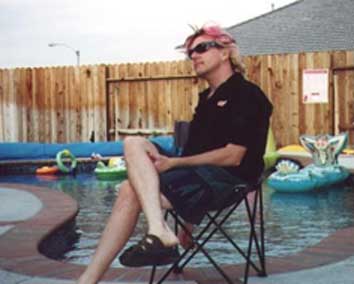 Thank-you
James Kottak......aka.l...Jimmy Ratchitt