An Interview with
'Jason McMaster'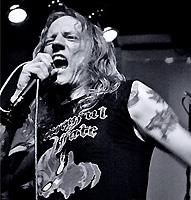 (Photo by Trish Gill)
Frontman of 'Broken Teeth' & 'Dangerous Toys'
that took place in July 2008.
Interviewed By Glenn Milligan.
Glenn: What initially turned you onto playing guitar and becoming a frontman?
JASON: I STARTED OUT A BASS PLAYER AT AGE 13. IT WAS GENE SIMMONS AND KISS THAT SHOCKED ME, AND I WAS ALL INTO IT AT THAT DISCOVERY. COMPLETELY OBSESSED. I LEARNED A LOT FROM TEACHING MYSELF BASIC CHORDS ON AN OLD PIANO AT MY HOUSE AT AGE 10 OR 11. MY FIRST MUSIC INSPIRATIONS WERE ELTON JOHN, QUEEN AND DAVID BOWIE. THEN KISS, UFO, THIN LIZZY, ACDC, JUDAS PRIEST & TED NUGENT -THE LIST IS HUGE.

Glenn: What were your first bands and how did they come to be?
JASON: I WAS A BASSIST IN MY FIRST COUPLE OF BANDS. I NEVER EVEN THOUGHT I WOULD EVER HAVE TO FRONT THE BAND 'TIL I WAS 17. THE FIRST BAND I WAS JUST SINGING IN WAS 'WATCHTOWER' - A TECHINCAL THRASH BAND THAT PIONEERED THE PROGRESSIVE METAL MOVEMENT AS EARLY AS 1982.
IT WAS A TRIP AND I LEARNED ALOT OF JUST HANDS ON DOING IT IN FRONT OF MY PEERS IN BACKYARD KEG PARTIES IN SOUTH AUSTIN, TEXAS.

Glenn: What are your fave times in Dangerous Toys in the studio and why?
JASON: RECORDING THE FIRST 'DTOYS' RECORD WITH MAX NORMAN WAS THE BEST LEARNING EXPERIENCE. HE WOULD HAVE ME SING STUFF OVER AND OVER, WEARING ME OUT. I WOULD BE SINGING 13 HOURS A DAY SOMETIMES. IT WAS PRETTY BRUTAL, BUT I LEARNED WHAT MY VOICE COULD DO AND WHAT I HAD BEEN NEEDING TO LEARN ABOUT MY VOICE FROM WORKING WITH HIM.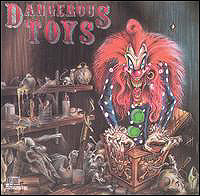 THE EXPERIENCES IN WRITING AND RECORDING FROM WAY BACK EARLY DAYS ALL UP TO NOW, ARE WHAT I CALL THE STUDY OF THE CRAFT. IT'S ALWAYS A MYSTERY TO FIND OUT WHAT IS THE RIGHT WAY TO WRITE AND RECORD A SONG. I HAVE PRETTY MUCH FOUND OUT THAT THERE ARE NO RULES TO IT AT ALL. IT IS WHATEVER MAKES YOU MOST COMFORTABLE, AND WHATEVER YOU BELIEVE TO BE THE RIGHT WAY IS JUST WHAT IS WORKING AT THE MOMENT.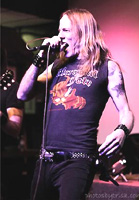 (Photo by Trish Gill)
Glenn: What Dangerous Toys songs are you most proud of and for what reasons?
JASON: I THINK THE EARLIEST SONGS I WROTE WITH THE TOYS, 'HERE COMES TROUBLE', 'SPORTIN A WOODY','QUEEN OF THE NILE' AND 'BONES IN THE GUTTER', WERE LITERALLY SOME OF THE FIRST SONGS I HAD EVEN WRITTEN AT ALL. SONGS THAT HAD STORIES TO THEM AND WERENT JUST IMAGERY LIKE A LOT OF METAL LYRICS. IT WAS FUN TO LEARN THAT.

Glenn: What gigs/tours come to mind from these days that are worth talking about - both good and bad?
JASON: ALL GOOD. TOURING WITH MY IDOLS MOTORHEAD, JUDAS PRIEST AND ALICE COOPER.
BAD: WHAN THE LABEL MAKES DECISIONS FOR YOU THAT YOU WEREN'T ABLE TO EXPRESS AN OPINION ABOUT.

Glenn: What do you miss most about those days?
JASON: THERE SEEMED TO BE A MORE OF A FREEDOM AND FOOTLOOSE THING ABOUT IT. BUT, I DONT MISS A LOT OF THINGS ABOUT IT AS WELL. THE AMOUNT OF MONEY BEING SPENT ON RIDICULOUS THINGS LIKE CATERING TO VIDEO SHOOTS TO MAKE UP AND HAIR AT PHOTOSHOOTS. I WOULD SH*T MYSELF WHEN I WOULD SEE THE BUDGET THAT WAS SET FOR THESE TYPES OF THINGS. ALL THIS STUFF WAS COMING OUT OF MY POCKET IN THE END. THE WORD "RECOUPABLE" WAS ONE I HAD TO LEARN FAST.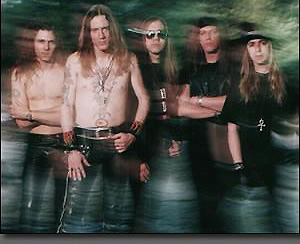 (Photo by Shawn Clark)
Glenn: Why did the band break up and what eventually made the band reform a few years ago? Are there anymore plans to resurrect the band again?
JASON: THE BAND? YOU MEAN 'DANGEROUS TOYS'? WE NEVER BROKE UP. WE NEVER ARGUED THIS WHEN PEOPLE SAID IT IN REVIEW. BUT, IT WASN'T THAT IMPORTANT IN ARGUEING ANYWAY SINCE WE STOPPED TOURING AND RECORDING TOGETHER. WHILE WE ARE ALL STILL ALIVE AND KICKING, THEIR IS ALWAYS THE LOVE WE HAVE FOR THE OLD SONGS AND FANS THAT MAKES US WANT TO DO A FEW SHOWS EVERY YEAR.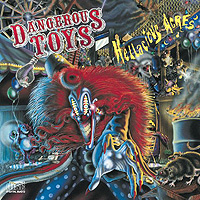 Glenn: What other bands have you been part of that have been memorable and why?
JASON: MY BAND 'BROKEN TEETH' IS KICKIN ASS AND TAKING NAMES. I LOVE IT - MOST FUN I HAVE HAD IN A BAND IN A LONG TIME.
MY OLD BAND 'WATCHTOWER' WAS SO IMPORTANT IN MY LEARNING CURVE AS A SINGER. AS WELL, THE MUSICIANS I GOT TO WORK WITH IN WATCHTOWER WERE THE BEST PLAYERS I HAD EVER WORKED WITH. I LEARNED SO MUCH. I LOOK FORWARD TO DOING PROJECTS WITH THOSE GUYS AND THE TOYS GUYS AGAIN WHENEVER THEY ASK.

Glenn: How did 'Broken teeth' come to be?
JASON: IN 1999, PERRIS RECORDS ASKED PAUL LIDEL AND MYSLEF TO WRITE A RECORD FOR A ONE TIME PROJECT. THE STYLE WAS SET TO BE A SORT OF AC/DC BIKER ROCK THING. HERE WE ARE 5 RELEASE LATER WITH ONLY A SLIGHTLY NEW LINE UP AND STRONGER THAN EVER.

Glenn: Why did you initially decide to sign to Perris records in the USA?
JASON: PERRIS WAS THE REASON 'BROKEN TEETH' CAME TO BE. THEY HELPED START THE PROJECT.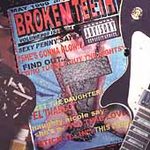 Glenn: What have been the most meorable moments in Broken Teeth so far and why?
JASON: TOURING THE STATES SOLID FOR ALMOST THREE YEARS, MEETING FANS, OLD AND NEW. WRITING AND RECODING SOME OF THE BEST ROCK N ROLL I HAVE EVER WRITTEN - A TOTAL BLESSING. ANOTHER OUTLET FOR ME TO EXPRESS HOW IMPORTANT ROCK 'N' ROLL CAN BE TO PEOPLE - TO FANS.TO HOW YOU CAN GET THROUGHT THE DAY AT YOUR SH*TTY JOB, A WAY TO LOOK AT LIFE WHEN YOU THINK IT IS SH*T, TURN ON YOUR FAVE ROCK 'N' ROLL HEAVY METAL CD, AND THE SH*T ALL GOES AWAY AND YOU CAN HANDLE LIFE A LOT BETTER.
IT'S BEEN THAT AND A LOT MORE.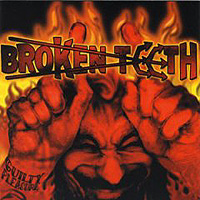 Glenn: Who have you been compared to as a band and what is your response to that?
JASON: AC/DC, MOTORHEAD AND JUDAS PRIEST - I LOVE IT. THOSE ARE WHO WE STRIVE TO BECOME AS INSTUTIONALIZED AS. IT'S A STYLE THAT WE ARE TRYING TO KEEP ALIVE. WE WILL NOT RE-INVENT THE WHEEL, WE JUST WANT TO TELL PEOPLE HOW KICK ASS THE FIRST WHEEL WAS.

Glenn: Who came up with the cover for 'Electric' and what made you decide to call the album that?
JASON: OUR ARTIST IS JEFF WILLIAMS, BASSIST FOR THRASH METAL BAND, 'ONSLAUGHT' FROM THE UK. HE IS LIKE A BROTHER TO ME. WE HAD THE SONGS ALL PICKED. 'ELECTRIC' WAS ONE OF THE NEW FAVES I HAD WRITTEN. THE SONG IS ABOUT REVIVING THE FAN THAT STANDS IN LINE FOR A TICKET, BUYS A SHIRT AT THE IN HOUSE MERCH TABLE WITH TOUR DATES ON IT, RUNS TO THE FRONT ROW TO STAKE CLAIM AS A HARDCORE FAN, DOUBLE FISTED SCREAMING ALL THE WORDS ALL NITE THROUGH THE BANDS SET, ONLY TO LOSE HIS OR HER SPEAKING VOICE. GOING TO WORK THE NEXT DAY TO WEAR THE SH*T, AND TALK ABOUT HOW GREAT OF AN EXPERIENCE THEY HAD AT THE SHOW - THE MUSIC THAT SETS THEM FREE.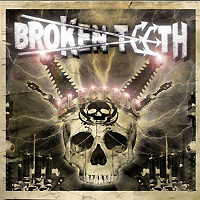 Glenn: What were the influences for each of the songs on the album and why?
JASON: IT'S PRETTY MUCH THE CLICHES 'SEX DRUGS AND ROCK N ROLL'. THERE ARE A LOT OF METAL INFLUENCES WE ALL HAVE. SOME SHINE THRU ON A FEW OF THESE. SOME OF THE STORIES IN THE SONGS ARE DIFFERENT THAN THE RUN OF THE MILL. BUT FINDING FUN NEW STUFF TO WRITE ABOUT IS PART OF THE JOURNEY WHEN YOU ARE TRYING TO KEEP IT SIMPLE AND HAVE A CAREER AT THE SAME TIME.
Glenn: If you had a chance to duet with anybody who would it be and why?
JASON: HAHA, WELL, I AM A BIT OF A WHORE! I WOULD DUET WITH ANYONE FOR THE EXPERIENCE. WIERD QUESTION. STEVEN TYLER? BRIAN JOHNSON? JESSE JAMES DUPREE - GOT TO DO THAT ALREADY.

Glenn: What are views of a band like Airbourne?
JASON: AIRBOURNE KICK ASS, I LOVE THEM. THEY ARE SAVING ROCK 'N' ROLL ON THAT UPPER LABEL LEVEL. THEY ARE SHOWING ALL THE PEOPLE WHO BUY ALL THINGS 'HOT TOPIC', ALL THINGS SPOONFED, THAT SIMPLE DIRTY ROCK IS AS FUN AS SLIPKNOT AND DISTURBED, AS WELL AS REMINDING PEOPLE WHERE ALL OF THIS COMES FROM.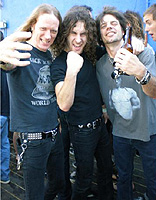 THE SAME MISSION AS 'BROKEN TEETH'. THEY ARE YOUNG ENOUGH TO MAKE A DIFFERENCE TO A YOUNGER AUDIENCE. BUT, A LOT OF OLD BANDS AND MUSICIANS ARE COMEPLETLY IN LOVE WITH THE AIRBOURNE RECORD. IT IS COMPLETELY A NO BRAINER THAT THEY ARE BROKEN TEETH FANS.

Glenn: What would say is your fave guitar and why?
JASON: I AM NOT MUCH OF A GUITAR PLAYER, BUT I LOVE OLD GIBSONS. I HAVE A 2004 FLYING V & AN OLD BLACK LES PAUL. I USED TO HAVE SOME SG'S. I HAVE A THUNDERBIRD BASS AND THREE GIBSON RIPPERS FROM THE 70'S.

Glenn: Who would you say are your greatest vocal influences and why?
JASON: STEVEN TYLER, JOHN BUSH, ROB HALFORD, BON SCOTT, ALICE COOPER, KLAUSE MEINE - ALL GREAT FOR DIFFERENT REASONS. A LOT OF POWER AND PERSONALITY - THE LIST COULD GO ON FOR DAYS.

Glenn: What great road stories and groupie stories do you have worth telling?
JASON: NONE WORTH TELLING, I HAD A LOT OF FUN ON MY OWN TIME, WITH THE BAND AND WITHOUT. HOW MUCH TIME YOU GOT OFF THE RECORD?

Glenn: Do you plan to do any UK shows with 'Broken Teeth' in the future - even as a support to another band? If so, what can we expect in the pipeline?
JASON: NO PLANS TO TOUR EUOPE OR THE UK. WHATEVER BOOKING WE HAD WORKING FOR OVER THERE HAS FALLEN THRU. WE ARE INTERESTED IN FINDING THE RIGHT AGENT FOR OVERSEAS.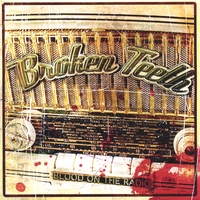 Glenn: What is your area of the USA like for Rock music with regard to venues, radio and tv?
JASON: IN AUSTIN TEXAS, WHERE WE LIVE, IT'S GREAT. A LOT OF VENUES. THE RADIO STATION PLAYS LOCAL MUSIC REGULARLY AND SHOWCASE LOCAL TALENT ON MANY SHOWS THAT IT SPONSORS.
THE 'SXSW MUSIC CONFERENCE' HAPPENS HERE EVERY MARCH, BUT, IT IS SO OVER POPULATED AND SO MANY THINGS HAVE CHANGED ABOUT IT. IT USED TO BE ALL ABOUT SHOWCASING UNSIGNED TALENT, NOT, IT IS MERELY A MARKET FOR MAJOR LABELS TO SHOWCASE ALREADY SIGNED BANDS WITH CAREERS AND DO PROMOTIONS FOR THOSE BANDS UPCOMING RELEASE. IT HAS BEEN WATERED DOWN SO MUCH AND IS SO DIFFERENT. IT IS ALMOST A HINDERENCE UPON THE MUSIC BUSINESS.
ALOT OF PEOPLE FROM OVERSEAS AND OUT OF STATE COME THRU DURING SXSW AND SPEND SO MUCH MONEY ONLY TO REALIZE BY THE LAST DAY OF THE FEST, THAT ALL OF THE SHOWS THEY SAW THAT WERE THEIR FAVORITES WERE FREE, AND LOCAL, MEANING THEY SPENT ALL THAT MONEY ON WRITBANDS AND BADGES AND PARKING AND STANDING IN LINES FOR NOTHING.

Glenn: What would you say is a general day for Jason McMaster both on and off the road?
JASON: ALL GEARING A PSYCHING OUT FOR THE NEXT SHOW, NEXT STUDIO SESSION. I WORK SIMPLE JOBS (A RECORD STORE & TEACH VOCALS AT THE PAUL GREEN SCHOOL OF ROCK) IN-BETWEEN THOSE THINGS I LOVE TO DO.
I MAKE POSTERS AND PROMOTE MY SHOWS ONLINE. MAKE SURE MY WEBSITES ARE UPDATED, AS WELL AS SELL MERCH ONLINE, COME UP WITH NEW PRODUCT AND TRY TO WRITE NEW MATERIAL AS OFTEN AS POSSIBLE.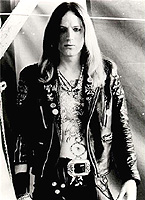 Glenn: What do you enjoy most or least enjoy about a career in music and why?
JASON: IT'S A HARD BUSINESS. GETTING PAID CAN BE BACKBITING, MEANING THAT YOU CAN RECORD A SONG ,OR PRODUCE SOMETHING FOR A COMPANY, OR ANOTHER ARTIST, OR FOR A MOVIE SOUNDTRACK ETC.. AND IT CAN TAKE WEEKS, OR YEARS TO SEE A DIME, IF AT ALL. THERE ARE A LOT OF CONTRACTS, A LOT OF MIDDLEMEN GETTING CUTS, MOST OF THE TIME THE MIDDLE MEN, MANAGERS TO LABEL PEOPLE AND EVEN PRODUCERS, THAT MAKE MORE MONEY THAN THE SONG WRITERS/PERFORMERS. BELIEVE IT.
IT'S ALMOST BETTER THESE DAYS TO DO IT ALL YOURSELF. NO MIDDLEMEN & ALL PROFIT TO THE ARTIST.YOU CAN RECORD AND PRODUCE AND RELEASE YOUR OWN MUSIC VERY CHEAP THESE DAYS WITH THE NEWEST TECHNOLOGY.
THE THING I ENJOY THE MOST IS PLAYING AND WRITING, AND RECORDING. THE ROAD IS AN AMAZING FEELING. IT CAN FEEL LIKE HOME. SOMETIMES IT'S A BIT WIERD, OR LONELY, BUT , YOU GOTTA LOVE IT TO BE ABLE TO DO IT.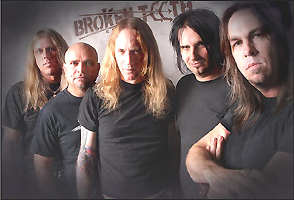 (Photo by Johnny Medina)
Glenn: What do you enjoy doing outside of music and what things you do that fans might not expect you to be into?
JASON: MOST ARE SURPRISED THAT I AM NOT INTO SPORTS. BUT, I AM INTO ANYTHING THAT HAS TO DO WITH MUSIC OR FILM. HORROR,SCI- FI AND ACTION/DRAMA ARE MY FAVES PROBABLY IN THAT ORDER.
IT'S PRETTY SAD TO SOME THAT I DON'T DO MUCH OTHER THAN MUSIC, BUT, I GO TO THE MOVIES ALOT, AND I ALWAYS HAVE A PRJECT.
I LOVE ART- MOSTLY DARK STUFF.

Glenn: What are you most proud of overall in your career so far?
JASON: JUST BEING ABLE TO BE INVOLVED WITH IT ALL. IT'S A SIMPLE ANSWER TO THE QUESTION. WHEREVER THE TALENT COMES FROM, WHATEVER IT IS THAT SETS ME OFF WHEN I HEAR THE GUITAR KICK IN. THAT THING THAT POSSESSES ME WITH IT. IT'S LIKE AN OLD FRIEND , AN OBSESSION MOSTLY. MAYBE THATS WHERE THE TALENT COMES FROM - SOME SOURCE OF THE MUSIC TALKING TO ME, ISN'T IT TALKING TO EVERYONE? I KNOW THAT IS DOES NOT. I AM PROUD TO FEEL GLORY FROM ALL OF IT. PEOPLE WHO LOVE THIS AS MUCH AS I DO ARE FANS, JUST LIKE ME, BEFORE ALL. THAT MAKES ME PROUD IF ANYTHING.

Glenn: What else would you like to achieve as a musician and performer?
JASON: JUST SURVIVING OFF OF MY MUSIC IS ONE THING. I FEEL LIKE THAT HAS BEEN ACHIEVED, TO LOVE IT, AND MAKE THE MUSIC I LIKE HAS BEEN GREAT. IT DOESN'T PAY THE BILLS, BUT IT HAS ALWAYS MADE ME FEEL AT PEACE. SOME DO NOT HAVE THAT RELEASE. I WANT TO MAKE AS MUCH MUSIC AS POSSIBLE - IT'S THE ONLY GOAL I HAVE.

Glenn: If you were to write an autobiography what would you call it and what would be on the cover and for what reasons?
JASON: WHAT COMES TO MIND IS 'THE POWER OF THE RIFF' WHICH IS ACTUALLY NOT A PHRASE I CAME UP WITH. IT'S FROM A QUOTE FROM JIMMY BOWER, WHO PLAYS DRUMS FOR 'DOWN'. IT IS ACTUALLY, "THE POWER OF THE RIFF COMPELS ME", PARAPHRASING, "THE POWER OF CHRIST COMPELLS YOU", FROM THE FILM, 'THE EXORCIST'.
THE POWER OF THE RIFF AND ALL THE THINGS THAT BUILD UP THAT ANXIOUS TENSION WHEN YOU HEAR THE GUITARS AND INTROS TO YOUR FAVORITE SONG. AN AUTOBIGRAPHY SOUNDS TO ME LIKE IT WOULD BE A WHOLE LOT OF STORIES, WITH A LOT OF NAME DROPPING. BUT, THE COVER MIGHT NOT HAVE ANYTHING ON IT OTHER THAN THE TITLE AND SOMETHING ABOUT THIS OBSESSION OF MINE.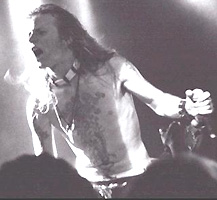 (Photo by Christine Reiff)
Nice One Jason - Keep Rockin' Bro!