An Interview with
'Jim Crean'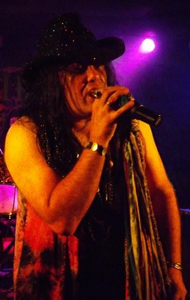 Lead Vocalist of Carmine & Vinny Appice 'Drum Wars',
as well as 'Hair Nation' & Solo Artist
that took place on July 1st, 2015.
Interviewed by Glenn Milligan.
Glenn: What led you to follow the dreams of being a lead vocalist or in other words, who and what influenced you?
Jim: At a very young age I loved music. My dad played drums in a very popular New York band, so I was around music all the time. In the beginning my main influences were the great Ronnie James Dio, Steven Tyler & Phil Naro. I started playing in bands at the age of 13.
Glenn: How was the scene in Buffalo, New York when you first started and how would you say it's different now with regard to bands and the whole live scene in general and why?
Jim: The music scene in the early years was amazing! I started playing in bars/venues at the age of 15. At that time bands played out every night of the week. Live entertainment was thriving!
The live music scene & business has changed so much that it has become really hard for a new band to find success, I am so blessed & grateful that I still have a career in music.
Glenn: What would you say were the key things in the early days that set you in good stead and gave you the main experience to perform the way you can now?
Jim: Well in the early years I was fortunate enough to have the opportunity to surround myself with very talented musicians. That has become the standard for me, by playing a countless amount of shows it has gained me the experience I have to this day.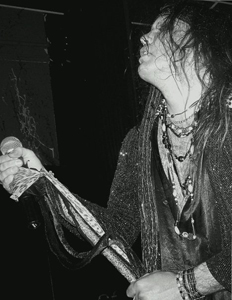 Glenn: You have some solo albums under your belt so to speak that have involved Phil Naro. How did you originally meet Phil and what's he like to work with in the studio. Care to name any good times while recording your solo material?
Jim: I met Phil in the early 80s when my band would open for a band that Phil was in called Talas. Phil was really good to me and took me under his wing! Phil has been a part of all my albums! He's produced them, sang background vocal, co-wrote songs etc on them. Phil really brings the best out of me in the studio. Not only is he one of my closest friends but he is also a true professional!
Glenn: Okay, so why did you call the 2011 album 'Velvet Crush'? Does it relate to your stage attire by any chance?
Jim: Ha! I guess one could assume that, based on my outrageous stage outfits but actually I thought we really crushed it on the album, so I came up with the title. Steve Major did a great job producing it!
Glenn: How did you meet the designer the cover of the album, Ed Unitsky and what was it about him that made you want him to take care of the artwork?
Jim: The record label A & R representative suggested that we use Ed. He is a very well known famous artist in Russia. When I saw his work I was blown away! He is very detailed orientated and I love how the artwork came out.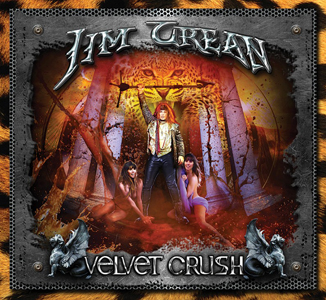 Glenn: What influenced the songs 'Taste Of Reality'; 'It Couldn't Get Any better'; 'She Goes Down'; 'Red Light' and 'Past Tense' both lyrically and musically?
Jim: When I write songs lyrically I try and paint a picture or story that everyone can relate to in there own way.
Glenn: You've had some major support slots performing as 'The Jim Crean Band' – who have been the coolest well-known artists you've been billed with and why?
Jim: Yes, we have been direct support for some really big artist's such as Bret Michaels, Dokken, Great White & LA Guns etc. My favorite shows have been with Mike Tramp. Mike and I have become really good friends! He's a great guy along with my brothers from LA Guns.
Glenn: What can you tell us about 'Melodic Revolution Records' which the 'Velvet Crush' album in on?
Jim: MMR is an independent label out of Florida and distributes internationally.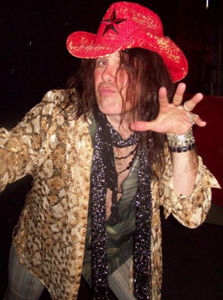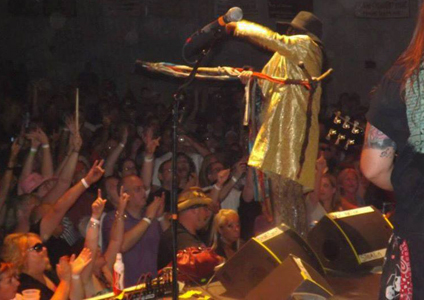 Glenn: And your favourite touring stories throughout the years and best Spinal Tap moments are?
Jim: Touring has been a major part of my career and I have made some very memorable moments out on the road. As far as Spinal Tap moments goes, one that comes to mind while out on tour with Great White. The venue was packed and the promoter comes up to us and says, "The place is packed and they want you guys on right now!"
So we come out, the place is rocking, people start cheering, raising their hands etc. and the crowd is pumped! We go into our opening song, kinda sounding thin then I start to sing and there's no sound? Our road crew goes and finds the sound guy backstage sleeping! Neverless, they powered up the sound system and we started again & kicked ass!
Glenn: When can we expect more Jim Cream Band shows not to mention in which countries and venues?
Jim: The Jim Crean band will be performing as direct support to Rick Derringer in September.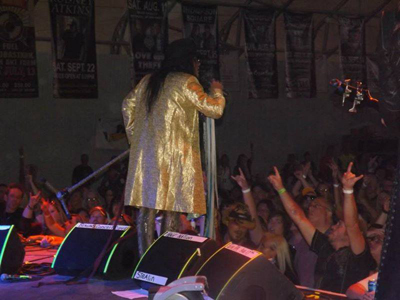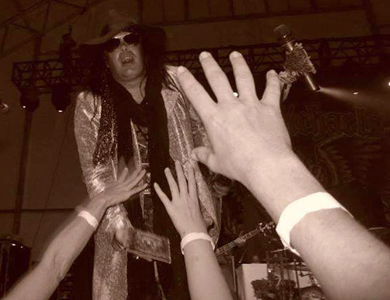 Glenn: Tell us about the various tribute CD's you have appeared on.
Jim: I have songs on a lot of tribute cd's such as 'All Tricked Out- A Tribute to Cheap Trick', A Tribute to Enuff Z Nuff, Goo Goo Dolls, Ace Frehley & 'A World With Heroes - A Tribute to Kiss'.
Glenn: What led to being the vocalist for 'Drum Wars' with Vinny and Carmine Appice? Did you audition and if so what can you tell us about the process?
Jim: Drum Wars was using different musicians in every city that they played on one of their tours. I was the singer in one of the cities and they liked the way I sang and performed and asked my to go on tour with them & become their official singer! Since then we have become great friends & band mates.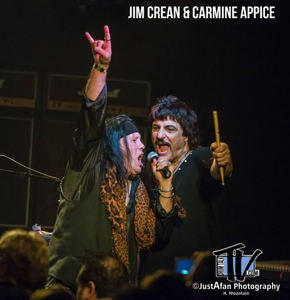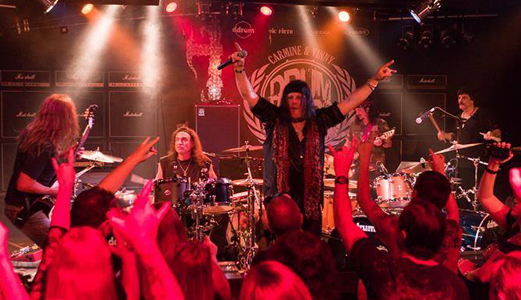 Glenn: What goes through your mind before going out on stage with Vinny and Carmine Appice?
Jim: When you're playing with the two best drummers in the world, I just go out and give my best performance to represent them in the best way possible.
Glenn: What are you looking forward to about performing at the Whisky A GoGo on July 16th, 2015 in particular and why?
Jim: I love playing in Los Angeles & especially at the Whiskey A Go Go. This show on 7/16 will be a special one since we have a great band that we put together! Phil Soussan (Ozzy/Vince Neil), T- Bone Andersson (POTA/Steelheart), myself and the Appice Brothers.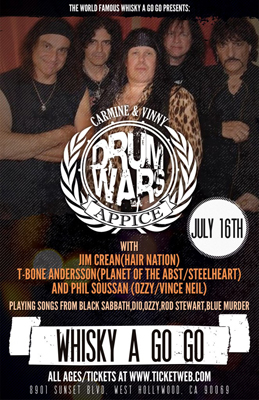 Glenn: Are there certain parts of the show that are the highlights for you and if so which parts and for what reasons?
Jim: The whole show is very well put together. From Vinny & Carmine's solo's to all the hit songs we play. The misconception of 'Drum Wars' is that of being a drum clinic, when in fact it is a full concert performing all the hit songs from the Apppice's catalog history of Dio, Black Sabbath, Rod Stewart and Blue Murder etc.
Glenn: What songs are the most demanding for you and why in the 'Drum Wars' set?
Jim: As we all know, Ronnie Dio was the greatest singer of all time. That being said, singing Dio is everyone's challenge. Rather than trying to sound like Ronnie, I like to put my own take on those songs to do them justice.
Glenn: What have been standout shows for you with regard to Drum Wars and what made them special?
Jim: We played a sold out show in a theatre in Montana. The whole town came out to the show to honor us and treated us really well. Another show we played was to a sold out crowd at Vamp'd in Las Vegas. We also played 2 sold out shows at the world famous Iridium (Les Paul's) that was recorded for a live album.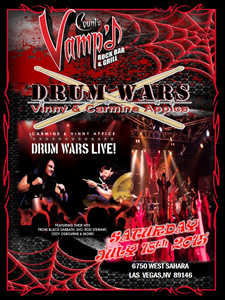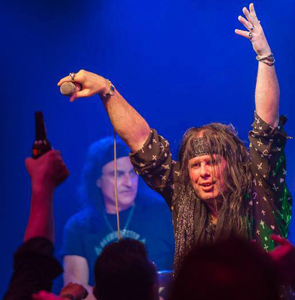 Glenn: What about a 'Drum Wars' album with completely new material that you have placed together with as band as opposed to songs that the two Appice Brothers have been part of over the years? Just a thought!
Jim: We released a live album on Cleopatra Records in 2014. It was recorded live at the Iridium in New York City! We a currently working on a new album of all new original songs!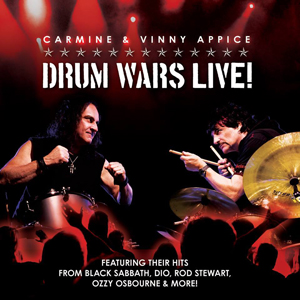 Glenn: You also front an 80's Rock Band called 'Hair Nation'. How did this come to be and what would you say have been the most memorable moments so far and why?
Jim: Yes I formed hair nation 15 years ago and we continue to perform on a weekly basis. We have toured and been direct support for just about every national band from the 80's. Some of our best tours have been with our brothers from L.A. Guns!
Glenn: What material do you like performing most in 'Hair Nation' and which songs seems to bring the house down on every show and why?
Jim: When we play Skid Row, Aerosmith & Motley Crue! It's fun for me because my Fiance, Colleen is the drummer in 'Hair Nation' and she kicks ass!
Glenn: If you could live the life of any particular artist whose songs you perform in either 'Drum Wars' or 'Hair Nation' who would that be and why?
Jim: Hands down, Steven Tyler of Aerosmith. He has stood the test of time and continues to stay on the top of his game! A true showman and amazing talent.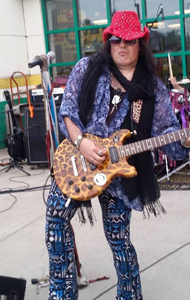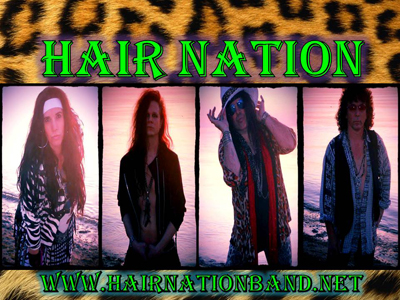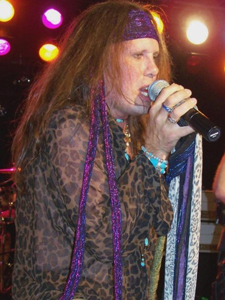 Glenn: Have you met many of the artists you have covered songs by and if so, what was their comments to your performances and how did it make you feel at the time?
Jim: Yes just about all the bands we cover we have opened up for & made a unique bond with. It's great to hear the actual artist of the band your covering tell you how much they like the way you play their songs!
Glenn: Are you endorsed by BC Rich and if so, how did this come to be and what does it mean to you personally?
Jim: I did have a BC Rich endorsement and yes they make fantastic instuments. I was proud to be a part of them.
Glenn: What's your key to keeping that voice of yours in great shape?
Jim: I sing everyday to keep my voice strong!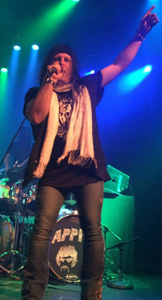 Glenn: What else would you like to discuss that I haven't covered?
Jim: I just signed a record deal with Carmine Appice's record label, 'Rocker Records'!
My new album will be out in September. I am really excited about this album. It features a duet I did with Mike Tramp (White Lion), Vinny & Carmine Appice on drums, Phil Lewis (L.A. Guns) on background vocals, Jimmy Bain (Dio/Rainbow) on bass, Phil Naro, Robby Lochner (Jack Russell's Great White) plus many other big name musicians on it. Produced by Steve Major, artwork by Ed Unitsky and an amazing intro from 'That Metal Show's, Don Jamieson!
Glenn: What are you most proud of so far in your career and for what reasons?
Jim: All the relationships that I made throughout the years. Whether it being the fans all over the world to all the amazing musicians I work with!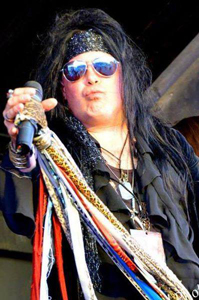 Be sure to check out:
The Jim Crean Official Website
The Drum Wars Official Website
Jim Crean's Personal Facebook Page The Jim Crean Facebook Fan Page
The Drum Wars Facebook Page The Hair Nation Facebook Page
All images have been supplied and used by kind permission of Jim Crean