An Interview with Love/Hate Frontman,
Jizzy Pearl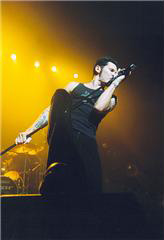 in October, 2007 by Glenn Milligan
What brought on the decision to get 3 of the band together?
I QUIT RATT IN DECEMBER 2006 AND HAD NO GIGS ON THE HORIZON. I THOUGHT IT WAS TIME TO BURY THE HATCHET WITH THE ORIGINAL LOVE/HATE GUYS AND DO SOME SHOWS
What happened to the remaining member? Why aren't they part of it as well?
JON E. LOVE THE GUITAR PLAYER IS THE ONLY ORIGINAL MEMBER NOT COMING TO THE UK, DUE TO LEGAL ISSUES
What are you all most looking forward to playing in the set list ad why?
EVERYONE IS JUST EXCITED TO BE COMING BACK, PERIOD. LAST TIME JOEY AND SKID WERE HERE WAS 1996

What was it like getting the 3 members back together for you all involved?
WE'RE LIKE OLD WAR BUDDIES, IT WAS WEIRD FOR A WHILE AND THEN IT WAS COOL

Why London for the full 'Blackout in the Red Room' - why not do a longer show and include it for each?
WE WANTED TO DO THE 'BLACKOUT' RECORD AS A SPECIAL THING AND LONDON SEEMED THE BEST PLACE

Is the Love/Hate '3-some' (dare I call it that) gonna be a permanent fixture or is just a temporary thing?
THE OTHER LOVE/HATE GUYS HAVE JOBS AND KIDS AND AREN'T ABLE TO PICK UP AND GO. WE PLAY WHEN WE CAN, A COUPLE OF TIMES A YEAR

Is new material planned with regard to albums? If so, what? Anything to report on as yet?
NEW MATERIAL IS HARD. NOBODY BUYS RECORDS ANYMORE, THEY STEAL THEM OFF THE INTERNET

What were your highlights and lowlights of Ratt and for what reasons?
RATT WAS FUN FOR A WHILE UNTIL I WENT FROM BAND MEMBER TO EMPLOYEE. THEN IT WASN'T SO MUCH FUN ANYMORE
Adler's Appetite - now that must have been an interesting thing - care to tell us about the highs and lows of that - would you ever consider working with him again - reasons why on your opinion?
YOUR TERM 'HIGH' IS AN APT ONE WHEN TALKING ABOUT ADLER. THAT TOO WAS FUN WHEN ADLER WANTED TO BE SOBER. WE MADE A RECORD, WE TOURED, THEN THE ROOF CAVED IN

What were your thoughts when Stephen Pearcy came back to the band and have they changed since?
STEPHEN IS THE ORIGINAL SINGER, HE WROTE ALL THE SONGS—IT WAS NEVER REALLY A PERMANENT GIG FOR ME, I ALWAYS KNEW HE WOULD COME BACK
What's views on the scene now as in LA or wherever the decent rock scene happens to be these days?
THERE IS NO SCENE, IN L.A. OR ANYWHERE. THE RAINBOW IS THE PONDEROSA WHERE 80'S GUYS GO TO DIE—

Got any plans for any more books?
I'M WRITING A SCREENPLAY RIGHT NOW—MORE ON THAT LATER

What have been your fave things you have written and why?
I LIKE CERTAIN SONGS I'VE WRITTEN, MY 3 BOOKS, IT'S NICE TO HAVE A CATALOG OF WORK TO SHOW FOR ALL THOSE BEERS

What things are you most proud of and why?
I'VE HARDLY HAD TO SELL MY SOUL. I AM WHAT I AM, A ROCK 'N' ROLL GYPSY

What's your key to keeping your voice in trim?
I'M A FUNCTIONAL ALCOHOLIC

Feel free to add any other cool stuff that you'd like to talk about that I haven't touched on.
WE'RE NONE OF US FAT, NONE OF US BALD, LOTS OF ENERGY TO BOOT, RAISE YOUR GLASSES AND REMEMBER WHAT ROCK WAS LIKE BEFORE PRO-TOOLS MADE EVERYONE SUCK.
Nice One Jizzy - be sure to go and check out www.jizzypearl.com for more info!
Here are the UK Tour Dates for Love/Hate:
LOVE/HATE REUNION DEC 2007:
Monday 17th London Camden Underworld
Tuesday 18th Bristol The KLA Social.
Wednesday 19th Dudley JB'S
Thursday 20th Nuneaton The Queens Hall.
Friday 21st Leeds Rio's
Saturday 22nd Nottingham Rock City / Rescue Rooms.