An Interview with
'Joe Lynn Turner'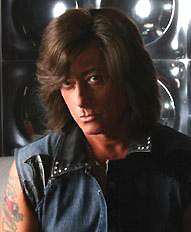 Frontman of 'Over The Rainbow' & formerly of Rainbow, Deep Purple Yngwie Malmsteen
that took place early February 2009.
Interviewed by Glenn Milligan
What are your main influences as a vocalist who have you been impressed with lately and
why?
JLT: Going way back I would have to say Motown and R and B singers. I used to sing gospel in a church that was primarily patronized by black people and these were my friends. I was Catholic but after Mass, I would go sing with them. It was one of my earlier influences. One of my first bands was 'Fillet of Soul' and old soul and Rhythm and Blues music has probably influenced my singing style more than any genre. If you want to talk musical influences in general, Hendrix was the biggest influence and then there were the Big Three in "my book": Led Zep, Black Sabbath and Deep Purple.

As for who has impressed me lately...Daughtery, Matchbox 20, Nickelback to name a few.

What does it mean to you personally to be able to front 'Over The Rainbow'?
JLT: It's a great honor in a sense that Rainbow had so many great vocalists: Dio, Graham, Doogie. They were all top notch. I feel honored and also a lot of proud sentiment. I think this music is music that the fans desperately want to hear again, done live, by some of the people who were a part of making it in the first place. Being a part of this "union" of past Rainbow members, combined with the son of the founding member of the band is part of rock and roll history.

What are looking forward to with regards to touring with the band and for what reasons?
JLT: Making this great music again, live, and seeing the fans enjoy it, is the obvious answer but it is also the camaraderie. I am looking forward hanging with these guys again also looking forward to really presenting a great show. We are working hard to create medleys of several songs that will please the fans yet we also want the setlist to be succinct enough and powerful enough to make the best representation. One thing I want to go on record as saying is that our main goal is not to "ape" the Rainbow of the past in any incarnation. Jurgen is not going to imitate Ritchie and I will not imitate Dio. We will play these songs our way...that is why the band is called "Over The Rainbow."

How long is the set and how is it structured - is it from one phase to another or mixed around?
JLT: No we are not doing a chronological set. We are focusing more on great pacing with less regard to what era the songs are from. I guess you could say it will be like a "salad" with the eras all mixed up. Remember...this is not a Broadway show...this is rock band of ex-members of Rainbow doing Rainbow songs and bringing new twists to some older material to revive it as well.

What effects and lighting are you planning to take? Are there any plan to use the Rainbow that the band was famous for?
JLT: I wish we could use some of the iconic stuff you refer to but it would be an expensive proposition for these first several tour dates. If and when the band really succeeds financially, we might be able to do something along the lines of a major stage set.

What would you say were the main highlights for you during the recording and touring the albums 'Straight Between The Eyes' and 'Difficult to Cure' and why?
JLT: Playing San Antonio and doing a full length video on the SBTE tour was incredible. For me, personally, playing Madison Square Garden (which is right outside of my hometown) was the ultimate message that I had arrived. I had gone there and seen so many shows as teenager. It was seeing Grand Funk and Mark Farner at MSG that ultimately helped me decide to become a rock musician.

As for "Difficult to Cure," that tour was my whole introduction into the International scene. It was my chance to see the world and it was overwhelming and exciting at the same time. Both Blackmore and Glover mentored me during that time and I learned a lot from them.

What do you miss most about being in Rainbow?
JLT: I miss the great collaborative environment for songwriting with Blackmore, Glover and all of the guys I worked with. I also miss the major world tours where we would be on the road for months at a time, playing gigantic arenas. As you mentioned, the elaborate stage settings and lights enhanced the music and experience even more.

What are the coolest road stories you can talk about in the Rainbow days?
JLT: One night in Japan during my early days with the band I had come back after a little "partying," very tired and climbed into my hotel bed. It was very "slimy" feeling but smelled pleasant so I relaxed and dozed off. I later realized that Ritchie had "shampooed the bed."

The other members of Rainbow also liked to superglue the door locks of unsuspecting victims and I had to deal with this on a few occasions. There are so many stories I could write a book!

Who came up with the idea of putting the band together and how did you go about deciding on the members?
JLT: It started with my meeting up with Jurgen because I thought that without him it would not be as authentic of a project. We picked the members based on personality and lifestyle situations... no bad habits...no drug addicts or alcoholics. We wanted consummate professionals with cooperative attitudes and a strong professionality.

How long has it taken to get the band together and were there any main concerns early on, if so what and how were they smoothed out and rectified?
JLT: I had to meet with Jurgen in Germany, first. That took a bit of coordination. Once he accepted this idea, we were able to get the rest of the band together within about a month after that.

Are there particular songs you are looking forward to singing, which ones and for what reasons?
JLT: I have sang a lot of them before but have never done "Tarot Woman." That will be new. I have done "Kill The King" and "Stargazer." I have heard Graham and Ronnie do these songs very well but I will interpret them my own way.

What is your key to keeping your voice strong and in good shape?
JLT: Lots of sleep, staying hydrated, eating healthy. I do get a lot of practice because I do a ton of session work that many fans never read about or know about. This keeps my skills up and because I sing different styles in sessions, I am not limited to one style.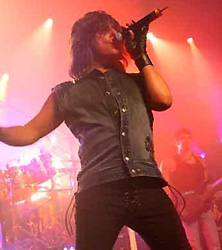 What are your favourite microphones and other on-stage equipment for what reason(s)?
JLT: It all depends. Sometimes I bring my own but I often use what is available through the contracted sound company. If it is an industrialized wireless mic as long as it does not pick up RF or lose quality through the system, I can work with it just fine. The Shure SM57/58 are always great and dependable. I don't require special high end mics and feel that they do not always have enough "beef" to their sound.

What has been the response so far from people with regard to the band getting together and also as yourself fronting the band?
JLT: It's been GREAT, very overwhelming in a positive way.

What have been the most memorable times of working and socialising so far with Bassist, Greg Smith & Drummer, Bobby Rondinelli?
JLT: LOL there are so many memories... always is with those great guys. I am looking forward to making more on the road with Over The Rainbow.

What is Greg referring to as he talks about you all nearly being arrested twice on your 1994 Tour - care to enlighten on that one?
JLT: We got crazy at a casino one time and another time Karl was messing around joking about a bomb threat at an airport in Upstate New York and we got pulled aside and harassed for that.

Apart from the albums you are the lead vocalist for, which other Rainbow albums or songs from them have become firm personal favourites and why?
JLT: This is my honest answer...there are no favorites. They are all unique and special in their own way. I look forward to singing a wide variety with Over The Rainbow. That is also what makes this band so much fun and challenging.

What is the funniest thing you have ever read about yourself?
JLT: That I am gay!! LOL!! That is by far the most rediculous, yet, finniest thing I have heard. I am SO FAR from gay it's crazy. I guess the fact that I am more refined looking, polished in appearance and have good grooming habits that some people might have that incorrect impression...LOL! Very funny.

What venues & countries would you like 'Over The Rainbow' to play and why?
JLT: We would love to do a world tour. We have talked with some industry people in Europe about some dates but because it is all in the negotiating stages, I cannot say much at this time. We would like to get something going in the USA, obviously and also Canada. South America would be wonderful as long as the business situation was right. We have a lot of fans there and they are great.

What would you like to say to the fans out there?
JLT: Thank you for your loyal support. Your support is what motivates me to keep going and your encouragement is what helped lead to the formation of Over The Rainbow.

Is there anything else you would like to talk about that I haven't covered in any of the questions above? - feel free to talk about anything you would like to.
JLT: I just finished laying down vocals for the second "Sunstorm" record. It's due out later this Spring. It's slated to be entitled "House of Dreams."

A big thankyou for taking the time out of your busy schedule to answer the questions.
JLT: You are very welcome and thank you for your support!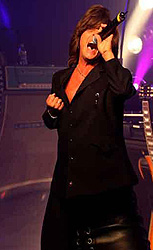 A Big Thank You to Lisa Walker for setting up the Interview