An Interview with
'Joe Lynn Turner'
(Ex-Rainbow, Malmsteen and Deep Purple - now Solo and half of 'HTP' with Glenn Hughes)
By Glenn Milligan, BA Hons CS
that took place Friday 18th July, 2003.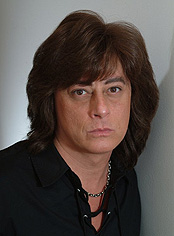 (Photo by Chris Marksbury)
What were your favourite parts of the HTP Project with Glenn Hughes and why?
JOE: The whole project, from the writing to the recording and also playing live is extremely creative and passionate. The whole experience has been like a thrill ride. Working with Glenn is especially invigorating because he is so emotional and talented.

Are any duets planned on the new album - is so, what and who with?
JOE: The entire album is a duet between Glenn and I with the exception of a couple songs that we sing solo on. On the second HTP studio album due out this fall we have guest appearances by drummer Chad Smith (Red Hot Chili Peppers) and guitarist Steve Vai.
If possible, what bands would you like to front again if given the chance and why?
JOE: I'd love to tour and record again with Rainbow if the opportunity presents itself. However, several past members of Rainbow have apparently tried to contact Ritchie about possibly reforming Rainbow. In fact, Glenn and I tried to get him to play on one of the HTP albums. His manager keeps saying that Ritchie is completely committed to what he is doing, now, with Blackmore's Night so I do not see a reunion happening in the near future. It's unfortunate. I think the fans all over the world would like to see this happen.

What albums are you most proud of in your career and why?
JOE: Straight Between the Eyes with Rainbow ranks right up there! So does Odyssey with Yngwie. Both albums are completely steller. Each cut is very strong, no filler. From the playing, writing and production everything came out right.
What have been the most stand-out parts of your career so far?
JOE: Being asked to join Deep Purple was an obvious highlight because I grew up listening to them and playing their covers in my band, Ezra, back when I was in high school. It was a dream come true. Of course, being in Rainbow before that and touring the world, playing huge stadiums and having such successful albums was a big high for me also.
What sort of gigs do you like the most and for what reason(s)?
JOE: Paying gigs.haha! Although I am not opposed to doing charity work and have done many concerts for non-profit organizations. For example, I recently did a show down in Orlando, Florida here in the states with some other classic rock singers like Larry Hoppen of Orleans and Glenn Hughes. We helped raise money for a charity called "Child Watch." Sometime this winter I will be hooking up with the guys from Bonjovi and other celebrities for a "Rock and Bowl" event for charity in the New York City area.
What material did you most enjoy performing with Yngwie Malmsteen?
JOE: Anything from Odyssey. As I said earlier, making that album was one of the highlights of my career.

Who have been the most stand-out artists you've worked with in your career and why?
JOE: Billy Joel. Why? Because he's a total genius. He's a prolific lyricist, excellent pianist, great singe.he is a brilliant madman and I say that with admiration and affection. Cher was also very interesting t work with because of her total insecurity. It amazed me how someone that famous, accepted and admired could be so insecure. You'd figure after all her commercial success that she'd have "gotten it" by now that many people really love her and accept her. It was fascinating.
What is planned for the new album with regard to songs and their styles?
JOE: It runs the gamut of classic rock styles. I've been describing it as Led Zep meets the Beatles in Deep Purple's dressing room. Ha Ha. People who have heard it agree with me. There are a lot of double harmonies. It's also very musical. The song structure is very interesting and surprising. It's a step forward from the first one.
What are your plans for a future UK Tour when the album is released?
JOE: We plan to head to Japan in either February or March of 2004 and then are hoping to stay on the road and travel to Europe right after that. So hopefully we'll be in the UK for a couple concerts in late March or early April. We are really looking forward to being there again so soon. The first HTP European tour was a blast!
Cheers Joe
A Special thankyou to 'Lisa @ To the Max' for setting up the Interview!