An Interview with
Joe Petro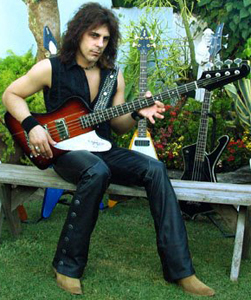 Bassist of Spelled Moon & Sculptor/Restoration Artist
that took place early June, 2015.
Interviewed by Glenn Milligan.
Glenn: Which came first - playing bass or the interest in horror and what turned you onto them both originally?
Joe: I was originally introduced and inspired through music first at the age of 4. Horror movies and the supernatural followed after the age of 6.
Glenn: When did you get started creating the various figures and masks and how did the initial interest begin in this specialist field?
Joe: It all started during my grade school years. The Aurora plastic monster model kits caught my interest. Rubber masks during this time were also cool. I started customizing masks as the mass-produced painting applications were just terrible. So I would learn to paint over them with liquid rubber. What soon followed was customizing them for my entire neighborhood for Halloween.
Glenn: You have shown the step-by-step creation of the 'Curse Of The Demon' Mask from beginning to end as illustrated via an album on your facebook account. What were the hardest and most concentrative parts of the process and why?
Joe: The Demon's Curse mask was a sculpt that originally was made much larger. It had to be sized down to be able to fit correctly. The sculpt was done by Mikey Rots. The sculpting process was the trickiest because the mask had to sit on one's shoulders just right to be able to see and breath through the nostrils. But the tedious part is always mixing up the 3 shades of hair and applying it onto the mask. The demon was originally a very hairy creature.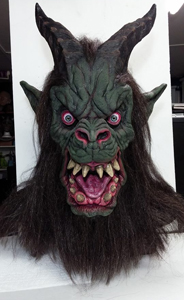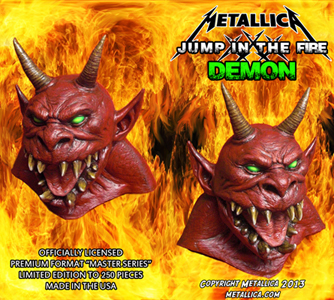 Glenn: You must have had some seriously nerve-wracking moments at times during the process. What would you like to tell us about this?
Joe: Mask production isn't so bad. But if you are committed to doing the production by yourself like I have, it can consume you. The molds for the Demon mask when filled with the liquid rubber weighed in at over 80 lbs. Picking these up and returning the remaining rubber back to their containers was a lot on my back. So far I have made 40 masks.
Glenn: Your Iron Maiden's Eddie sculpture is really cool. What was it about Eddie that drew your attention to him?
Joe: That Eddie sculpture is a small mini bust of solid resin I have acquired years ago at a Chiller Theater show. It was sculpted by Randy Lambert. I had re-sculpted Eddie off of that to depict a closer resemblance of Iron Maiden's debut album cover. I always liked the band right from the beginning. It was the birth of power metal and they had cool eye-popping art. Horror and Metal work well together. Makes you realize why they are still going strong today.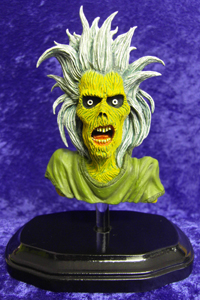 Glenn: Okay, I have mentioned a couple of your works that I really like but which ones do you have a real soft spot for and why those particular ones?
Joe: I was always fascinated by transformation make-ups like the Wolfman, Dr. Jekyl & Mr. Hyde and when a Vampire burns up to ashes in daylight.
Glenn: What horror films would you say are your favourites that make the creative juices of your mind flow really well and what is it about them that have that particular affect on you?
Joe: The Classic black & white horror genres but the 80's horror is what I was a part of. Great 80's metal bands with cool 80's horror flicks and 'Scream Queens'. Good times growing up with all of that.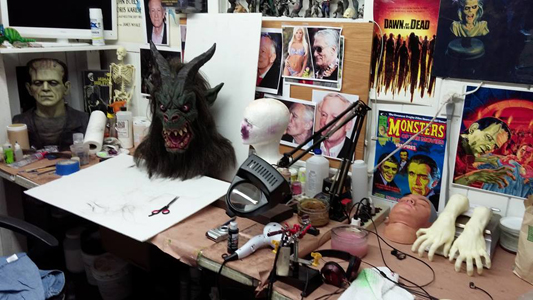 Glenn: Are there certain characters that you'd love to put your own mark on that you haven't had the chance to yet and if so, which ones and why?
Joe: I have a few on the chopping block. I always wanted to build my very own Zombie family including some zombie pets since Zombies have been a big interest lately with games and movies. I also have a love for certain insects – especially the Praying Mantis and the Dragonfly. Imagine a 7 foot tall, anatomically correct Praying Mantis looking down on you to exact detail? How cool is that? Perched up in it's praying stance ready to eat.
Glenn: What are your favourite moments of particular festivals like Monsterpalooza and Fear FestEvil that you have been involved in and for what reasons?
Joe: Monsterpalooza turned out to be a big deal with artists in the F/X business thanks to Elliot Brodsky who created the event. It has inspired artists to be more independent to learn the trade outside of F/X school. They have all of the tools, supplies and knowledge there to point you in the right direction. Some wonderful creations showcased there. I am fortunate to be a part of it showcasing my work for the collectors I work for. Every year is different. Great place to be.
Also the FearfestEvil is another great introductory. This was created by Kirk Hammett and was spawned from the Metallica's Orion Festivals that I had helped art direct for Kirk's massive movie prop gallery. A portion of his gallery was showcased at these events. I originally started by restoring some of Kirk's collection in 2010 for preparation of his book "Too Much Horror Business".
A portion of his collection of props, model kits, masks etc. were in bad shape and not in presentable condition especially not to be photographed. It was a big task as everything needed to be completed in less than 3 months to meet his publishing deadline. If you can purchase his book at KVH toys you will not be disappointed. The book is a great introductory of what Kirk is about outside of music.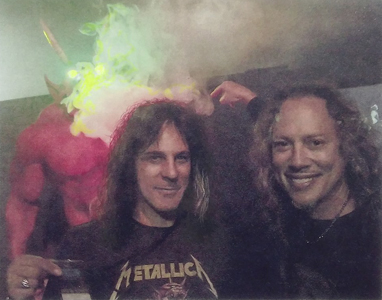 (Photo by Rob Lucas)
Glenn: How was it for you restoring the two figures from the Gremlins? That really stopped me in my tracks when I saw these! Was the pressure on for that particular job?
Joe: The pressure certainly was not an issue. I work at my own pace and usually have a loose delivery date. The Gremlin creature was a screen-used prop from Gremlins 2-the new batch. Originally it was ready for the dumpster however, I offered to save it. The restoration was extensive time-wise but also a rewarding experience. I have restored three so far.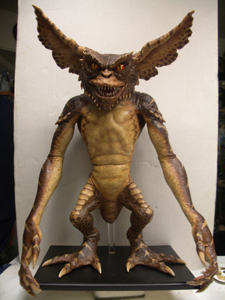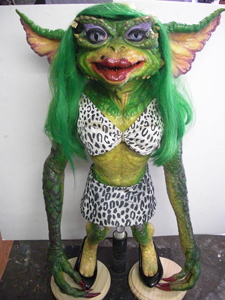 (Petrocolordesigns 2011)
I am now currently restoring a 2nd creature from the movie Critters. The Critters puppets have motion cables that were used for eyelid motion etc. Most of these props were never meant to last any further than the duration of the movie. Sometimes some of these props would be used on display for a short while to promote the release of the movie. Then they would either be reused by taking some of it apart to create another creature or just be tossed in the dumpster. Today collectors have bidding wars over these props for lots of money.
Glenn: What was your first bass and what did you learn to play on it during those early days?
Joe: My first bass was a Japanese copy of a Fender precision. Not exactly 'precise' to a Fender but it was all I could afford at 14. I learned mostly 70's hard rock. Everything from AC/DC to ZZ Top. All I had was a record player. The advantage to that is I would be able to slow down the rpm's to figure out the faster progressions. Went through lots of diamond head needles for sure.
Glenn: Who would you say are you greatest and also main influences and in what way did they influence the way you play?
Joe: Well I always found it difficult to single out one bass player in particular. I always liked Jonesy from Zep, Squire from Yes, Geez from Sabbath and Entwistle as well. Foremost, Geddy Lee was a big part of my learning curve about tone and aggression.
Glenn: No doubt you had some memorable early shows in your career, what were they and what stood out from them and why?
Joe: I can pull a couple from my mind at the moment….. I am a big Bad Company fan so it was an honor to support Paul Roger's solo band at the Avalon in Hollywood with Stuart Smith's Heaven and Earth back in 2007. Also, I enjoyed performing a show at Paladinos rock club in the valley with Randy Piper (WASP & F-4) back in April of 2014.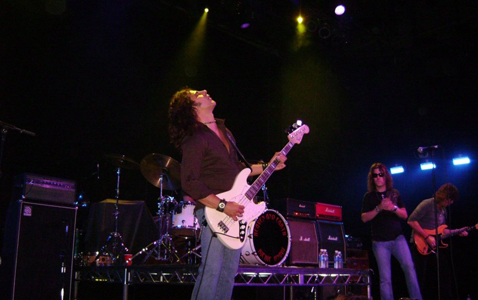 Glenn: You have played bass in a number of bands over the years. What have been the major highlights for you over the years and for what particular reasons?
Joe: Hmm highlights? Let me see? I thought it was cool one time jumpin' in a limo with Heaven and Earth and ending up on the radio for Alice Cooper's radio show in 2005. Inspiring sitting beside Alice through the band discussions. Playing NAMM in 2006 for a live acoustic set with Joe Lynn Turner and Howard Leese was a great experience too. And all of the crazy shows Joe Leste (Bang Tango) and I threw out there leaves some great memories. Joe was a fun entertainer and boy did we party up through it all.
Glenn: What goes through your head while you are up there on stage overall?
Joe: When I am up on stage performing I like to look up and close my eyes then I know that I am finally where I belong. In the music industry everyone gets a fair shake. Had I been somewhere else through all of this I wouldn't have much musically to discuss. The majority of us need to escape from our usual routine. Even myself as a restoration artist. I am honored to be able to perform for people who just want to forget about their problems and just have a great time..
Glenn: What would you say your greatest moments in the recording studio have been so far and why?
Joe: Hmm... greatest moments huh? Let's see? Back East my band and I recorded live rehearsals a lot. We rolled the tape if we as much as farted - lol. During the end of a live session I had a fresh drink of Jack & Coke by the recording booth. My singer accidentally knocked it over during recording. It just so happens the sound of the glass hitting the floor and the singer shouting out "F*ck*n' JOE Again!" recorded very well. So we saved it and mixed it at the end of a take. After the song was distributed and listeners got wind of it. Everywhere I went you would hear, "F*ck*n' Joe again". Couldn't shake that off for some time.
Another great moment was when I left my empty bass guitar case open overnight during a session. The case never fully closed all the way. It was seriously tweaked as the latches were almost broken. As I approached the case the following morning, I discovered a rat tail hanging out of it. Getting up a little closer, I discover that it was a possum!! and he's eating my cookies because I used to leave snacks inside the strap compartment every now and then. Reaching for my drummers drumstick I approached the case quietly and quickly pushed his tail in and trapped the rodent inside.
I hear him hissing away all p*ss*d off. Half an hour later the band engineer and my bass tech arrives. Sipping on coffee, I ask my bass tech to get my bag of cookies out of my bass case. And he did,and when he did, everyone jumped including the possum foaming at the mouth hissing back at us. I almost p*ss*d my pants when he opened that case. Hahah!! The possum was let loose and the case was given to a homeless person outside the studio. Unfortunately, the tape was not rolling on that one.
Glenn: You've been the Bassist in 'Spelled Moon' for a good few months now. What was it about the band that appealed to you most of all that made you want to take up the position?
Joe: I initially joined mid Dec. 2014 after a unintentional run-in with Patrick Johansson (Yngwie Malmsteen's Drummer) and Andy Sarcone Rooney (Spelled Moon Guitarist) on a Sunday night at the Rainbow Bar and Grill. Andy and Patrick were in need of a Bass Player. So we met up for lunch again the following week and decided to pickup the Spelled Moon project from there.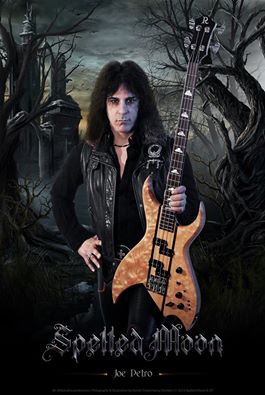 (Photo By Daniel Trajtemberg of Dankersart.com)
Glenn: How are things going in rehearsal with the band 'Spelled Moon' and what are your hopes for the future within the band unit?
Joe: Recording with Andy is great. The progressions that were offered to me have very interesting textures of vocal ensemble, bells and strings. It is a subtle thing that is added beautifully underneath the mix. I tracked the bass from January-May of this year. It was nice to use an 8-string bass on some of the progressions. Andy and I felt It supported the sections nicely.
Originally, Andy was asking me to hit the high octaves on certain sections. So I scratched my head and suggested why not try an 8- string instead? So we tried it and then we kept trying it some more. With some slight overdrive, at times it sounds like an angry piano.
Glenn: You have an amazing collection of Bass Guitars there that really grab the eye! Do you have particular ones that are your favourites and if so, why those particular basses?
Joe: I have my go-to studio and go-to live picks. My B.C. Rich bass models have always been a fav of mine. In particular. The Bich 4-string and 8-string.They never really caught on much for bass players for some reason or another- so that's why I like them. Nobody I can identify them with. They are hand-made with precision, necks are solid and straight and they have a nice on board pre-amp with a natural sounding growl I can't seem to find with pedals.
Glenn: When you look at your bass collection, what particular memories come flooding back to regarding certain ones?
Joe: Particular models take me back to specific times like high school, house parties and strip clubs. Yeah, I can say that owning instruments is a memory of your past just like a song that connects you to a good time in your past and sets dates.
As any man knows, there is an obsession with what you once had - then sold, or traded off that compels you later in life to regain it back for the memory it holds of your past, which is usually from positive experiences speaking for myself.
Glenn: How did designing your own bass guitars come into fruition and what characteristics would say were missing from those currently available to buy on the open market worldwide that you wanted to make sure to have on your own line of bass guitar?
Joe: Well I have no interest in changing the bass for what it was originally designed to do. When I walk through the NAMM convention in Anaheim, I see a lot of different builds and concepts but honestly most of it is a knockoff of what originally worked just fine. I think nowadays it's about the 'superior-precision quality' stamp. Nothing wrong with having any option at your finger tips but the price tags on owning something hand-made in the US is just insane. I would only design my own model if it had a real purpose, not for the fun of it. I love a lot of what has already been done. I am content.
Glenn: By the way, I am looking forward to seeing the Dark Cherry Metallic One assembled!
Joe: That is a Japanese re-fin of a N.J. series B.C. Rich bass. As basic as it gets. I like to post these projects for some who grow tired of their guitar and may have the fire to change theirs up instead of trading them in or leaving them stuffed away in their closet.
Glenn: What message would you like to give to beginners starting out in the music industry?
Joe: Whatever you are set out to do in life, whatever it may be, do it from the heart be passionate about it. Recently, a guitar player approached me at a club in Hollywood. He came off a bit frustrated of the fact he had been here in LA for four years and of all of the shows he performed, he only earned a total of $200.00. I said to him, "Everything I ever set out to do in life was never because of money first". I understand his frustration, however, I cannot relate to a musician who solely wants to become successful for the only purpose of getting rich. It's not passionate –it's not from the heart and people can vibe that from a person.
Big Thanx!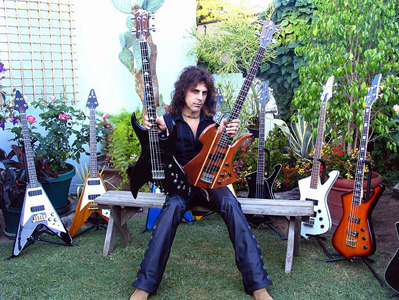 All Images have been supplied and used with full permission of Joe Petro.
Header and Footer Photographs of Joe Petro by Angelwingphotography.com