An Interview with
'Joel Hoekstra'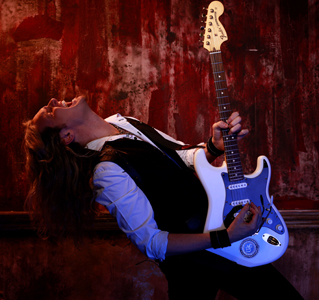 Guitarist of Whitesnake and formerly of Night Ranger
that took place on Thursday May 7th, 2015.
Interviewed by Glenn Milligan.
Glenn: What originally let you to a career in the music business and what would you say has kept you in it and positive after all these years?

Joel: My parents were/are classical musicians, so music was in the family. I discovered AC/DC at the age of 11 and was hooked from then on. I'm still trying to make a name for myself and see how far all of this can go, so that's a motivating factor, but I would say mainly the fact that I just really love music has kept me positive over the years.

Glenn: I don't want to ask a lot of questions about Night Ranger because you've no doubt been asked about your association with the band a million times already over the years, so I'll simply ask, what would you say have been your favourite moments as a member and why?

Joel: Definitely my audition, which was basically a gig with them on no rehearsal and limited soundcheck. It was like jumping out of a plane not knowing if your parachute would work. From there, playing the 500 or so shows with them, recording the 2 studio albums and filming the live acoustic DVD. A lot of great memories.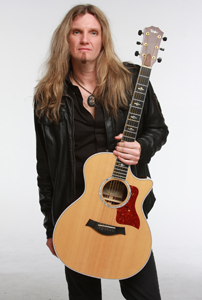 Glenn: What were the main reasons you decided to leave and go elsewhere (i.e. Whitesnake and/or VHF) and can you see yourself returning to the band some day in the future? I guess in the world of the music business it could be one of those 'Never Say Never' kind of moments?

Joel: Well, VHF is really just a recording side-project. That had nothing to do with me leaving Night Ranger. The move to Whitesnake had more to do with wanting to play with Whitesnake than wanting to leave Night Ranger. Whitesnake has an amazing catalog of hits to play live. The quality of the guitar players that have played in the band ie. John Sykes, Steve Vai, Adrian Vandenberg, Doug Aldrich speaks volumes about what kind of gig it is. At this point the touring schedules over-lapped, so it wasn't realistic to do both. I would never rule out playing with those guys again though, no.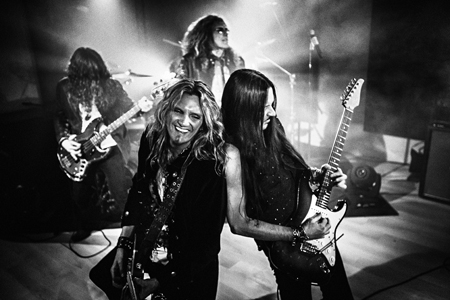 Glenn: What would you say are the fundamental differences between Night Ranger and Whitesnake with regard to how the band is run on a day to day basis?

Joel: Whitesnake just finished recording The Purple Album which comes out 5/15 in Europe and 5/19 in the U.S. and is about to embark on a world tour that will even carry into 2016. The amount of dates for the 2 bands are comparable, but Whitesnake will go around the World and the dates come in longer stretches.

Glenn: How did you come to be a member of Whitesnake? What happened step by step to where you stand right now in the band?

Joel: It was a combination of me putting out some feelers and some well-respected people recommending me to David Coverdale that led to us meeting at the end of May 2014. We decided to have me take a crack at recording on the album in August. When that went well, it began to sink in that this was a reality. Now we're in promo mode and about to begin rehearsals for the tour. Fun stuff.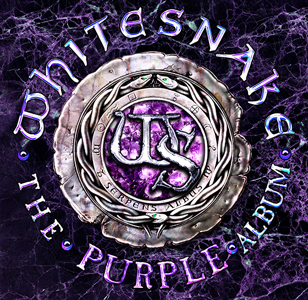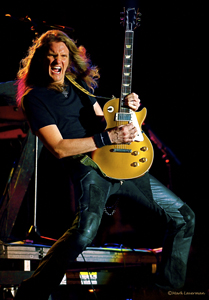 Glenn: What went through your mind when you knew you were going to be the new Guitarist in Whitesnake?

Joel: It's an honor for me, bro. There are so many great players out there struggling and fighting to build careers. I'm just glad to have an opportunity to play my guitar for living, much-less work with rock royalty like David Coverdale, Tommy Aldridge, Reb Beach, etc..

Glenn: What do you personally consider that Joel Hoekstra brings to the musical table of Whitesnake and in what way?

Joel: I'm a pretty versatile player, with chops, a creative mind and a strong work ethic. I love what I do and don't take it for granted.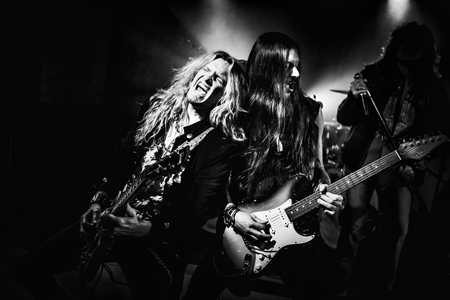 Glenn: How many times over the years have you and David Coverdale crossed paths (and where) and did you ever at any point have an inclin that one day you be playing and performing alongside this legendary frontman?

Joel: We met briefly when Night Ranger opened for Whitesnake in the Summer of 2013. No, I had absolutely no idea. Life can be great that way.

Glenn: Are there certain Whitesnake songs that like more than others and if so, which ones and why?

Joel: I don't play the favorites game. I'm lucky to play them all. Honestly. The catalog kicks serious ass.

Glenn: What are you most looking forward to when it comes to the Whitesnake Tours either as a headline band or co-headliner and for what reasons?

Joel: I love being on the road, so my answer is everything. Sometimes you just know you are doing what you are supposed to be doing with your life, I suppose and touring always gives me that feeling.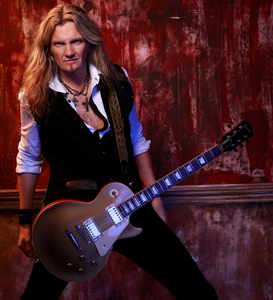 Glenn: I am really interested to know all about recording the songs for 'The Purple Album', what the highlights were for you and how it made you feel re-recording some of those classic songs?

Joel: It was a great experience. David was fantastic to work with in the studio, he has a strong vision, but is very open-minded and encouraging of hearing ALL ideas. He's really a fantastic musician.
Glenn: I've got to say your list of artists you have played alongside is absolutely phenomenal. Without me going all the way through it, what have been the best moments overall that stand out to you and why?

Joel: The aforementioned audition gig with Night Ranger and filling in for Mick Jones of Foreigner on 24 hours notice. Those 2 stand out because there was a complete terror factor attached to them. They were survival tests. Of course, playing in Berlin for a crowd of 2 million people with Trans Siberian Orchestra didn't suck either…haha!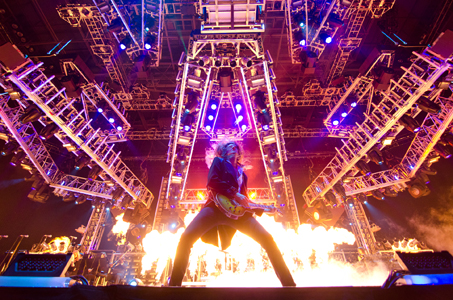 Glenn: How, when and where did you originally meet Bassist, Tony Franklin and how was it?

Joel: We met when we shot the video for VHF's 'Whispers of the Soul'. We had already completed the EP 'Very High Frequency'. Todd Vinciguerra got us all together. VHF is really Todd's project. But it was great to meet Tony and I hope we get to play together much more in the future. He's an amazing talent.

Glenn: When did the connection between you and Todd 'Vinny' Vinciguerra, VHF's Drummer begin?

Joel: Todd and I go all the way back to being roommates in Hollywood back in the early 90's. He was nice enough to ask me to record on these cool VHF tracks.

Glenn: How did the band VHF come to be and why did you all decide on forming this outfit?

Joel: Todd called me saying he had tracks of him drumming and Tony Franklin had played bass to them. I thought that was interesting…songs being built backwards. He asked me to play over their tracks and I think we came up with some cool, unique results.

Glenn: Was it coincidence or purely intention to name the band the abbreviation of the famous radio band frequency (also known as FM) or did it just work out that way with the first letters of your surnames?

Joel: Both. Man, that one really fell into place…haha!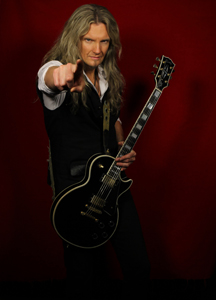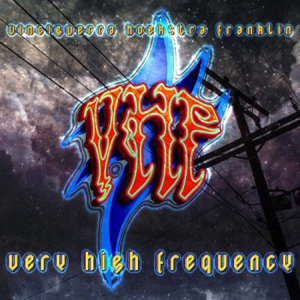 Glenn: What pieces on there mean the most to you and why?

Joel: I like them all equally. Again, I'm not so good at picking favorites.

Glenn: Where did the spoken word come from during 'Suspended Animation' and how did you go about obtaining it to use for the album?

Joel: That's me. I was just looking for different textures and the human voice always makes people tune in a bit when added to "instrumentals". I'm really just reading the Wikipedia page after googling "Suspended Animation" which was a cool title that Todd had come up with.

Glenn: How would you personally say that VHF differ from other instrumental dare I say fusion outfits out there today and why? Okay there's one song with vocals (Backside Of Your Eyes).

Joel: It's not all about showing of our musical abilities. I think we tried to build actual listener friendly, psychedelic rock songs.

Glenn: What inspired 'Backside Of Your Eyes'?

Joel: It's really just about having a guilty conscience and going to that dark place that we all have inside of us.

Glenn: How has the album been received so far by fans and also the press overall and what were your personal thoughts to this?

Joel: Well, it has limited appeal in that it is instrumental music and a name that people don't really know yet. That's cool though. Things like that are great to have in your career. Not everything is about money and success. VHF is like the stoner project I never had as a kid.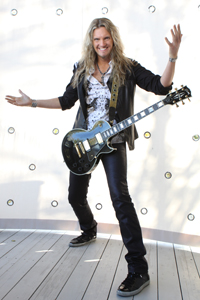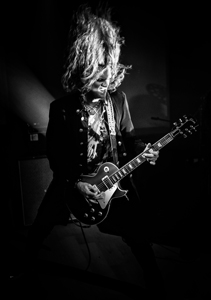 Glenn: Can we expect any shows and if so where and when? Maybe between or after the Whitesnake Tour?

Joel: That's hard to say. There's not really enough demand for it right now.

Glenn: Will there be a second release and if so, when is it planned and do you have anything written already that you can talk about?

Joel: I'm really busy right now with Whitesnake and also getting my next side project out. That's called 'Joel Hoekstra's 13'. I wrote all of the material on the album…lyrics, melodies, the whole thing. It's melodic hard rock…Dio'ish at it's heaviest and Foreigner'ish at it's lightest. I've got 2 of the best singers in rock on it in Russell Allen and Jeff Scott Soto and also Vinny Appice & Tony Franklin. Derek Sherinian was also kind enough to be the special guest keyboard player.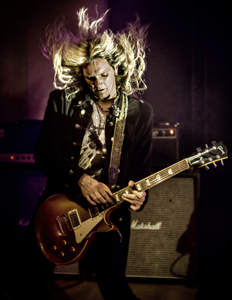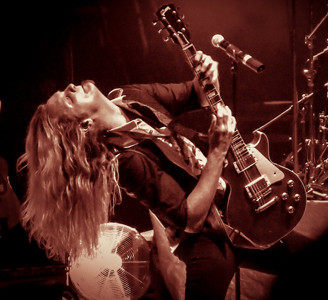 Glenn: You are no doubt endorsed by several musical manufacturers, judging by the amount of them mentioned in your thank you list of the album but who would you say you are most proud of being connected with?

Joel: All of them help me, so it's impossible to pick a favorite.

Glenn: What else would you like to talk about that I have not covered yet?

Joel: People can go to joelhoekstra.com for any/all info on me and can link to all of my social networks from there as well.

Glenn: What things are you most proud of so far in your career and for what reasons?

Joel: I'm just happy to be a pro guitarist who's made it this far and look forward to seeing how far it can all go and hopefully treating people the right way along the way. Cheers!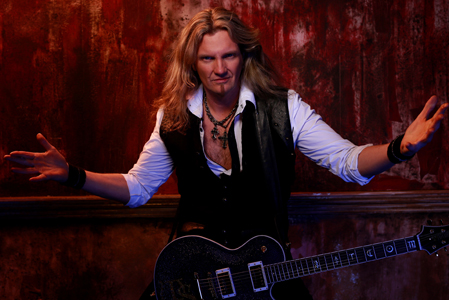 Big thanks to Joel for going out of his way for us when he has such a busy schedule right now.
All images have been supplied and used by kind permission of Joel Hoekstra.