An Interview with St. Petersburg,Fl. USA based Rock Guitarist,
'Johnnie K'
By Glenn Milligan
Date - August, 2004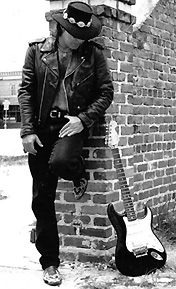 What made you choose the guitar as a main instrument?
Well where can you start. It is open to an individual's original style, because it is not like a piano, you can bend notes slide and create endless possibilys. It also allows an artist to move about the stage and perform freely in their movements. I could go on all day (laughs). When it is on it is like a rocket ship ( laughs).
How did you originally become friends with Tim Owens?
I am from Akron Ohio and I had seen Tim perform for many years. I would like to say that this guy is maybe the best heavy metal singer we have on the planet. We all would watch him sing and be amazed at his range. My band would play at one club that comes to mind Temple Tavern a shit hole but the bands rocked week in and week out and we would also go to see Tim's bands there as well.

Did you play with Tim in the Judas Priest Tribute band that the film 'Rock Star' was based on?
No. I was on tour at the time with my own band The Johnnie K Band. Timmy was playing I believe in a band called British Steel at the time with some cats from Akron. I must say the movie fell short of the real rock and roll story if indeed it was intended to be about the real Timmy Owens. I would have liked to have seen a true presentation of what it really takes to get a break like that, like in the movie almost famous. This guy had paid dues and had prepared for many years.

What are your favorite styles of guitar playing and which artists attracted You and why?
In the beginning there were guys like Jimmy Page and all the greats from that era and of course Jimi Hendrix was always my favorite. But I love what Steve Vai is doing these days. I was drawn by the pure ecstasy of the greatest guitar playing that we have yet to see. I have learned from every guitarist that I could all my life, even the ones that aren't famous. I heard Alice Cooper live on the Killer tour and from that day I live for music. The show at that time was so amazing with the band all in snakeskin and all that but the songs where classic. I still listen to it is still so good.

When you write, do you choose certain guitars for certain songs and styles?
Yes, my main guitar is a Stratocaster. But sometimes I know in my mind already what tones I might use on a piece, I have a mental idea what guitar I will use. It's rather strange, or I will try a Les Paul or my Ibanez until I find the right fit to me this is very important in recording. I am also using a GR 50 Roland guitar synthesizer. I can produce endless keyboard sounds from it. You know if it a jazz piece I would use a Guild or Gibson ES 335 or something like that, if it were a country riff I might use a Telecaster.

Which artists would you like to work alongside with and why?
Wow, everybody (laughs) Lets see, how about Mitch Mitchell, Buddy Miles or Uli Roth at the Hendrix festivals in Europe or a show with Frank Marino. I would love to work with a great bassist like Billy Sheehan or Stanley Clark, guys that really play from their heart and are accomplished musicians. On the other hand I dream of jamming with Bowie, Plant and well you know the list. Oh and Paul Rodgers (note) I am the Shooting Star (laughs).

What's the music scene like where you live?
Well not so hot I think. People keep telling me the players are here but I don't see it. There is no major music industry to speak off.

Are there similar guitarists to you around in your area and how would you say you differ from them?
I have a different style I like to play all the scales I show my full vocabulary but in a tempered manner. I try to grab out the audiences heart from where I am standing the notes are just a vehicle to achieve it. I am a bit rebellious and like to play my own stuff instrumental or vocal I just play what is in my heart and I hope that comes through to the audience. I am displaying full tilt guitar to the best of my ability.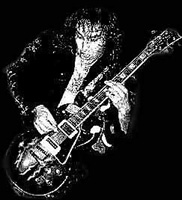 Of all the material you have written, which are you most proud of and why?
As an artist I will never be satisfied because of limits not having access to recording in a million dollar studio or playing through the perfect rig. So I do the best with what I have. I usually am into the new stuff more from an artistic view point, it is still artistry fresh. I like the rockin stuff Come on everybody features the talk box and some cool harmony guitar and Mahogany Man ( dedicated to Frank Marino) is a straight wa wa riffing hard hitter. I guess right now I am very proud of my version of (Somewhere over the rainbow) yes (Somewhere over the rainbow) (laughs) It was dedicated for my brother who passed this year.

Does writing come easy to you or do you have to work hard at it?
Work at it. I was talking to Steve Vai and he said the same thing, that it was a lot of work for him, I think maybe he was being somewhat modest. (Laughs). He also mentioned Frank Zappa and how he would come up with stuff at the drop of a hat.


Do you prefer acoustic or electric when you first come up with an idea?
Most of the time I use the electric guitar to write with, but again if I hear a sound or song in my head I can mentally visualize the sound of the guitar. I have always said if it is a great song all you need is an acoustic to start with. Sometimes I will use the keyboard or the bass for the main idea and it seems to change the whole writing process around.

What material has took you by surprise the most when you were writing it?
I think that what happens to me is I get a great guitar sound or lick happening and I just go with it and discover the unknown, like a painting or a jouney that is the fun of it. I try to write this way with only my own musical ideas to be as original as possible, music of true expression.

Where did you get the title 'Electric Angel' from?
I wrote a rock song called Rock and Roll Angel. I always like the sound of the term angels so I decided to be the Electric Angel. (laughs) It kind of an after life thing guardian angel that stuff.

Outside of music how do you spend your time?
Wishing I was playing music.

Who have you most enjoyed playing alongside and where and when did it take place?
Well there have been many occasions in which I have been fortunate enough to play with some great musicians and fellows. The Ohio Music Festival was a gas with The Breeze drummer (John Lanson) we really bought down the house. An outside concert about 10,000 people.

If you had the opportunity, which major artists would you like to work and/or tour alongside?
I admire Steve Morse he has a great gig with Deep Purple. I would love to play with a band like that.

What sort of record deal are you looking for? Do you have any idea on whom you would like to sign with?
Well one that would enable me and the boys to tour, and also record albums. I have been trying to locate more hard rock or heavy rock label and even instrumental labels.

What is the usual 24/7 for Johnnie K?
I try to get up ( laughs). And then I pound out the demo packages and record. Then I try to find time to do theory on the guitar, some days it is new scales and stuff and other days it may be classical or heavy metal. At night we are playing through the amplifiers.

Where do you like socialising most and why?
These days I mostly hang backstage at concerts, I love to meet and chat with the entire band that coming up where my idols. It seems to be easier to get to them then say 20 years ago. Recently I have met Reo Speedwagon, Steppenwolf, Eddie Money, Steve Morse the list is endless. I must look like I belong there because they usually just let me in, I just look like a rocker, and sometimes people will just ask me if I am a guitarist on the street.

Have any artists stood out to you recently?
I love all types of music from Stravinsky to Hendrix. Recently and the past few years it has been bands like Eric Johnson, Iced Earth, System of a down. I love the new Jerry Cantrell album its great.

What have been some of the favorite concerts that have made a major impact on you?
Oh yes. I have seen so very many. I do remember David Bowie, Ziggy Stardust incredible! The Dixie Dregs, Alice Cooper, All the 3G tours. Peter Frampton, Pat Travers, Steve Vai, Judas Priest, Uriah Heep, Robin Trower the list is very long. There are some very special people that are just amazing artists and there performance can change your life.


What are you current musical plans?
Well to get the band happening and get on the road and rock as many people as I can. Of course I will keep recording searching for that special song, probably all my life, but I love to record. I am in contact with a producer in Italy and I am trying to establish a new studio recorded album for distribution as well. Also I am striving to put together guitar on video. This will include instructional guitar and also me playing in my studio and live with the band.

How does it feel to be featured in various magazines and webzines?
Fantastic just to reach anyone with my music to get the word out thanks to wonderful people like yourself Glenn!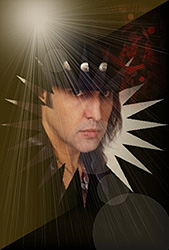 Metalliville Kicks Ass!

Johnnie K