An Interview with
Johnny Haro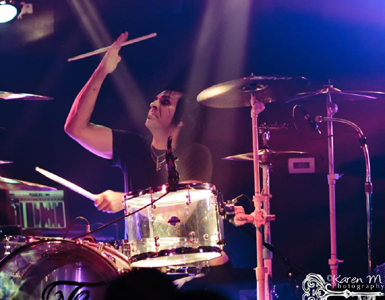 Drummer of 'The Dreaming'
(formerly of Freak Of Nature (Mike Tramp) that took place in March 2012.
Interview by Glenn Milligan.
Why did you choose the drums as your instrument?
The drums chose me actually. When I was 10 years old, my older brother was in a band and I would go to rehearsal with him. I started playing guitar then switched to drums. I never had any formal training but I loved practicing and playing along to my favorite drummers.
What was your 1st kit and how did you acquire it?
My brothers drummer was cool enough to give me his old beat up kit. He had just purchased a shiny new kit. So I scored.
Did you have lessons or are you self taught?
I was self taught. I had a natural ability for the drums and enjoyed practicing.
What were your first gigs and bands like?
Well, after playing for 2 years, I was playing cover songs with my bro and others from the neighborhood. By the time I was 16 I landed a gig with a band called Keri Doll. We played clubs in Hollywood. The singer would come out of a coffin and was a total shock rocker way before Manson.
What is your favourite type of drum kit and why?
I Iike all kinds of kits. I have 4 kits now and they're all different. Certain kits are better for recording and others are better for live shows. I have about 10 different snare drums in various sizes. Some are metal and some are wood.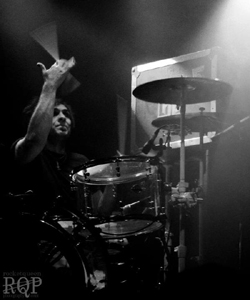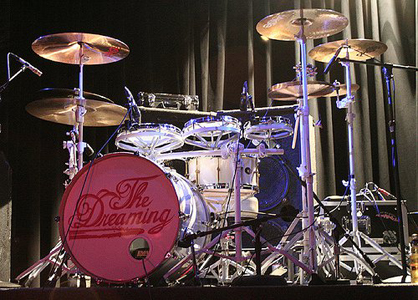 Who are your favourite drummers and how have they influnced you?
I became a fan of the heavy hitter type drummers - John Bonham, Cozy Powell, Ian Paice & Bobby Rondinelli. Later, I started listening to cats like Mitch Mitchell,Terry Bozzio & Steve Smith. I wanted to bridge the gap and be capable of playin' heavy and have finesse when I needed it.
What took you from playing on the semi-pro circuit to the pro-circuit?
I always pushed myself for wanting more. I used to chase down gigs. At one point I was in 4 bands at the same time. Some were paying me and others were just fun to be in. I started auditioning and eventually got in better bands.
How did you originally meet Mike Tramp and were you a fan of White Lion at the time?
I had briefly played in a project with Jerry Best and he met Mike and was forming a new band. He called and I auditioned then I was in. We began working on a bunch of songs. I liked White Lion and thought it was a good move to play with Mike.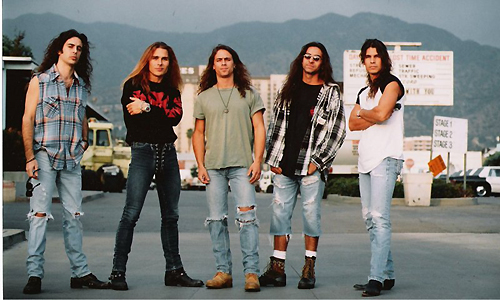 How were the early formation days of Freak Of Nature?
The early days felt a bit experimental. We were tryin to define our style. I still think we never completely blossomed as a band.
What songs did you personally enjoy working on in the band song wise and why during rehearsal and during the recording for the album?
I really loved 'Turn The Other Way'. That song seemed fresh and different. The 2nd album had some great tunes as well. 'Big Black Hole' was definitely one of my faves.
What were your least favourite songs and why?
I can't really think of any least faves. Don't know,it's been so long now.lol!
What was it like for you personally getting signed as the drummer in the band?
Getting signed was very exciting. Being able to tour outside of the U.S. was definitely a huge achievment for me. Japan and Europe was amazing to visit and the crowds were a blast to play in front of. At that point I hadn't toured the U.S. and always felt like I was missing something here though.
What went through your head when the 1st album was released and did it change you much as a person when you could go into a local record store and see your on album in the racks?
Well, the first cd was never in a local record store. We never released any of the freak CDs in the U.S. There wasn't any interest for our thing at the time so Mike decided to concentrate on Japan and Europe. We had a great time touring through Europe but like I said before there was alway a feeling of unfinished business because of the lack of interest in the U.S.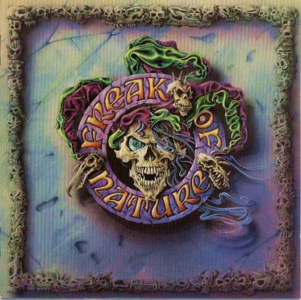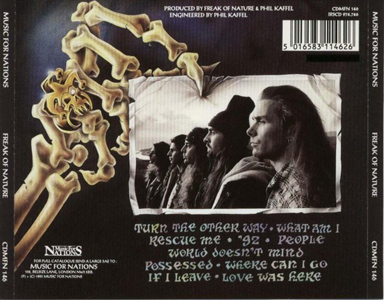 What were your favourite points in the promotion of the 1st album?
I was probably most excited seeing our pics in magazines like Kerrang.
What comes to mind with regards to touring for the 1st album and who did you share concert bills and where at? What were the highlights of being on the road?
I think my favorite tour was with Warrior Soul and the Zappa brothers. We played tons of festivals with bands like Tool, Dream Theater and Monster Magnet. Some of these festivals drew huge crowds up to 80,000 people. Going from a small club to a festival show like that was better than any kind of drug.
Have you got any cool road stories worth telling that you can spill out to the readers and if so what are they?
Jeez! There's so many stories. One story stands out. We were on a ferry boat from Sweden to Finland and the whole band was in one of the night clubs on the ship. It was a karaoke bar and the rest of the band decided to sign Mike and I to sing 'Ebony And Ivory' by Michael Jackson and Paul McCartney -lol!! Mike was trying to sing the song correctly and I was so wasted that my attempt at singing was just a joke. The whole band was yelling at Mike "Too serious!!" Haha!!
What are your overall memories of your times worth telling about the second album 'Gathering Of Freaks' with regard to writing, rehearsing and touring?
The second cd writing process was a bit strange. Kenny decided to quit the band at that time. I did too actually. Mike talked me into stayin on but Kenny had made is mind to split. So a friend of mine actually played Kennys part in the 'Enemy' video. I don't think anybody ever knew this. Lol! The band was definitely tighter musically cuz of all the touring but it was weird having a different guy in the band.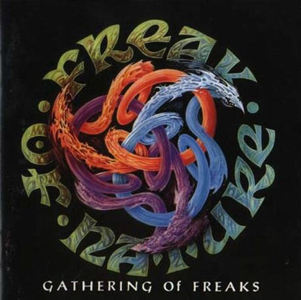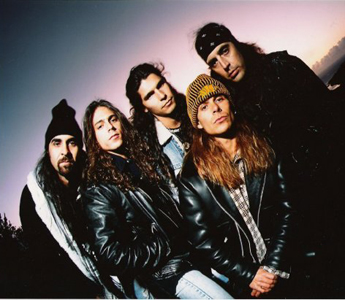 What were you involved with inbetween the breakup of 'Freak Of Nature' and formation of 'The Dreaming' that features former frontman of Stabbing Westward, 'Christopher Hall'?
I was playing a ton of local gigs in small blues clubs just after the break up. I was also on a short list for any kind of gig as a drummer. The studio work was good for me at that time too. I was chasing it down back then. Finally I was hired on to play with Julie Daniels' band Star69. We played 2 shows in 1996 and got a record deal. The album was mostly done except for one song in which I played on called 'Rotten Punch'. We toured the U.S. And England in 1997. I tried to stay busy when things slowed down. There were several other bands I gig'd with but then I got a call from stabbing westwards management and landed a summer tour in '98 as a substitute drummer. The singer,Christopher Hall and I become solid friends and that friendship resulted in the formation of The Dreaming in 2002. But between Stabbing' and The Dreaming I was playing with a Canadian band that was opening for Stabbing' on that Summer tour. So I ended up touring and recording with 'Econoline Crush' from '99 to '02. When that tour and band ended Chris called and we started writing songs together. Then 'The Dreaming' was formed.
What made you guys decide to call the band 'The Dreaming'?
Chris came up with that name. It had some reference to some Japanese thing that Chris was into.
What influenced the style of the band? Anyone in particular?
We went through an experimental phase were we weren't sure how we should sound. We had tons of ideas finally figured we should be a more aggressive rock band with that slight electronic feel. As we played more shows more of the electronic stuff wore off which resulted in the 'Etched In Blood' cd. Chris and I had so many different influences. I brought the rock feel and Chris had this 80's dark wave undertones. Somehow it worked.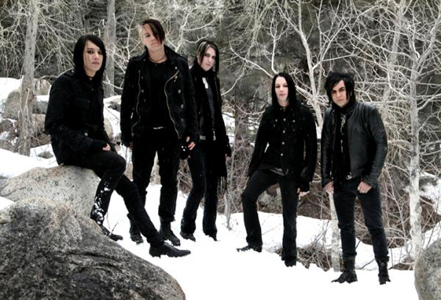 What were your thoughts to the bands 1st recorded songs and what were the gig highlights that promoted them that became the self-titled EP?
Some of our first songs weren't amazing.lol! The writing started to change after playing some live shows. We wanted a more energetic overall show.
Numerous members of the band have come and gone - are you still in touch with many of them and what were your thoughts when Jinxxx left and made it big with Black Veil Brides?
I still talk to most of those cats. Not as often as I should. Jinxx was asked to leave cuz the sound had evolved and felt like we didn't need a shredder type guitar player. I gotta say that filling his shoes has been a very difficult task. I think Jinxx fits better with BVB than he ever did with us. I'm very happy for him and his success.
Can you ever see a tour happening that features The Black Veil Brides and The Dreaming on the same bill?
Don't know but any opportunity to play in front of new fans would be awesome. I would do it.
How's the reaction to the release of your album 'Puppet' and how did it make you feel?
It seemed like 'Puppet' took forever to make but I really love these new songs. We brought more of the electronic elements back in to the sound. So far people are diggin it.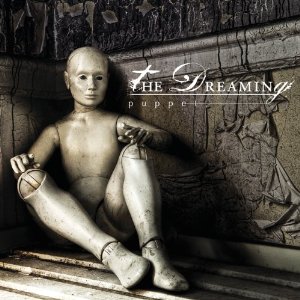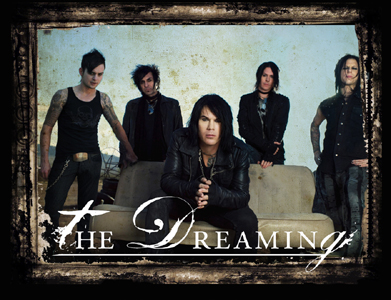 What gigs have stood out so far while promoting the 'Puppet' album and where and for what reasons have they stood out?
Well, I'm writing this from our current tour and there's definitely more new fans coming to our shows. It's still too soon for a stand out show so far.
When will you guys be hitting the UK for a Tour and who with?
I have no clue on this question. I hope we can play there soon. I miss touring there.
What songs by The Dreaming are your favourites to play live and why?
'Sticks And Stones' cuz it's an up tempo track. 'Make It Go Away' cuz of all the tom work. 'End In Tears' cuz it has that heavy feel that influenced my drumming when I was younger.
What are you currently up to at the moment and what are your personal hopes for the future both for you as a person and The Dreaming?
At the moment we're touring through Texas. We love Texas. The shows are always tons of fun here. My personal hopes for the dreaming are that the shows keep getting bigger and the band continues to sound fresh and exciting.
What are you most proud of so far and why?
I'm proud to be doin what I do. People often joke about drummers but I always tell friends that we're like cockroaches,you can step on us but we always get up and walk away. Lol! So I carry on....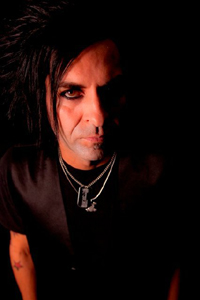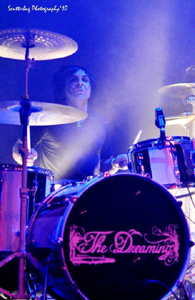 Big thanks to Johnny for the Interview - check 'The Dreaming' out on tour in the USA