An Interview with
Johnny Housley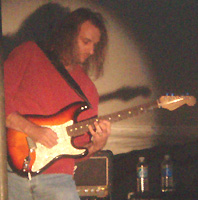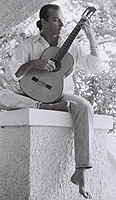 (Guitarist of A200, Solo Classical Artist and former member of Blackfoot) by Glenn Milligan.
What got you interested in music originally?
Boredom, I was at my fathers house for the weekend w/nothing to do and asked him to show me a few chords on his guitar. Then it was all over and my sisters life changed drastically till she moved out.

Who were your earliest music influences and why?
Jimmy Page was by far the largest. Alex Lifeson and Steve Howe filled out the rest. Zeppelin says it all as far as why.

What was your first guitar and how did you acquire it and at what age?
Tiesco del ray, It was my 14th birthday and my mothers boy friend sold it to her w//amp for $50.00 and I was off and running.
Did you play any other things as well at the time?
Just guitar. That was all for me.
Tell us about the 1st bands you were part of?
Aphius. My high school band. We played parties and band battles and spent the evenings torturing our families with rehearsals.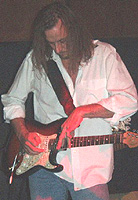 Where did you grow up and how was it for a budding musician, I am guessing you haven't always been a resident of Fort Myers Beach?
Ypsilanti Michigan. It was in the 70s and early 80s so the music scene was easier then as far as gigs and bands to see. All your friends were in bands and everyone was scrounging for gigs and girls. Ypsi is next to Ann Arbor which brought us bands like Bob Segar, Iggy Pop and the Stooges, The MC5, Ted Nugent, Brownsville Station, Cub Coda and a few that I am sure I don't remember. Mid west U.S.
Over the years, who have you grown up admiring and why?
Jeff Beck for Melody, Steve Vai for the fluid repose, Paco Pene, Etc. There is so much talent that it is a question of space.
How did you come to work with Ricky Medlocke (original founder member of Blackfoot, now of Lynyrd Skynyrd)?
I new Rickey from when I worked in Ann Arbor. He would come into the store and we always shot the sh*t. He was always a very personable person to everyone.
How was it first meeting Ricky and what he like to work with?
He is the greatest guy to work with. No ego, great player great guy. Always considered everybody with decisions. Incredibly talented guy and always professional. He is always on. He never him fumbled under any circumstances.
Who else was in the band and how did you all get on?
The main line up when I worked with Blackfoot was Rickey, Stet Howland and Bryce Barns. We all got along Great. Stet was the wild man. Bryce a constant source of laughter.
What were your favourite times on the road with the then new-version of Blackfoot?
The Shows, the radio performances in the afternoon. When ever we pulled into a new town. Rob Robinson would call the local radio station and he, Ricky and I would go for interviews and unplugged performances.
What were your favourite songs to perform live?
Soldier Blue, Train Train, Highway song.
Did you record anything with the band - if so what?
We were getting ready to do another recording but the Skynyrd gig came up.

What road stories have you got worth telling from the time - you must have had some wild times out with those guys?
I am sure that they would fall into the stereo type. After the gig you find your way to a strip bar. Next thing you know your dancing on stage with some beautiful naked girl that you chase away solitude with for a few hours. Stet was always a source of laughter.
After Ricky went to Lynyrd Skynyrd (after many years away) how did you feel about it and what did you do next?
I was happy as hell for him. Stet, Bryce and I started up a band and kept plugging away at it.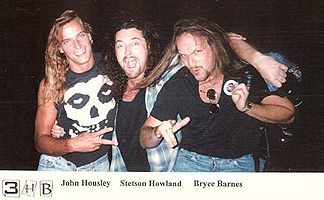 How did your classical guitar career come begin?
I was sixteen and thought that if I wanted to make music my life I needed to round myself out as much as possible to find work throughout my life. So with classical guitar I started working on my reading skills as well as a new style of music.
Which do you enjoy most rock or classical music - or do you love them both for different reasons?
Both for different reasons. Completely different animals.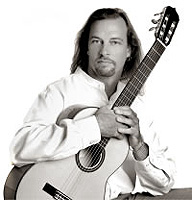 Do you compose in a different way when you work on classical music or do you find there's no real difference -music is quite simply music !
Classical I'm much more complex harmonically.
How did A200 come to be - can tell us all about the band?
We all have been pals for years and were between bands and fell in with each other. We gig 6+ shows a week as well as rehearse and write. We are getting ready too record some of our material. Hopefully we will have something in early mid 2008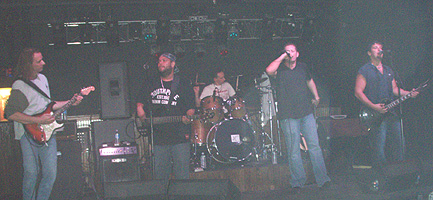 What have the bands highlights been so far and why?
Playing with ZZ Top because we got to hang with Billy Gibbons.
What's your fave places to play in the Lee County area and why?
Budda – It has great production and crowds.
What other bands/artists in the area do you like and why?
Cinder because they are incredibly talented and great guys. We are trying to put a tour together next year.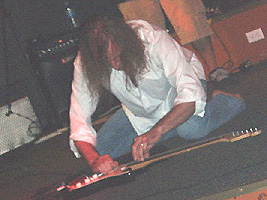 From your point of view, what would you say it takes to grab an audience as you guys make it look very easy?
Passion, Honesty, and hot women in the front.

What are your favourite songs (both covers and original) that you perform in A200 and why?
By the way, It's just my personal favorite. All songs are fun for sosoing when you drop the walls.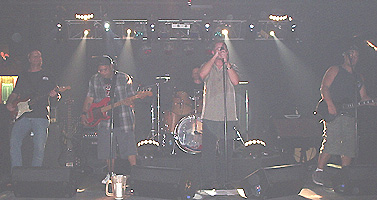 How did the solo European concerts come to be (as a classical artist)?
Someone saw us from overseas and booked us for some concerts.
How were they?
Germany and France were great. Loved the food and the people (maybe not the people so much in France). The crowds were more attentive than American audiences. The people of Germany are wonderful. Hospitality is unequalled, great beer! Beautiful country.
What are your current and future plans as an artist on both sides of the pond?
We will be in Europe once a year stateside the rest of the time working on the material and the shows. A classical guitar CD, a Dance of hands CD and A200 will also release a CD in 2008 so I am just putting the ducks in a row for the work ahead.
So far, what are you most proud of?
I don't know? Maybe that I am a musician and still playing for my livelihood. It is a tough life to carve but there is nothing for me that compares.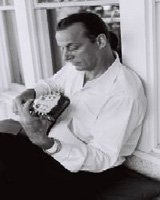 A big thankyou for Johnny for taking the time to do the interview and Karen of Surreal2Real Studios of Fort Myers Beach, Florida for setting it up.