An Interview with
'Johnny Kelly'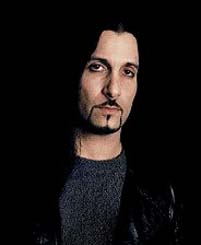 The Drummer of Doom Metal Band
'Type O Negative'
that took place in July 2003.
Interviewed by Glenn Milligan.
Glenn: What got you into the 'Type O Negative' Style of playing and what made you change from Thrash to the Gothic Doom style you are famous for now?
Johnny: I thought that it was definitely an extension of what we were doing initially. There were many parts on the first cd that were definitely doom.
Glenn: Where did the sound of the band come from - the album mix itself as it sounds like nothing else around?
Johnny: I think the parts that stand out for the band were the way Peter played bass and the way the keyboards were utilized.
Glenn: Where did your main influence come from and when did you start playing?
Johnny: KISS, Led Zeppelin & Black Sabbath. I've been playing since I was 15 years old in 1983.
Glenn: What were your first ever gigs like?
Johnny: The bands first shows were pretty insane. A lot of the people there were Carnivore fans and weren't exactly ready for what Type O was doing.
Glenn: What were you up to prior to joining Type O Negative?
Johnny: I had played in many local bands for years.
Glenn: Where does the name originate from?
Johnny: Peter heard over the radio in his car one day that the Red Cross was having a blood drive and they were in need of O Negative blood and that was it.
Glenn: Who came up with the idea of using 'C*nt, Whore and Slut' in many of the songs and how did it come about?
Johnny: Peter wrote that lyric.
Glenn: What's your opinion of doing open air gigs in sunlight? Does it spoil the atmosphere somewhat and it what way?
Johnny: It isn't the ideal environment for the band but we have done it many times in the past and it's not that big of a deal. Those are the places where Peter's stand-up act are so important.
Glenn: How would you personally describe a Type O Negative show?
Johnny: A train wreck mixed with sweat.
Glenn: What have been your best tours so far and why?
Johnny: I think that the best one was when we toured with Pantera in 1995. It was a rolling insane asylum that travelled the US for three months. It was also great that we were reaching a lot of people every night.
Glenn: Where are you planning to play when you next venture to the UK - can we expect a visit to Sheffield?
Johnny: We just played in Manchester and London about three weeks ago.
Glenn: What has been your favourite material and why?
Johnny: I think that there have been great moments on every cd. I like the songs that capture the moment and can take you someplace.
Glenn: Are you approached much to do film soundtracks because of the dark atmospheric vibe that your music and lyrical content creates?
Johnny: We've been on a few soundtracks in the past. We're open to the idea but it isn't always that simple for us.
Glenn: Are any further duets planned at all as Peter's duet with Doro Pesch was incredible?
Johnny: Nothing is planned at the moment.
Glenn: Would you ever consider doing solo albums and if so how would they differ to Type O Negative?
Johnny: I would never want to do a solo record. It would very boring because I am not a good song writer. I would like to work with other people on a project though. Kenny and I are working on something. Whatever any of us do outside of Type O will have some kind of relation to it but not entirely. If it sounded like Type O, there really wouldn't be any point in working on your own.
Glenn: Throughout the bands career, which songs mean the most to you and why?
Johnny: A lot of times, when I hear Type O songs, I think of what was going on at the time the song was being written and recorded.
Glenn: What's your impression of similar styled bands like 'Moonspell'?
Johnny: We took them out with us in Europe when we were touring for 'October Rust'. I thought that they were cool guys.
Glenn: What made you cover 'Summer Breeze' and 'Cinnamon Girl' and how did you go about changing them into Type O Negative arrangements - since 'Summer Breeze', in particular, doesn't sound much like the original?
Johnny: Those songs were chosen by Peter because they were songs that he liked when he was younger. That's the way we approach songs when we want to cover it.
Glenn: What's involved in a typical week in the life of Johnny Kelly?
Johnny: Lots of phone calls and e-mails, watch Sophia while my wife is at school or work, work on the cars, work on the house, do all those fun domestic things that high on everyone's fun list. My nights are usually spent rehearsing with one of the bands I play in. Go to bed around 3am and wake up around 8:30am and do it all over again.
Glenn: What's your opinion to the current state of Rock and Metal?
Johnny: It's due for a comeback. Things are hurting now and we need a real true rock star to shake things up again.
Glenn: Do you consider that you share much in common with the rest of the bands sign to Roadrunner?
Johnny: Probably not. We've always had a weird relationship with Roadrunner. We've been related to them for so many years, our dynamic is probably so much different than with any other act on their roster.
Glenn: What's in store on the new album? - since I haven't heard it yet!!
Johnny: All things Type O Negative. Some songs were reminiscent of our younger years with a couple of songs that are kind of punky.
Glenn: What are the influences behind:
a. Christian Woman? Too long to get into now.
b. Black Number 1? Vanity.
c. My Girlfriend's Girlsfriend? Wishful thinking.
d. Kill all the white people? An experiment with the press.
e. I know you're f*cking someone else? It's pretty self explanatory.
Glenn: What would you consider that this new album matches 'Bloody Kisses' in terms of brilliant songs?
Johnny: I think that a song like 'Anesthesia' is just as good as anything that Peter has written in the past.
Glenn: What do you do outside music?
Johnny: I'm the father of a beautiful two year old little girl. I like old American muscle cars. I work on my house. I like computers. I do a lot of everyday stuff that everybody else you know does.
Take care. Johnny
Cheers for the great, to the point answers, Glenn
(Disclaimer: Please Note I am not the owner of the Photograph used for this Interview, the ownership is held by www.nndb.com)