An Interview with
'Jon E Love'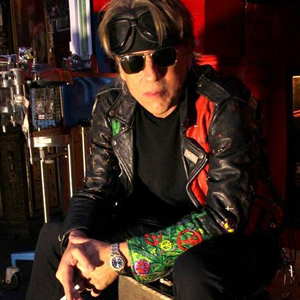 Original Guitarist of 80's Rockers
'Love/Hate'
that took place on Tuesday March 3rd, 2015.
Interviewed By Glenn Milligan.
Glenn: What led you originally to playing guitar and who were your first influences and why?
Jon: I originally started out on piano at age 6 which my parents had me take lessons. My Father was very musically inclined and wanted his children to experience the joy of creating music. It wasn't until I was around 9 years old that I wanted to play bass because my older brother and cousin played guitar and I wanted be in a band with them. My older cousin Mark Denbow is a gifted guitarist and he originally inspired me to be a bonafide musician.

So I played bass for several years and decided to go full time on guitar after realizing that guitar had more expression. As far as influences, I'd have to say all "The Greats", Jeff Beck, Jimmy Page, Pete Townshend, Robert Fripp, Hendrix, etc. Anyone that made the instrument sing and create passion.
Glenn: What was your first guitar?
Jon: I got my first guitar at 5 years old at X-mas. A plastic guitar with a suction cup p/u on it to plug into a little plastic amp. I broke it in about 3 months, then my Dad bought me a Del-Rey surf style axe that I fiddled with for a few years.. All this time I'm still taking piano lessons. My first real instrument was a 69 Fender fretless P-Bass. I loved that bass because it meant I was a wanna be pro having a real instrument and I wanted to impress my cousin to take me seriously.

After I switched to guitar I bought a used 1954 Les Paul Jr. and that was my main axe for years until I started getting different ones. Guitars are like women, they all have a different vibe.
Glenn: Tell us about your first bands and shows before Love/Hate came into play.
Jon: Well my first pro band was with my cousin called Meridian. We were similar to bands like Kansas, Aerosmith, Deep Purple etc. We played a few local shows then did a record for Casablanca that didn't really do anything. But it was my first experience recording for real and I knew then that it was what I wanted to do in my life.
Glenn: Without me asking way too much about Love/Hate which you must have talked about a million times, What highlights of the band come to mind with regard to studio, promotion, live and socializing for you of being a member of Love/Hate overall and why?
Jon: Love/Hate was a big part of my life. I grew up with Skid and Joey and having that kind of childhood bond makes things unique. When Jizzy joined we were ready. The rest is history. Highlights were all the good times we had when it was still fun and we were the 4 Musketeers, carefree and ready to conquer the world..

Circumstances happen and people fight for silly reasons. We did what most never get a chance to experience.. I wouldn't change a thing.
Glenn: What songs are your favourites and why in particular?
Jon: I like most everything we ever tried to create.. We were very strong critics of our work and if we didn't dig it we went to the next tune. I always like playing the new song just like any band I know.
Glenn: When you hear or play those songs, what does it mean to you personally and what memories are conjured up in your head?
Jon: It's not that deep. I'm in the moment and it just happens. Kinda like riding a bike. These songs will be imprinted in my brain until eternity. Live performances are always a bit different each time so the better the audience participates the better the whole experience.

Do I think of the 4 original guys? Yes, No one plays it like us 4. So I'm always comparing it to how would it be if………………….
Glenn: What are your thoughts of a full band reunion of Love/Hate and what exactly do you think would make it happen?
Jon: Who knows, it's 4 guys doing whatever they feel they need to do to survive. If it ever happens I'd like to be there to see it.
Glenn: What led you to becoming a Sound engineer?
Jon: I've always been fascinated by electronics and how records could be made to sound so epic. I started off with little 2- track reel-to-reels and experimented when I was just a kid. Then when I started playing in bands I wanted to learn how to mimic the records I loved.

Slowly gravitating towards more sophisticated rigs just seemed natural. I learned a lot from watching pro engineers tracking us in real studios and sorta had osmosis happen. Years of trial and error have come to fruition but I'm still never satisfied with my mixes.. Always too subjective.
Glenn: Who would you say stand out that you have worked with band-wise with regard to sound engineering who have stood out and for what reasons?
Jon: I admire a great many producers and engineers.. Eddie Kramer comes to mind. Guys that have the ability to not only encourage musicians but have their own personal stamp that brings out the best in the final product. I have been influenced by so many talented people that it's hard to narrow it down.
Glenn: How did the new band, Jon E. Love come to be and why did you call the band, The Haters? I am guessing it's a parody kind of thing on that other band you were in right?
Jon: Jon E. Love & The Haters is just my bands name but it does have some meaning. It's not meant to be portrayed in a negative way.. Everyone Hates, Everyone Loves…without the 2 the emotions would seem meaningless. There is no double entendre... just a bands name. If anything all my fans are Haters. In a fun way.
Glenn: Tell us about the members in the band and what influences they all have.
Jon: Cordell Crockett, Bass, Mike Dupke, Drums, Colby Veil, Vocals, Jon E Love, Guitar. These are my friends and they play the music right. We also get along and enjoy each other's company. You'd have to ask them what their influences are.
Glenn: What things do The Haters most hate and why?
Jon: We don't hate anything in particular... well maybe Justin Beiber and that genius Kanye.
Glenn: What are you most looking forward to for the show at Whisky A Go-Go on March 16th, 2015 and why?
Jon: The Whiskey show is just a mile stone in my life.. 25 years since the release of our first real record. That venue and their staff have been so supportive of us and good music for decades.. Some of the biggest bands in the world have graced that stage and brought some of the best music the world has ever known. I'm proud to be a part of that.

We had our glory days and the Whiskey is still there to continue to support quality live music. I guess what I'm looking forward to the most is giving my custom leather jacket I wore in the "Blackout in the Red Room" video to the club that night in honor of all their support and hospitality.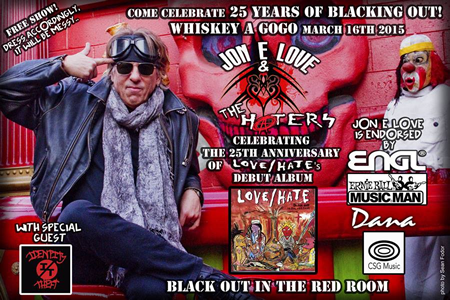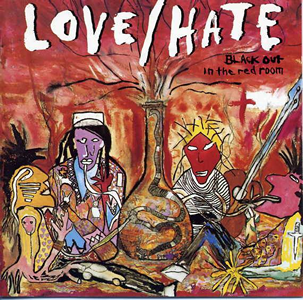 Glenn: What can we expect to hear in the live set and what do you look forward to playing the most and why?
Jon: All the hits, and a few with Joey Gold playing.. Maybe a surprise or 2.
Glenn: What can we expect from the 'Jon E. Love And The Haters' in the future? Will there be an album of new material and if so, how is this going and what do you have in the bag so far that is intended for release that you are able to talk about?
Jon: Plans are in motion to record the new Haters album this spring and hopefully have it finished in the summer. The material is done, just waiting for schedule to commence.
Glenn: In what ways has your guitar style evolved over the years since you were in Love/Hate and if so, how have you changed as a player and why?
Jon: I guess I've changed some.. I play a lot just by myself and am always trying to improve as a well-rounded player.. I love all kinds of music so I don't just stick to one thing. I like to challenge myself with different styles and attitudes.

I need to play different instruments as well to keep it fresh. I'm trying to buy a banjo right now. Gonna put it through a Marshall and see what happens.
Glenn: How would you say you have changed over the years since the heyday as a person overall and why?
Jon: Everyone changes, otherwise you don't grow. I'm not the young naïve kid I was in the beginning of my career. I have my family and my responsibilities just like anyone else. If anything has changed, I just don't let the little stuff bother me as much.

I am happy with where I am in my life. I feel loved by those that matter.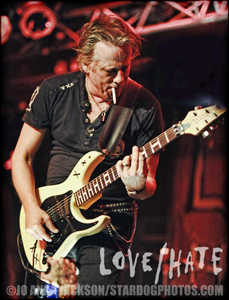 Glenn: In your opinion, how has the Hollywood/LA Scene music scene changed and in what way?
Jon: The old days are gone. Kids change their interests in a flick of a switch. Maybe someday the strip will have a resurgence when the kids realize that all this impersonal behavior makes them crave to want to be part of something street level and powerful. A real social movement not some cell phone infatuation.
Glenn: What are your thoughts of the music industry today as opposed to how they used to be when you originally broke out onto the scene?
Jon: What Music Industry? There are only a handful of major labels left.. You don't need to have the same factors that were needed back in the days. If you have a good product and can learn to market yourself than why give it all away to someone else. The cream always rises in the end.
Glenn: What do you like to do away from music and why?
Jon: Play with my animals and spend time with my family and wife. Life is not just about hustling to make $.. I appreciate being with those I love and care about. I also feel that life's biggest rewards are when you do something for someone else to make their day better and get out of self.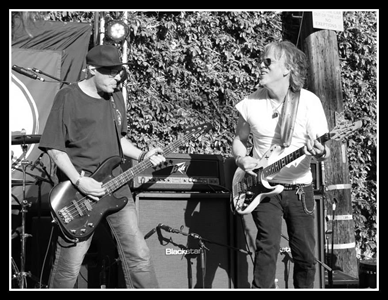 Glenn: Is there anything else you would like to discuss that I haven't covered so far in the interview?
Jon: Just want to thank all the fans and support throughout the years. We were a great band and did some great work while it lasted.. I still have a few more notes I need to play and if your in town come down and share them with me and my cohorts.

Support your local talent. The next Beatles could be opening in a local bar by you.
Glenn: What are you most proud of so far and why?
Jon: My 19 year old Daughter, my Wife, Family, close friends and my memories and future extravagances. I plan on having as many One More Rounds as possible. Peace, JL
Jon E. Love is Endorsed by Engl amps, Ernie Ball/Musicman Strings and Guitars & Dana Guitars.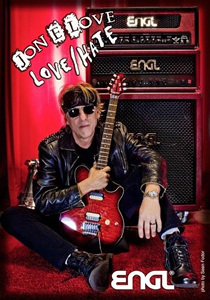 Check out these Facebook Pages for more Information about the man and his band:
https://www.facebook.com/csgtalent (For Press/Bookings)
All Images have been used by kind permisission of Jon E Love