An Interview with Keith Nelson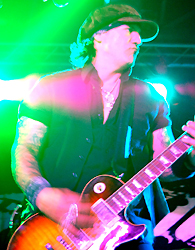 (Photo by Lady L)
Guitarist of Buckcherry on 25th July, 2009 on the Tour Bus outside Corporation Nightclub,
Sheffield by Glenn Milligan
Glenn: Why did you decide to call the new album 'Black Butterfly'?
Keith: Well there wasn't really much of a reason except for.... we had written a song called 'Black Butterfly' and it was a song that we all really loved but it didn't make the cut and the record. It had such strong imagery that right when we were trying to figure out what to call the record we had decided on the songs. I just threw it out there, "Why don't we call the record 'Black Butterfly'. You know, 'Houses of the Holy' doesn't have 'Houses of the Holy' on it so we figured out if Led Zeppelin can do it then we can do it. It's kinda stuck and everyone likes it.
Glenn: What made you decide to cover 'Highway Star' by Deep Purple?
Keith: We had an opportunity to do that song for an American Television Network that corresponded with Nascar Racing over there which is really a big deal in the United States. We loved the song and we said, "well we'll give it a try and see how it comes out", and we recorded it and it came out really cool so we went with it.
Glenn: Yeah, a friend of mine from Fort Myers went to see you do it at Daytona – how did that come up and how was it?
Keith: Same thing, you know, they had an event and they wanted to include us and they invited us down to do that and it was awesome. We got to play for a lot of people and we actually got to play four songs on the in-field of the race before the race started – it was good.
Glenn: What would you say the highlights were of recording the album 'Black Butterfly'?
Keith: We took longer than we ever have to write it – not that there was any difficulty, I feel that we were a little more methodical and we were a little more patient and we really saw every idea through to the end as opposed to before where we'd get into a song and someboy wouldn't feel it and we would just drop it. We were just more thorough. That's why. So I mean that was definately a highlight really – working like that and we did the drums in Dave Grohls studio from The Foo Fighters and he came down one day and sat around and played some drums. It was fun. We had a little jam. I just think the highlight really is that the band is just such a unit and we are hitting on all five cylinders and it's all just a lot of fun to make th record.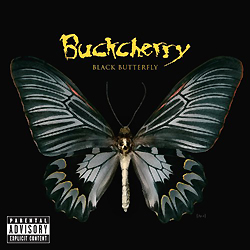 Glenn: Was it daunting for you to follow up a song like 'Crazybitch'?
Keith: No, no not at all and I'll tell you why - because we didn't really set up to re-create that song – we just set up to make a great record and if you are still thinking about how you are gonna top your last hit then you f*ck yourself really. I mean we know what that's about after following up 'Lit Up' and there's a lot of pressure from our record label who actually said, "Where's the next 'Lit Up'?", but we didn't have that this time around. We were kind of our own unit and we just said, "We are gonna make the best record we can".
Glenn: Are there certain songs on the album that have stood out to you?
Keith: Yeah, I mean 'Cream' stands out because it's different and it's really one of those songs that's been a musical journey. 'A Child Called 'It' because of the subject matter and the inspiration for that stands out to me. 'Dreams' stand out for me because it's a great collaboration of music from the part of Jimmy and myself – they are the highlights to me.
Glenn: I noticed you've got the 'Too Drunk to F*ck' song which sounds great.
Keith: Yeah it's an interesting song and there's always gonna be a song like that. People come to expect that from us so..
Glenn: ..You give it 'em.
Keith: Yes.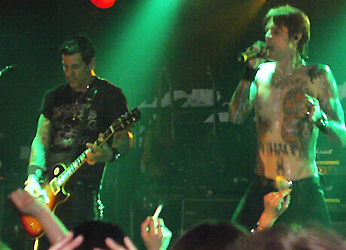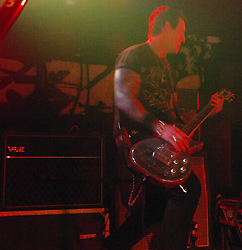 Glenn: What made you decide to creat a double album as opposed to a single album?
Keith: Well we've had so many issues getting the album out in Europe and we have a hardcore European fanbase but it's not really as widespread as we'd like it. So we just decided, now that we had control over the masters of both records to release them because we really feel like everyone.. you know it's important for us that the music gets out there and gets heard. Obviously it means less money for us for every record sold but it really isnt about the money. It's about getting the music out there. So I mean, it's the same price as a regular standard record.
Glenn: So there's more songs on there than the 12 songs on your website?
Keith: Yeah there's gonna be some bonus tracks and stuff.
Glenn: What's it like to play the UK – how was the gig last night at Glasgow?
Keith: The gig last night was 'off the hook'. It was sold out in Scotland – a great crowd. I think the Euopean fans are really appreciative – they really understand 'Rock 'N' Roll' and they are really loyal and it's a joy to come over here for 'em – it's really fun for us.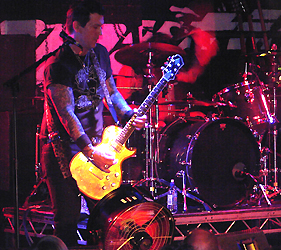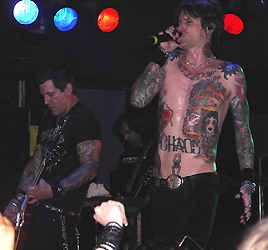 Glenn: Would you say in comparison to the USA fans that they are like a different crowd and they are more 'up for it' here?
Keith: I think so and I think if you're up fakin' and posin' they know it and they f*ck*n' call out on it you know?
Glenn: Yes.
Keith: So it's refreshing.
Glenn: What was it like playing 'Sheffield' last time? Was that the reason that you decided to come back here or was your Agent's decison?
Keith: No I mean these are all cities that are important to us. It's important for us to be a worldwide band and having establishing ourselves in the UK is one of our top priorities so Sheffield's on the list.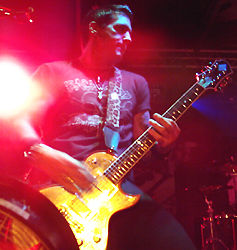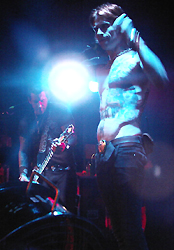 Glenn: Yeah I saw you in here last time in 2007 and then a few days later you played Download at Donington.
Keith: That's right.
Glenn: How was it for you guys playing Download the first time in 2007?
Keith: The 1st time it was like an outer body experience because we had thought about that. You know when you grow up in America and you hear about the Donington Festival it really is this headless mystique about it and all of our favourite bands have come here and done it and it was just really important for us to get over here and do it and do well and now we've had chance to do it again this year so hopefully it's something that we are gonna continue to do. It's a lot of fun for us.
Glenn: I think you should have been on the main stage with all those other bands this year.
Keith: We're working on it. Our work here is just really starting.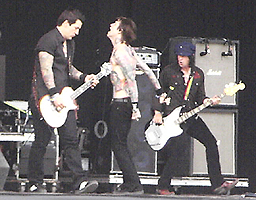 Glenn: What do you like about this venue – Corporation, Sheffield, are there any particular things that stand out?
Keith: I like this venue because in the States now we're playing bigger places and it's fun to come over here. We're forced to kinda restart forming our career in Europe and gigs like this are really important so we sometimes forget what a sweaty hot little club is all about and it's such a lot of fun to do this.
Glenn: As opposed to being big arenas in the states places like that.
Keith: Yeah – yeah, yeah, yeah.
Glenn: And you are closer to the crowd as well.
Keith: Yeah, it's nice to have 600 of our closest friends jammed up against us.
Glenn: What would you say the difference for you playing Download in 2007 and 2009 apart from you being on a different stage?
Keith: Well Download the first time – we played really early on the main stage.
Glenn: You did.
Keith: Like I said it was kinda like 'Wow' for the first time you know and this time we felt a little bit at home I think and a little bit among our peers. I think it had a lot to do with it.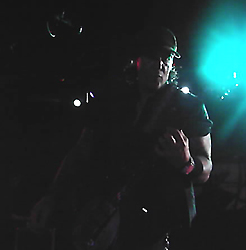 Glenn: Yeah. How did you go about getting all the bands together for this tour?
Keith: Well we played with 'Dear Superstar' last time we went through here (in the UK) and we really liked them and these other bands were recommended to us and we listened to 'em and thought it would be a good set.
Glenn: Would you say there's other bands you take a liking to that you've heard the CD's of and stuff and thought, 'These guys should get recognised'?
Keith: Yep. I mean there's a lot of bands to choose from. We find a lot of bands just kinda happen to work out on this one. We do get a lot.
Glenn: What have been your favourite places to play over the years – which ones stand out?
Keith: I mean Donington was one of them, playing Woodstock '99 was great. We did the Millennium New Years Eve Show of 1999/2000 with Aerosmith in Osaka at the Osaka Dome – that was pretty great. We did a couple of shows in Amsterdam. Madison Square Gardens with AC/DC had been great.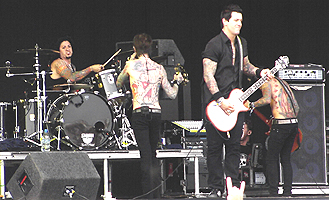 Glenn: What have been the coolest guys to hang out with –do you see much of the other bands?
Keith: Definately the guys in AC/DC – they were so accomodating. After our last show with them they brought us into their dressing room and it was the original line up with Brian – it was the same line-up that did 'Back In Black' and 'For Those About To Rock' – all the original guys – Phil Rudd was back in the band and awesome – just the coolest, nicest guys. Really just a lesson on how to be a gracious let's rock legend – purely fun. The guys in Kiss have been great. The guys in Motley Crue have been a lot of fun to hang out with. Most of the time those bands can appreciate the fact that we're the next generation of rock and supportive. I am a little dissapointed I got to say that the guys in Aerosmith didn't... we played a few shows with those guys and they didn't really make themselves available which is a bummer but at least they weren't jerks, they just weren't around.
Glenn: I suppose they are they are the sort of guys that are limo'd in, play the show and limo'd back out?
Keith: Kinda. You know the guys in Def Leppard have been great too. We've done a bunch of shows with those guys and I've had a chance to hang out with Phil & Vivian and Joe on different occasions and they are really, really great guys and they're from here.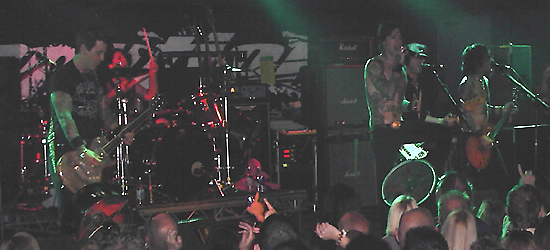 Glenn: What would you say the weirdest gigs you have played or been offered?
Keith: Oh we get offered lots of weird sh*t. I think the weirdest gig we've ever played was the AVN Awards in (Las) Vegas which is the Adult Video News Awards which is basically we played for a full house of porn stars and porn people. That was the weirdest gig – by far.
Glenn: What would you say your favourite headlining slots have been on tour or supporting? Would it be like your Kiss and Motley Crues and.. ?
Keith: Yeah, yeah – we did a tour over the fall in the spring this year with Avenged Sevenfold – we co-headlined with them. That was a lot of fun. I think that was one of my favourite tours that we've been on. That lasted for more than a week you know.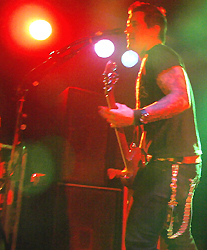 Glenn: It's amazing that a band of that sort of sort of style would merge well with yours.
Keith: Well it worked you know – we had a lot of sell-outs and that tour was supposed to be about 5 weeks long and ended up being 5 months long.
Glenn: Wow! Did you go all over with that one?
Keith: All over North America Yeah.
Glenn: What would you say your favourite road stories are?
Keith: Nothing I can tell you. (I laugh). I gotta protect the guilty.
Glenn: Exactly yeah.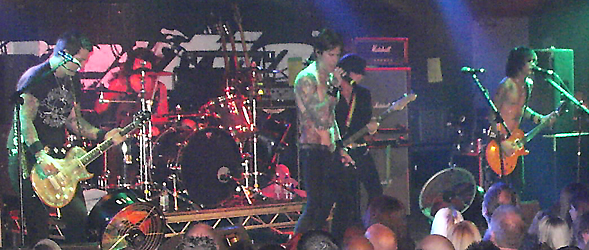 Keith: But you know when we were on Cruefest last year my drummer had a birthday and Tommy Lee and a midget brought him a birthday cake in the middle of our set which was nice and of course they smashed it in his face so that was fun.
Glenn: (I laugh) What's been the reaction so far to the new songs on the album that you've played?
Keith: I think the reaction has been awesome. Like last night (in Glasgow) there's this core audience that already has the record and they probably got it on import and they know 'Rescue Me' and they know 'Talk To Me' and they know stuff off the new record. It's been really positive. Yeah.
Glenn: Excellent. Right I'll let you get on. Have a good one.
Keith: Enjoy the show.
Glenn: Thanks I will.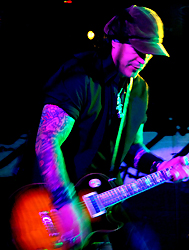 (Photo by Lady L)
A Big thank you to Dan @ Division PR; Bally Ames @ Tomorrow Never Knows PR; Buckcherry's Tour Manager, Steve Shaw; Mark Hobson (DJ Mutley) & Staff @ Corporation Nightclub, Geno D and Lady L (for Photos) and of course, the man himself, Keith Nelson.