An Interview via e-mail with the frontman of Switchblade(dk),
Ken Anthony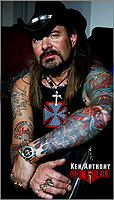 They are an Awesome Sleazey-Southern Rockin' band from Denmark signed to Perris Records !!
Who are your musical and vocal influences for you and for the band and why?
Our influences is the 80s glam -sleaze rock scene. Bands like Junkyard, Little Caesar, Jetboy etc.
Vocal-wise people tells me I sound a cross between Lemmy, Zodiac Mindwarp and Bon Scott. And that cool with me. Ha-ha.
Who have you been compared to as a vocalist and how did it make you feel?
As I just told you Lemmy, Mindwarp and Bon Scott, yeah I like that very much.
What's your area like for rock and metal and where do you hang out for music?
WOW we are from Denmark the scene SUCKS out here, we got a few good bands that's it.

What other bands were you or the other guys part of before Switchblade came to be?
I have never been in a band before, I'm new on this scene. Before I was a contributor for some mags. Metal Forces back in the 80s. I also was the manager for Pretty Maids and helped a lot of bands in Denmark and USA. My guitarist (one of them) Martin Steene is the singer of Iron Fire and Force of evil. The other guys has been in smaller bands here in Denmark.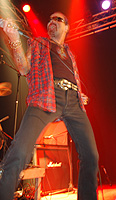 Why did you decide to call the band 'Switchblade' - was it because you guys are as sharp as one?
Switchblade is a great name, now we had added dk to the name, cause there is a Swedish band out there with the same name. And yes we are sharp, don't you mess with the Switchblade gang. Ha-ha.
How long did it take you to get signed up - did you send to loads of labels?
We were signed after our first demo to Perris Records, we did send to a lot of labels some did not like out sh*t, so we went with Perris in the USA.
What made you choose 'Perris Records'?
Because Tom the guy who owns the label he is into this kind of music, he has always been into sleaze glam rock.
What have some of your favourite gigs been so far and why?
We had a great show with Pretty Maids and a really cool show with some Swedish glam bands Panzer Princess and Innocent Rosie that was fun.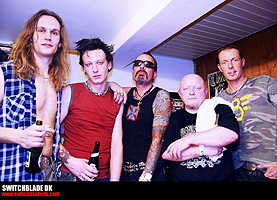 What do you all do outside the band - as in jobs 'n' stuff?
We are all working - I got a CD store, one is in an office, one in a Hospital and so on.
So where was the front cover photo taken for the new album 'Rock 'n' Roll forever? Was it after a gig? Nice to see the Guinness can on the table.
The cover photo is a shoot after a gig - we are sh*t-faced he he , you like Guinness? Me too – it's my fave beer. Love it!
So does 'Cocksuckin Suzie' exist? Or did u use an alternate name to protect the not so innocent!! There must be a damn good tail, I mean tale (scuse the pun) behind this song!!
If she exists? – He-he - I think so!!
What influenced 'Mr. Big Shot'?
It's the the good old LA glam scene.

You love your Southern Rock - which bands would you like to tour with of this Genre who you reckon would complement?
I really love southern Rock. I would love to play with Molly Hatchet - Rebel Pride - National Dust.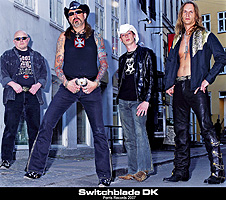 What are your fave songs on the new album and why?
My fave songs – wow, Cocksuckin' Suzie; Rocker; Desert Train and Mr. Big Shot. I just think they kick ass.
Did it take that long to record the album - what cool stuff took place in the studio?
It took us around 2 month.
You got any great road stories worth tellin'?
No great stories yet. We always get sh*tfaced after our shows, he-he. Now we are lookin' forward to playing the Sweden Rock Festival in June.

Do you have plans of coming to the UK for a few shows - if so, when and where?
We would love to play in the UK, can you help us out?? Ha-ha

What words would you use to describe a show from Switchblade?
KICK ASS ROCK N ROLL

So who came up with 'Bad Morning Bluez'? - lol - you gotta tell us about the influence behind that one!
That song is written by Henning my guitarist, he is not here I can't tell you sorry!!
What would we find in your record collection?
My collection, it's Glam la style - Sleaze Rock 'N' Roll - Southern Rock and some Rock Country. NO RAP SH*T HERE – Ha-ha.
What was the 1st records you guys ever bought - did they light the candle to what you are doing now?
One of my first records was Deep Purple and a Black Sabbath.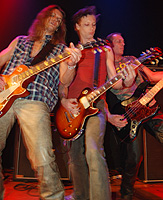 Which bands and why would you like to support if you got the chance to play around the USA and why?
I would love to play with Motley Crue, Poison & Motorhead - among others. Why? Because I love these bands.
What are you guys most looking forward to for the rest of the year and why?
We are lookin' forward to play Sweden Rock and hopefully come to the UK for some gigs.
Do you feature the odd cover in your set - if so which ones and why?
We play one cover song, that's Smokin' Velves by Holocaust. We did that one on our first CD. A cool Rock 'N' Roll song.
Have you had the chance to be joined onstage by any notable artists - if so, who, when and where?
No not yet, but some day I hope.
If you had the chance to duet with anybody who would they be and why?
Lemmy

Who in particular would you like to face god and why?
I don't know - we got many gods out there. He-he.
When you eventually leave this earth, what can we expect to be written on your tombstones?
Keep it Sleaze and Rock 'N' Roll 4ever !!!!!!!!!!!!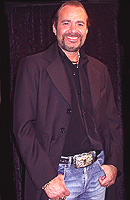 Thanks a lot for your time and support.