Ken Hensley (ex-Uriah Heep) interviewed by Glenn Milligan between 28th & 29th August, 2007.
Find out what Ken has to say about his new album 'Blood On The Highway' and life in and around Rock 'n' Roll!!
(All Live Pix by Kai Schwarz)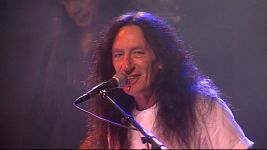 Why did you decide to write, record and release the concept album 'Blood on
the Highway'?
The idea came from Jurgen Jakobsen, the head of Membran in Hamburg which is my record company. He was reading the first edition of my auto-biography and called to ask if I thought we could tell the musical part of the story on a CD. I thought about it, wrote and recorded a couple of songs around the idea, they came down to Spain, listened to the songs and we made the deal over lunch!
Would you say you based it on one particular person, various people or is it basically a general picture of life for some in the music business?
Generally, I wanted to tell the story of a rock musician's life in the 70's, which was a very special time in the life of rock & roll. It's a story that involved a lot of people, but in specific terms, I can only tell it as I saw it.
How has the basic storyline changed if at all from the original storyboard, and did you find you had to take out already written songs when you had altered the story as well as adding new ones?
The storyboard, such as it was, was really in my head. I had three older songs that fit the concept but all the others are new. I was really happy with this process because, with such a specific concept laid out and the memories still fresh in my mind, it all fell into place fairly easily.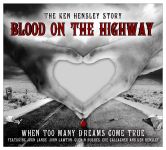 How did you go about getting all the musicians and vocalists together and how did you originally meet them and when?
First, Dani and I chose the studio musicians from a pool of strong players in the Valencia region of Spain. The studio is in Alicante so this made good sense.
We made the decision to use different voices at the beginning of the project and, as the tracks were growing, I contacted the various singers I wanted to work with.
Glenn and I had talked for a long time about doing something together so this gave us the perfect excuse! My touring band "Live Fire" are all from Norway so I had met and jammed with Jorn Lande quite often. I knew John Lawton had the perfect voice for his song and when I was searching for a female voice for the "relationship" song, I was introduced to Eve by a friend in Switzerland where she now lives.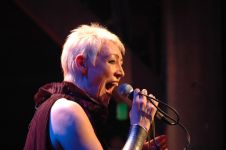 What cool times did you have in the studio with the vocalists and musicians
that are worth talking about?
Well I have to say that it was a great time. They were all so professional and they each captured the spirit of their songs. Most of this is recorded on a DVD which will be released in late October as part of a boxed set.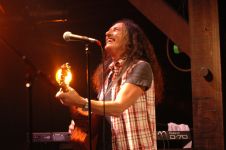 Where did the style of the cover come from with the hands, heart and the road as well as the way it opens up?
This was designed by the graphics people at Membran. Great job eh? Blew me away when I saw it for the first time

Where did the idea come from to have the slide guitar on the intro of 'We're on Our Way' as it really grabs the attention for the song?
I was playing the Dobro in the control when the intro was in playback and we just looked at each other and said….now go do that in the studio!

What would you say are your favourite songs on the album and for what reasons?
I really, honestly like them all for different reasons but my favourite is "I did it All" because it sums up my life as it is now.

Which songs would you say came easy and why?
All of the new songs came quite quickly and quite easily actually and there are two main reasons for that.

First, I had the concept to work with and I had chosen the general topics I wanted to illustrate, so the subject matter was clear.

Second, the place I live in Spain is very remote and very tranquil so the "noise of the world" doesn't interfere with the creative process at all.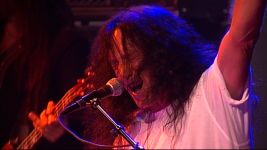 Which songs would you say were harder to write and why?
The only song which was a challenge when I originally wrote it was "The Last Dance" and that's because I wrote it in bits and then had to piece it together.
With regard to people who pushed it too far and lost their lives for their love and lifestyle in rock 'n' roll, who would you want to bring back and show them the right way of living or if you would have had the chance, save from the dangers?
Most of the tragedies that happened were due to bad personal life choices like drugs and booze and I don't agree with those who blame it on the business. There wasn't much support for those of us who had problems but that's because people didn't understand what was going on.
When I was young I didn't listen very carefully to advice and I ignored a lot of it but I think young people are like that so I doubt that I could influence them too much at that age. If they are as old as me and have survived it all then they will probably know better!
I do worry that the young artists doing it now are setting such a terrible example for their fans and youngsters who, in some cases, try to emulate them closely.
I often wonder if the original Heep would still be doing it if Gary and David were still alive?
What would say are the main dangers of the music business and what bullsh*t have you been told in the past that led you to believe would be beneficial to you but just lined someone elses pockets or got themselves further up the ladder?
Making a living from music has always been difficult and very risky for a lot of reasons but I am quite sure it's more difficult and risky now than it was when I started.
The dangers are physical and financial. If you don't take care of yourself, you might kill yourself and if you don't have good career and financial management, you might end up after 30 years without a penny. It has happened to a lot of people from my era which is why Monica and I have set up "Musicians In Need" as a component of our foundation, Esperanza Street. (www.esperanzastreet.org)

Do you have many regrets of things in the music business and if you had the
chance would you change anything that took place?
My biggest mistake (and I made a lot of them!) was getting involved with drugs which led me to becoming an addict for over 16 years and damaged or destroyed many personal and professional relationships.
That's one thing I would definitely change if I were to go back in time.
What would say is the best way to describe 'a life in the music business' and what would you say are the best things to avoid and for what reasons?
Speaking for myself, life in the music business is a succession of things that all involve hard work, commitment and dedication. In that sense it's not really that different from any other profession but in practical terms it's a life that is demanding on you physically, creatively and emotionally. Overall though I would describe it as challenging but wonderful!
How would you say the music business could be improved these days to fit both the needs of the artist and the record company?
Ha! I have no real idea…..The internet provides a real challenge to both in that sales of physical product will continue to fall and the number of "wannabes" will grow through things like myspace and youtube and thus dilute the market further.
If there was a way to make all music free and still find a way to help those who create it to put food on the table then I guess that would be a pretty cool situation!
What artists (from a musical point of view) would you say influenced the style of the album and what was it about them that you liked that purposely fit the narrative and vibe for the various sections of 'Blood On The Highway' as a whole?
The only influences I am aware of are my constant search for new lyrical and melodic direction (made possible by the wonderful freedom I now have to explore) and my experience as writer, musician and producer with Uriah Heep. I have an established "style" in the way I do things but all of the new studio technologies mean that style can be embellished in amazing ways.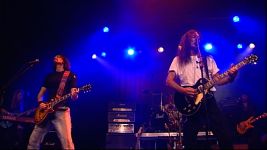 For what reason did you purposely use Uriah Heep's 'Easy Livin' in parts of the album – was it to be contrasting as it isn't an 'Easy Kind of Living' or were there other personal reasons – if so, what?
I used snippets from "Lady in Black", "Free Me" and "July Morning" at the point where the song says….."one million miles, ten million hearts, one simple song". All of my songs are simple because I rarely use the black notes!!
Easy Living just jogs along in the background of the pub scenes.
What was the reception from other members of 'Uriah Heep' past and present for using 'Easy Livin' and calling it 'Doom' (scene 1) &'Doom' (scene 2)?
None that I am aware of. It's obviously my song, so I just placed it there. Simple really. The doom part is the girl's script!!
Are there plans to tour the album and will the same artists be taking part on vocals or have you got others to take there place - if so who?
We (Live Fire and myself) will tour the album, starting in Kiev on October 26th. It would be virtually impossible to schedule it with the original cast but Erik, our singer has a great voice so the tunes sound great!
Are there plans for dates in the UK in the future - if so, where and when?
There have been conversations but I am not aware of any solid plans at this point. The "economics" are quite challenging I think!
What were your favourite parts of the USA when you were based there and why?
All the great golf courses!!
America is a beautiful country that is being destroyed by some Americans.
What made you decide to settle in Spain after living for so long in the USA?
What do you miss about the USA?
I don't miss much….my last four years there were very difficult but I wanted to be near my family and Monica and I thought the UK would be good. We settled into a nice little 16th century cottage in Cambridgeshire but we couldn't settle on the weather and the cost of living there!
Monica is Spanish, the weather is great most of the time, I love olive oil and garlic and I am only 2 ½ hours flight from my brothers and sister.
How did you come to working with Blackfoot and what were your favourite times as a member?
I never actually "joined" Blackfoot. Their managers called me and asked me to play Hammond and synth on their next album, "to bring their sound into the 80's and get rid of their Southern Rock image". We did the album they asked me to tour and we spent 3 months on the road with Molly Hatchett and The Outlaws!!
It was really difficult to fit my playing into their style but I enjoyed working with Rick Medlocke a lot.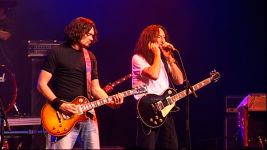 What was it like working with Blackie Lawless of WASP and how did it come to be?
It was another "invitation". John Tuminelo called and asked me if I wanted to do the album and I had the time so I agreed. I went to LA, met Blackie and rehearsed the album with the band…..but no vocals. They told me Blackie was still working on the lyrics so, even though I hate working without knowing the melodies and vocal dynamics, we got through all of the songs in a few days.
I was invited to the release party and that was where I heard the lyrics for the first time. I hated it!!
What songs did you like working on the most and why??
None! Sorry!
Did ever get to work with an ex-WASP buddy mine, Stet Howland and did you hang out much with any of the band members – care to tell of any cool stuff you got up to?
I shared a flat with Stet for a while and I liked his playing a lot. Unfortunately I wasn't at my personal best during those days so the memories are a little vague.
In general, do you have any great road stories from your career so far that ain't been told (or told too much) that are worth telling – care to share?
Nah! I think they are all out there really!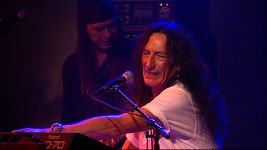 What have been your favourite groupie exploits that you are able to tell?
(I will place an 18 and above only on the interview – lol)
Ah…the groupies! Another essential part of the 70's rock & roll magic!
No need to censor the question, I wouldn't give you the graphic details under any circumstances but Dale and Mary were quite interesting and there was the time we met some drop-dead beautiful creatures in Chicago who were "half and half", if you know what I mean. I didn't touch them but one of the entourage did without knowing it and you could hear the scream all over Chicago!!!
What have been your favourite tours both as a solo artist and as a member of particular bands?
The first Heep tour in America will always stay in my memory because, not only were we exposed to the world of groupies and limos for the first time but we played our first show there in a 16,000 seat arena, opening for Three Dog Night……what an incredible experience.
I am still waiting for my favourite solo tour and I'll let you know when and if it ever happens!
What songs and albums have been your favourites that you have been part of
the creation of and why?
My first album, "Genesis", with The Gods, on EMI is a great memory because it was my first real recording experience and we did it at Abbey Road in 1967 which was such a magic time and place. I felt like I had finally made it.
With Heep my favourites are "Demons & Wizards" because the band was cruising on such a high at the time and we were so "connected" and "High & Mighty" because of the songs and the fun we had making it without Gerry being around. Like naughty school kids really.
Now my favourite is "Blood On The Highway".
What have you been most proud of so far in your career and also as a person
overall?
Buying my Mum and Dad their house, kicking my cocaine habit, placing my faith in God through Jesus and finding a wonderful balance in my life now.
A big thankyou for taking the time out to answer all of the questions.
You are very welcome.
Here's to Rock 'n' Roll !!
Amen to that!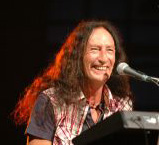 A big thankyou to William James @ Glass Onyon Promotions for setting it up.