An Interview with
Keri Kelli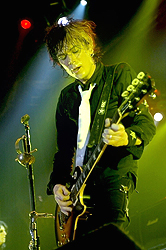 (Guitarist of Alice Cooper)
took place August 2007.
Interviewed by Glenn Milligan.
What have been some of your favorite songs you have played on and why?
Well I think they all are cool for different reasons. I did a track with Vince Neil for this Judas Priest tribute CD that's coming out soon.
We did it at my Studio so it was pretty cool..... Heading out to the Highway was the track.
I've ended up doing a lot of "Session" or "hired" type of work the last 10 years and have played on so many things I cant even remember a lot of them!
The new Alice Cooper stuff is really coming out cool I think also!
What is Alice Cooper like to work with and what have been some of the highlights for you with regard to the shows?
Coop is great...Very easy guys to roll with. Everybody within the organization is so Pro, its easy just to go in and do your job: which happens to be Rockin' the House! Some great show with Coop have been Sweden rock last year playing for like 60,000 people!
This year we played Romania with Marilyn Manson...That was cool. He jammed "18" with us...Pretty neat.
Playing with Deep Purple...The up-coming tour with Heaven and Hell....The list goes on and on.
Would you say that Alice Cooper is your dream gig - reason why?
Like I stated earlier, its just cool to be able to just concentrate on doing a great show.
Everybody is pro and has all the little things covered, so it make everything simple.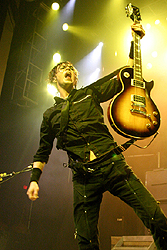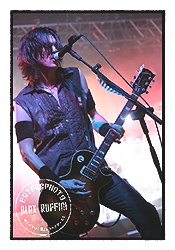 Who else would you like to work with as well and why?
I would like to work with everybody!
I mean I just love and want to play, bottom line.
Of course there people I hail like Dio, or even new bands like Him.
I don't know if they would ever need me, but I'm always trying to do anything I can with all my spare time.
What have been some of the best road stories over the years that come to mind that haven't been mentioned in other interviews yet?
Probably all the same stories you've heard before like the tour bus breaking down in the middle of the night.
The Air Conditioning breaking in the middle of the desert in 110 Degree weather...
How about the one when the tour manager got Stabbed by the bus driver!
That's all I will say...
Are there songs that have been a tough one to play - if so, which ones, in what way and how long did it take you to learn them?
Nothing is really too hard to play. It's all rock N roll, not Jazz Fusion! There are some of my favorites to play like "Is It My Body" and "Poison" always gets an incredible crowd reaction! "Halo" is pretty tight also.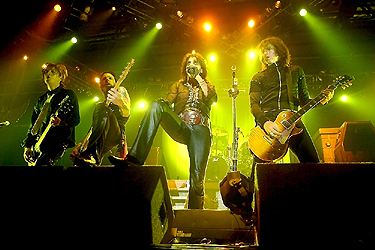 What is next for you - more shows with Alice?
We will be out playing till the first week of December.
We have the UK in through Nov. 21st, then we are off to Russia, Sweden, Finland and Denmark.....
How does it feel to you when you hear yourself blasting out of a bar or club when you are not working - as in, on a night out?
Well when it does happen its kinda cool....
I really don't listen to my stuff at all.
I just appreciate that people like the things I have been a part of.
Thank you all!
What would you say are the pros and cons of earning a living in the music industry?
I think the best part is obviously (and Hopefully) doing something that you love!
You know, not having to go to a 9-5 job etc.....
The other killer thing is to be able to see the world!
I've been very fortunate to see so many great places its really amazing.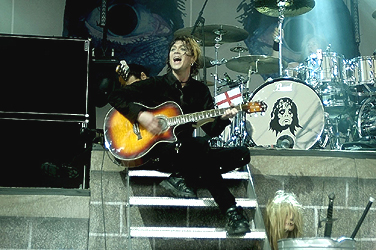 Which are your favorite parts of the USA and why?
My favorite part is of course where I like in Orange County California!
I love it down by the beach...The vibe is killer in my opinion.
Southern California is defiantly the best place on the planet!
New York City, San Francisco and San Diego are also killer spots in my book!
Have you ever been to Fort Myers Beach, FL - what you reckon?
I believe I've been through there.....
Sounds like a nice place...I can't remember!
What sorta stuff do you do on a night or day off or when not on tour at all?
Usually try to find the best sushi place in town and if the town has a brewery, we will be there!
Sushi and Good beer....I'm easy!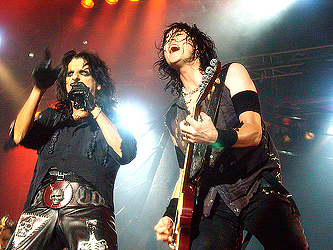 When can we expect a solo Keri Kelli album - there must be a lot of songs in the can that are yet to be released? What would it be called?
People have asked me this for years man....
I have probably 100 songs sitting around.
It's easy for me since I have always had a studio to record in.
This might happen in the coming year (2008)....
I dont know what Id call it at this point...I'll get back with you on that.
If you could put your own ideal band together for a solo album, who would you have in it and why?
Well theres too many greats to even mention....
I mean including people that have passed...... I would have Phil Lynott, Bonham on drums...
Probably like 10 guitar players like Schenker, Jeff Beck, Hendrix, Dimeola.....
There's really too many people if it were a dream band or CD.....
I hail all the greats!
If you released an autobiography, what would you call it and what would you place on the cover?
Man I don't know......
How about "Beer Drinker, Sushi Eater, Hell Raiser" !! That about sums it up....
And on the front a big photo of Keith Richards or John Lennon so people would buy it!!!!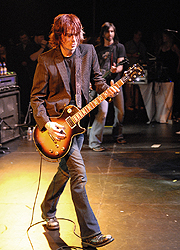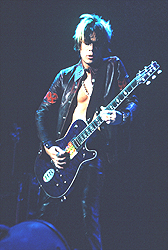 What sort of music and artists in general can you be found to be listening to in your own free-time periods?
T hin Lizzy.....MSG.... I've been getting into the new Manson CD, Angels and Airwaves, Aerosmith "Bootleg" and Muse a lot lately…
What do you miss of the old days of LA that you wish you could bring back or not bring back?
Well, it seemed that everybody was into rock music in the late 80's and early 90's....
LA was like the epicenter for a lot of it, so I guess I was just lucky to be a so close to it....
How is LA now with regard to the scene and the area overall - is it true that many people are moving out of it because it ain't like it used to be in more ways than one - reasons why?
Well, I don't live in LA.
I did for a few years in the early 90's, but what you say is true.
I know several people from once prominent rock bands that have relocates to Austin and to Nashville.
There's a lot of great things happening out in those regions currently.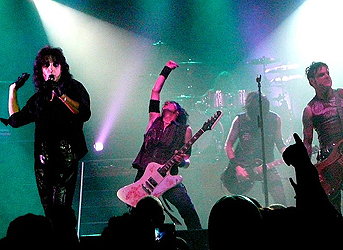 What would you say is your favorite guitar that you play and why?
I like them all ....
Each guitar has a slightly different feel, tone and vibe..
You know Strats are great for what they are, but you can't compare them to a Les Paul..
They are two different animals.
I've been playing mostly Gibson's out with Cooper.
I feel they bring the traditional Vibe to the music and show.
How do you cope with the hassle of jet-lag personally? - it must be a nightmare at times !!
You gotta time your sleeping pills perfectly!
What you most like to be remembered for when you eventually go to that rock n roll stage in the sky?
Just the guy who wanted to play and have a great time.
Always will to help a fellow musician out If I ever could!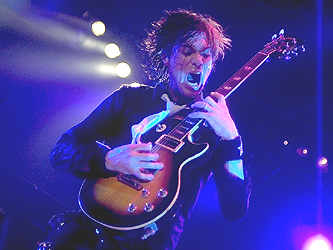 Thank you all for All the support for myself and the Coop.
Hope to see you all soon and keep up with me at www.kerikelli.com or email at keri@kerikelli.com
KK
Cheers for a Great Interview Bro !!
Be sure to see Keri on Tour with Alice Cooper in the up and coming months!!