An Interview with
'Kevin Dubrow'
The Legendary Rocker and Frontman of
'Quiet Riot'
Interviewed by Glenn Milligan on 8th October, 2004.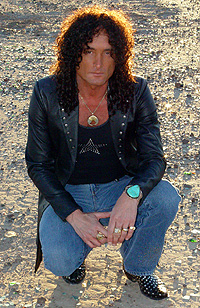 Glenn: What made you decide to record an album of cover versions?
Kevin: I have always loved the music from this era. I grew up with this stuff and always wanted to do an album like this. Mike Varney of Shrapnel records has been a friend of mine for 25 years and is a real music person. He asked if I'd be interested and I jumped at the chance.
Glenn: No doubt you have a massive record collection - how did you go about choosing the songs?
Kevin: I do have a large collection but a lot of my stuff is on vinyl and not out on CD. I just went through a mental list of my favorites and jotted those down. Then Mike Varney and I agreed on specifics and there you are.
Glenn: Why did you call the album 'In For the Kill'?
Kevin: It's just a title that goes with the cover.
Glenn: How did Michael Lardie become involved in the album?
Kevin: Again, Mike Varney has been so instrumental at hooking so many people up. I knew Michael Lardie on a hello basis but never really spoke to him. It turned out that he was a great person, really smart and super talented.
Glenn: Where did you get the idea for the human face/robot cover?
Kevin: The Terminator. We went back and forth on the cover concept and that's why my album came out a little later than it should have.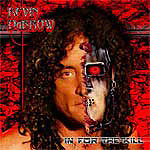 Glenn:What are your favorite songs on the album and why?
Kevin: 'Red Light Mama'. I've always wanted to sing that one and I think the playing and the production are both top notch.
Glenn: Have many of the original artists heard your versions and what did they think to them?
Kevin: Jerry Shirley of Humble Pie has heard "Red Light Mama" and told me he gave it a thumbs up. Ronnie Montrose heard "Good Rockin Tonight" and said, "Nice job M'lad"
Glenn: Did you purposely decide not to go for obvious songs i.e. choosing 'Modern Times rock and roll' instead of an obvious greatest hit?
Kevin: Very much so. I, like so many other people was sick of hearing the obvious choices. I selected the songs that I wanted to hear, not a day of classic rock radio.
Glenn: Which songs are you performing live in concert and how are they going down with the audience?
Kevin: We've been doing 'Red Light Mama', 'Burn On The Flame' and 'Good Rockin'. They have been going down great.
Glenn: How did the 'Bad Boys Of Rock 'N' Roll Tour' come about?
Kevin: I had been approached about doing something similar to this over a year ago. The nature of this business is that people are not very reliable and nothing ever came of it. Finally the agency had a lineup they felt would work so after some negotiating I agreed to do it. Little did I know what I was getting myself into!
Glenn: How was the line-up chosen for the tour - was it case of who was available at the time or were there many other reasons - e.g., having the same agent?
Kevin: It was mostly who was available - certainly not who was most sober!!!
Glenn: Will it be the same bands - or will it depend where it is you happen to be playing?
Kevin: The tour used a band that I had assembled of the best players that were available at that time.
Glenn: What gigs have been good? What have been major highlights?
Kevin: All of the sets that I did were really good. I never saw anyone else's show. The highlight was ending it! It was such a good idea ruined by the absolute silliness of Lane and Adler. I am glad to be back in the company of professionals who are doing it for the right reasons- music.
Glenn: Will the tour be touching Europe or if not, are you coming over for a solo tour?
Kevin: I won't be coming to Europe with the Bad Boys of Metal tour. Now that Frankie Banali and I have reformed Quiet Riot we are hoping to come to Europe early in 2005.
Glenn: Any good road stories that you can share from your extensive career in rock 'n' roll?
Kevin: There are so many. Let's just say what happens on the tour bus stays on the tour bus.
Glenn: Can you see Quiet Riot reforming anytime soon in the future?
Kevin: See below
FOR IMMEDIATE RELEASE
The Return of QUIET RIOT!
QUIET RIOT, the band who introduced the world to their groundbreaking #1 selling album "Metal Health," are back after an eighteen month absence. Driven by vocalist Kevin DuBrow, powered by drummer Frankie Banali, both QUIET RIOT founding members, the band is now fueled by longtime QUIET RIOT contributing bassist Chuck Wright and energized with Beautiful Creatures' guitarist Alex Grossi to bring you their prescription for Metal Health.

QUIET RIOT have entered into an equitable and legal agreement with bassist Rudy Sarzo, now with Dio, making it possible for the continuation of the group. Former guitarist Carlos Cavazo has chosen not to participate. Everyone concerned wishes each other continued success.

QUIET RIOT will be releasing their first ever official live CD "QUIET RIOT Live & Rare" in January 2005. It will include tracks from their 1983 Metal Health tour and the 1984 Condition Critical tour as well as three rare 1981 "demo" tracks for their "Metal Health" release.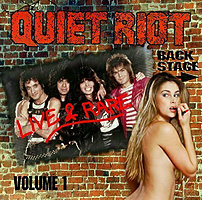 Glenn: What are you most proud of, of your days with Quiet Riot?
Kevin: ' Metal Health' going number one, jamming with Steve Marriott and my friendship with Frankie Banali. It's really unusual to have a deep friendship with anyone in this business.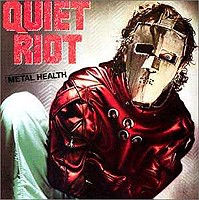 Glenn: What is the Rock Scene like where you live and how is it towards Classic Rock and 80's Rock in general?
Kevin: I live in Las Vegas and I live here. I don't really pay attention to any rock scene because it's not how I live my day to day life.
Glenn: Have many bands these days grabbed you attention ? Which ones and why?
Kevin: I listen to the same things I have always listened to. Glenn Hughes, Humble Pie, The Who, Free. Nothing new really attracts me.
Glenn: What is the average 24/7 of Kevin Dubrow both on and off tour?
Kevin: I do many things. I like home improvement, I love to cook, I do a lot of songwriting.
Glenn: Where do you like to hang out at night?
Kevin: I don't hang out all that much anymore. Unless I am on tour, I am up early and in bed early. I go to the gym 4 times a week and that's no fun if you are hung over!
Glenn: What have been some of the best gigs you have gone to as a spectator?
Kevin: The Faces in 1970, Humble Pie 1972, Glenn Hughes last year (2003)
Glenn: What is next for you?
Kevin: With Quiet Riot back and ready to tour, I'm hoping to do a new album and tour the world again.
Glenn: Will be releasing an 'In For the kill - volume 2', depending on the success of this one?
Kevin: That would be nice, but if 2004 was a solo year 2005 is definitely a QUIET RIOT year.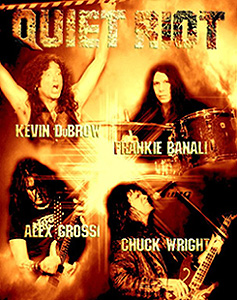 Cheers Kevin - Here's to seeing you over here in Europe in 2005!