An Interview with
'Kevin Steele'
Lead singer of Roxx Gang & The Mojo Gurus.
Conducted by Glenn Milligan, BA Hons CS
Glenn: What made you initially go down the road of the sleazy rock style - taking into account that many others were doing a similar thing?
Kevin: As a kid I loved T. Rex, Mott The Hoople, N.Y. Dolls etc... and at the risk of showing my age, there was no such thing as Motley Crue or Poison when I put Roxx Gang together.
Glenn: What sets you against other bands of the genre?
Kevin: I don't know, I don't listen to any other bands of the genre. With very few exceptions I find them to be pale imitations of the bands I just mentioned.
Glenn: Are the classic tracks "Scratch My Back" and "Hot For Love" true stories?
Kevin: No, they're just songs man. Get a grip.
Glenn: What influenced you to play harmonica and saxophone?
Kevin: At first Jagger, Tyler and the like. Later my love of the blues (I don't play sax, just harp).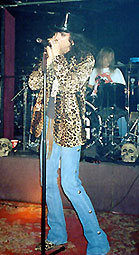 Glenn: Which artists do you consider hold a strong influence on your writing / musical approach?
Kevin: Marc Bolan, Ian Hunter, Mick Jagger, Jim Dandy, Muddy Waters, Alice Cooper, David Johansen, Iggy Pop and Ronnie Van Zant.
Glenn: Why is the last studio album (Drinkin' TNT & Smokin' Dynamite) only around 30 minutes in length?
Kevin: Cause you get what you pay for!
Glenn: Why did the original members leave the band and what are they doing now?
Kevin: Because I kicked their sorry asses to the curb. I couldn't care less what they're doing.
Glenn: Will there ever be a reformation of the original 1st album line up even if it's only for a few gigs?
Kevin: Yeah, and then bats are gonna fly out of my ass. No way in hell!
Glenn: Who came up with the original band image? Would you ever go back to the full on glam image - or do you consider that where you were at the time?
Kevin: Who do you think came up with it? Honestly, in all modesty Roxx Gang especially back then is my concept lock, stock and smoking barrel. And yes that is where we were then, I couldn't have said it better. Am I embarrassed? Never! Proud? More than a little. On to new things? You bet your ass!
Glenn: What's your view of bands of your style reforming?
Kevin: I think old men in make-up and spandex are pathetic.
Glenn: Throughout you career - what's your all time favorite material?
Kevin: "Drinkin' TNT & Smokin' Dynamite" and "Mojo Gurus" are the two discs I'm proudest of.
Glenn: What types of girls do you like best with regard to both brains and sex appeal?
Kevin: Ones with little of the former and lots of the latter.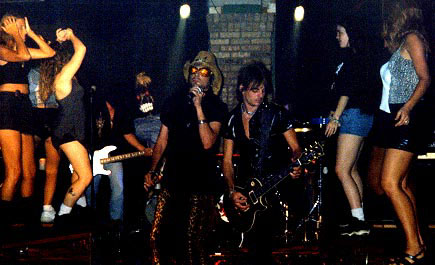 Glenn: Sex, drugs, rock-n-roll, wine, women and song - in what order and why?
Kevin: Rock-n-roll and song are the same thing and they're first, that's my life. Women and sex are the same thing and they're second because as you might guess from my songs I'm fairly obsessed with both. Drugs and wine, again same category and as I love to write, perform and fuck under the influence of them I'd say they all play a major role in my life.
Glenn: What bands have been the most pleasurable to work with and why?
Kevin: None come to mind. We don't play nice with the other children.
Glenn: What have been your favourite tours, gigs, places to visit etc.?
Kevin: What is this -'Tiger Beat'?
Glenn: Who would you like to tour with if you had the chance and why?
Kevin: The Stones. Because they're gods whose altars I pray at.
Glenn: How about a Sleaze Tour Fest - it could feature bands like Tuff, Faster Pussycat, Shameless, Pretty Boy Floyd and yourselves? Is it a possibility and when would it be likely to take place?
Kevin: No way, with the exception of Faster Pussycat I think all those bands suck. I've never even heard of Shameless.
Glenn: Why haven't you graced the U.K. for so long? Are there plans to?
Kevin: No one invited us. No, but please address all offers to Steele Management.
Glenn: What's your favourite album cover and why?
Kevin: One night when I was 17 and under the influence of a couple hits of acid I sat staring at my T. Rex The Slider album cover, Marc Bolan's corkscrew hair started slithering like a nest of snakes to my stoned amusement and ever since then it has held a certain nostalgia for me.
Glenn: How did the cover and title come for the best of album-Bodacious Ta Tas?
Kevin: You know, greatest tits. I mean hits.
Glenn: What would have happened if the white Roxx Gang top was out of stock?
Kevin: Then you would have had an eyeful now wouldn't you?
Glenn: Who owns the body?
Kevin: She belongs to the bass player.
Glenn: How did you go about selecting the track list for Bodacious Ta Ta's?
Kevin: Eenie, meenie, minie, moe.
Glenn: Who came up with the idea for the excellent "Star Trip" video and who are the girls? Any good stories to tell regarding it?
Kevin: Myself and director Christian Moriarty. The girls are some stripper sluts we know and the good stories shall remain untold to protect the guilty.
Glenn: Why was the cover changed for the re-issue of "Things You've Never Done Before" ?
Kevin: Because I was tired of looking at four guys who deserved little or no credit in the making of that Record.
Glenn: What are your favourite recollections?
Kevin: That's a tough one as drugs have destroyed most of my short-term memory.
Glenn: Do you have any great stories to tell regarding the road and groupies etc.?
Kevin: Yes
Glenn: What are the bands future plans?
Kevin: We're having a party next Friday.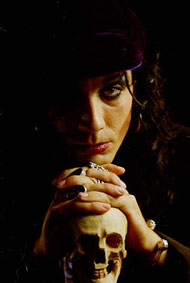 Thanks for that one Kevin. Special thanks to Brett Steele for sending me the completed e-mail interview.
Be sure to check out the review of the 'Bodacious Ta Ta's album in the 'R' section of CD Reviews.