An Interview with Vocalist, JC Wesenberg & Guitarist, Stefan Aurel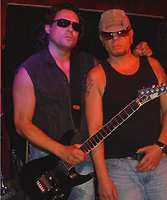 of the German Southerns & Classic Rockin' Band
'Kickhunter'
from late February, 2009 by Glenn Milligan
What are all your influences and how did they transcend into the band 'Kickhunter'?
JC: We all had different Idols to grow up with. So KH is a kind of mixture from many rock 'n' roll styles and off course many famous bands as AC/DC, Whitesnake, Little Cesar, Van Halen, 68 Special, Skynyrd, Beach Boys and others...so one can say the power comes from AC/DC..the blues from Whitesnake..the dirt from Little Cesar..the fun from VH and the southern injection is coming deep out of our hearts because of the southern lifestyle...it's all about beer, barbecues, partys, girls..and it's easy but real and it's telling the truth..and off course the sun is always shining. We love to do it the southern way he-he.

Why did you decide to call the band 'Kickhunter' and where did the name come from?
JC: We are always on the hunt for the next kick...that's what it means. Searching for highlights...
Stefan: And I think the name sounds cool!

How did you guys all meet up and what made you decide to form the band?
JC: I guess it was Stefans decision back in 2ooo. He wrote some cool songs and sang 'em while a big barbecue was going on. I tried to sing with him and hey... the first song was almost done... It took about 2 or 3 weeks to find the rest of KH...Because we knew all of them before!! We are all big buddys now and then and that's the most important thing about KH. It's not all about making music, it's about hangin' around and havin' fun...
Stefan: I have played with Rollie 20 years ago. Longhaired hardrocking Teenagers!Markus Grosskopf was our first producer then...Rollie played years later in a band with our drummer Karsten. So it's all kinda family affair...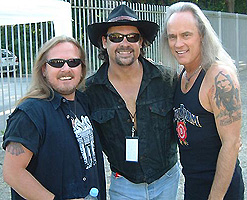 What was the reason for making Kickhunter a Southern Rock band - good choice of genre by the way?
JC: It comes without any pushing or willing, there was no real plan to made KH a Southern Rock band..but it happened in a way so I choose to wear a hat he-he.
Stefan: I don't think we are pure Southern. But about 70 % for sure. The rest is Classic Rock.

Who would you say are your favourite Southern Rock artists and for what reasons?
JC: I can only speak for myself. I am very much into the Van Zandt solo stuff because there's a lot of Country Rock in it....and I like the lyrics too.
Stefan: For me Skynyrd! They are the inventors. I like old 38 Special, Van Zandt, Allman Brothers and Molly Hatchet as well.

What have famed southern rock artists said about Kickhunter and how did it make you guys feel?
JC: Back in 2003 as we opened up for Skynyrd, Van Zandt was standing behind our backline with his brand new video....he was filming us...that's a fact, and it says more than a 1000 words.
Stefan: When we left the stage he was singing our song "Smile Smile Smile"!

What were the highlights of the Lynyrd Skynyrd 'Simple Man' cruise for you guys?
Stefan: There were so many! The beautiful people on board, the weather, the fantastic bands on 5 different stages. To be with 3 of us on the ship. It was the best time of our lives! We hope to play on the cruise 2010!
Everyone who likes this kind of music will be pleased!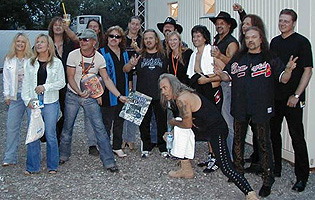 How was it hanging out and touring with Deep Purple and Lynyrd Skynyrd - you got any cool stories to tell - if so, what?
JC: Both bands are on tour for decades, so they are used to this tour-life...so everything was normal in a way. Especially LS were very friendly, we had big conversations with each of them because we had the same catering. They gave us a very warm welcoming feeling. We were rookies then...Sorry Mr. Grosskopf ha ha. We were running around like little noisy kids..and then entering the stage ha ha. I won't tell you some cool stories about our aftershowpartys..but believe me they were long and heavy....

What other bands have you enjoyed performing gigs with, where at and for what reasons were they such memorable occasions?
JC: Back in 2005 on our Portugal tour "Araya" and KH were double headliners for about 10 shows..we played all big cities and turned Portugal into a Southern Rock state, we had barbecues and millions of beer, it really feels a bit like the big south and the sun was shining every f*kin day.
Stefan: We also played with Quireboys, Classic Whitesnake, Rose Tattoo and others on festivals.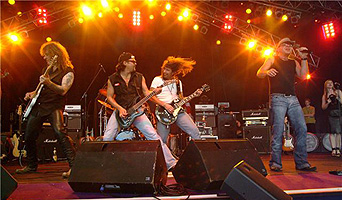 What influenced the cover of the 'Little Monsters' album and where was the picture taken?
JC: It was taken by chance on Stefans balcony. He is a great photographer..I guess he changed the colours with the PC..I think it looks great and it's unique.
Stefan: I actually did the photo in my music-studio. The little monster looked right into my eye. I have a lense function in my camera. I didn't change the colors. I just made them a little stronger.

Why did you decide to change the title of the album from 'All In' to 'Little Monsters'?
Stefan: We haven't. 'ALL IN' is our next album and will be released this summer.

What influenced each of the songs on the album 'Little Monsters' and what are your favourites and why?
JC: I cannot tell you about all the influences but my favorite song is "pimp up your life". I like the lyrics and the positive VH power.
Stefan: There are a lot of influences. Like JC said alittle Van Halen,of course classic southern rock, a little gospel, even Black Sabbath (King of Life)...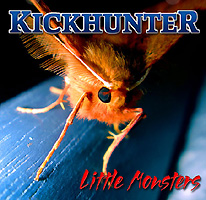 Why did you decide to cover Chuck Berry's 'Roll Over Beethoven' and slow down the arrangement? - it works brilliant by the way!
JC: Thank you very much indeed...Jan S. Eckert from Masterplan, who is guest on LM brought this idea into the rehearsals. He played it on bass, sitting on a barstool and sang it the slow way...it was f*kin amazing. The decision was made at this moment.
It was his idea and he arranged the song for us.

How was it working with Dennis Ward & Stefan Aurel and what were your most pleasured times in the studio and why?
JC: Both of them are very good buddys of mine and absolutely professionals. It's very easy to work with them. I know what they want..And they know what I am able to give. It was fun but hard work also..sometimes ha ha
Stefan: I pre-record all the songs in my own studio including singing the vocals. So JC can listen to the stuff in his car and learn the material.

What do you guys enjoy doing when not involved in 'Kickhunter' and outside music for that matter?
JC: Just hanging around in our hometown bars drinking beer and eating beef, listen to good music, watching footballgames in sportbars, or relaxing at home..And off course we like to travel.
Stefan: BBQ is our favourite sport. We love the smell of summer! Even in January we need it! We have the best times when we are together. KICKHUNTER is a real brother-band!
What made you decide to sign to 'Rockphone Records'?
JC: They are supporting us in a very special way.They do not have many bands. I guess we are the most important band for them. I kinda like it.

What have been your most treasured moments as a band so far and why?
JC: I guess it was the Deep Purple, Lyrnyrd Skyrnyrd tour and don't ask me why..ha ha. Big shows, big attendance, big stages, big money, big woman...big hangover.
Stefan: Oh yeah-big money! That's what we spent! The good thing is that they asked us to open for them.

Where in the world would you like to tour if you had their chance?
JC: In America! And of course in the UK!
Stefan: Anywhere as long they have cold beer for us...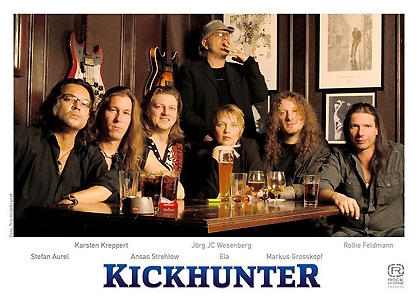 What are the plans for UK dates - if not as a headliner then as a support?
We are still working on it ...you will be the first to know.

What is the rock scene like at the moment in your part of Germany?
JC: It's almost dead. Some young bands may come up with a new way of rock...its okay...but there's no Hard Rock or Southern Rock anywhere...It's just KICKHUNTER!
Stefan: I think it's not almost dead. A lot of bands are recording. But it's very hard to play and get a bigger crowd...

What would like to say to fans and future fans of 'Kickhunter'?
JC: In June the new KICKHUNTER "ALL IN" will be in stores, worldwide!!! It's a must! Buy it! No barbecue without KICKHUNTER. We will bring sunshine and fun to your gardens and beaches. Have fun, yours JC