An Interview with
Kristy Majors
(Original Founder Member of Pretty Boy Floyd)
who has been an artist in his own right for a number of years.
Interviewed by Glenn Milligan, late August 2007.
What's it like for you living in California? Is it really 'Hell City Hell' and why'd you title it that?
THE WEATHER IS GREAT AND I HAVE A NICE PAD BUT THE PEOPLE HERE ARE SPAWNS OF SATAN!
How was it growing up in New York? What was the music scene like at the time?
GROWING IN NYC WAS GREAT. MY FIRST 3 CONCERTS WERE THE RAMONES, DEADBOYS AND PLASMATICS. THE SCENE IN NYC WAS PUNK AND HARDCORE METAL LIKE ANTHRAX, SOD, OVERKILL, ETC.... SO THAT'S WHERE MY REAL ROOTS COME FROM BUT I ALSO LIKE THE CRUE, KISS, ALICE COOPER.
How come you decided to move to California - was it to do with the music scene - if so what were the initial factors and why?
I MOVED TO L.A. BECAUSE THEY WERE GIVING AWAY RECORD DEALS AT THE TIME. I WAS A TEEENAGER AND IT WAS A GREAT ADVENTURE.
What would you say were the major differences for a young guy like Chris Maggiore and what prompted you to change your name (for the stage) to Kristy Majors? Was it to sound more glam?
MAGGIORE TRANSLATED FROM ITALIAN MEANS MAJOR. PEOPLE COULDN'T PRONOUNCE MY NAME SO I MADE IT EASIER. KRISTY WAS A NICKNAME GIVEN TO ME WHEN I WAS KID GROWING IN SCHOOL BECAUSE I HAD LONG HAIR AND BLACK NAIL POLISH. SO THE KIDS USED TO TEASE ME. THE NAME JUST STAYED.
What made you decide to become a guitarist and who were your main musical influences that channeled you into the style that you are now so famous for?
SEEING THE RAMONES MADE ME WANT TO PLAY LOUD FAST GUITAR RIFFS TO PISS OFF MY PARENTS. MY INFLUENCES RANGE FROM PUNK RYTHMS TO ANGUS YOUNG, ACE FREHLEY STYLE GUITAR SOLO'S.
If you hadn't have made it in the music business as a guitarist, what else could you see yourself as doing for a living?
WELL I OWN A FEW BUSINESSES IN LOS ANGELES AND NOW MUSIC TO ME IS FUN BECAUSE I DON'T HAVE TO ANSWER TO ANYBODY AND I DO MY OWN THING.
Were you in other bands before Pretty Boy Floyd - how were they, what were they called and where did you play?
MY BAND IN NYC WAS CALLED 'SIK BITCH' AND WE WERE OVERKILL, METALLICA, ALICE COOPER AND KISS WRAPPED IN ONE.
How did you meet up with the other members of Pretty Boy Floyd and what were your thoughts of the band at the time?
I MET THEM THROUGH AN AD IN A PAPER THAT A FRIEND SENT ME. WHEN I FIRST MET THEM THEY HAD NEVER PLAYED A LIVE SHOW OR RECORDED ANY MUSIC AND I THOUGHT I CAN TAKE THESE GUYS AND MOLD THEM INTO A COOL BAND.
What made you decide to join the band as a full-time member?
IT JUST HAPPENED. WE BUILT A BAND TOGETHER FROM SCRATCH.
How were those initial 1st handful of gigs, did you practise much and did you get along well?
WE PLAYED 9 SHOWS AND THEY WERE ALL SOLD OUT. WE GOT ALONG WELL AT 1ST.
Any good or bad times you remember the most of your time in Pretty Boy Floyd?
OH SH*T YEAH, TOO MANY TO LIST UNLESS YOU WANT ME TO WRITE A BOOK. IT'S LIKE BEING MARRIED TO 3 PEOPLE AT ONCE. YOU FIGHT, LAUGH ABOUT IT FIGHT AGAIN AND MOVE ON.
Overall, what venues did you like the most and for what reasons?
I LOVED PLAYING THE OUTDOOR VENUES, AMUSEMENT PARKS, WET N WILD PARKS BECAUSE THEY WOULD CLOSE THE PLACES DOWN FOR A FEW HOURS WHILE THE CREW WAS SETTING UP AND WE WOULD GET TO GO ON ALL THE RIDES FRO FREE.
What headlining concerts or support slots can you recollect and for what reasons with regard to highs points in the Pretty Boy Floyd period?
THE LA GUNS TOUR WAS A BLAST. THAT WAS THE BEST TIME I HAD.
What were your favourite PBF songs and why?
'ROCK 'N' ROLL OUTLAWS' WAS COOL AND 'ONLY THE YOUNG'. THEY WERE JUST ROCKING ANTHEMS.
How was it touring with the band and what did a typical day or night involve?
24/7 ROCK N ROLL MADNESS AND MAYHEM.
What are your favourite road stories which are just about printable?
YOU CAN PROBABLY ONLY PRINT THIS ONE, LMAO. I GOT ARRESTED ABOUT 3 TIMES FOR FIGHTING ON THE ROAD. I WENT TO JAIL BUT I KICKED SOME ASS.
Why was it only the initially incredibly brilliant 'Leather Boys.. ' album that was released at the time? How come it didn't carry on? Did it all dry up due to grunge scene or did you guys fall out or something?
PEOPLE JUST GOT TIRED OF THAT STYLE OF MUSIC. ALL THE NEW BANDS THAT WERE COMING WERE AWESOME AND I DON'T BLAME THE FANS FOR MOVING ON.
What were your personal thoughts on the band breaking up?
YOU JUST GET TIRED OF PLAYING THE SAME SONGS FOR 10 YEARS AND WE DIDN'T REALLY GET ALONG TOO WELL.
After a while what prompted a version of 'Pretty Boy Floyd' to get back together, now with Keri Kelli, also on guitar at times?
WE GOT OFFERED TO RECORD AN ALBUM AND THE MONEY WAS GOOD SO WE DID IT.
What was it like personally for you being back in the band again? How long did you think it was going to last and why?
I DID IT FOR THE BREAD AND THAT'S IT.
Whay wasn't original member Vinnie Chas included in the line-up?
BECAUSE NOBODY KNOWS WHERE HE IS AND HIS BASS PLAYING IS GROTESQUE.
Why did you re-record a lot of the old songs again as the 'Porn Stars' album and just release an E.P of new stuff? Why not just record a load of new material as opposed to simply re-hashing the old, a few newies and a couple of covers?
THAT'S WHAT THE LABEL WANTED AND THEY WERE PAYING THE BILLS.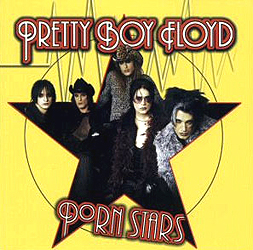 How did you become involved in the 'Shamless' band and what stands out in your mind from that period?
I ONLY PLAYED A GUITAR SOLO ON ONE OF THEIR ALBUMS AND THAT'S IT. I WAS IN THE STUDIO FOR ABOUT 20 MINUTES.
What prompted you to split PBF again and go into solo mode? Was it down to money and artistic pleasure?
I WANTED TO DO MY OWN THING MUSICALLY.
How is life for you as an artist since you are out making music in your own right and have for some time?
LIFE IS GREAT. I HAVE NO COMPLAINTS.
What prompted you to release your albums on 'Perris Records'?
TOM AND I ARE GOOD FRIENDS.
What have been your favourite solo releases and why?
THE ONLY ONE I LIKE IS "SEX DRUGS N ROCK N ROLL" THE OTHER ONES WERE EXPERIMENTS RECORDED ON AN 8 TRACK.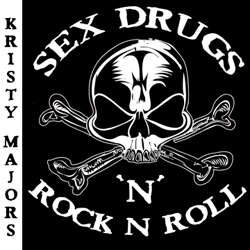 Why did you decide to release a tribute album to 'The Ramones' entitled 'For those about to sniff glue (we salute you)'?
THE FIRST CONCERT I SAW WAS THE RAMONES WHEN I WAS 14 AND THE 1ST SONG I LEARNED TO PLAY WAS 'BLITZKRIEG BOP'. I WAS JUST MESSING AROUND WITH MY 8 TRACK TRYING TO LEARN HOW TO RECORD MUSIC AND A RECORD CAME OUT OF IT.
How did the duet with Barbara Ramone (Dee Dee's Wife) come to be on the unreleased Ramones number 'Sidewalk Surfin'?
I WAS GOOD FRIENDS WITH DEE DEE AND WE DID THAT SONG IN ONE DAY AT A CHEAP STUDIO IN LA. IT CAME OUT VERY COOL.

What made you decide to form your own record label 'DIY records'?
BECAUSE IF YOU WANT SOMETHING DONE RIGHT YOU GOTTA DO IT YOURSELF DIY!
Who else have you signed to the label and how is it all going?
I PLAN ON SIGNING A FEW BANDS THIS YEAR. I JUST BUILT MY NEW RECORDING STUDIO AND I'M PRODUCING THEM AS WE SPEAK.
How was the 2007 UK Tour for you with Bang Tango & Love/Hate and what were your highlights?
IT WAS GREAT. I NEVER HAD SO MUCH FUN ON A TOUR. WE WERE LAUGHING, PARTYING AND TEARING UP THE STAGE EVERY NIGHT. I'LL BE BACK IN DEC/JAN.
What are your plans for coming back over for some gigs?
I'LL BE BACK WITH 'BEAUTIFUL CREATURES' AND ANOTHER BAND FOR A LONGER TOUR IN DEC/JAN.
How have the fans changed over the years from your perspective?
OVERSEAS THE FANS HAVEN'T CHANGED AT ALL. IN THE USA IT'S COMPLETELY DIFFERENT NOW.
What do you enjoy to do outside of the music business with regards to hobbies and interests?
GUN RANGE, RIDING MOTORCYCLES, PRODUCING BANDS, GAMBLING, STUDY KARATE, TRAVELING, LIFE IS GOOD.
Are their any plans to work with any ex-Pretty Boy Floyd members either now or in the future?
I WORK WITH KARI ALL THE TIME. HE'S ONE OF MY BEST FRIENDS.
Do you ever plan to write an Auto biography? If you did what would you call
it and what would you place on the cover?
I WOULD CALL IT HIGHWAY TO HELL WHICH IS THE NAME OF MY RECORDING STUDIO BECAUSE THE MUSIC BUSINESS IS HELL AND YOU'RE ON TOUR FOR ONE HELL OF A RIDE.
Nice One Kristy! Like the 'Straight to the Point' answers there!