LA Music Awards 2009 – The Avalon Theatre, Hollywood, Ca. USA, November 12th, 2009
Well this is a brand new thing for Metalliville, having the opportunity to cover an awards show – something we've never had the chance to do in the UK, because most of them always take place in London and with us guys being up North, it ain't really a great finacial option. Luck and behold, I get myself up to LA via Florida (true!) and here I is stood outside the red carpet at a plush Theatre on Hollywood & Vine, thanks to a couple of buddies giving me word of it about 2 nights previous – I still owe them a beer!
Not exactly a massive red carpet but just the right size to house some up and coming artists and a decent handful of musical legends both on the inside and outside of a recording studio control booth. I got to admit that many of the artists I had never heard of so I had some learning to do tonight – good job that peeps were holding sheets of A4 paper with the artists name in bold black capital letters and what they did – or the the vast part I would have been completely clueless. A variety of genres were covered but I consider that it be a bit pointless talking about pop, classical and jazz artists, since we is a rock & metal mag, therefore, I have opted to inform you mainly about those which will interest you greatly and who you need to check out as soon as you have read this 'ere article/review.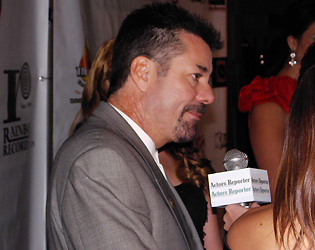 Al Bowman (the man behind the Awards !!)
There were several good rock and metal bands who were on the red carpet that night including Zen Rising and Butcher Jones – one of which played a cracking song later in the theatre itself. Here's the Butcher Boys in their full-on glory who basted the house towards the end of the night!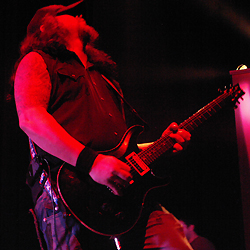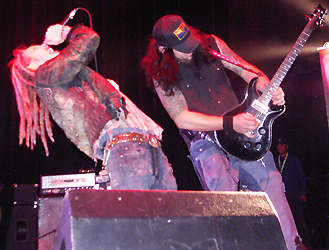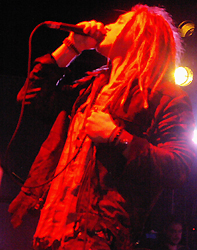 Other artists who graced us live tonight were the Michael Smith Band & Joe Finlay Band who got to entertain us all with a song or two each - as below - here's two pix of The Michael Smith Band and 2 pix of the Joe Finley Band.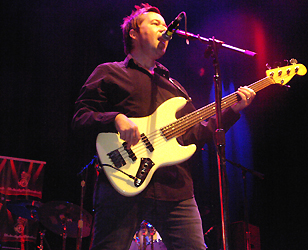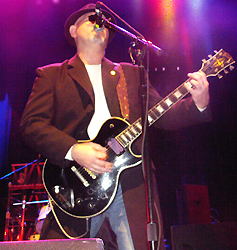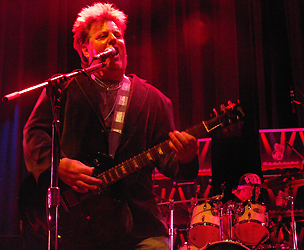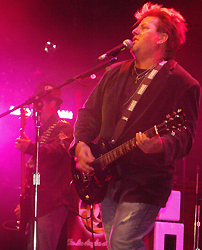 One artist that I was really pleased to see and meet on the red carpet was none other than Metal Legend, Don Dokken who was there to receive an award for Career Achievement, Singer/Songwriter. Sadly I missed him actually receive it on the stage as he got it 1st thing in the night and I just happened to be queueing for drinks at the bar – well at least it's a rock 'n' roll thing, so I was pleased I got a photograph with him to compensate for this.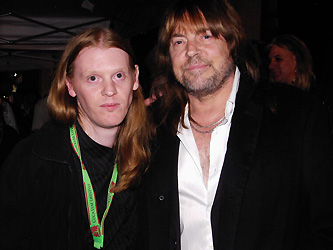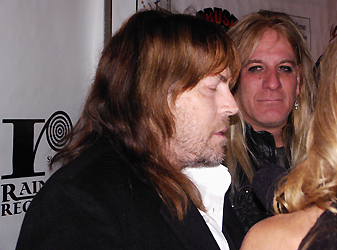 Me with Don Dokken / Don on the Red Carpet being Interviewed
Wyldsky were another incredible act that took my attention immediately that included Doug Richardson from one of my fave bands, Alligator Stew and Tyler from Great White – cool as !! A killer group of all things southern – just what I wanted to hear as you can't get enough Dixie! Well I can't anyway. They won best album and it's little wonder why if the 2 songs played were anything to go by.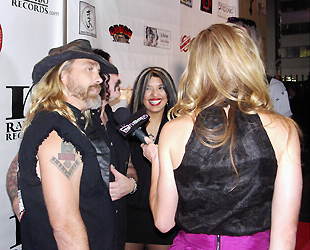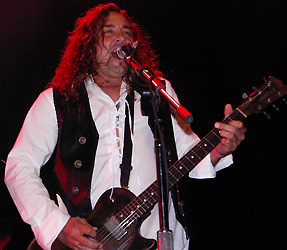 Wyldsky -Doug Richardson (Bass) / Being Interviewed on the Red Carpet / Tyler Nelson (Vocals & Guitar)
Good to see that the 'Strip still looks back on it's yesteryear glory days too as Bobbie Brown (Jani Lane's ex-wife – she was in Warrants 'Cherry Pie' video), former Seventh Veil Stripper (the female sounds on GNR's 'Rocket Queen') took to the podium to present Lisa Cole with her award for Music Documentary, Writer/Director ; "Do It For The Band: The Women Of The Sunset Strip" about how the ladies of the day helped the likes of Guns 'N' Roses, WASP and Warrant survive before they were signed up. We owe it to these women – they are true goddesses.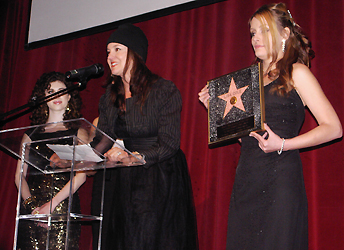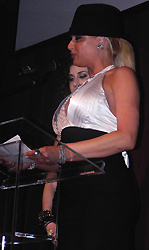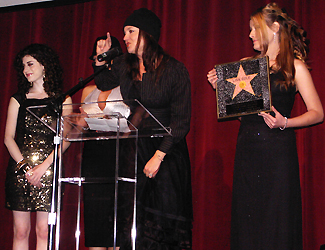 The Legendary Ladies of Hollywood's 'Sunset Strip feat. Lisa Cole (Award Winner) & Centre Pic. - Bobbie Brown
Talking of such like bands, Fred Coury of Cinderella was even present to receive an award for Career Achievement in Drums and Orchestral Arrangements which was preceded by an awesome film featuring that awesome Tom Kiefer fronted quartet. It was an absolute honour to witness this – now get yourselves over to the UK and bring Poison with ya!!!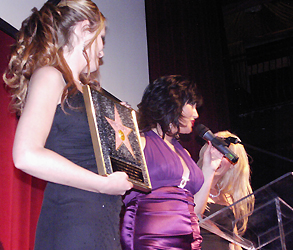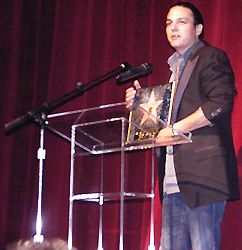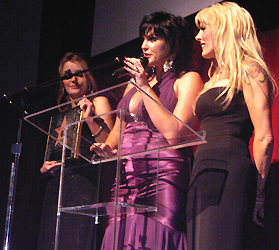 Fred Coury
When it comes to the business side of the music biz as well as the other side of the glass – those who are producers and engineers, I am pleased to let you know that Jack Douglas (Producer of Aerosmith & John Lennon among many others received an award that night for who I actually got to congratulate personally – he thanked me as well! I was honoured to say the least – wish I had a photo. Carole Curb Nemo got the award for – who runs Curb Records and has the most impressive CV around and was behind the campaign of getting Ronald Reagan elected back in the day.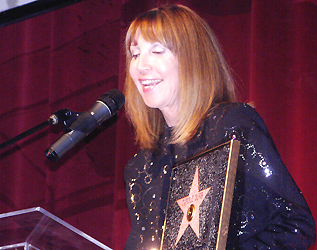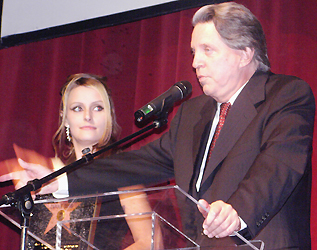 Left - Carole Curb Nemo / Right - Mike Curb Introducing Corole Curbe Nemo
Ron Nevison, producer of The Who's 'Quadrophenia recived an award for Record of The Year which was the album from Day Before Tomorrow who played that night and here they are below in all of their splendour!!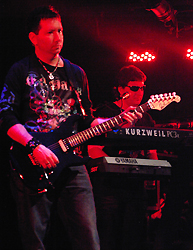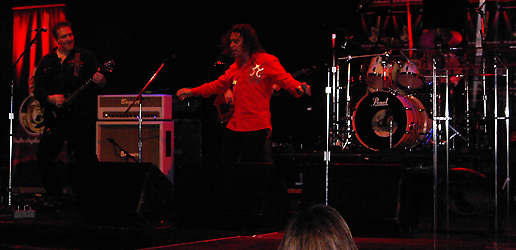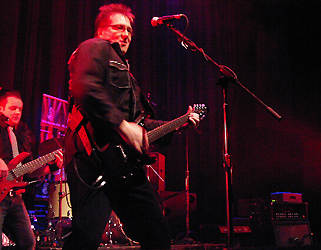 It as an absolute pleasure to see the Russian Artist, Anj who has two members of Soulfly in his band and Patrick Johansson of Yngwie J. Malmsteen's Rising Force on drums, who actually won two separate awards – International Songwriter Of The Year and International Showcase Artist Of The Year – good on ya !!! 2 great songs were played on the stage as well – the second of which featured a young girl dueting with Anj as well as young female backing singers of around the same age – touching and emotional stuff indeed.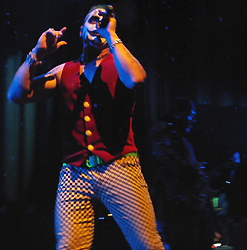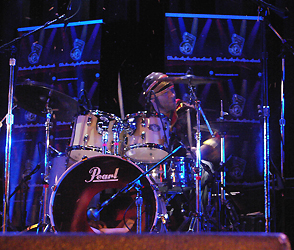 ANJ & Patrick Johansson
All the artists got to go on the stage at the end together with their award for some more applause and congratulations as well from the Organizer, Al Bowman.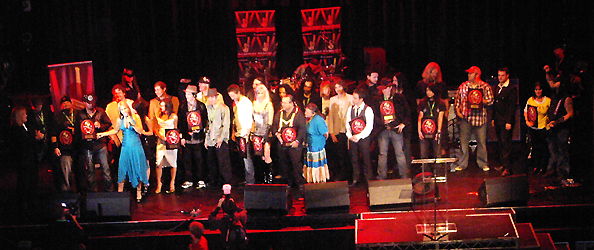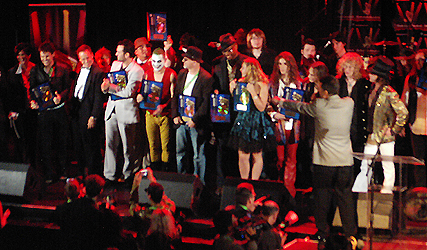 Closing the night were a cool rockin' poppin' buncha guys going by the name of Sorgente.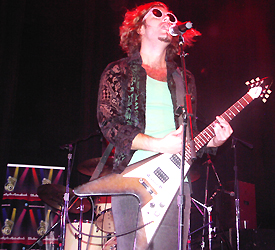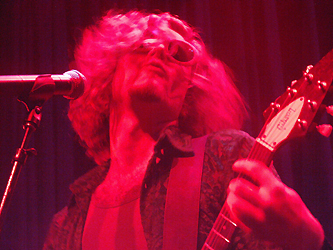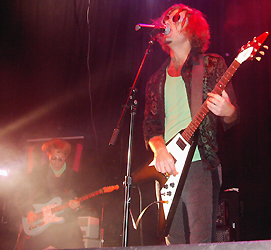 Here's to the 20th LA Music Awards that Al promised would feature artists like The Tubes, Blondie and Iggy Pop – see ya there !!
By Glenn Milligan