An Interview with
'Allie Jorgen'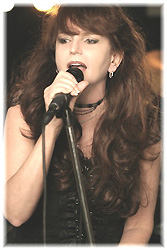 Lead Vocalist of Californian Rockers
'Le Reverie'.
Interviewed by Glenn Milligan & Dave Attrill in January 2011.
How long have you guys been together and what have been the highlights as a band unit so far?
Allie: The band has been together for about 1 year. We had the idea of putting together a Gothic Rock band and began planning in January 2010. There have been so many great things that have happened this year. We recorded our 3 song EP and were able to record with famed Producer Ron Nevison, who has worked with Led Zeppelin, The Who, Ozzy Osbourne and Heart, just to name a few. We just won the Award for "Breakout Single of the Year" from the Los Angeles Music Awards, for our single "Hold Me Down" and were presented the Award on the Red Carpet at the Paramount Pictures Studios Lot in Hollywood, California. We have had the opportunity to hear so much great new music and make so many new friends from our MySpace page.

Where did the name come from and what made you choose it?
Allie: Le Reverie means "The Dream" in French and English and it was a good name for the band because everyone has some kind of dream. Everyone is unique and each person has something special to offer, and everyone should have the freedom to follow their dream no matter what.

How did the band come about originally and how did your musical choices come to be in what you played with regard to musical instruments?
Allie: I was in a club watching a cover band and I saw this amazing piano player also playing his original songs. I thought he had the most unusual style. His melodies and chord progressions were very haunting and I just knew that my vocals, lyrics and melodies would fit his style perfectly. So I talked with him after the show, and we decided to start a Gothic Rock Band. The musical choices just sort of happened. "O" is an incredible piano player, so we knew that the music would be piano based. But we also wanted really heavy guitars and heavy drums. All of our different musical influences created our sound.
Did you already know any of the band mates from the scene before forming the group - what other bands were you all in previously?
Allie: When I first met "O" and we first talked about starting a Gothic Rock Band, it turned out that we both new the same LA Gothic Rock Drummer "Roc" and they both knew the same guitar player and Le Reverie was born.
"O", Roc and I had been working in Los Angeles doing some live shows and recording sessions for Rock, Alternative Rock and Blues Rock Bands.
Your 80's style is a refreshing departure from the sound we're used to hearing from girl-fronted metal acts nowadays. Is it the style you'd always intended to create right from the beginning or how did you develop your sound and style to what it is today?
Allie: Thank you. I guess we didn't consciously strive for a 80's style sound, I think it is the culmination of all of our many different musical influences and they all come together to create one unique sound. I have been told that my vocal style is different from the Female Vocals of the European Heavy Gothic/Symphonic Rock Bands. I love the high operatic vocal style of Sharon den Adel from Within Temptation and so many of the other Heavy Gothic/Symphonic Rock Female Singers but my vocals are definitely more on the raspy side.
In the writing style, I write about everyday situations that we all go through. We all have good days and bad days, and everything is not always "sugar coated". When we first decided to start a Gothic Rock Band there were many people that told us that was not a good idea, that we should try a different style of music. But we looked at each other and said, let's do this anyway, and that is how the song "Hold Me Down" was written. The song is about following your ideas and dreams and not letting anyone tell you different or "Hold You Down". The interesting thing about songwriting is you never know where it will come from.
The title track to our EP Truth & Lies was written completely on Drums. The Drummer, Roc will hear an entire song in his head, Intro, Verse, Chorus, Bridge and sometimes even the Vocal Breakdown section. He will record all of the Drum tracks on what we call the "Kitchen" which is a Portable Recorder set up in his kitchen along with all his drums and all the equipment. Then the Keyboard Player and Guitar Player will come in and add all the chords and solos. They will work with the track and get an arrangement they are happy with, then they will burn me a CD and I will disappear for a few days, and come back with lyrics, vocals and a melody.

What are your main influences and how have you incorporated their styles, sound and vibe into your band?
Allie: The great thing about songwriting and creating music with four individuals is that everyone brings their own influences to the table. I really like the symphonic rock of Within Temptation, the heavy guitars of System of a Down and Linkin Park and the songwriting of Evanescence. The keyboard player likes Muse and has many European band influences. The guitar player has many symphonic rock influences and the drummer also a big fan of System of a Down throws Led Zeppelin and Dream Theater into the mix. All of the influences combined create one unique sound which is Le Reverie.
Apart from Metalliville, which other magazines have you impressed just as much with your debut EP and what were your thoughts to their remarks and comments?
Allie: We are very fortunate to have a great publicist on our team, and he has been able to really get our music out there. Debra Stocker from All Access Magazine said:
" Truth & Lies is a three song sampler recorded by the band LE REVERIE and Allie Jorgen singer/songwriter fronts the band with her raspy sounding voice; a little different than one would expect to hear in a Hard-Rock/ Goth band. So as interesting as this was, a Google search lead me to want to know more about Allie Jorgen and the band LE REVERIE".
Brian from Rockwired Magazine said:
"Le Reverie (fronted by singer ALLIE JORGEN) brings tremendous musicality and songcraft to the table. JORGEN's rocket fuled vocals make TRUTH AND LIES a listen to get lost in". In the interview for Muen Rock and Metal Magazine, they really liked the recording quality of the EP and they were curious about the recording process and how it was to work with Famed Producer Ron Nevison. We were really excited that the 3 song EP received such a great response and we look forward to the release of the full length CD and working with Ron Nevison again.
Would you say there is a lot of anticipation for your debut full length album and what can we expect from it and why? What songs in particular are you pleased with so far and for what reasons and what influenced them?
Allie: We are very excited about the new songs and the release of the full length CD. We have been told that 3 songs are not quite enough for the listener, they have always asked us for more, so we are looking forward to releasing 10 songs. Our favorite new song is currently our new song "Twisted". Roc, our drummer created a really heavy, dark drumbeat and inspired "O", our piano player to come up with these amazing chord progressions, and the lyrics are inspired by the sometimes dark side of relationships. We are excited because there are a couple of Dark, Gothic Films in production right now and we have submitted "Twisted" to possibly be used in one of the films.
There are a lot of other great metal acts emerging from your country lately. How would you describe the scene in your area and what's it like to get noticed in your state of the USA, since so many are trying so hard to get noticed each and every night?
Allie: I agree, there are so many great bands out there. We have had the opportunity to see and hear so many of the great bands that have sent their music to our MySpace page, and we thank everyone for sharing their music with us. In addition to focusing on the music, Le Reverie has decided to focus heavily on the visual aspect of our music. Our music creates so many visual images and we embrace all the Gothic Imagery in our clothes and on stage.
Whereabouts in the world would you like to play and why? What offers have you had so far for Europe and are there any UK touring plans in the distant or near future?
Allie: We have been receiving a lot of internet and radio airplay in Europe, South America and Canada and would love to play in all of these places. We have many European friends and fans that have come to us on our MySpace Page, and we have also started working with a Promotion Company in the UK who works with some of the huge European festivals. We are hoping to have Le Reverie play on one of their festivals this summer. The top of our wish list is to play the Download Festival 2011 in Donington Park, Castle Donington, United Kingdom with great bands like System of a Down and Linkin Park in June.
What kind of attention do you currently attract when performing as a support act and what gigs have been a highlight and why?
Alle: We have been compared to French Gothic Vampires because of our clothes and the Gothic Imagery we like to create on stage with Candelabras, etc.
We will be performing on March 3rd at the Key Club in Los Angeles on the Sunset Strip, opening for Rock Icons, Missing Persons. This will be a great show because it is also being filmed for our first music video, which we will begin shooting over the next few weeks and will include theatrical clips and live footage from the March 3rd show.
What do you think is the most expensive thing about touring as a new upcoming band, especially in these tough economic times and why?
Allie: Just about everything. Travel expenses can be expensive, since we are a large band, we have 6 members. The cost of the venue and the promotion for the show, can also cost a bit. You need to offset the costs by selling merchandise and being cost effective.
Any message for the people who've shown you their support so far?
Allie: We would really like to thank everyone who has shared their music with us on our MySpace page, we have made so many great new friends. The message Le Reverie would like to send out is the message we mentioned earlier that everyone is unique and each person has something special to offer, and everyone should have the freedom to follow their dream no matter what. We also want to thank everyone who has supported Le Reverie and stood by us. We encourage everyone to visit us at www.lereverie.com or myspace.com/lereverie and let us know what you are thinking. We would like to wish everyone a great and rockin' 2011.
Thanks and take care.
Allie: Thank you for including Le Reverie in Metalliville.com. You guys really have a great Rock and Metal Webzine.
A Big Thankyou to Doug Deutsch for setting up the Interview