An Interview with
'Lesli Sanders'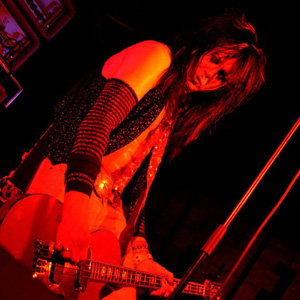 (Frontman/Bassist of 'Prophets of Addiction')
that took place on 11th February, 2012.
Interviewed by Glenn Milligan.

Glenn: What originally turned you onto the bass guitar as opposed to other instruments?
Lesli: Well that one is pretty easy actually, the thing is when I was a teenager I wanted to play music and all my friends already played guitar. None of them played bass or better yet had a bass or an amp so that was the logical choice. It was like, " You get a bass and then you can be the bass player." So that's it.... And that's how it went down.
Glenn: What did you like/dislike about school or college and how did you do there and how did it affect you as a bassist?
Lesli: I actually liked school and excelled at it. Currently I am in my junior year at a State University studying mostly things related to audio recording be it music or sound design for film etc. I am not sure I can really say how it affected me as a bass player, I was a bit of a late bloomer when it came to music or learning to play I should say. I think I was already a junior or senior in high school.
Glenn: Hows were your first gigs and in what bands? What about your 1st groupie chicks at the time?
Lesli: My first gig was with a band called Tramp Alley. We had it all the look, the sound and band party house etc. We played like 4 shows and instantly became the most popular band in Seattle. At the time not knowing what we were doing we were drawing like 800-1000 people to shows and not getting paid. We were so young and taken advantage of... As a matter of fact bands like Alice n Chains would open for us. Groupie chicks? All I can say is that there were lots.
Glenn: What made you decide to go professional?
Lesli: I loved to play music but honestly when I was younger it was probably more about the chicks and the party. It really sucks now that I think back on what my drug addictions and prevoius lifestyle probably led to me falling way short of what I could have been. I guess now it's redemption time with my new band Prophets Of Addiction. I have been sober 4 years now and am doing great and I am loving making music and seeing the world with a clear mind. I wish I would have figured this out years ago.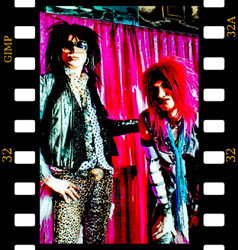 Glenn: Do you have any plans to reform any of the band you have been part of such as Queeny Blast Pop or any others?
Lesli: No, those bands are something of the past and it's best to leave it that way.
Glenn: What is currently happening with regard to City Girls Boys as it all seemed to go quiet after the release of the EP in 1999?
Lesli: CGB is another band from the past which is done, I dont know maybe POA will break out a couple of those songs sometime.
Glenn: What are the members up to now and do you ever get together now and again for social aspects or the odd show?
Lesli: I am not sure what the members are up to.....Tchad was in CGB and of course he is with me once again and we seem to really enjoying this new stuff.
Glenn: What are the plans for a full length album from City Girls Boys?
Lesli: None.
Glenn: What are your personal high or low points of LA or more to the point 'Hollywood' itself?
Lesli: The high points? Oh there were plenty of those, that was the problem. Seriously I don't really know I guess some Pretty Boy Floyd stuff opening for Poison on the mainstage was pretty cool. The low points were a serious drug / alcohol addiction. It became very bad.... I was outta my mind, thankfully that is all in the past.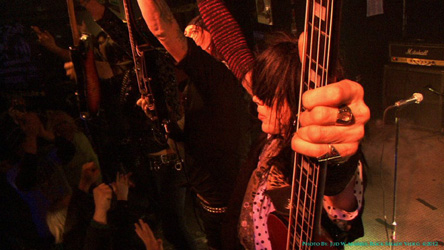 Glenn: You got any cool stories about the heyday of the Sunset Strip - with who, where and when and what happened?
Lesli: There are so many stories that would seem like complete bullsh*t. But there were some crazy times with some crazy people. Stuff people would really like to hear about. I could name drop all over the place if that's what people want to hear but hey that's in the past.
Glenn: Who have you enjoyed hanging out with best while in Hollywood and for what reasons?
Lesli: Phil Soussan is one of the greatest and smartest people I have ever been around. He is the type of guy when he talks you just shut up and listen, he is so knowledgeable about music. After knowing him a while I also found out we have the same birthday June 23.
Glenn: What are your thoughts of LA now, compared to the heyday of the 80's?
Lesli: I really look back on Hollywood and totally see it differently and the lifestyles that are lived there. I am not sure its my thing anymore. It was fun at the time or so I thought but it brings more joy to me these days to be back home and see my parents, being in college and doing music for all the right reasons etc. than being at the Rainbow every night.
Glenn: What have been your favourite places to play in and out of Hollywood - or out of the USA altogether and for what reasons?
Lesli: It is cool to play everywhere..... And if I am appreciated or bring joy to others all the better.
Glenn: What are your favourite parts of the USA and why?
Lesli: I am really a big fan of nature and animals, so I love anywhere that I can get out and explore.
Glenn: Who would you say you base your image/looks/style as it is pretty cool and kinda unique?
Lesli: Not sure, I do like the thrift store vintage glam look I can tell you that.... I hate the pre conceived mall look.
Glenn: What would you say is the typical 24/7 of Lesli Sanders?
Lesli: I try not to be typical, and I am always on the move can't stand to sit still whether its working on my car, music, recording, fishing, going to thrift stores. And school of course.
Glenn: Who have you enjoyed touring and working with best and why?
Lesli: I can only answer that as Prophets Of Addiction..... I am truly having fun now, not hidden under the guise of drugs. This is a wonderful time in my life...Who cares if I'm like 96 years old now.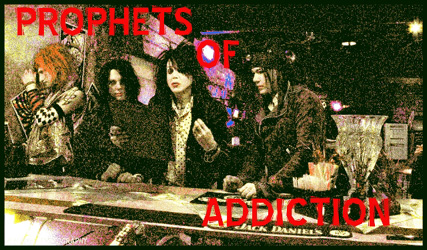 Glenn: What songs are you pleased to have been a part of of recording or playing live and why?
Lesli: I am pretty pleased with everything I have ever done musically, just wished I could have done more.
Glenn: What have been your favourite road stories that you are able to talk about?
Lesli: What I used to think were great stories are now pretty much embarrassing, I think back on a lot of things and am pretty ashamed of myself. You know now the stories are the best of how I am doing this sober and how much I appreciate this opportunity. I mean I was pretty much on the brink of death physically and mentally but came out of it stronger than ever. And I do have some great topice to write lyrically into my songs.
Glenn: What UK/European dates do you have planned either a a solo artist or with a bassist with another band?
Lesli: I believe Prophets Of Addiction will be back in the UK this Summer (2012)
Glenn: What bassists have you been compared to and how does it make you feel as a result?
Lesli: I have seen things were people list their favorites and to be mentioned in the same list with Duff McKagen, Nikki Sixx, etc. Is an honor.
Glenn: What hobbies and interests do you have outside of music?
Lesli: You name it, am pretty well rounded.
Glenn: What's your fave types of food and drink and for what reasons?
Lesli: I am kinda a pig I like all food.....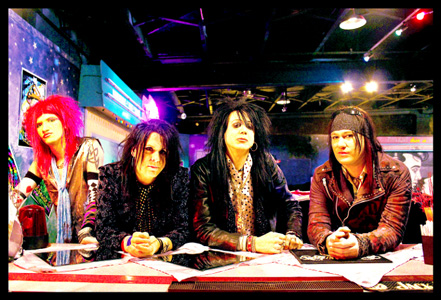 Glenn: What is your favourite bass and why?
Lesli: I love my old 1970's Gibson Les Paul Triumph basses I have two of them. I also have a 1964 Fender P-Bass that I actually let Dee Dee Ramone use for a tour when we toured together when I was in City Girls' Boys...I haven't cleaned it since. Also have a 1964 Gibson EB2 which is a hollow body bass with the F holes. And a 80's BC Rich Ironbird. And a bunch of guitars...Etc.
Glenn: What vibes you up mostly before you hit the stage?
Lesli: Nowadays...I just try to mentally prepare and clear my head....
Glenn: What are you most proud of so far?
Lesli: My Sobriety.
Glenn: What bands are you most excited about these days and why?
Lesli: My Band of course.
Glenn: How did Prophets of Addiction come to be and why did you decide to call the band that?
Lesli: I was ready to start a new band the time was right and I had a lot of song ideas. The name came to me in Hollywood a few years back and I just thought it was cool.
Glenn: What are your favourite songs to play live and why by Prophets of Addiction?
Lesli: I like them all or I wouldn't play them
Glenn: What are you currently up to at the moment and what cool stuff are you looking forward to in 2012?
Lesli: We go to Australia in June and then Europe.... It seems there is a lot of stuff in the works, but I can't talk about it right now.
Glenn: Would you consider writing an autobiography - if so, what would you call it?
Lesli: I already have an idea. It's called, 'The Haunting Truth of My Self Portrait'.
Glenn: What would you like to say to all your fans who may be reading the interview?
Lesli: Thanks so much....Please check out my band Prophets Of Addiction.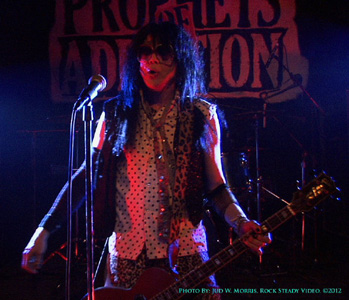 Big Thanks To Lesli for the Interview and be sure to check out www.prophetsofaddiction.com