An Interview with
NewMachine's 'Lonnie Vencent' (Original Bassist of BulletBoys)
& 'Tommy Williams' (Frontman)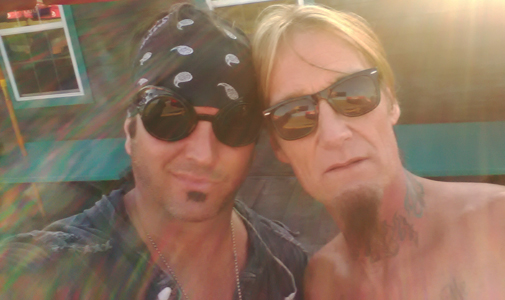 that took place on 15th & 16th October, 2016.
Interviewed by Glenn Milligan.
Glenn: Hiya Tommy!
Tommy: Hi, I'm sat here with Lonnie!
Glenn: That's awesome! How are you doing Lonnie? Good to meet you mate!
Lonnie: How's it going man?
Glenn: It's going good Bro! Last time we did something with you was the Bowling for Stand Up And Shout and Amy Rae Yard (OZZFestAmy) covered it.
Lonnie: Yes that was in Hollywood about 2 ½ years ago.
Glenn: Yeah that was the one. What made you decide to become a member of NewMachine?
Lonnie: It was very good timing. I've known Ryche and Lorenzo a long time. I came here with an open mind and now I'm living here.
Glenn: Awesome!
Lonnie: It's going well. We'll see how it goes. It's going well so far and we go out and play in a couple of weeks. We start our first rehearsal today.
Glenn: Wow! And I thought you guys had been playing for a while. How did New Machine become to be formed in the first place?
Tommy: Ryche Green, Lorenzo and I got together with a guitarist called Polo Staber, down here in Naples. Originally we played in a cover band. I heard some of his stuff and I said, we ought to be doing this. We started putting together and piecing things together with all the right people, figuring out which songs we were going to put in and eventually, Lonnie heard it. Lonnie and Ryche had played together before. He liked the stuff and it was all timing.
He was in between doing some stuff and we wanted somebody that could bring in their experience and style and actively be the missing piece of what we were missing. Not necessarily be the old, but bring in the new. We had our first rehearsal yesterday and it was evident – the whole f*ck*n' band just changed with him being in the room. I stepped up and everybody was more on their game. That's how that started.
Glenn: (To Lonnie) It's great you are from the original BulletBoys and not from the revolving door version of the band. (We laugh)
Lonnie: It had become a revolving door to say the least. I was talking to the guys about this because we are working very hard and we want to go out and tour and have a lot of fun. We will probably be going to do some original BulletBoys shows around here and there during next year. Hopefully, that will work out and we'll remain friends and it'll all be one big tour and cool for everybody involved.
I wanted to let everybody know what is going on with that. I am still talking to the guys and how things are going to go with that, I don't know with that situation. Hopefully it will all be cool (with the BulletBoys). We (NewMachine) are getting into our second rehearsal today so we are in the middle of getting everything down. It's going very well.
Ryche Green played in BulletBoys when me and Marq (Torien) were doing some work about ten years ago so I knew him from that. Lorenzo I met in 1998 when it was BulletBoys, Enuff Znuff, Bang Tango and Pretty Boy Floyd on the Hard Tour. He ended up coming to Los Angeles. We've been friends for 15/16 years. We're very close and we lived together and done several projects. He actually played bass for me when I was playing guitar.
Now, I'm finally over here in Naples. I knew the situation wasn't very good for them. I felt like I could add a lot to the project. It's very exciting. We're looking forward to heading out with our project soon. We're going out and starting to play next on Thursday 27th October. We've got a three night stand in South Carolina.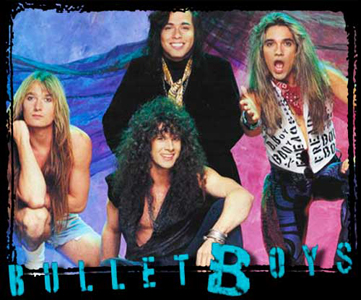 Glenn: Nice! What made you decide to leave the L.A. area?
Lonnie: Well I left L.A. two years ago. I was in the band 'Lies, Deceit & Treachery' with Mick (Sweda), Jimmy (D'Anda) and a new singer. We did a couple of dates – a couple of fly-out dates and I ended up moving back. I moved to Houston because I met a girl from there and I ended up getting married back in '08.
We were back and forth from Los Angeles in between now and '08. Then I was recently in Houston again and decided to come to Florida. I will probably be back in Los Angeles for some work here and there because we will be doing some possible original BulletBoys dates next year.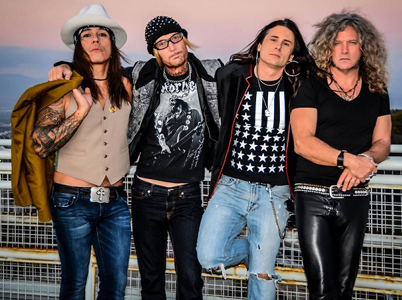 Glenn: That's awesome. Hopefully when you're up there in Hollywood and elsewhere you'll be able to place NewMachine with BulletBoys or something like that, like a dual headliner.
Lonnie: Yeah! Absolutely! But BulletBoys are only going to select dates. I'm not going to do a thing where it only helps me and I'm off doing that and leaving the guys hanging. It's going to benefit all of us by me doing it or I won't do it. These guys are my brothers. They show me great respect as a leader and we're in a good place.
Glenn: From the NewMachine stuff, you've heard the rough mixes that the guys have put together, what songs have stood out to you personally and why from the material?
Lonnie: 'Hold On' is probably my favourite song and 'Hell To Pay'. One is like my Velvet Revolver fill that I like covered in the verse. Another one is the song that I think is strongest to the average listener overall on the planet. That has a chance to do better at radio than any other songs.
Glenn: Because that's the thing isn't it?
Lonnie: I think that's the best radio song. We all like it and the kids would like it here.
Glenn: Awesome. That is what you want.
Lonnie: You never know. That's my personal opinion.
Tommy: There's a couple on there.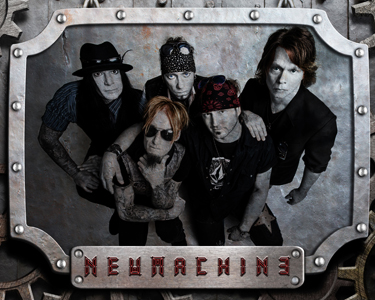 Lonnie: He's walking around telling me his favourite which is 'Love Is Crazy' right? But I've been hearing that from other people so don't get me wrong. But you asked my top two and I'd have to say those two.
Then there's another track that's not quite done so I'll wait till that's done until I actually say. We're not done tracking. We're still tracking although we've got the stuff that was already here. I'm very excited on what the bands growth will be.
Glenn: Awesome! So am I actually. I saw the band on 2nd April at Englewood at the Centre that Joe Bear Devito put on and I thought, 'Great, great band' and then when you joined I thought 'Holy Sh*t, they've got an original Bullet Boy here, it's going to be something special.'
Lonnie: Oh yeah. Put it this way, if you liked the band that played before then you'll definitely, definitely (like us). It's a different animal now. I'm not saying that egotistically, I'm saying that out of excitement.
Glenn: Plus you've got a real deal guy from that period too from the 80's…
Lonnie: Well I tell everyone this, my Brother – we caught the ass end of it (laughs). Of that whole 80's glam rock or whatever you want to call it, we were lucky enough to catch the last little piece of it and it was sure a great thing. It was a fun thing. A lot of people… I talked to Mike Tramp – he's very bitter . I have nothing but great thoughts and no bitterness for the 80's – I'm good.
Glenn: Yeah we can't help the scene changing like the big boys going after the grunge thing.
Lonnie: Right! Well things are are going very well. We are ready to start rehearsal.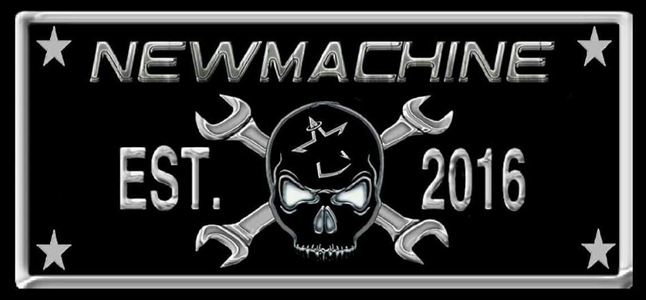 Glenn: NewMachine are working with Howard Lindeman now, what were his thoughts to you being on Bass?
Lonnie: I did my bass parts and Howard came to me and thanked me so much for my input and said I completely changed the project. Coming from him I was so honoured. I've been experiencing a big respect between me and him. The guy worked with Stevie Wonder you know?
Glenn: Exactly. Job done if you've worked with that guy you've got to be pretty good.
Lonnie: Yeah and for him to recognise my talent because one thing about me is I went to Houston but I've always walked my own road in life. So even if I was away from the music, it seems to come out in my playing, in my life, in my live performance. You would think I would almost have a chip on my shoulder. It's not a chip on my shoulder, I'm just still really aggressive musically. I'm 50 years old Bro and I'm a maniac on stage more than I was when I was 25 and in incredible physical condition.
Glenn: Awesome! Good to know that as well.
Lonnie: Yeah! It's pretty exciting. I don't feel like one of the 50 year olds re-living their youth. Right I'll hand you over to Tommy as I'm getting ready to rehearse.
Glenn: No Problem Man!
Lonnie: Okay buddy. It was such a pleasure talking to you.
Glenn: That's cool. Speak to you in a bit.
Lonnie: Alright Brother.
Glenn: Take care man!
Lonnie: Thanks. I'll hand you back to Tommy.
Glenn: (To Tommy) So how has it been going with Howard Lindeman? How did all that come into play?
Tommy: He's down here in the Naples area and he ended up hooking up with Polo. He came over and heard some of the stuff. He tripped out. He said, "This is great. It doesn't sound like a local band. It sounds like you guys have a lot of hit-winning songs here and I'd like to be a part of this. I'm on board". So we had a shaping up over when he came in here, helping us mix, showing us what we were doing right and what we were doing wrong and said he wants to be a part of what we're doing. He's in 100%. He is talking to us everyday. He's become part of our camp here. We talk to him 5 or 6 times a day.
We've got some huge plans that I can't say much about for next year. People down here are gonna f*ck*n' sh*t when we get these. It's all big stuff. We're patient. We are recording down here. We are doing it over and over and over and we believe in the project and he does too. Everything's going very, very well - better than expected. I wish this would have happened when we were 18. (We laugh). We want to do it for Lonnie. We're happy man. We've got some big stuff coming.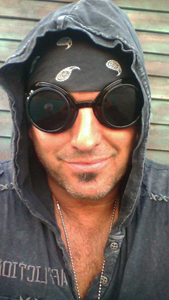 Glenn: Exactly. It was going to happen eventually. You can't kill talent can you?
Tommy: You know, you can and you can't – it depends on the life that you lead. You have to be resilient. We're very fortunate that this is the band that works. There's always a singer that can sing higher than me. There's always the singer that's skinnier than me, there's always a guitar player that's faster but for what we are doing for our time, the songs the songs that we wrote, I'm really happy. I wrote a song called 'Love Is Crazy' and we've got girls out here getting tattoos of it and I've never had that before. That's the ultimate form of flattery.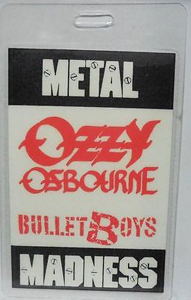 Having Lonnie.. I mean this is the guy that's opened for Poison and Ozzy Osbourne for God's sake, so he gets to choose who he plays with. This is a very, very professional deal. There's a lot of things that we've all shaped up. Personal things we've done – partying and all that stuff – I'm lucky to be here. You know what I mean?
Glenn: Yeah!
Tommy: Especially me! (We laugh)
Glenn: Well that's the past!
Tommy: Well you know what, you are judged by your past – it is what it is, but you know what, everybody can f*ck off when I play in front of 30,000.
Glenn: Exactly. Just checking sounds out, when I saw you at the Englewood show, you're voice sounds incredible. I saw some footage from May and you had a different bass player but the vocals were even stronger on that as well so you are doing something right for definite.
Tommy: I appreciate it. It's a lot better since then. The harmonies are a real big part of what we're doing. That's what we are really focussing on. The smoking and the drinking and all that sh*t has to be later. That's how we are. That's about it man! We are finishing our CD. That will be out I believe January 15th on i-Tunes.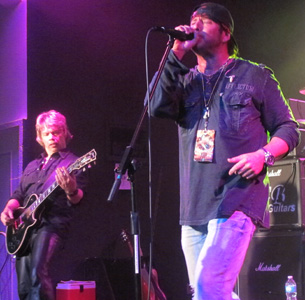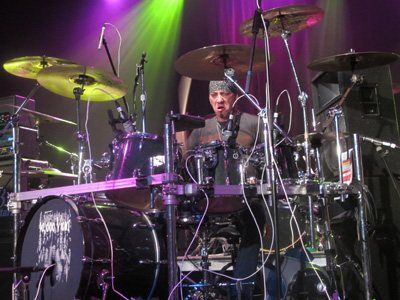 Glenn: Will you be bringing the CD out on a proper label as such?
Tommy: Yes. Right now we are working with Bill (Chavis) from HighVolMusic formerly Chavis Records. We're going to have a mix of thrilling sounds so that's good.
Glenn: Nice!
Tommy: We have ten shows in Germany in March 2017 so hopefully we'll stop over and see you! They are going to be big theatre dates. Right! I gotta jam right now. Let's Rock 'N' Roll. Thanks Glenn! Lonnie says 'Hi' – NewMachine are coming at you soon!
Glenn: Awesome Brothers! Speak to you soon.
Tommy: Right Glenn. Thanks!
Glenn: Thanks Bro!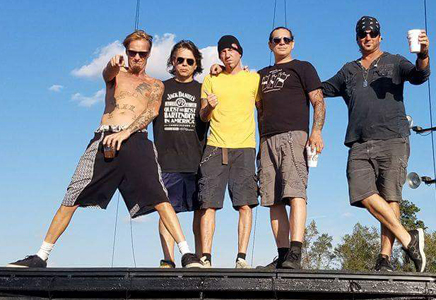 A big thank you to Bill Chavis of HighVolMusic formerly Chavis Records for the Promo Photograph of NewMachine
and Tommy Williams for the other Pix! Live Concert Photos feat. Polo, Tommy & Ryche by Glenn Milligan