An Interview with
Loren Molinaire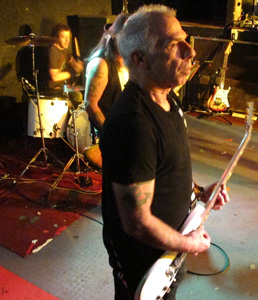 Founder Member & Guitarist of Little Caesar
that took place on 16th March, 2013.
Interviewed by Glenn Milligan.
What influenced you all originally to become musicians and how did the band originally come to be?
For me it was the British invasion bands, The Stones-Kinks-Beatles-Yardbirds that got me picking up the guitar. Since I grew up outside of Detroit it were bands playing there in the late 60's like MC5 and The Stooges-Amboy Dukes that really snagged me to start playing live.
Ron and Tom were the two guys that started Little Caesar then Fidel added on as bassist, Apache our old guitarist was next and I was asked by Apache to audition so I was the last guy to join.
I think Ron and Tom's idea was to put together a band that had the influences of the 70's bands they had loved growing up, ala Bad Co-Mott the Hoople-Stones-AC-DC-ZZ Top and Motown R + B styles.
You've probably been asked this a million times but what led you to call the band Little Caesar?
I think it was Ron that came up with the name, from the Edward Robison classic movie "Little Caesar" where Edward is gang mobster. Since we all were from all parts of the county sort of a band of misfits or like a gang – so the name"Little Caesar" it seemed to stick and it worked for us. We did get some shit from people teasing us about the pizza chain in the US. But we thought if you don't like pizza you won't like us, and we know everyone loves a good slice of the pie!
What do you remember about those 1st shows as a band and how did they go over to the audience?
The early shows really connected right out of the gate with the audience. I could tell and I know the guys in the band also felt that there was something very special going on with this band. We all had been in other bands but with Little Caesar it was pretty quick how it all happened.
How would you say you were different to many of the other bands at the time that were also trying to make it?
I think the combination of a really great soulful singer and the gritty look and sound of the band set us apart. At that time a lot of the bands in the Hollywood scene were kind of glam like-pretty boys and we were more like dirt bags from the wrong side of the tracks!
What songs have you been most proud of over the years and what influenced them?
There has been a lot of faves for me, I loved "Gods Creation" and "Tastes Good to me" from the MetalBlade ep, I really liked "Midtown" and "Hard Times" and "Drive it Home" from the 1st Geffen LP. I think Redemption holds a special place in my heart also" Loving you is Killing me" and Real Rock Drive-Cajun Panther.
If you had the chance to go back to a certain point in the career of Little Caesar, which point would it be and why?
I don't know if I would want to go back, because it all happened the way it did with the major label deal. I feel it made us better people to live thru all the business crap. And at this point it is still about the music and the fact we have endured a lot of touch things as a band and as people and best of all it is not about the Hollywood hype machine anymore-thank god!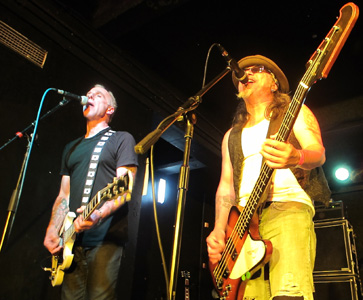 How would you say the LA scene has changed over the years since the original formation of Little Caesar?
Well there are fewer places to play and the scene is not as vibrant as it once was here. Its whole different scene compared to the late 80's.
How would you say you guys have changed as people since you originally got together?
I think we really value each other more as family and respect each other as musicians more than ever. Also we don't take any of this for granted and have a more humble attitude for the chance to still play rock and roll together and the opportunity to play our music for our fans around the world.
What are your fave road stories that you can tell?
One of them for me was our last date on the KISS tour in 1990. KISS always sends the opening act off on the last gig of the tour with pies in the face and all sorts of mayhem. That was fun and little unexpected in front of 10,000 people.
What gets you guys revved up before a show?
These days just getting the chance to still be together as a band and play rock and roll with each other that gets my motor running. In the old days maybe there was a little Jack Daniels thrown in for a little rock and roll liberation.
I first saw you guys play at The Key Club in November, 2012- how was that show for you guys and what stood out?
It was a good show we dug it. Ron used to be the production manager at the club, so it's kinda like old home week when play there, great staff and cool vibe.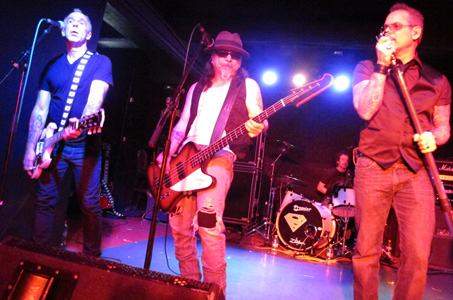 How were the UK shows for you last December and what were the highlights and for what reasons?
Well getting to play at Hard Rock Hell in Wales was a blast. We met a lot of fans of Little Caesar that had been waiting for over 20 years to see us. I thought the vibe at the festival was really rocking and we met so many really cool people there.
The gig we played in Sheffield at"The Corporation" was also really great. I loved the club and it was a rocking and wild night.
What are your favorite parts of your show and why do they stand out to you?
Well for me I like the fact we can rock hard then we could do a ballad like "I wish it would rain" or" Redemption" then build it up back up to the point of "Real Rock Drive "and" Drive it Home" and just rock the house down. And of course the interaction with the crowd is what makes it all happen night after night.
What do you both like and dislike about touring and why?
I love the traveling outside the US and meeting our fans all over Europe and the UK. Seeing the historical sites and meeting people and hanging with the bands is the great part. What I dislike about the road is being away from my family.
What tours stand out to you over the years and why?
The KISS tour in 1990 was a standout for LC to play some of the biggest arenas in the US was a great experience- The 1992 tour of the UK and Europe was really good The London Marquee show in 92 was a sellout and the Bulldog Bash playing to 60,000 was really intense. But really for me I think the first Euro tour in 2011 when "Redemption" album came out was probably the coolest thing because after 20+ years we came back to Europe on our own terms with no record company fucking things up!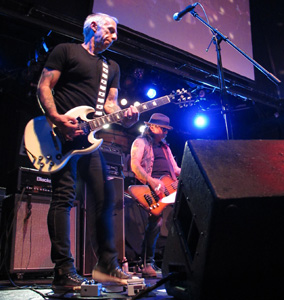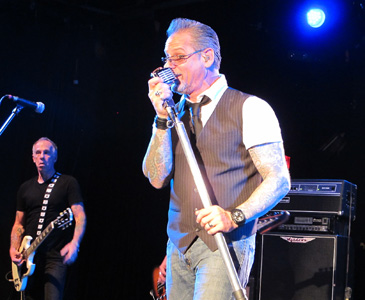 What countries have had the biggest effect on you that you have visited and/or toured in and what was it about them?
Well the UK has always been so cool with the rocking audiences here, Spain I really liked it seemed to be very high energy there. All of Europe is really great especially Germany really love Berlin. I have also been to Tokyo twice and it was probably one the most intense place to play on the planet, they take their rock and roll very serious there.
Who have been the coolest and not so cool artists to gig alongside with and for what reasons?
Iggy Pop was very nice to us. Gene Simmons was very cool to us giving us some guidance before shows. Back in the LA days there was a couple of shows with some other LA bands that gave us sh*t, but let's let sleeping dogs sleep and not go there.
Why did you decide to call the latest album, 'American Dream'?
Well actually the song "American Dream" was the last one wrote for L.P. I came up with the riff idea and Ron came up with the melody and the title. I think lyrically he felt what was going on with life in America with the economy and the polarized political landscape he wanted to hit a nerve of what we all were living through at that moment. And I feel he nailed it and the video really put it in visual landscape.
What were the standout points of recording the album 'American Dream' and why?
The stand out was working with Bruce Witkin and that we did the record really fast like the way records where done in the 60's.
How long did it take to record the album, where was it recorded and why was Bruce Witkin chosen for the job?
I think we recorded and mixed it 6 or 8 days, Ron came across Bruce and we picked Bruce because really got the vibe of the band and wanted to record us organically; he has a great studio with a great rock and roll vibe and very comfortable space to work at. He is a very cool guy and a talented producer and great musician in his own right.
So was it total coincidence that you have a song on the album called 'Hard Rock Hell' and then ended up playing the song in the UK at that exact festival - how did that go over on the day?
That song came about in a very strange way to tell you the truth. In 2011 we were booked to play HRH and unfortunately we could not play because our bass player got really, really sick and the doctor said you could not fly. So we never made the show but the day we were supposed to play, Tom + Joey and myself got together and jammed in LA on a the riff that I had laying around, I guess our souls and we were mentally in Wales at the festival that day but the song was born. We gave it to Ron and he called it Hard Rock Hell. The song went over really, really good at HRH 2012 it was an honor to finally play the song at HRH.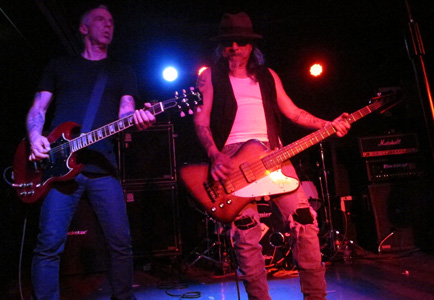 How did you get to know (ex-Goo Goo Doll) Dave Shultz and what made you choose him to master the album?
Bruce knew him and uses him to master some of his projects.
What songs on the album are you most proud of writing and why and what influenced them?
1. "American Dream" because it came in the 11th hour of recording the LP. For me with my Detroit Rock background this riff and lyrics was close to the political slant and power of the MC5!
2. "Hard Rock Hell" this was a heartfelt Angel City-AC-DC ish kind of riff and Ron captured the vibe with his lyrics.
3. "Is your Crazy getting Lazy" this one for me musically was paying honor to "RockPile" and the Stones pubrock kind of vibe and once again Ron's lyrics tell story for a generation…It's fun to play..
4. Own Worst Enemy"-I had been in the UK in Nov 2011 and spent some time in Northampton and with the cloudy days there and also hearing the Noel Gallagher solo lp a bunch, this riff just came up. Sort of a little departure for us but I like it because it has a dark vibe to it. And the 2ndpart of the solo I do my best Leslie West/Eric Clapton solo on it that I am proud of.
5. "Prisoner of Love" I always like a Bad Co kind of riff and wanted to give Ron something like that to write and sing to. I love his story of a woman taking a guy's heart and twisting it all over the place and making him a "Prisoner of Love" I am sucker for that every time..
Who is their 'Own Worst Enemy' and what and who influenced 'Drama Queen'?
I think Ron was saying sometimes "we all are or could be our own worst enemy" –On "Drama Queen" when I came up with the riff which is an open "G" like a Stones Keef vibe and of course the lyrics is all about the Drama Queens we all know in real life. Ron has quite the way with words….
What is the story behind 'Only A Memory Away'?
This is something you should ask Ron about, but to me it is about the all the people we love that have passed away and they are still so close in only a memory away.
What made you decide to put the mono sound and the crackles on 'Dirty Water' and what influenced the song?
It was Bruce and Ron's idea for a real rootsy vibe of 78 record vibe.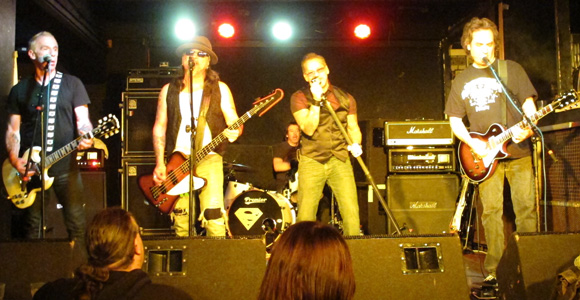 What would be the perfect 'American Dream' for you and how could this be incorporated in your opinion?
For my perfect American Dream would be too able to make a living just being a rock and roll musician till the day I die!
What would you say are the main ingredients to the longevity of a band?
Our passion for still playing music together and our passion and respect for each other as people and as rock and roll brothers.
What are the bands plans for the rest of 2013?
Coming back to play Europe in June and going into the studio to record some new music.
If you could feature any particular artist on a forthcoming song or during a concert who would you want it to be and why?
If we could jam with Keith Richards or Tina Turner - two legends. It would be a blast.
What do you enjoy doing when away from music?
Hanging loose with my family and dogs and going to the gym and also taking hikes...
What else would you like to talk about that I haven't mentioned?
Great meeting you in Sheffield mate thanks for this opportunity for this interview!
What would you like to say to fans who have read the Interview?
Just want to say thanks and I really appreciate all our fans all over the world that like our music and come to our shows and who have come into our lives and touched us with their great vibes and rock and roll mayhem! Hell Yeah!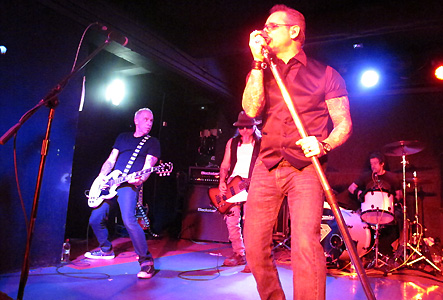 Big thanks Loren!