An Interview with the Swedish Rock band
'The Love Injections' in May 2006 via e-mail
by Glenn Milligan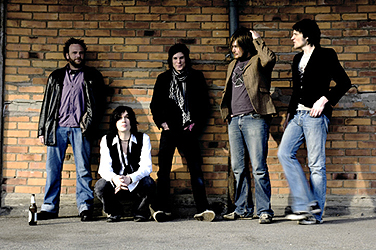 What made you call yourselves 'The Love Injections' - any particular reason apart from the sex implications?
Yeah - we sorta got it from the Hanoi Rocks tune "Love's An Injection". We had a couple of names in mind but that one seemed to stick. All of us were/are long-time Hanoi fans and so we figured it would nice "tip of the hat" and it also sounded funny, so - voilá!

Give is a brief run-down of how the band came to be?
Well, me (KJ) and Tobbe were playing in a band together called The Jackals and we knew this guy Thomas Hermansson who was playing in another local band called Plan Nine. We were not comfortable in our band and he was unhappy with the direction his band was going in so we all quit our bands and got together to form what became the Love Injections.

Who would you say are your main musical influences and what turned you onto them?
We all listen to a lot of stuff - we're essentially a bunch of manic record collectors and rock & roll fans that decided to do it ourselves. But I guess the most obvious influential and inspirational corner-stones would be The Stones, Faces, The Replacements and The Black Crowes.

What have been your favourite gigs over the years so far and why?
Hard to say... It would have to be some of the more recent ones I guess since we're grown a lot as a band the past year. Both as players and as a collective unit - we've sorta found our feet and aren't afraid to stretch out a bit more than we've done in the past.

What do you guys listen to when not playing yourselves?
As mentioned before - we all listen to a lot of different stuff but here is what's playing at the moment:
KJ: The new Honest john Plain album along with Grateful Dead, Marah and Black Crowes albums & shows.
Tobbe: Marah, Neil Young and Paul Westerberg.
Judo: Diana Ross & The Supremes and The Rolling Stones.
Linkan: AC/DC and Grateful Dead.

Ever heard of an awesome Sheffield/Barnsley based called 'Silver-jet' website is www.silver-jet.co.uk - they'd be a great band for you to play with and vice-versa - love to know what you think to them?
Never heard them until now but I think I've seen their name around. Sounds cool - sorta AC/DC meets The Quireboys with a touch of the south.

What made you decide to call the new EP 'Beakfast For Champions'?
Don't know really... It's a slight modification of "breakfast of champions" of course but I guess we saw it as a sign of things to come y'know. The band had been through alot before this CD was released and we kinda felt it was a fresh start. It also sounded good and felt right with the music.

What are your favourite songs on the EP and why?
Well, now this is hard... We've talked about it and the songs that seems to be the most popular among ourselves are "Down & Out", "Dead Weight" and "Bittersweet Goodbye". We like 'em all though - for all sorts of different reasons.

Beats the sh*t out of me why labels don't seem to wanna sign such a cracking band like yourselves - any ideas why? If I had a label I'd sign you up tomorrow.
Beats the shit out of us as well! Sure, we could've been more active on the live circuit than we've been in the past but either the record-industry-type guys just don't like us or maybe it's because we don't have any friends/good contacts at any record labels. We've heard the "we like it, send us more" and "we like it, but we're not signing any new acts at this point" BS a bunch of times and it can wear a bit thin but we don't give a damn really.
We just like to play and write good music. It's always been about that. Perhaps they just don't know what to make of us y'know? Our songs don't all sound the same, we don't have a dress-code and we don't pretend to be the next Guns N' Roses or whatever... Perhaps they're not used to that. Who knows?
Back in the day a band could release a really diverse album like The Stones' "Let It Bleed" and no one would think twice about it but these days it's like the A&R people think that having a country-ish song right next to a punk-ish number would cause young people's heads to explode upon direct exposure. If you're in a so-called rock & roll band you gotta have tons of distortion and ALL your songs has to sound like a lesser version of ONE Stooges, Motley Crue or Sonics tune. We don't understand it and so we'll just keep to ourselves and our group of fans until someone who does comes along. Perhaps we'll just start our own label and put our stuff out by ourselves if nobody picks us up this time around.

What influence the songs on the EP from 'Down and Out' to 'Bittersweet Goodbye'?
Down & Out - Big Crowes influence on this one. The lyrics are kinda secondary - it's all about the groove.
Dead Weight - Most people are carrying a lot of baggage and when it comes up and bites you in the ass why not write a song about it y'know? Lotsa Gram Parsons in this one I think.
Dirty Green, Black & Blue - Playing rock & roll you get to meet alot of other people doing the same - some cool and some ultra-lame. This song bemoans the latter. It's easy to whine about stuff! :-)
Glad Handing Dandy - This one's a instrumental number that I (KJ) picked out on my acoustic a couple of years ago. Nicked parts of it from the Stones. We reckoned it would be cool to add this one to the record as a sorta early Rod Stewart-ish "interlude" number. Very fun to record!
Bittersweet Goodbye - Judo came up with this riff that I thought had this great ambiance. Wrote the lyrics after watching some movie. We had the first Tom Petty & The Heartbreakers album as well as some kinda Replacements-ish vibe in mind while writing this one.
Is 'Glad Handling Dandy' influenced by an old 70's stones album track by any chance?
No. But a 60's Stones album track - "Prodigal Son" from Beggar's Banquet. :-)

How did you decide on the cover as its like old 7" Ep look?
Well, to be honest we just wanted something that'd be really cheap to make but at the same time would look really good. It's all very DIY but that's the way we like it. We also liked the way the Faces "Long Player" album looks so the choice of material is definitely influenced by that.

What does the tree on the back of it represent?
Some of it was originally intended for the front cover but we scrapped that idea but decided to use it on the back since we figured it was too cool to throw away. I guess you could read a lot of stuff into it, which is part of what appealed to us. It could represent our music growing from our various influences. It's got a lot of different branches - just like we have alot of different type of songs. Another thing is that we're all pretty down-to-earth small-town boys who are not overtly fond of city-life so that could be another aspect I guess. Back to nature maaan... ;-)

Where do you like to play most and if you had the chance, who would you like to play some gigs or tour with and for what reasons?
We basically like to play anywhere as long as there's people who appreciate what we're doing and the venue meets our humble demands. I guess it would be cool to play with any band that we respect and that has a fanbase that are open minded enough to give other bands a shot. Two that springs to mind are The Black Crowes and Marah. We love them!

What's the rock scene like in Sweden with regard to fans, venues and bands? Is there much media coverage?
It's pretty good as long as you have a label to back you up I guess. It's a bit harder for unsigned acts like us to get noticed, but that's pretty much the case in other countries as well I reckon. Sure, there's always a number of people who are genuinely interested in good music but most people only listen to what's being played on the radio or on MTV. And to be honest most of the "rock" bands that have made it into the Swedish mainstream are pretty lame. Mostly "style" over substance with only a handful of decent bands. But that's a global thing I guess.

Do you intend to play over here in the UK anytime soon?
We'd love to! It's all a matter of funds - if someone would provide the means we'd be there in a flash! Book us and we will come.

What hobbies and interests do you have outside the band?
We're all pretty much the same so I'd say - music, hanging out and partying! Original, huh? ;-)

Got any cool tour stories worth telling?
Well, back in the summer of 2004 we'd been booked to do a one-week residency at a hotel on an island on the Swedish east coast along with our friends Jet Vicious. We get there, set up our gear and start soundchecking - then the hotel owner tells us that there's been a mistake and that we're not the band he'd booked, refusing to give us any money or anything.
Turns out that that summer had been a disaster for the hotel with very few guests and it was because of this that he tried to back out of our deal. Fortunately he'd signed a contract when booking us and so we refused to leave, ending up doing two shows at the hotel against his will - disturbing the dinner customers etc.. Finally he cracked and gave us the money for the entire week just so that we'd get the hell out of there. So we got seven days worth of pay for only two nights of playing. You don't want to f*ck with us I tell ya! :-) We spent the rest of the week partying and booked another show at a great venue in a town nearby.

What made you decide to make your material fully downloadable via your website?
Why not y'know? We just want to get our music heard by as many people as possible and we figured that would be the best way to go at this point. You're only fooling yourself if you think you're gonna make any money by selling demo CDs. It takes a lot to get people to go through the trouble of ordering a demo CD from a band they've never heard before. But if you're like me and like to have the actual CD with original artwork and everything as opposed to a bunch of mp3s you can still buy it from our merchandise page.

What are the bands future plans for the rest of 2006 and beyond?
We're in the process of writing new material and we're doing great so far! We'll be recording that along with some stuff that got left off the "Breakfast For Champions" demo for a future release and we'll try to book as many gigs as possible. We'll be playing a lot of music in other words!

What enable you guys to be featured on the Cheap Trick tribute album?
I have no idea! I guess Shark Bite Records somehow found out that we were big fans of Cheap Trick and decided to get in touch.

Do you have plans on guesting on any other albums? Who would you like to guest with if you had the chance and why?
No plans at the moment. But if anything cool comes up then why not?

What would you like to say to all the fans who may be reading this?
You rock! Hopefully we'll see you out there! And if we do feel free to buy us a couple of drinks! ;-)
Cheers!
KJ / Love Injections