An Interview with
'Mark Boals'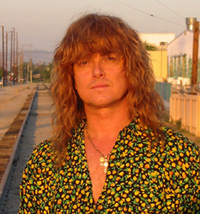 The Legendary Hard Rock Frontman
& formerly of Yngwie J. Malmsteen
that took place January, 2003.
Interviewed by Glenn Milligan.
Glenn: What have been the favourite moments in the recording of 'Edge of the World' and why?
Mark: I guess one moment was when I was writing the songs, I had such a free feeling, because I could write about whatever I wanted, and I could make the music sound just as it was in my head, without worrying about a band image, or something like that.
Another was when I was recording in the studio with Vinny Appice, because he was one of my childhood heroes, and I was so thrilled to be working with him.
Of course, seeing Erik (Norlander) playing all those real vintage keyboards was pretty amazing also!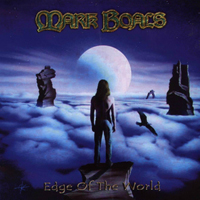 Glenn: What are your favourite songs and why on 'Edge of the World'?
Mark: It's so hard to choose a favorite song on your own album! However, my favorites are 'Fly', 'World On Fire', 'Lady Babylon', 'Between Two Mirrors' and 'Garden Of Pain' because I got to stretch out and have fun on those!!!
Glenn: What are your favourite songs on the 'Ring Of Fire' album and why?
Mark: My personal favorites are 'Ring Of Fire' and 'Atlantis' because they just hit me straight off as powerful songs.
There is a lot of other great material on that album as well, so it's hard to choose, really.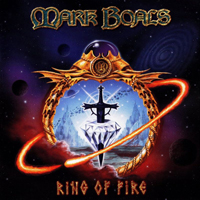 Glenn: Did you have a lot of material to choose from for the solo albums and how did you go about assembling the albums?
Mark: With each album, I write songs specifically for it, so there is some material that doesn't make it because there is not enough room, but as far as the format of the songs, they are all fit to the style of the album, because they were created for that purpose only. The songs are assembled after a listening session after the album is mixed. When the running order becomes apparent, the album gets mastered.
Glenn: Who inspired the musical styles of the album?
Mark: The inspiration comes to me from many places. Much of it is from my life, which has been full of music since I was born. I am of course influenced by those genius musicians I have worked with in the past, and those I respected when I was growing up. My environment has a monumental effect on me also. I hear music in my head most of the time, and especially when my surroundings are very quiet.
Glenn: How was it working alongside Tony McCalpine?
Mark: Tony is a generous and kind person as well as a virtuoso on Guitar and Keyboards. He is one of my best friends. We have a great time working together, and a lot of laughs!
Glenn: How did you assemble the band?
Mark: I had a 'wish list', and started to call people on the list, but I didn't get very far down the list because the guys on top answered 'yes' right away when I asked them to work with me!
Glenn: Are you planning to tour soon and if so where and when?
Mark: Yes! May and June of this year (2003) in Europe, Asia and The Americas.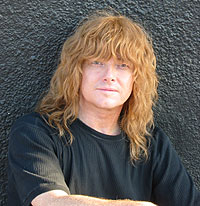 Glenn: Where would you say have had the best crowds and in what way?
Mark: Each country has it's own style of sharing in the performance of the artist, so it's hard to say who is better than who! I have really enjoyed meeting people at concerts I have played all over the world, in places as far away as Japan, Korea, Taiwan, Hong Kong, Brazil, Argentina, England, France, Germany, Spain, Sweden, Holland, etc., etc.! (and even in my home country of the USA too!)
Glenn: What was it like working with Yngwie Malmsteen in the various periods of His and your musical career - with regard to touring and recording?
Mark: The live shows with Yngwie were always great, as we both enjoyed performing together so much! There were small difficulties, but when it was showtime, we always rose to the occasion! Recording was a mixed bag, but I cut my teeth on the album "Trilogy" which was my first album ever, so I will always remember that one!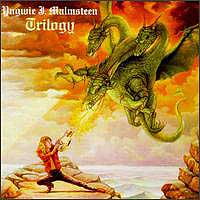 Glenn: What stands out in your mind of the times that you've spent in 'Rising Force'? Any good tour stories/road stories worth sharing?
Mark: There are always juicy stories when bands are on tour, but it's the usual stuff, only a little bit crazier because of the 'Viking' in the band. Lots of good times through it all though!
Glenn: What have been your favourite tours/gigs throughout your career?
Mark: They are all my favorite, because each time you get on stage and belt out a good rock tune, it's like the first time all over again! There's no drug that can give you that feeling!
Glenn: Did you get a choice of what you wanted sing on Yngwie's 'Inspirations' album?
Mark: No, he gave me the list of songs that he chose for me.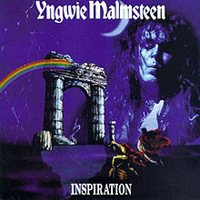 Glenn: Which of Yngwie's songs have you enjoyed performing most?
Mark: The one's that were hard to sing, ha ,ha! No, seriously, I really liked all the early stuff, and later on, I liked the song Leonardo, because it was so absurdly high in pitch, that it was a real bitch to sing live! (I like a challenge)
Glenn: What's it like performing songs that you weren't initially involved with?
Mark: That's no big deal, because I always put my own 'stamp' on it, and so it becomes my own song while I am singing it.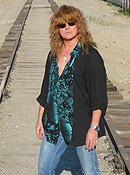 Glenn: Who has been the most influential person you have met and how did they inspire you?
Mark: I have met so many different types of famous people, from movie stars, to billionaires, to rock stars, to politicians! I have to say that my most memorable singers that I have met were Sammy Davis Jr, James Brown, and Sammy Hagar! What a group, eh? They all were so full of energy and talent, that I realized I needed to get off my butt and work hard if I wanted to be a success!
The guy that I really want to meet Someday is Luciano Pavarotti, because he is simply the best classical singer of this generation!
Glenn: What are your future plans?
Mark: I want to do some different things this year, but I will also keep going with my Solo albums and Band.
Just watch out for some special surprises very soon!
Glenn: What's the average week in the life of Mark Boals?
Mark: Monday- studio; Tuesday- studio; Wednesday- studio; Thursday- studio; Friday- studio, dinner with friends; Saturday- Surfing, Skating, Skiing, Bikes, etc. (fun stuff); Sunday- Dinner, Museums, Books, Coffee Shops, Concerts, (brain stuff)
Glenn: If you wrote your autobiography what would you title it?
Mark: 'Don't Try This At Home!'
Glenn: What music do you play both on the road and at home?
Mark: I listen to so many different things, but Classical stuff and Frank Sinatra are always in my CD case!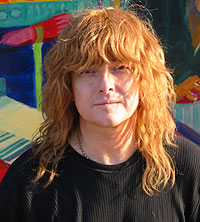 A Big Thank-you to Mark Boals and also to Mark Ashton @ Now and Then Records for making it all possible