An Interview with
'Marco Mendoza'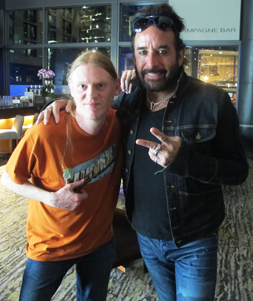 Bassist of The Dead Daisies
and formerly of Whitesnake, Soul Sircus, Ted Nugent and many more that took place at Sheffield on Monday, November 14th, 2016.
Interviewed By Glenn Milligan.
Glenn: So how's it feel to be back in Sheffield again?
Marco: I've been here quite a few times. If memory serves me right, we've been here with Thin Lizzy and also came here quite a few times with Whitesnake. Sheffield's great man! To be honest the UK in general, generally speaking, it's really good. I really love it here. The bottom line is when the fans really dig you here… you can be in so many different bands and what I notice is they remember you, they love you and they appreciate you. I really dig coming here. There's something in the water. I don't know what it is because you guys are fans – real music fans. I dig it. Not to say that there aren't fans in other countries but there's something very special here.
Glenn: Yeah! I met you once. It was when you were playing in Soul Sirkus (promoting the 'World Play' album)
Marc: Oh wow! We played here too!
Glenn: Yeah! It was at the Corporation. I was Interviewing Neal Schon at the time. It was a great night.
Marco: Oh cool. I loved that band. That band was a really, really great band in so many ways. I love working with Neal. Neal is one of those talents. He doesn't like me saying but he has got legendary status. Every time I tell him that he says, "Get out of here, I don't want to hear that sh*t!"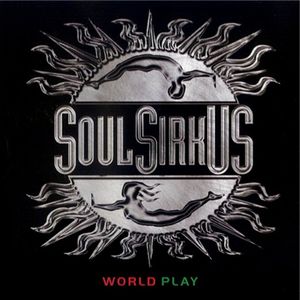 Glenn: (I laugh) He's very humble?
Marco: He's very humble. He's just a very talented cat. He's been part of Rock 'N' Roll History for the longest time. He's called me for a couple of things recently that I wasn't able to go to. One of which was Santana – the reunion. I got that call and I said, "Oh my gosh, I'm going to miss it!" I was in Australia. But he's a friend. He's a dear friend. He's in a real great place in life right now. He got married to his girl.
Glenn: Is that when you were in Australia recording the album 'Revolucion'?
Marco: Yes. He said, "Marco, I've been talking to Carlos and we want to put the Santana band together. All the original cats are around except for the bass player. So I put your name in and Carlos knows you, Karl Perrazo knows you. Can you be here in a few days or tomorrow? Or something like that?" I said, "I'm in Australia. I'm tied up here. I'm going to finish in two or three weeks. Maybe after that." He said, "Well I'll see what I can do but.."
Those things happen a lot – it's timing. They pop and if you're not available for whatever things they've got you move forward. Things like that. But I've been able to share a lot of things with Neal. A lot of which was Soul Sirkus – we did that album and we've done two albums since. They are just great. The last one we did was called 'So You'. It was Dean Castronovo, Neal and myself. If you go digging there is some cool stuff there. We are all singing.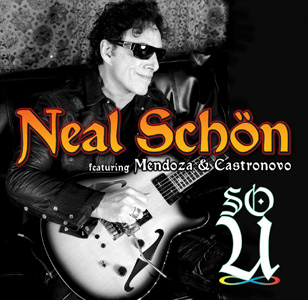 Glenn: Nice!
Marco: We are all taking a lead shot of it. Neal can sing!
Glenn: So can you!
Marco: Thank you – and Dean… I'm a big fan of his things. The idea was to get a trio.
Glenn: So how is the tour going so far of the UK?
Marco: So far great. What we really wanted to do Bro is come down.. and we've been lucky enough to come down to the UK. We come to Europe with Kiss, we do big arenas, festivals and we came back with Whitesnake – my old band. Again, we're doing big arenas and festivals. We talked about it and wanted to.. there's something about he UK – the fans here… that when you get intimate with them and you get really close they become more of a fan. They get to see what you do close. That's the mission. That's what we are trying to do here. Those shows have been sold out. They're good venues. Also, touring with The Answer and Lynne Jackamon – it's great talent there. It's a cool union of music.
Glenn: What are your favourite songs or the highlights so far on the tour?
Marco: From the album 'Make Some Noise'?
Glenn: Yeah!
Marco: Well 'Make Some Noise' – the title cut has been getting a lot of traction in the U.S. – actually at the NFL which is pretty big, got interested. The Cardinals have been using it between plays to get the crowd going. NASCAR which is huge – they used it to promote the races – Talladega - which is one of the biggest ones. I favour that song only because it's the quintessential stadium rock anthem sing-along 'We will, we will rock you!' – that kind of thing. 'We Are The Champions' and all that stuff! It was inspired by them. We wanted to celebrate that. That 'Long Live Rock 'N' Roll kind of thing. So far it's good. People are singing along. They are digging it.
To be honest, there are no fillers in this album. There's some real strong tracks. I favour 'Mainline' because it's a crazy song and I like the topic of the lyrics where it came from. There's so many – 'Make Some Noise'; 'Mainline'; Long Way To Go' and 'Song And A Prayer'. The ones we are not playing, they are great, great tracks. Right now, 'Mine All Mine' and 'How Does It Feel', 'Freedom' and 'All The Same'. Everything else we're playing which is 'Join Together'; Fortunate Son' – people dig that.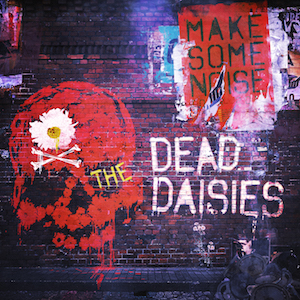 Glenn: Oh that one's amazing!
Marco: I'm a big CCR fan. 'Join Together' is also a classic. We've done a couple of cover. We wanted to come out with songs that were familiar, if you will?
Glenn: Yeah!
Marco: They are also considered Rock 'N' Roll Classics to have to play during the set for the fans. A lot of bands make this mistake and we've done that in the past with other projects in other bands where you come out with a new album, there's no radio, there's no promotion, they know who you are, they like your music, they've heard of you and they come out and they're trying to figure the songs out. Once you play a song that they know and they are really familiar with – boom! They're in!
Glenn: You got them!
Marco: Now we're gonna have a good time. That's the idea. Since I've been here with the 'Daisies which is coming up three years, that's been a tradition now to do some cool covers which is great. We celebrate that period – that time! It will never happen again like that – the 70's! That's what we all came up with and we're celebrating that era. They're all great songs. 'Last Time I Saw The Sun' is also a good one live. People dig it. It's a great hook.
'Song And A Prayer' and 'We All Fall Down' – another one that happens to remind me of Blue Murder for some reason because we came from that area – it comes from that place. But, great songs, great song writing – John Corabi doesn't get any better as a frontman. Doug Aldrich and David Lowy – they compliment each other. Doug Aldrich is an amazing guitar player. Also, he's going to reach legendary status here sometime in the next whatever.. then as a bass player, playing with someone like Brain Tichy is…
Glenn: Amazing!
Marco: Yeah! So I'm having a great time. The song writing is very strong. There's a lot in the well from so many angles. I almost just sat back and watched the whole thing happen. I throw my little ideas in and it's very cool how it works. Then to top it off, Marti Frederiksen was just amazing tom work with as a Producer. He became that 6th member of the band. He came down and he didn't… I've worked with a lot of Producers and that's the best way I can put it. He became one of the guys that I…
Glenn: Like a George Martin?
Marco: Exactly. I noticed the first time we got together. We talked and talked. He was checking everybody out and we started playing and goofing around. He was listening for everybody's fortes so that he can compliment that with the final thing. It's been a great experience. Since I've been there man… this band is a real set up.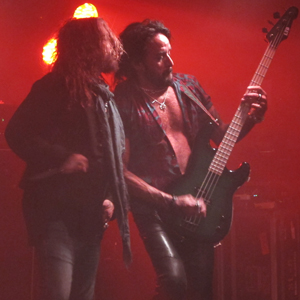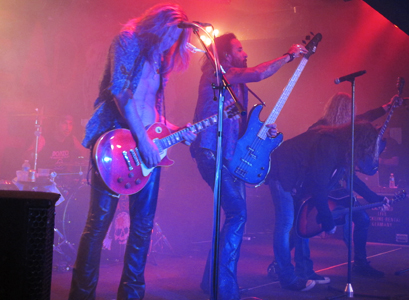 Glenn: There's such a big brotherhood. The laughs that you have are just unbelievable.
Marco: Yeah! We're all friends. We were just talking about that on the plane here. We have fun on stage. We don't have anything to prove. We're just celebrating music. You know what I'm saying? The rest takes care of itself. It's all good. We're hoping that we're bringing something that's kind of needed and I think it is these days. I think that the big interest in initially is.. we a;; come from all these other projects so people say, "Hmm – that's Doug Aldrich from Whitesnake and Dio and that's Tichy from… David Lowy from… John Corabi from Motley Crue and Marco.. whoa! What's going on here? Let's go check it out". Then they download the song and say "Cool".
So yeah, a lot of creative management – you can't forget that – David Edwards! The bottom line is David Edwards is working his butt off and he's doing great. So far he's been guiding this boat in the right direction. Everything he does is cool. He's very productive and he can sometimes be really focussed and people don't understand that – I do. I appreciate, I follow. That's what it is and he's put a great social media team (together).
Glenn: Every time you put facebook on there's another Dead Daisies film on – you can't forget it!
Marco: Right! I know! That's a big, big part of what's going on today with that. We're here to make a difference and I hope we do. That's all. We're all winners without sounding pretentious. We are having a blast with The Answer and with Lynne. It's been great.
Glenn: Did you record the previous album (Revolucion) in Australia because that's where the management is?
Marco: We actually started the recording process for that album in Cuba. We were down there and we were actually the first band to make it down – but that's another entity. There's a documentary so check it out. We recorded three tracks, two of which got on the album. That's when John came on board. That was the first time. We all dug what he was bringing to the table. We said, "Okay, the studio is booked. Let's go to 301". It's a big studio and it's famous. We were in Sydney – a famous studio – the famous studio. We were there for 30 days though from the day we started. We wrote, recorded, mixed, mastered, packaged – everything was done in 30/31 days. That was in Sydney – that was a great time. A great place.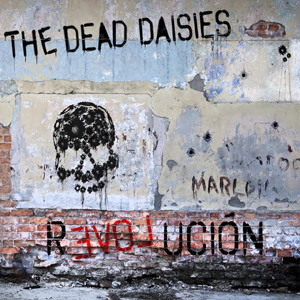 Glenn: And you recorded the last one in Nashville?
Marco: Yeah. We're doing a lot in a short period of time. 'Revolucion' was done in Cuba and Sydney and 'Make Some Noise' was done in Nashville with Marti at his studio. It was great. A great experience. I'd work with him anytime. A very cool guy!
Glenn: Awesome. How did you manage to get the Kiss Cruise? I know you've done it many times before. How did all that come about?
Marco: We all know the guys. We've all toured with them at one point or another. I was actually in Australia touring with Thin Lizzy on the Motley Crue/Kiss package. That's where I met David Lowy because David is from there. He was opening with his band. That's when we started the connection, we started talking – a long story short, it developed to what it is today. We a connection, he was a connection with the boys through his connections with Doc McGee with Paul. They go way back. I have a connection with Doc and Gene 'n' Paul. Even when Peter Criss and Ace Frehley was there, I was touring with Kiss back in 99/2000 on the farewell tour – I was playing with Ted Nugent. I did those two or three tours. So there was a connection.
When the time came for us to move forward with this band we all started calling. Anybody we knew we'd say, "Hey, check this out, we've got this, this and this" I called Doc and put in a call to Paul and he said, "Yeah, I'm gonna check it out". The thing about Paul.. Paul more so than Gene – he's still a musician, he loves music and he understands the process. If there's anything good that could work for them, he'll gladly embrace it and bring it in. We work. He's really happy. We did the first run because I knew they would (be happy). Then we got invited to the second run and the fourth one. This is our third Kiss Cruise. We've done three tours with them and there might be another one next year.
Glenn: Nice!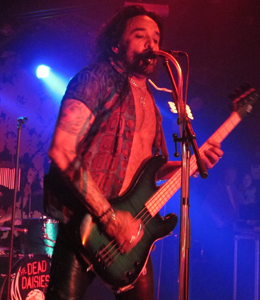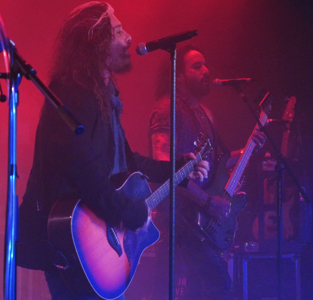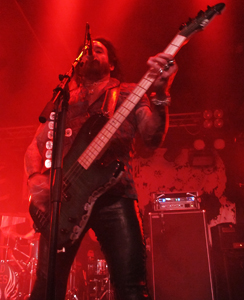 Marco: Yeah it's great. It's great to get that kind of exposure – that kind of audience. It's massive as you can imagine so it's great for our music to be heard. We really appreciate it and I've really got to take my hat off to those guys. That was it. That was the thing. The doors were open through our connections, relationships and friendships or whatever you want to call it – colleagues. But then the bottom line, they are also business people. At the end of the day, they can only go so far. The fact forus, we were bringing a new audience. We were generating ticket sales so everybody wins. That's what it was. It's all good.
Glenn: Everybody's happy and that must be nice.
Marco: Yep!
Glenn: You've got a new solo album in the process too?
Marco: The songs are there. I'm trying to find time. I think January will be the time right now. That's what it's looking like. I'm either going to record in L.A. or in Scandinavia. I have a couple of options right now. I'm trying to get the line-up. What I want to do, what I would love to do, if it's going to happen, I don't know – it's a funny business. Everybody's got their own schedules and agendas but what I would love to do is do a power trio again. I'm feeling everything out.
There's people there interested. I won't drop the names in case as things change in a week. But all I can say is please support it. Go to Marcomendoza.com. There are three labels that I'm talking to and I would like to announce that at the beginning of the year. I'm going to do a run of my solo dates in January/February – in fact in February here in the UK, so I'll be coming here as well.
We'll do Aberdeen, we'll do Glasgow, Inverness…Yeah! So we'll do all the way down to London. All the dates will be on www.marcomendoza.com – check it out! Your support will be appreciated. The Dead Daisies are not doing anything until mid-May. We are going out for the festivals and the goal now is to record live which is great. I'm really happy with doing that. This is such a great band and I'm not trying to sell anything or be pretentious. It's a great band in the studio. It's great songs – great everything but we all perform too.
We have the energy that happens on stage live – it's different – it just happens every night yet it's different. That's what's so cool and we're constantly reviewing what we did and how it happened. Try to keep the good things and get rid of the bad ones. Get rid of the things that don't work. It's constant work. I'm looking forward to capturing some of this live. That'll be out by the Spring. They are very supportive of our solo careers that we do. John's got a live thing that he's doing – the Motley Crue thing.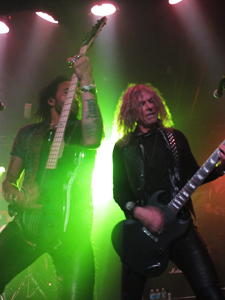 Glenn: Brian's got 'Bonzo Bash!'
Marco: Yeah and Doug's busy. We're very supportive to all of us in The Dead Daisies as a whole. We all support the solo things which is great for these days. Today's Market is okay. One thing doesn't take from the other – it adds I believe. It will be and this is a promise, I will definitely get it in the can and out by March or April – my solo album.
Glenn: Nice one. I'm looking forward to it.
Marco: Do you know 'Live For Tomorrow' my previous solo album.
Glenn: No but I'll check it out.
Marco: Please do. It will give you an idea of what I do. I play a six string fretless. It's like a Latin African Cuban… The rock stuff is there, the blues stuff is there… even the Gospel stuff. There's some original stuff. The label approached and said, "We want you to do what you want to do". So I said, "Yes" and went all over the place. 'Live For Tomorrow' is more focussed. It's more of a Melodic Rock thing. I've got Ritchie Kotzen Producing, playing and singing. He's amazing. I had Ted Nugent playing on that album, Steve Lukather from Toto, Doug Aldrich, Brian Tichy and Tommy Aldridge on drums and my Son playing bass on a few tracks. That album is a good album.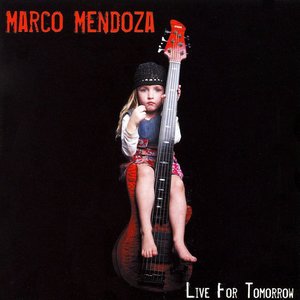 Glenn: He takes after his Dad then?
Marco: Yeah! Well actually he's doing really well, Marco, he's got a few Grammy's. He's got three Grammy's on his wall. He plays acoustic bass. He plays it all. He's a great player. Really dedicated.
Glenn: Awesome! You've also got the Marco Mendoza Trio. I was watching some of that last night where you are doing 'Higher Ground'. It was a 19 minute piece of footage with another song in there too. It was a jazz set-up.
Marco: Oh with T-Tone. The fretless 6 bass?
Glenn: Yeah!
Marco: Yeah that's what I call my Latin jazz funk thing. That project we are actually touring next year. We are doing festivals and we're going to Abu Dhabi, Dubai, Sri Lanka, down to South Africa and we're coming to London. That's also going to be in our set. That's a great project. But because it falls into the jazz umbrella it's not commercially available. You know what I mean? You have to…
Glenn: Seek it out?
Marco: Yeah, yeah!
Glenn: Yeah! Then you're playing that live venue in Studio City called The Baked Potato which is that sort of place isn't it?
Marco: Kinda yeah! We're playing there again. Actually that project started back in 2001 or 1999. There's some recordings out there you can find. 'Live In L.A - Mendoza, Heredia, Neto'. He's pretty cool that keyboard player. I work with him wherever I go. He works with Joe Bonamassa now – he's amazing. Joey's worked with everybody from Bowie to Scott Henderson. The three of us work with these cats. A lot of cats in L.A. – session guys! I'd love that project to get some more exposure because it's very special. It's very unique. There's no guitar. It's keyboards so I bring out my six string and I stretch out a little more at live soloing. I take a different part. It's a little more aggressive. It's fun. I do the lead vocals and front the thing. We have a blast.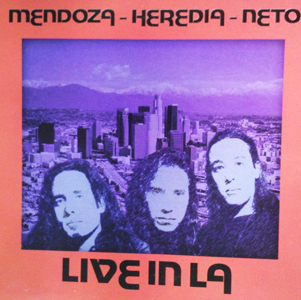 Glenn: You don't expect it sometimes with so many band members but when your vocals come out they are pretty amazing. Did you just pick that up bit by bit or are you a trained vocalist?
Marco: No training. I'm like everybody else. I started in the garage band with my brother and just a ton of music and started singing. I had an affinity for it. I've played with some of the mind-blowing singers on the planet so I don't consider myself a singer. I sing. I'm not technical. I just do what I do and I have fun. I'm very comfortable doing it which is a big plus. When I go out with my solo stuff it's just a blast and I do my solo albums. I'm going to bring in a few other friends to do some things with me on this album.
Glenn: You'll have to bring it up to Sheffield – up to the North where we are as well.
Marco: I am hoping we have a date here. All I can say man is that I can promise you a good time.
Glenn: You've got various endorsements, which endorsements stand out to you and what drew you to each others attention?
Marco: I like to think that I surround myself with the best tools like anybody. Like if you're a baseball player, you surround yourself with the best too. Or if you're a carpenter or if you're a plumber. It's the same thing with musicians. As you start spending time in the business certain things speak to you. You are familiar with certain guitars, certain amp and that's the beginning. Then you realise these are some of the best things manufactured these days. It's a natural process. It's a trip when you're up and coming, you have to buy everything.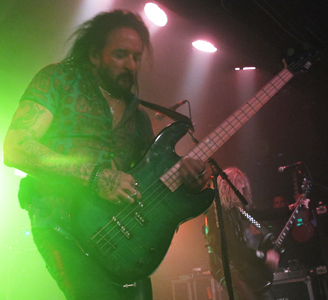 Glenn: Yeah!
Marco: I remember. I got married very young at 16. I remember and I'm not kidding, it was a choice of either buying a set of strings for my bass or buying milk for the kids. As you start doing high-profile gigs, companies that see you, they see that you're dedicated and you're bringing a profile to whatever they're building, then they start approaching you to endorse this and endorse that. I couldn't be happier right now. I'm with ESP who just came out with their Signature Bass. That bass I can't say enough about. It's one of those guitars that you pick it up, that if you're a bassist, it feels like home. It's got all the best components built with the best woods. I brought my experience with some of the years.
I've played every possible configuration that you could imagine – everything and this is what I think works. It's a very versatile bass. You can play Rock 'N' Roll, Jazz, Funk – the whole thing. On top of it all, it's very affordable which these days makes a big difference. I want to make it available to the beginner, the intermediate and the pro. That one bass that you buy is taking there that can hang on the wall. It didn't cost you an arm and a leg to get it, and yet it will be a good instrument to have and you're option if you want to play two or three. I recommend spending the time with one instrument at a time.
Glenn: Yeah! Get to know it!
Marco: Get to know it inside and out and it becomes part of you. I have got one instrument still- that's my six fretless. I bring it everywhere I go. That bass, I could not play it for months and I can pick it up and play it.
Glenn: I was going to ask you what your preferred bass for either live or studio but I guess it's that one.
Marco: Oh my ESP Signature bass. That bass was built for the recording studio, for the live thing. Like I said, it's very versatile and it's very comfortable. One thing that I notice and I won't name any names because it doesn't matter, there are bassists out there that are very great sounding but they're tanks. They're heavy – you know, it's a different vibe man. It's like if you're a tennis player, you want to have that racket be that hybrid that weighs nothing but it just kills – that's what this does. It's what it's about.
At the end, it's a signature bass if you are into collecting things. I love that bass, that's my MM4 ESP. Hartke Bass with the LH 1000 head with an 8 by 10 Cab – it doesn't get any better They are amazing. D'Addario strings and they are at the top of the food chain right there so I'm very happy. I use other things. I use EBS bass pedals, TC electronics pedals for the vocal but I keep it simple. I don't use a lot of pedals.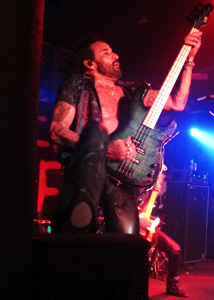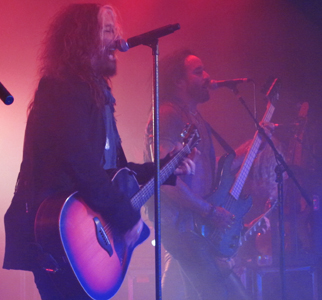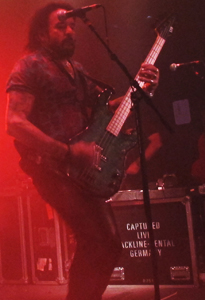 Glenn: It's transporting isn't it. You've got to get it from one airport to another and all over the world. You can't travel with rack systems anymore.
Marco: You can't but there's ways of doing it. As a bass player, I always play with some of the best guitar players. My thing is, the problem of that frequency of the bass. When I start putting effects and distortion on it turns into something else. I'm not saying I won't do it and I have done it with Ted Nugent when we were a three piece. He wanted to hear that distortion so I would send it to the other side of the drum riser. The distortion was there and I would play some chords but it still covered the clean sound bass bottom. I'm a Midtown Guy, you know, John Paul Jones, Jack Bruce, Tim Bogart, Paul McCartney, Chris Squire, Geddy Lee kind of guy tone. That's where I work.
Glenn: Where you are from musically as a bassist?
Marco: Yeah. The warmth. That's our job. When you start putting on too much effects, it starts taking on another character – that's cool. Then the same way about drums. Brian loves the drum tone. When you've got good players it's amazing what you can do but tone is a big one for bass.
Glenn: I'm guessing you're coming to NAMM in 2017?
Marco: Absolutely. We just got this confirmed. I'm going to be there. I'm also going to play The Baked Potato to celebrate the NAMM and the tickets are already sold out. January 22nd. I'll be at the ESP booth at NAMM. I'll probably do a signing at Korg and Hartke.
Glenn: Have you played Ultimate Jam Night at The Whisky A Go-Go yet?
Marco: I played when it was at the other joint when it was on Wednesdays. I know Chuck (Wright). The guy who put it all together. He's a friend of mine. I'm a fan of his and he's a fan of mine. He loves my Jazz trio actually. He's been calling and calling. We booked a date at the Baked Potato for one Friday or Saturday night, he heard it and he got in touch and said, "Marco, that means you're all in town, can you play Wednesday man? Don't do the rocking' one, I want you to do the trio!", I said, "Okay, cool". So we did it. We did it one time. We're busy. We're all extremely busy.
Glenn: I can imagine. When you are out on the road, what do you miss from home?
Marco: The obvious things. I miss my wife, my kids, I miss picking up my kids from school and spending time playing with my Son and my Daughter. We live by the beach. We spend a lot of time by the beach. We have a pool. We ride bikes. We're in California and we live by the California trail. I miss that and I miss my own couch in my living room and my own frikkin' remote. I wallow in it – I really do. I try to disconnect. For me, that's the real world. This is work but it's also fantasy world in a lot of ways. I miss that. I miss being grounded.
When I was a kid I wanted to do what I'm doing now and I've been doing it for a while now which is great and I welcome it and appreciate it. I'm honoured and it is a privilege and now that I'm doing it so much I'm thinking, 'I'd love to be home!'. To get up in the morning and have breakfast with my kids. Put my flip-flops on, go out and take the trash, walk our dog. I guess I am getting older. I appreciate those things. The weather is amazing where we live, You know, you go there.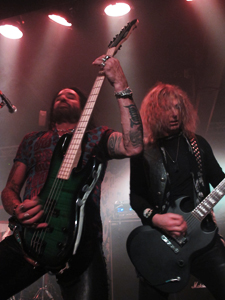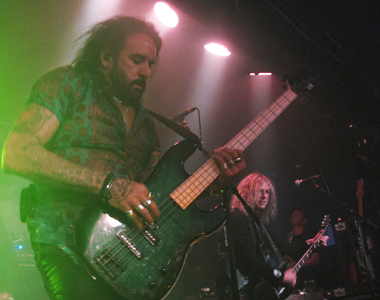 Glenn: Yep. I've been coming to California since November 2009.
Marco: Having said that, I really love what I'm doing. I really appreciate it every day that goes by. I really wake up with the attitude of gratitude. I love it. It's not perfect, not by a long-shot. I mean, there's some downsides like being away from home but man, come on man, living the dream as they say. How could I complain? So I don't.
Glenn: I mean, I can see how much fun you have by watching the tour clip. Some of the stuff that John comes out with! He had me in tears..
Marco: We're veterans!
Glenn: Yeah! His line about being Mr. Phones to the air hostess was hilarious when she asked him if he wanted some headphones for the flight!
Marco: Yeah, yeah, yeah! (Laughs) It's a great privilege and I appreciate it. This is how we live. My family and I are supported by this so I'm very grateful.
Glenn: What would you say you are most proud of in your career so far? There's so many different points of your career!
Marco: So many highlights!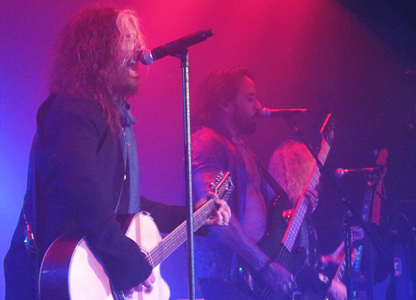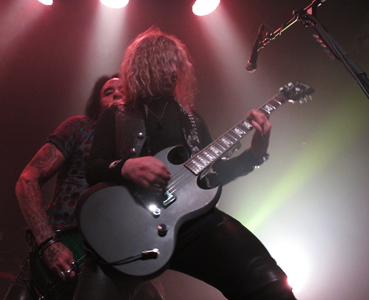 Glenn: Yeah.
Marco: Working with David Coverdale was such a big highlight. I learned so much and he inspired me unknowingly so. He inspired me to be a little bit more focussed, be a little bit more assertive and go for your dreams because that's what he does – he's very focussed – ultra focussed! He's very methodical too so I see how it works. He's meticulous – he's very meticulous. I learned that from him. It's definitely a highlight working with one of the legends of Rock 'N' Roll.
Working with Ted Nugent – working alone with him, Again, the stories alone. The downtime with him – it's like going to Rock & Roll School! History of history. He's been around since 63/64 with the Amboy Dukes – 'Journey To The Centre OF Your Mind' – Wow! Check out that video! He's done it all. He's seen people come and go and he's still Ted 'Frikkin' Nugent. He is highly misunderstood in the way.. and I say this respectfully so because I really appreciate and respect him 100%.
There's no reason why he should apologise. He believes in that. He believes in being who you are. Don't dilute yourself. Don't go for the status quo. This is who I am, this is what I believe in and I'm going to let you know. That's it. So the delivery can fluff some feathers and step on some toes. I appreciated it when I started spending time with him on the road. We did some long runs. When we were in the studio I got to know him as a Father, a Husband, as a person of pride and prestige and honour. He inspired me to become a better person. Then he gets on stage and tears it up. David Coverdale, Ted Nugent, Neal Schon – working with the great guitar players like Scott Henderson, Carl Verheyen & Frank Gambale and now working with these cats.
Glenn: I mean, what could be better?
Marco: Being surrounded in LA with people like Steve Lukather, recording a new album. Come on man! It's like 'Wow!'
Glenn: Exactly!
Marco: There's so many highlights. I don't think about it in that sense.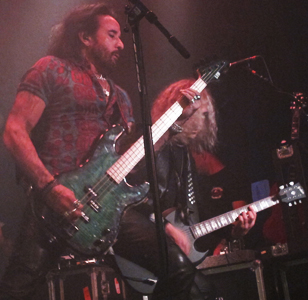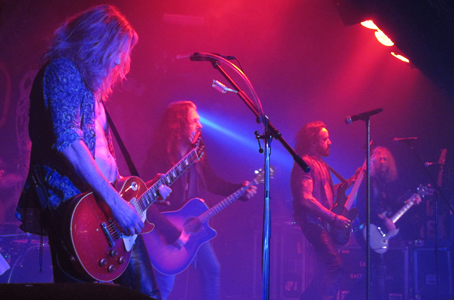 Glenn: It's just part of your life isn't it?
Marco: It's part of my life. Every so often I take a few steps back and look from the outside in and go "Wow!" (We laugh) Amazing. Let's just say my expectations as a kid when I was playing guitar in a garage band… I mean, I've way exceeded my expectations a hundred times. The combination right now in my life and in my career is The Dead Daisies and I mean that from the bottom of my heart. This project means so much to me. I believe in it so much. It's got all the potential in the world. In today's market it's very difficult. We have gasoline so we have the fuel. We're going for it and that keeps me going.
Glenn: I mean, it's hard to sell records these days. It's all download and live streaming.
Marco: Yeah! The performance is fuel. Your journey! So far, so good. Now we're getting back to the festivals next year. We'll be doing the big festivals and it'll keep growing.
Glenn: Which ones?
Marco: I'm not allowed to say anything but we'll be doing some of the bigger ones next year and everything will be confirmed in a few weeks. Right now it's just about playing anywhere everywhere. We decided to do the little clubs to get intimate here in the UK and Europe. It's a blast! There's something very special about doing smaller venues. Not that we don't want to do the big ones. We're headed that way.
Glenn: You can look from the stage if you're not too blinded by the lights and see everyone can't you?
Marco: Yes! You can see everyone – the energy is right there. The gratifications are more instant – quicker. These people are responsive with their eyes. You see them smiling and glowing. They're right there – a few feet away. Arenas are like 25-30 feet away. The energy's different – bigger. We're headed that way. I really believe it.
Glenn: Nice one.
Marco: Alright Brother.
Glenn: I've enjoyed this a lot.
Marco: My pleasure man!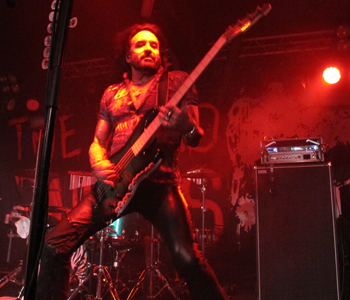 A big thank you to Valerie Ince for setting this up, Mark Hobson & all the staff @ The Corporation, The Dead Daisies Manager, David Edwards for taking the Photograph of us together and Marco Mendoza himself for a great Interview.