An Interview with
'Marq Torien'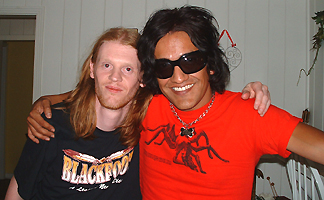 Frontman of The Bullet Boys
that took place at Fort Myers Beach, Monday, May 15th, 2006.
Interviewed By Glenn Milligan.
Glenn: Where did your voice initially come from – do you have a big background in your family?
Marq: Well I've been singing since I can remember. I come from a very musical family. My father played first trombone for Sam Kenton's Orchestra. My mother sang in Frank Sinatra's band which was out in Los Angeles so I been basically singing for as long as I can remember and playing. I've been in the studio since I was 8/9 years old recording. Vocally it all comes from the heart, it all comes from your soul and your passion of how you feel for towards the song or trying to imbellish the song that you are singing. You know there's not a lot of true singers anymore. There's not and I feel that a lot of the young artists, a lot of the new artists/new bands come up to me and go, 'Oh my god, you're just legendary – you Axl, Sebastian – you guys were like the guys, you know' and I'm like 'Well thanks, that's cool', 'so how did you learn how to sing', 'You don't really learn how to sing, you go through all your experiences in life that get you to that point of being that type of singer'.
Glenn: You've always had a high ended/high octave voice?
Marq: Yes, absolutely, absolutely.
Glenn: Who are the first people you played with in sessions or on stage and how did it all come about?
Marq: Well the first people that I actually played with, in a session, god I've worked with so many wonderful people, I would say the first session that I did in the rock genre of meeting people would probably be working with a group called 'Angel' back in the day. I met Greg and Punky – Greg Jeffrey an Punky Meadows in a rehearsal studio when I was like wow 15 or 16 and they were rehearsing next door and I wasn't too familiar with their thing but I was familiar with the good covers. Like they were the good Kiss, so mostly back then (laughs) and I'm trying to figure it all out these guys came walkiong into our rehearsal studio and it's like, 'God, who are you etc' and I got invited to come in and work on some rehearsal sessions that they were doing – so that's probably one of the first times, yeah.
Glenn: What was it like when you played your fist big gig when you realised that The Bullet Boys were a big deal?
Marq: When we came overseas and we played the Marquee club in London. I think that was the telling tale for us that we had crossed over and that irregardless that people were saying we were big things in the states but not big in Europe. It proved to them that when we went over to Europe that there were a lot of gracious fans and we had a wonderful time there. I would that and gosh – probably a show that we did with Poison early on in our career in a place called 'Long Beach Arena' that's our hometown, that's where our band came out of – the south bay area. It was basically like we were headlining – us, 20,000 people there when we came on and we're opening up and after the show we looked at each other and we thought, 'You know what, we're here', and people came out to us, 'We're here'.
Glenn: How was it with Poison, did you get on well with the band?
Marq: Oh yeah, Poison was great – it was a very hard working time, we were all working really hard at it. It's a lot different now but we were all wanting to leave legacies – that was our big thing absolutely. Poison – they left a legacy and they are on tour right now – they are gonna be on tour with Cinderella – 20 years Anniversary. We haven't hit that milestone yet – we're still ways behind – a few years but they… a lot of those bands were before us. We came at the tail-end of 1989 and blew up that year with Guns 'n' Roses and we were very fortunate to come in at that point in time and we were just nominally – we're not just this teased-up hair-band, 'you know, you guys have this weird trip about you' just our own thing I think that that's why a lot of the times the Warrants and the bands of that musical style – that pop thing really didn't get us so we were really like kind of like 'lone wolf' band – we were friends with Pantera and you know like 'Skid Row', like 'Tesla' and all the other guys that were like we felt were the real deal – you know they were out there drinking and just being outta control.
Glenn: Not just a hair style with clothes…
Marq: No it was definitely a lifestyle – you wake up riding in your bunk and it's a whole lot – it's really hard to explain the lifestyle. What I mean by lifestyle is, since you were kinda can imagine – you've been doing this and not just to come in because of the girls or because you are gonna get a record deal and you wanna be a star, I mean, I always wanted to have some type of respect of being the musician that I am for my musical peers and I still think that is the most important thing for me. As you'll see, you know, god damn it, that guy's a f*ck*n' as*h*l* but what a great singer he is. (laughs) You know, let's go back – Bon Scott –this guy everyone goes 'Legend' – brilliant singer, sing from his heart, a lot of these guys that were great, they passed away you know, it seems like you always have to learn from them and see how they sang like that and why they did what they did because they believed in it. They carry around a very heavy heart from all that stuff that they went through and I think that I've gone through a lot of things in my life and I think that's what gives me my vocal prowess.
Glenn: What have been some of your best nights and times growing in that LA scene, I bet you get asked that so many times?
Marq: It was a certain time that will probably never ever come back again. We were in competition with each other but we all really liked each other. That was the big thing that. If Faster Pussycat was playing somewhere, I've always loved Taime, Taime's always been a really good person – decent to m, very talented – we would go see him play and he would play the next weekend and he'd be like 'Can you guys please come and see us, bring some of your people to see us', so we all tried to steal each other's fans back then but it all worked out really well because if you were from LA, you f*ck*n' were not any good and you sucked they let you know immediately. Not only do the bands let you know but the other bands let you know as well, 'You're phony' that was the big thing so back then you were probably out there passing out flyers doing whatever you could to sell your band. There wasn't really that sell-out back in the day because everybody was trying to do the best that they could and get what they could get.
Glenn: You have met loads of people during the time spent in those times –are there any certain night that stand out?
Marq: Oh my god yeah. Everybody. I mean when I was a kid I got to hang out with Rod Stewart, Elton John came up and kissed me on both cheeks when our first record came out and he said I was one of the most incredible singers he'd ever heard. I almost started crying and me and Jimmy we left the place we were at and continued to get completely inebriated. I've been very blessed to hang out with some great entertainers, some wonderful musicians in my life and all the biggies, all the biggies.
Glenn: When they come up to you, it's someone you've admired as a kid or whatever, when usually it'd be you coming up to them.
Marq: I know, it's completely mindblowing. There was a hurricane relief concert that was done here in Germain Arena – a few months back. I was invited to come and participate but they already had a bunch of singers there. There was like Robin from Cheap Trick, Brian Johnson, Joe Lynn Turner, Mike Reno (Loverboy)– all cats that are older than I am but cats that I admire that were amazing vocalists so I was like, I gotta go back there so I called the person that was throwing the show and he said, 'Yeah come on backstage and have a ball', so I hang out with Robin & Rick from Cheap Trick – I know them pretty well and so we went back and Robins looking at me and he's like, 'You're f*ck*n' amazing – what are you doing?, 'You know what I'm doing', I come backstage to see you', 'Well you look great Marq' and while we are talking Brian Johnson jumps up. I didn't even see him there - he was sitting in the corner, he goes, 'Marq Torein', 'Come over here lad' like your daddy, he goes, 'I've been wanting to meet you for so long , you are one of the most incredible rock 'n' roll singers' and you kind of don't know whether to start crying or like, like I was in shock.
Glenn: Cause this is 'Brian Johnson'.
Marq: I go, can I give you a hug bro please. I give him a hug and say, 'Thank you so much, I've been goin through so much so thank you' and he goes 'I want you to come over and sing, can you please lend us your pipes, do you know 'Highway to Hell' the second verse' and I go 'Oh, absolutely', he goes, 'these old blokes can't sing this shit anymore, we need a young cat up here singing, screaming', and I go 'Cool' and he goes 'Oh right', so me if you know the way of being the way I am, I go up there on stage to doing the last song and I come to start singing the back-on vocals and stuff like that – the second verse comes up and he literally stops and comes and looks at me and goes, 'Get over here', he goes 'Ladies and Gentlemen, Marq Torein from 'The Bullet Boys' and he has to pass me the mike and I go and sing and people are looking at me like, then all of a sudden you see this, people nudging each other – this huge f*ck*ng like roar came over the crowd. It was like 'Yeah' because they are expecting the long blonde hair and the bobo bob and the minute they hear the voice they go, 'That is Marq, that God 'Boy' so I got there and did that and it was just a wonderful experience and it was for the hurricane victims. I get up after finishing, everyone's taking their bows and Brian comes over and literally lifts me off my feet and goes, 'That was one of the greatest performances vocal I've ever f*ck*n' heard', he's like 'You gotta come back and hang out with me', so we go back and we are laughing and stuff and he said, 'No-ones gonna believe that Marq Torein's here, they wonl;t f*ck*n' believe it right and I'm f*ck*n' proud of you lad, I want to introduce you to my family and stuff', so I was like, 'Wow'.
Glenn: So you seen everybody?
Marq: Yeah, the nephew's, the cousins and 'they wanna tell you something like', 'Well tell me' and he's goes, 'Go on f*ck*n' tell him', they go, 'You're f*ck*n' cool man', 'Thanks', I go, 'You're really cool' and I'm like 'Oh man, thanks' and they tell me, 'I love the way you dress and everything and the way you sing now – you can go up there and sing like that' and I'm like 'Dude' and Brian says quiet, 'Man some of these cats can't sing like that anymore' . 'I guess they didn't take care of themselves' and then he say's, 'No and they didn't drink enough liquor like you did' (we laugh) and I said, 'You know what, you're probably f*ck*n' right, you know'. That was like as of late, that was like 'wow' and he's like 'here's my number, here's Cliff's number, call him if you know him' so I'm hoping, god willing that they're able to maybe bless us, The Bullet Boys with a couple of shows with AC/DC.
I mean, we were supposed to be out with Cinderella and Poison – it didn't happen because I believe, I could be wrong but I believe that somebody bought on the tour. The tour is supposed to be Poison, Cinderella, Bullet Boys and Tesla – now that would have been the tour. I mean, you had four rock bands up there where its gonna be throwin' down ugly. Now it's just two of 'em. So I mean, I was really lucky, I had Tom Keifer actually stepped up for me and went to talk to the booking agents personally and said, 'I want this guy on the tour with me, I want the Bullet Pigs out here', 'Why, I love those guys, they haven't been out in 3 or 4 years, we need the Bullet Pigs out here to shake up some sh*t. Hey now, we're pretty notorious, we get up and do our thing and get real ugly. People say, how ugly can you get and I say, 'Believe you and me, I can get real ugly stuff, I can put a lot of these young kids to shame' and I said it, absolutely.
Glenn: Out of the young bands, which do you think are good and worth checking out out?
Marq: I think 'Fall Out Boy' is the worst band I've ever heard in my life.
Glenn: Yeah, they are a big thing at the moment but so what?
Marq: Dude, are they gonna be around in 17 years?
Glenn: No.
Marq: Absolutely not. I think there's a lot of trash that's being put out right now by the United States and I'm really appalled by it, I be honest with you. I mean people need to go back and people say, 'F*ck that guy – who's the guy who's a has been?' Well it's better to be a 'has been' than a 'never ever was'.
Glenn: But you're not a has-been, you're a guy that's still doing it.
Marq: Thank you brother.
Glenn: That's what matters.
Marq: That's what matters. You gotta keep up there and doing it. You gotta – it's a lifestyle – it's my life. It's what I do, I'm a musician, I'm not gonna stop being a musician because God gave me this really blessed voice and I'm an entertainer. I wanna go out there and make people happy. These guys are just standing around singing these days and…
Glenn: Anyone one can do that.
Marq: I know – shouting and whining and it's like 'I'm looking for the next 'Guns 'n' Roses' – where are the 18 year old kids that are putting a band together and living the life that are out there writing some real hellacious rock 'n' roll – I ain't seen anybody doing it.
Glenn: Mmm.
Marq: Do you?
Glenn: You do in Britain actually.
Marq: There you go. Yeah. That is different – Hellacopters – those bands, I loved 'The Hellacopters' – they're like trying to be something… like 'The Darkness' – great band – trying to f*ck*ng play rock. Kudos to them, trying desperately to make people like 'F*ck*n' come on man, this is rock', you know - looking the part, living the life, you know? A lot of these kids are too politically correct or whining about the world. I don't wanna hear about the world – we see that up on the news. I wanna have escapism. Don't we wanna escape, don't we wanna help our music – just losing something and losing it the music.
Glenn: Yeah.
Marq: Maybe that's an old-school opinion of mine but I don't know. Think of all these guys that are pussies too – they can't stand up man to man and throw-down in a ballroom and I have problem with that. They can sit up and talk and run their mouths and say things about people. I mean, it's a lifestyle buddy and you're gonna see them buddy back around again and it's gonna be a bad scene.
Glenn: I think Steven Tyler said that, 'Don't f*ck them on the way up because they are gonna be f*ck*ng you on the way down.'
Marq: Absolutely. So I see and hear all these guys talking a bunch of mad things and saying things about Ozone or whatever but the key thing is – they're will never be a genre like that. There will never be a time like that. Maybe when we're old and grey and we're in the 60's, they'll be some young kids that come up and say, 'We are gonna make the scene again' but as far as I see it, it's not good'.
Glenn: Well I was talking to Steven Adler and he said exactly the same thing.
Marq: Yeah. I wanna be moved by someone's voice, I wanna be moved by the music. I don't want it to be an editorial, you know these bands – Mudvayne and Non-Point that are out here – all these bands – it's just.
Glenn: Crap.
Marq: Yeah.
Glenn: Nothing there.
Marq: And I'm not trying to hate so please don't think I'm not tryna hate and run my mouth because I've always been guilty of runnin' my mouth. I'm not trying to run my mouth, I just trying to state the truth – the truth is, is that England is always seen as kicking the United States ass big time all over the f*ck*ng place and props and kludos to ya'll – because it's true. They've gone back to the roots. The roots are what – R'n'B, Soul, I'm a soul singer in rock 'n' roll band.
Glenn: Yeah.
Marq: I sing like that because I have soul.
Glenn: That's what Jeff Scott Soto said 'that he's a soul singer'.
Marq: You know and you gotta have soul man. If you don't have the soul, what have you got?
Glenn: Nothing, you've got nothing have you.
Marq: You're just coppin' everybody else's trip. Trying to cop some other guys sound.
Glenn: How did you first get signed and how did it make you feel when you first got your record deal?
Marq: When I signed with Warner Brothers – what it felt like?
Glenn: Yeah. The debut album and all that – how was that for you?
Marq: That was an amazing feeling. Like when you're number 1 on MTV like we did and it's like you know people really like your song and they dig your band where you're coming from, I think all you're trying to do is really at that point is make people happy and then we went on our second record and did something completely different to our first record. Some people were really offended by it and like where's 'Smooth up..', well that was on the first record, huh, well get into this record and you'll understand what's goin' on. Well that record was completely running down the whole process of the music business.
'TT Groove' was basically making fun and saying I don't think you're funny anymore, just telling everyone that we're tarty with everybody. It's very tongue in cheek but we made out statements too and the third record was 'Alter' which is more of a pop influence record. Our Producer, Ted Templeman wanted to import something else so we went there and when it was all said and done we weren't very happy with it because we'd written for the third record, this 'Alter' record – a real heavy record and at that time I don't think Warner Brothers was hearing. It was like 'Wow, this stuff's heavy, it's really heavy bu you're not gonna get some radio play – we need to have some radio play', so we were constantly fighting with that. It's like, 'Well we came out with the 1st record that wasn't really made for radio, it was made for rock.
The second record was made for rock, not for radio, so they gave that a hard time – there's 'Hang On St. Christopher'; 'TT Groove' – which is your single?' Well you pick the single?, 'We're not picking the single', so back then that was kind of unheard of, so people thought we were big-headed and all this Mohammed Ali like in interviews and things but we walked it and talked it and could get up there with anybody and throw down and match with anybody and that's why the guys from Pantera were hanging out with us because they knew that they were the real f*ck*n' deal.
Glenn: You weren't pussies.
Marq: No.
Glenn: You were the real deal.
Marq: Sure we'd come out on the road and see Dime and Vinnie. It was like (does his impression of them) 'Arrgh, what's up Marq?' and do all the crazy sh*t and stuff. Then Phil (Anselmo) would come up and say, 'I'm gonna hit Bret Michaels bro, I f*ck*n' don't like that guy', ad I'd be like 'Phil you can't do that up here bro', and he'd be like 'F*ck that Marq, I'm f*ck*n' gonna…' Phil back in the days, f*ck it, you know, they'd kind of listen to us, 'Dude you can't do that right man, we got on this tour, we'll be f*ck*d', 'Come out with us man, f*ck these pussies, f*ck*n' pigs man, what's up?', so they were like that way with us and we were like 'No, no, no, let's be cool, be cool', so we were all trying to be cool you know. But hey, those kind of bands like Tesla, I don't know, those kinds of bands back in the day.. Cinderella even too, Tom Kiefer's the real f*ck*n' deal – let it be known – that guy's a f*ck*n' straight out blues, lives it – he gets in the Blues bars when no-one else is playing with cats – yeah definitely. We got a lot to thank Cinderella for and Poison and Ozzy and Cheap Trick and all the people that we did major tours with - Skid Row, I mean we were just out recently – I have this side project, it's just a side project too – it's like a jam project and it's called 'Sexual Chocolate' and I go and do songs from the 70's and we do a couple of Bullet Boys songs and we were out with Jeff Labarr and Eric from Cinderella with 'Naked Beggars'. So we did really well – the places were all packed. I'm out there by myself playing guitar with a bass-player and a drummer just going 3-piece – you know T-Rex style. They loved it.
Glenn: Nice.
Marq: In fact I got a string of shows doing that. So I'm out there doing that – we're doing a Bullet Boys reunion which everybody's really excited about. I'm hoping that it looks like things are coming into fruition.
Glenn: The original line-up?
Marq: Yeah, absolutely, the four of us, the four *rs*h*l*s will be up onstage again. (Laughs). Oh yeah.
Glenn: I remember a while ago, you'd actually done a few shows.
Marq: I went out and about 3 years ago and put a band together and came out with the 'Bullet Boys' thing because the guys didn't really wanna go out and I wanna be up there for our fans and I think it's wrong not to be out there for your fans because they're fans of your band and you gotta go out and play your music and try to make people happy for that time. But I think we are all realising that as we do get older and knowing that we still do and everybody's in real decent shape and everybody's getting back together – Guns ('n' Roses) got back together again and everybody's kinda throwing in the towel and saying, 'You know what, well we are as a society, especially here in the (United) States, we need rock 'n' roll desperately'. I'm a hip-hop fan but dude, I'm over it.
Glenn: Yeah.
Marq: It's time for Rock 'n' Roll – it's too processed. It's too, everything's the same. Like when everybody wanted to sound like Warrant in our days – it's like that now. To me in hip-hop – all the good ones are dead. Yeah.
Glenn: Got ya.
Marq: Biggy, Tu-Pac – gone. It's just tough you know, it's a tough business right now and it really is musically, I know there's some brilliant musicians out there – I have videos and everything that aren't getting a shot.
Glenn: Mmm. They've got a lot of stuff 'Perris Record' – some cracking bands on that label.
Marq: Yeah I know.
Glenn: You just don't hear about them and it's only because I get the stuff sent to me that I know about them.
Marq: I know.
Glenn: Bands like 'Broken Teeth'
Marq: Yep.
Glenn: And Cherry St. and that.
Marq: Yeah I mean.
Glenn: Awesome bands.
Marq: Oh I have a new band that's very, very close to a record deal. The band is called 'Ten Cents Billionaires'
Glenn: Right.
Marq: And it's very hard sunset strip sort of a cross between Black Sabbath and Guns 'n' Roses and it's got this rockin.. It's rockin' everybody listens to it and go, 'please come out with this record, why can't you come out' and I say, 'It's comin' out – I've been working on it two years – it's finished – it just needs to go to that other level. I need to go to Cleveland and finish up some stuff with another Priducer. We are gonna try and drop it down and just try to drop it down on this trident board that a friend just bought that they did the whole 'Nevermind' record – Nirvana's 'Nevermind' so I'm like 'Oh gosh, it sounds great, let's go drop it down and then let's see the full magic come out you know?
Glenn: Yeah.
Marq: So that's when we do it.
Glenn: What's happening right now?
Marq: I believe that Lonnie Vincent from The Bullet Boys is gonna come in and be my partner in crime in the tense of being in my band.
Glenn: He's gonna join you?
Marq: Yes and we got a couple of other heavyweights but I don't really wanna talk abut it. I wrote a song for Dimer on this record and it's probably one of the heaviest I've written in my years so hopefully he's up there goin' 'I love you f*ck*r'. It did something for me. We dude lost a serious dude bro when we lost 'Dimer' - for me, he was like 'The Dude' – he lived it, eat it, breathed it and played like a viscous beast – didn't give a f*ck – let it all out there. I miss those cats – I miss the cats that live and breath it and we used to all hang out with each other – I've know Stet (Howland) for 20 years and I love Stet.
Glenn: I met him four years ago in The Reef at Fort Myers.
Marq: He's gotta be one of the best guys in the Rock 'n' Roll business dude. He's got a heart of gold, I mean he's really helped me out back in the day and helped out the Bullet Boys when he owed a Drum dudes room out in LA and all the guys would rehearse and he'd be like, 'Get your asses in here ya f*ck*n' idiots, I love you guys', so he's always been there for me and hopefully I'll always be there for him.
Glenn: And you're one of the best rocks singers out there.
Marq: Thanks Dude, that's awesome.
Glenn: We've been singing 'Smooth Up in Ya' in the nightclubs for years.
Marq: Yes. F*ck, you've been singing that sh*t (claps his hands). People still come up to me and say, 'Dude, you can still sing it, oh my god, how do you still sing like that, how do you do it?'. I go 'well, I stopped drinking a long time ago and stopped using, stopped doing a lot of stuff and I try to take real good care of myself and stay in shape.' I think that's what helps me sing the way I sing plus the reason is the way I sing is for that guy up there.
Glenn: Yeah.
Marq: Yeah man, God gave me this voice, I didn't get it get it. I didn't learn how to do it. He goes, 'Here, take it'. Now I'm gonna see what you are gonna do with it – are you gonna do good things with it or are you gonna do f*cked up things with – if you do f*cked up things I'll yank it from ya! If you do something decent with it you'll be alright.
Glenn: At the end of the day there's not been anyone else that's got your voice.
Marq: Thank you.
Glenn: There's been no Marq Torien soundalikes because it's not that it's high – it's the full power in it – it's warm.
Marq: It's a soul voice – it's the R'n'B influence that I was listening to when I was growing up as a kid. There was Stevie Wonder, there was Black Sabbath and then there was Otis Redding – you know it seems I go back and forth, back and forth. So it was the Beatles and Wings and then there was Aretha Franklin. You know, I'm constantly all the time changing up and, 'Oh my god, this is great'.
Glenn: Learn from all the greats. The Beatles, Wings, Johnny Cash, Elton John.
Marq: Yeah. Eton John let me please not forget about him 'Oh my God'. Jeez, you know what I'm saying? And I don't think a lot of that goes on now.
Glenn: In Classic Rock Magazine, there was an article that talked about 'Where are the Rock Stars?' You don't even know who half of them are anymore.
Marq: I know, I know, a band like Coldplay – the music's really great – just don't get the lackadaisicleness. There's no like 'Huh', you know and 'he's so huge' and I'm going like 'Have we all lost the delusion in knowing how to rock, cause I know when Marq atands out there (talking about himself), of course you've got your metal bands that are (does a nu-metal roar) – they're stock up there. Man, I heard that Guns N Roses were reforming. I was really happy to hear about that because I know that Axl actually went back and he's in good shape. So he went a lot of other ways and I'm really interested to see them come back. I think Rock music needs them right now – like Rock needed Aerosmith when they came back with Kiss. Let's not forget about Aerosmith and Kiss too because they are very influential on our careers. Steven Tyler, Joe Perry, we wrote 'Ode to Joe' for them and I don't think anybody's written a song about Aerosmith. Gene Simmons was supposed to produce our first Bullet Boys record but Ted came in and just basically said in sense that we'll go when I do this but I've supported Kiss for a little while too. I was gonna be the guitar player for Kiss.
Glenn: But it turned out to be yeah.
Marq: But it turned out to be somebody else, yeah. Gene has always been a wonderful influence. He's taken time when we were young, sat down and talked with us, helped us, taught us different things about writing songs for the masses, told us not to be afraid of anybody and anything – get out there and f*ck*n' do it cause we were always having riffs – it was like, 'well someone doesn't like it' and he was, 'F*ck them' – you like it, f8ck then and f*ck me – f*ck it', youknow and we used to go to rehearsals, Gene would pop in, 'Hey guys, what's goin' on?' 'Dude, what's goin' on'. Ice T would pop in when he was working with Bodycount, 'I f*ck*n' love you guys' so there's a lot of people that we enticed with our music. Plus there wasn't too many mixed nationalities – singers back in the day – I mean, I'm pretty much of a mutt – I lean to the Ladino side so I think I;m probably one of the first dark skinned ladinos that actually made it in the rock 'n' roll business besides 'Vince', Vince Neil but what kinda mutts gonna happen, happened – I've never seen anybody like me – ever – in fact I had to dye my hair blonde just to make it, I had to. There was no way…
Glenn: I didn't even realise it.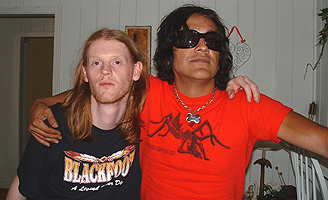 Marq: I know. Even people that I knew forever would come to me when the record was doing really well. I mean me and Molly would pop in somewhere and be like, "Hey Marq, did you try and look like that guy from the f*ck*n' Bullet Boys man", and I'd be like, "Dude I am the guy from the Bullet Boys", and they said, "Oh my god, dude you got your hair blonde"
Glenn: But a lot must have done?
Marq: (continuation of conversation) "But Dude, it's been nuts just for 2 or 3 years". (Answers my question) Yep. So it's like people were really blown away cos like, "Ah dude you did that", and people didn't even have a notion that it was me. It's like, 'Didn't you have a number 1 on MTV, oh my god, it's you and Lonnie?, that didn't even look like you and Lonnie in that video".
Glenn: I bet it's weird because you can walk down the street sometimes and people don't realise it.
Marq: And I gotta be honest with you, it wasn't just because of me or whatever singing, it was all four of us. We were an equal member band. We all fed off each other. We were very abourno, we fought, we argued and f*ck*n' punched each other out, we broke everything on f*ck*n' stage when no-one was breaking equipment. We really lived it and I think that's why the music came across so well because of our live show. People knew that we were gonna go, "Oh sh*t", it's you know, 'What's gonna happen tonight?, Are they gonna break everything? Is Jimmy gonna set his drum-set on fire? What's going on tonight?", you know.
Glenn: So it was a real mad show and all that?
Marq: Yeah. We were like this aggressive rock 'n' roll punk with this attitude like 'F*ck It!' and very Guns 'n' Roses like so that's why we got along with those guys really well. We didn't give a f*ck (laughs). All we cared about was our band. We didn't care about ourselves to put anybody out - we just cared about our band and made sure we were happy. We used to get on each other because of that, "Marq, people's turning out for you, you motherf*ck*rs!, get out of here", I'm like, "Dude", "If you don't get out here I'm gonna beat your ass!", "Okay I'll get up and let's go". You know, so we were always checking each other all the time and that makes for a good band.
Glenn: Yeah.
Marq: So we were always on each others arses, you know, you're out there workin'.
Glenn: I mean look at The Who.
Marq: Thank You.
Glenn: They are a classic example of that. The fights in that band but they could really do it.
Marq: It was on a lot of the times. You'd say something wrong in an article or somebody would say something wrong and they was just on and sometimes, you know, you wouldn't even say that and, you wouldn't even hear that said what was in this article and you would have to explain yourself. And you'd be 'I never said that'.
Glenn: You get the article writer making it up.
Marq: So I'm gonna go on record right now saying there would never ever have been a Bullet Boys unless the four of us were playing with each other – that was the thing. Luke's an incredible f*ck*ng guitar player man, f*ck, he's a powerhouse guitar player, live Lonnie is the best bass player I have ever worked with and Ginni Geander – he speaks for himself – he's one of the greatest drummers in rock - he's just one of those cats. I've known him since he was a kid – extremely, extremely talented – you know together we were just this wrecking machine and we still are when we get together.
Glenn: I can't wait.
Marq: It gets really, "Dude how ugly can you get if you guys are older, huh" (Laughs)
Glenn: Yeah but everything's still there.
Marq: The energy's still there, I can get out and perform just like I used to perform. If not, even more so because I'm in way better shape. So that really helps. You know, people wanna see a showman. Everybody's getting' older, Ozzy's gettin' older, Steven Tyler's getting' older, Kiss is getting' older – well what's gonna happen? We need these bands to step up, like hey, we never sold this multi, multi, multi million dollar f*ck*n' million selling platinum act – you know we sold a million records blah, blah, blah, blah but once you do that you're a lifer and if you handle yourself right and you're out there and you're music for music's sake and not making music for money's sake. I think that's what a lot of musicians are doing and it's wrong. You gotta get out there and play many – if you're broke, you're broke, get out there, get out there and do something fresh – something cool that people are really gonna dig. Right now we are trying to put a 'Bullet Boys' record together and of course Lonnie's in California, I'm out here, we're talking on the phone but you know even though in music back and forth – God willing we get together with the other two lads and really come out with something really special. I think we're all ready for that. I think that's where we are gonna be heading and at the end of the year, 'Ten Cent Billionaires', we'll be out man and that's my new band and I'm excited about it.
Glenn: Will you be playing any UK shows?
Marq: Oh god willing yes. We're ready to go out there. Absolutely. I think people are ready to f*ck*n' see it too.
Glenn: Have you ever played Sheffield?
Marq: Yes.
Glenn: How was the show?
Marq: It was great. It was great. People loved us and it was a great show. We didn't get to tour extensively through there but we were able to touch base in England & Scotland and what have you, went to Japan but now it's time to get back. The people are so afraid, "Oh we don't wanna fly overseas" and this, that or the other, I mean don't be a fraid of any of that sh*t, when it's your time, it's your time baby.
Glenn: Yeah, that's it.
Marq: Yeah, it's all about rock 'n' roll.
Glenn: I mean I've travelled like 5 thousand miles to get here – whatever will be will be but I've had a good time while I've been here.
Marq: Yeah! Don't we play rock 'n' roll? Aren't we in a rock 'n' roll lifestyle?
Glenn: Yeah.
Marq: You can't live your life scared man. Can't live in fear. There's no point and I think a lot of these guys still do.
Glenn: College boys a lot of the time.
Marq: Yeah.
Glenn: They are full of sh*t.
Marq: Yeah. Try and come up in the hard-knock way like we did – it's not easy. A lot of these bands that are around right now, they would have never got signed in fact like 10 years ago.
Glenn: That's what Steven Adler said to me, "When we first started, we were living on girls floors". Eating a cold can of beans between them.
Marq: Yeah. That's what we were doing. Absolutely. Trying to get somebody to buy us pizza that night, borrowing money from this person or that person, "Oh yeah, I love you guys, here, you gotta have something to eat, there you are, here". You know we had a lot of that – we had that really kind force behind us to help us out. I don't know what guys are doing now, I think they are just out myspace'ing it and (laughs) you gotta do things like that and I don't know, things have changed a lot but if we could somehow get back to where, not walk back but actually walk forward and pour what we've had in the past like your'e pouring it out on a wagon – I think it would really help the music business.
Glenn: Exactly. You get bands getting back together, releasing a live album from a tour and not hearing from them again.
Marq: Right. I think it's not recently but I think Queensyche are playing a show around here and we were supposed to go see 'em and they packed out every good place to play. They ain't been around for a while but they then came back out again – they got the guys together and said, 'You know, we wanna play our music again, I don't care what's going on right now- we gotta do our thing' and people are there to see it. A year or two years ago one of my favourite bands in the world, Iron Maiden, Motorhead and Ronnie Dio – they were out on tour – was f*ck*n' awesome. Ronnie came out there and sang like a f*ck*n' beast, Lemmy was just incredible, for me it was like disgustingly ridiculous – you know, then Iron Maiden came out and I was like, 'I am either gonna kick the hell out of here because I don't even belong here cause this is ridiculous going out onstage, I'm gonna go backstage and I'm just gonna give hugs and kisses to everybody – apparently the hugs and kisses were better (we laugh). You know it's fun and you get to see these guys who are just our there, I mean they gotta be pushin' their 50's, you know and they were out there – Bruce was singing like a champion. You know, you don't ever lose it – you just put it off for a little while. Well I'm gonna continue as long as the lord lets me do it. For as long as my friends and fans are out there that would like to hear me sing, I'll be blessed to sing for 'em and I'm all good about that. Can't wait to come to England.
Glenn: That's awesome. We'll gladly have you.
Marq: Oh thank you so much. I'd love to come.
Glenn: Yeah, the draw is there and we'd pay a tenner, 15 dollars just hear that song.
Marq: Absolutely. It's so funny too that people are coming and saying, 'Can he still do it?, Can he still do that?' and when they see it they're goin' "I'm almost crying, Oh my god, you can still f*ck*n' do that, I love you". What do they think I'm gonna pull you out there, I'm all fat and can't do shit? No way, not me baby. I get all bummed out when I see all these guys coming back not in shape. It's like, 'Dude, what are you doing to your fans? Lypo suction – your face is pulled in dude are you like that?', It's like 'Damn' 'Wow' you know what I'm sayin'?
Glenn: Yeah. Like *&(&((* ()*&(**((
Marq: Yeah. And he's a great singer too. It's like, I don't know man, just look like you man, you know, just come out there and do your thing. That's the best thing.
Glenn: What would say have been your favourite releases of yours?
Marq: I really think that our fist record was probably – we had so many songs, we recorded so quickly. It was just like 2 weeks and we were done. We slammed through it and I think that's probably the easiest one that we did cause just blasted through it, Ted was great and we were all having a great time and everything was quickened. The second record came out and we'd been touring for like 386 days literally and came back, my voice was tired, we weren't writing, like we shouldn't have been writing so we had to come and kind of take some time off, do some writing, blah-blah, blah-blah and then we hit the stride in our second record when we just said we are gonna make this great avante-guard record where we do whatever the f*ck we want – if it sells - great, if it doesn't – whatever. So it's really hard for me to pick between the 1st and the 2nd because I really like the 2nd one though too. There's a lot of stuff on that second record that I was just like, 'Man'. Like I'll call Iron and like, 'Dude did you listen to the second track on the second record", "You know dude I was just listening to that the other day and it's like a pretty good song – we go back and forth, 'Pretty good, god that was f*ck*n' slammin', you know why don't we play that song live?' You know, like the song 'Good Girl' on the second record. We don't ever play it live. It's like, 'Dude we need to come and play some of these songs that we wrote and that we never played, we need to come out and play them'.
Glenn: I know and the 'Za Za' has got some cracking stuff on it just like the first album. Cracking stuff man.
Marq: Thanks Man.
Glenn: There's just no point doing the same thing again, otherwise you you become a tribute to 'Smooth up in ya'.
Marq: To the song right – absolutely. We played this one date in Rochester and there was like all these young kids there and you got these 3 kids about 18 or 19 years old and they're screamin', "Any 7 days', 'Any 7 Days' please play 'Any 7 Days' " well no-one really knows that song at all and these guys are out and they're goin, "How the hell, you wanna hear 'Any 7 Days' and like not anybody else is paying attention and these 3 guys go 'Yeah!' and we go right into it. I go (starts singing), "12 O' Clock Again and I'm all f*ck*n' dim' and they were just like losing it and then all of a sudden after the show Jeff's (Jeff Labarr of Cinderella) coming up to me and going, 'Oh my god, which song is that?' 'Oh but dude I was almost in tears, that's about us, that's about what we live", I said, "Yeah", he goes, "What album was that on?", I go, "Well it's an 'Enuff Z Nuff' record, he goes, "Did you sing it with Donnie", I go, 'No, well Donnie ended singing it and took credit for it but we wrote it together' and he goes, "That son of a bitch – he'd never divide", he goes, "You gotta do that song every night", so now every night I'll sit and do this song and people really get moved by it. You know and they go, "Dude when you sing that song it's your voice – it's like it's R 'n' B chops dude, it just fills the room", I go, "Really?" and he goes, 'Yeah, yeah, yeah, yeah – what a beautiful song", so I'm not a big ballad guy so, but I like the R 'n' B ballads though. (Laughs) Forget the Rock ballads. I've never been a rock ballad man.
Glenn: Like all those Poison things.
Marq: That's how they made it bro. They wrote all those ballads back then. That's how they sold those records.
Glenn: On Radio and then doing them live or whatever and most of these bands would play a bit more.
Marq: Yep. And that's one of the things we were known for – we'd never do any ballads. On out 3rd record we did a BeBop song, like an old throwback like Otis Redding type of thing and it was like, "Wow – you did this - like this is from the 50's or something, why did you guys do that?', "Well that was our rendition of like.. Mick wrote this beautiful song called 'Mine' and he said, 'Get in there and sing it like you sing it, don't worry if it doesn't sound like the record – just do your thing". So I though, 'It'll do that' and it came out really good and it's still I stuck it, you know, I still get cheques from that song and it ended up in a movie and that was our kind of ballad –that was one thing that we did – that was it.
Glenn: If you could duet with another singer who you've not done a duet with already, who would you want to duet with? What would you wanna sing? What style?
Marq: I'd like to do a duet with Axl Rose. Out of anybody out of my genre of music no matter what you wanna say about the man I have the utmost, highest respect for him. I don't care what he's done in the past – all this stuff they wanna throw on the beach or whatever. He's always been respectful when he was gigantic he would pull me up in a crowd of people, he could talk with me and say, "Dude, I used to see you in Ratt, you know me and Slash doing all things like that, "I know, I know, I remember', "Dude your f*ck*n' voice is ridiculous, I kinda love ya", you know and he was very kind to me. A lot of times he wasn't to a lot of singers and I'd love to do a duet with him. I think it'd just be great.
Glenn: A lot of us would really. It's like the distinct 80's LA rock voices – they are the 2.
Marq: Absolutely. So I'm like, you know?
Glenn: What would you like to sing with Axl? Would it be like a new song? What road do you think it would go down since you've known Axl a long time?
Marq: Wow man. I wouldn't say we were real tight friends but that we were decent acquaintances but as far as something, I like to do something really heartfelt. That you know, there'd be something that he had penned or Slash had penned that would work out for both –but boy I'd sure like to be in the studio singing with him. I think we'd – sounds like such a cliché word but I 'd think we'd enjoy each others company and have a lot of fun. Lots to talk about.
Glenn: Why did 'The Bullet Boys' get the bullet, so to speak?
Marq: Right after the 3rd record the whole 'Seattle Scene' came through but we were still very fortunate after Mick and Jimmy parted ways from the band. Me and Lonnie went on and toured throughout that whole time and did very well. So that time when people say, "Oh I abandoned it", I don't know, it was a breath of fresh air for me. It was some other music and some wonderful music that came out of that time – really pushing the envelope and doing something different and I think that anybody out there just talking about it is just hating it which they shouldn't – it's just music for music. If you're a musician, you should be like 'Wow'. Back in the day we all listened to Nirvana with the old sh*tty whatever records that were coming out, we were trying to catch up buy them, what's going on like 'Hey what's happening, just catching the body of it, you know we're pretty close to being over, this is gonna breeze through and that's not gonna go down". So you know, I think indifferent. The grunge thing came around for a good solid 3 years and then in was done. When Kurt committed suicide, it was over as far as I was concerned. He was 'The Dude' – period.
Glenn: A lot of people think that bands like yours have split up, but a lot have not really split up really, they go more underground and go on different smaller labels and wait for the time that's right to…
Marq: Exactly, to make a big push.
Glenn: Yeah.
Marq: Now you know it's gonna be really interesting how MTV handles a lot of these bands because I am gonna tell you one thing that a lot of these bands are doing new records. A lot of these bands that are older and I think that they are gonna have a lot more legs than a lot of these young bands because they cover the age group from 13 to 50 where a lot of these new bands it seems like 9 to 19 or 20.
Glenn: A bigger contrasting.
Marq: Yeah, a bigger age group. I relish the bands that are trying to come back because they put the bands together and write some great records and come out there and really perform. It's what it's about. It's about those performances that we did back in the day that nearly killed all of us. (Laughs). You know, but hey, you can't f*ck*n' fly and tilt into drums and crack sh*t up forever.
Glenn: There's a time and place where you'd be like 6 feet under like many great people.
Marq: Yeah.
Glenn: You get to a certain age and your body can't take it anymore.
Marq: No, you gotta be in shape to be out there doin' sh*t. If you're not in shape and you are just out there drinkin' and using it's no way you're gonna finish the tour – no way – it's just too hard these days.
Glenn: What sort of style will the new Bullet Boys album be in when you get around to write it? Will it be like the main 3 albums?
Marq: It's gonna be that. It's gonna be … I did an album with Lonnie Vincent called 'Sophie' – we kinda step back into the genre into that kind of the old Bullet Boys thing. This new record is going to be definitely 'The Bullet Boys' that people enjoy and that have grown accustomed to hearing us from upon our records. We are gonna go back and throw down some real rock 'n' roll and really work on the writing. We gonna come up. Lonnie's on this big quest of which I am too now of trying to get something like a pump record going – something that's like 'Pow!' so we got a lot of songs between us two and we are just waiting for the 2 cohorts to figure out what we are all gonna do and see if we can… we've got people asking us to come into the studios to cut records right now "Come you guys, please come and cut a record here – Oh can we have the four of you *rs*h*l*s back in here, great come on", you know.
Glenn: Yeah. Have you got quite a few record companies wanting you back and forth. There might have been guys a few years ago that didn't want to know you.
Marq: I'll be honest with you, I'd love to sign to a European label and to come to Europe and be influenced by a lot of these bands that are out there and talk to them because I really feel that they're the future of rock. I haven't seen anyone here that are the future of rock here lately. I just haven't seen it. There's a lot of bands are out there touring with each another but it's just screamo rock and they will scream at you for a good hour and get in the mosh pit and kill yourself - that's cool man, I'm all good with that but man…
Glenn: There's a bit more to it than that.
Marq: What happened to the guys that can do that and then busted out with some real, you know something really cool. Something musically that's just great.
Glenn: We need the showmanship put back on the big stage.
Marq: Absolutely.
Glenn: And that's what has been lacking for a long time. You've had your Creeds, your Pearl Jams and all that.
Marq: I'm happy to see 'Velvet Revolver' at least they came out there. They tore it up. I love Scott. I love the guys, It's just awesome but it doesn't look it's going to be a …
Glenn: A long term thing.
Marq: No.
Glenn: At least some of the Metal Magazines like Metal Edge keep us up to date with what is going on. What do you do as a hobby that you enjoy just as much as music?
Marq: I enjoy sports. All sports. Everything. Baseball, football, soccer, I play tennis, I've been playing tennis all my life, I am about a 5560 player which is pretty close to open. I enjoy competition. We were playing miniature golf yesterday. I love my sons. I think my sons are more important to me than anything musically.
God has a plan for everybody dude – whether you believe it or not, whatever higher power you have, believe that higher power has something for you but you just gotta reach out and get it and ask for it and that's what's the most important thing. Gotta enjoy your life dude. Gotta have some time for passion for something and fun and have people in your life that really care about you. Not care about you because you are a singer but care about you as a person. You gotta be with someone who respects you as a person, enjoys what you do as a business but what it all comes down to at the end of the days is that you guys can hang out and get some food together and not be disrespectful to each other no matter what type of relationship you have. That's the thing. I try not to be disrespectful to anybody and sometimes it gets me in a lot of trouble but I wanna be a nice person – don't rub me up the wrong way as you can get the Genie or you can get Sinbad. (laughs)
Glenn: What made you decide to come down and live in Florida?
Marq: Only because my Ex-Wife is here – that's the only reason I am here. If I wasn't here I'd be in Los Angeles. I miss it very, very much. Miss it really bad.
Glenn: That's where you are from?
Marq: Yep. Born and raised in a city called Montibello, California which is right next to East LA which is right next to Comden. So we grew up in a semi-tack environment. There's a lot of good bands up there right now but there's a lot of bands that are just riding on peoples coat-tails which is tough. One of the guys from a semi-new band, Jack White, I've got a lot of respect for him. I think he's brilliant. I can't say anything negative at all. I've never met him but I wish he'd produce the next Bullet Boys record. I love him. I think he's brilliant. He's just one of those American kids that's just got it. He just went and did a country record. He has this new band now that he's working with - Real cool music – it's rock you know.
Glenn: What would you call your biography?
Marq: A Spick in Hollywood. That's what it would be. One spick in Hollywood.
Glenn: One Spick in Hollywood. That's Good.
Marq: Thanks Bro. If you can't make fun of yourself, who can you make fun of?
Glenn: That's true.What would you like to say to the guys and girls that are gonna read this interview?
Marq: Thanks for listening to us. Thanks for reading this. Hopefully I didn't offend anybody out there because I really love people more than I probably love myself and just thankyou for listening to our music for all these years. I'm really humbled that people still listen to the music and people still come out to see us play or me play or Mick or Jimmy or Lonnie. People will come out and you can't ask for more than a blessing than that. That's just the real deal and to let everybosy know that we will be back, God willing, and out there rocking and doing it the best that we know how. Staight on 13 all the time.
Glenn: Well Spinal Tap's Amps only went up to 11. (laughing)
Marq: F*ck Yeah Bro !! (Laughs)
Glenn: British humour – don't lose it.
Marq: No. Straight up to 13 baby. Hell yeah.
Glenn: Cool. Man. Cheers.
Marq: Cheers. Thank-you so much.
Glenn: I appreciate it.
Marq: Thank you for having me.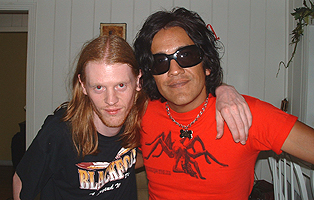 Big Thank You's to Marq 'n' Cindy, Stet & Christina Howland for setting it up. Tag Graves for the ride to the destination. Bryce & Sonya Barnes, Rick & Crystal Wilson - Man those cellphones don't half come in handy!