An Interview with
'Marty Mayhem'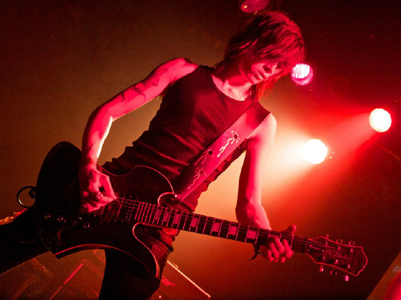 Guitarist of UK Glammers
'Hollywood Trash'
that took place on 5th March 2013.
Interviewed by Glenn Milligan
Where did your interest in Rock & Metal come from and what led to you forming the band?
My interested for rock and metal started at a very age, I was shown bands like Pink Floyd, Guns n Roses and Metallica from a very young age so it's always been around whilst I was growing up. What led me to forming this band was after various college bands and failed attempts I decided to give what I really love a damn good go and that was a Motley Crue style band! Things have changed since then but initially I wanted to sound like Crue!
Where did your band name come from and what made you choose it?
We rushed ourselves a lot in the beginning so we threw a band name together quick, I had lots of contacts for gigs and things but to get booked we needed a name and a demo asap so we decided to go for something that people would know the genre from the name so almost very cliché. The name Hollywood Trash is also about the slags in Hollywood - certain female celebs get labelled with the name. Many of our songs are about Hollywood not being what it's made out to be and celebs not being what they are made out to be. Basically that Hollywood a lot of the time is just a lie and what you hear about the bands and the celebs is just the good stuff the icing on the top not the trash at the bottom.
Introduce the members of the band and what made them the ideal choice for the band?
Adrienne Cowan on Vocals, she is the latest member. Originally from Texas, USA, she has a great rock vocal and that's what we had been missing till now. Very confident and got a great Scream! Alex on drums, good solid no messing around drums and very committed. Jake on bass, originally only filling in on bass as he is a guitarist but hasn't ever left the bass position, although its good when writing ect as we can throw guitar riffs and ideas at each other than work out bass lines to compliment the guitar parts. Then me, (Marty) on guitar sort of the brains behind the outfit I like to book the gigs arrange the tours etc. and have quite a few contacts so makes sense for me to do it.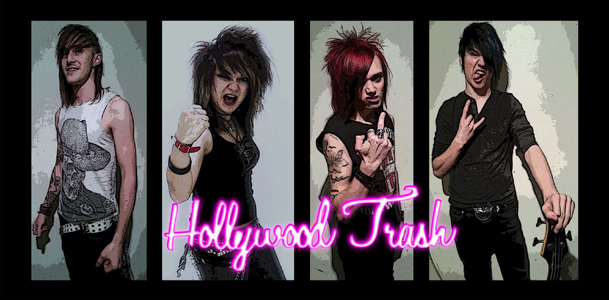 Who are the wildest members in the band and why would you say that?
I wouldn't say any of the members are "wild" as such however if you're looking for the class clown, Alex is your man closely followed by Jake. If something stupid is going on it's probably got to do something with them.
What songs are you most proud of writing so far and why?
I think I speak for the whole band on this one, and it's the latest track we have written and it's the title track of the new E.P 'Sordid N Immoral'. It's a little heavier than before but it's nice and sleazy!
How would you describe the style of the band?
Like I said we started as a Crue/ 80's Glam band we obviously have lots of influence from the Sleaze movement but its just good old rock with glam and sleaze thrown in for good measure.
What were your first shows like and where were they held and what are your best memories of them?
Our very first show we had a gig with all the local Glam bands we knew and called it the Doll House Jam. All the bands had a good turn out and was a great way to get noticed quick. Now the first gig with this final lineup was only in December and we opened for the Glitter Band. October last year we went to Germany to play 'Shout It Out Loud' Festival and played/ hung out with the likes of Crashdiet, Crazy Lixx, Fatal Smile, Bang Tango… that was probably the most surreal gig so far.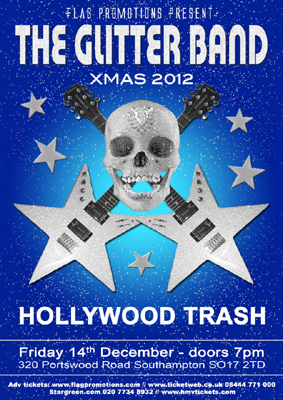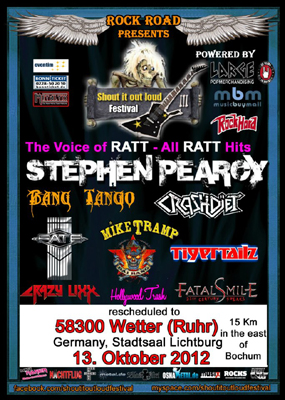 What revs you up before a show and how?
Not sure really, Adrienne likes to stretch and to be honest we are so laid back we just hang out with the other bands and friends ect. If we aren't on first watching the other bands and the crowd's reaction usually gets us pumped!
What are your favourite parts of your show, with regard the show presentation itself and the songs featured in it too?
We don't use them all the time but we have some bright white lights and we have a lovely assistant who gets them flashing in time, get a good tan off them! We all like to be quite energetic on stage stubbling about the track 'Honk If you're Horny' has this breakdown bit we get people to clap along to but our drummer gets left in charge with the que to come back in so that can get quite lengthy and funny waiting for him to do is thing.
What songs seem to go down best and why?
We often do a cover of 'Welcome to the Jungle' and that's usually a highlight people like to sing along to that one, also our own song 'Hollywood Queen' usually at the end of the set has a good shout along part which is pretty cool when people join in. Although I think people are going to really dig the new songs so will be great to see their reaction.
What's the most ott song you have ever covered in your set and how did it go over to the audience?
We haven't really down an ott song but we decided to cover some new Motley Crue (Saints of Los Angeles) once and we were quite worried the old Crue heads would be a little disappointed with it however with the HT twist people loved it!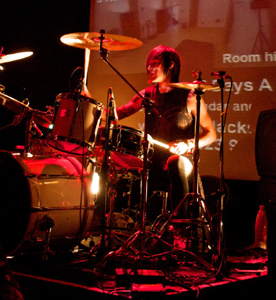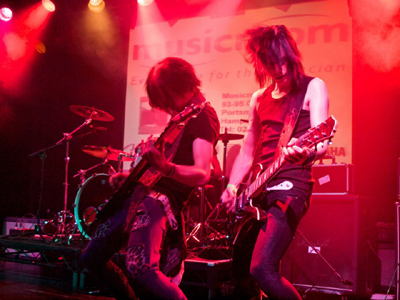 What do you find your age range of fans to be and what's the percentage of male to female in the audience and for what reasons?
Well because we have 80's influences and modern influences we have quite a large age range, I have seen people anywhere from 14 up to OAP's enjoying our set at gigs. Before we had a female singer we had a large female following but now we have Adrienne we have been seeing a lot more men, maybe the boyfriends of the girls that come before but now they have some eye candy too! So I think the reason for male and female people coming to see us is down to having a female singer now.
What are your best road stories so far?
We are constantly getting lost whilst on the road, our first London gig we drove round for 2 hours trying to find the place and we decided to make a honk if you're horny sign and see how many honks we could get before we finally reached the venue, hence our song 'Honk if You're Horny'! It was mainly ambulance and bus drivers that took part, and a pregnant woman stood on the side of the road shouting honk at us!?!?!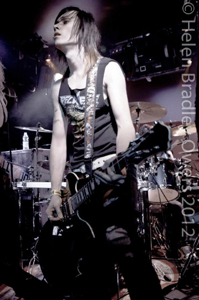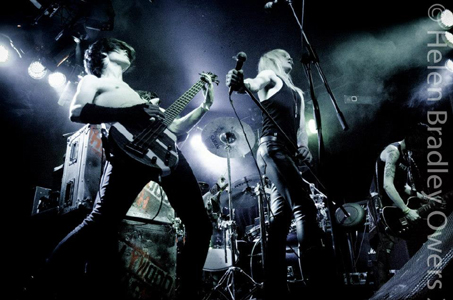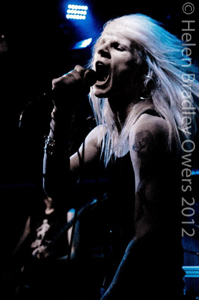 We had a similar situation in Birmingham where we drove round for an hour and a half literally in circles making the same wrong turn and going round the one way system about 4 times to find we had the wrong address. Jake and Alex boiling an in car kettle whilst travelling full pelt on the fast lane of the motorway whilst they then spilt the boiling hot water all over themselves. That was quite funny.
Album-wise, what are you most happy with and why? Also what memories do you have of recording and promoting that said album?
We haven't recorded a full album yet but we have recently recorded our debut E.P called 'Sordid N Immoral'. This is by far our best tracks to date. We recorded them at Great Eastern Studios in London and we had Rev from the Howling (Ex Towers of London) Producing! It was a great few days in the studio and a real shame we only recorded a few tracks but we will hopefully get back up there before the year is out.
We are obviously in full swing promoting the E.P now and we have a UK tour starting march 15th to promote it so will have plenty of memories and stories to tell when we get back!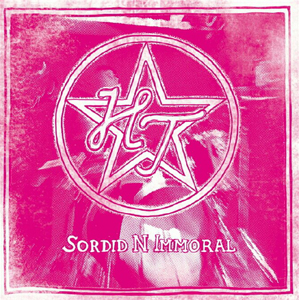 What have been your most eventful tours so far and for what reasons?
We have done one short tour recently with another local band called Dead Pinups, just a few dates Portsmouth Birmingham and London but the whole thing was a great laugh and we made some good friends there! There wasn't to many eventful things going on other than our transport dying the day before the tour and the whole band and entourage chipped together to buy a people carrier the day of the first date just to get us round! I even sold my car to help get something bigger!
What have been your biggest attended shows so far and how many people?
We have supported Reckless Love which was sold out around 250 people and also the German festival was sold out so that was around 500-600 people. Our biggest attended show without a big headline band was probably when we played the Southampton date of the Jubilee Tour was probably the first time we had a bit of a buzz around the band.
What concert and tours do you have coming up soon and what are you most looking forward to?
Well we have our 'Sordid N Immoral' headline tour in March which is going to be awesome!! Then we have dates with Steve Conte and Enuff Z Nuff in London and and a date with Crashdiet and JettBlack in Southampton all in April! So April will be pretty surreal and we are really looking forward to hanging with all those bands!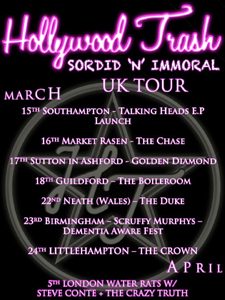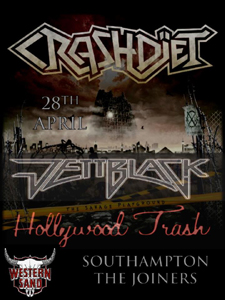 Who would you like to tour with if you had the chance and for what reasons?
Obviously a big one for me would be Motley Crue or Slash, How insane would that be!?!?! Doing a full tour with Crashidiet would be great as well the buzz from the German date with them and the buzz for this upcoming date in Southampton is amazing so a whole tour would be pretty darn tasty but we shall see maybe next time they come to the UK.
What makes you stand out from the rest of the bands out there today and why?
I think it might be the fact we are a Glam/ Sleaze band at heart but we have a female singer. We are also very hard working and dedicated. Also the lack of drink and drugs usually shocks people especially the genre of music we play.
What is the funniest thing that has happened to you guys so far both on and off stage?
GERMANY! The whole Germany trip was a f*ck around from start to finish, from riding luggage trolleys to bursting into Crashdiet's dressing room and being met by 2 members staring straight in our faces!
What could you see yourselves doing if you weren't in this band?
I really couldn't imagine doing anything else, probably another band to be honest.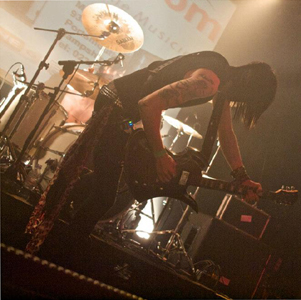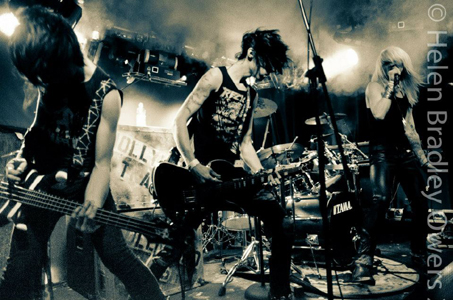 Who has been the coolest artist to work with outside of the band and why?
We haven't worked with many other artists just yet but was great to have Rev in the studio with us and he even features on our first track off the E.P 'Mr Rock N Roll'.
If you could feature a guest member in your band, who would it be, what song (s) would you want them to perform on and why?
I'll have to be really boring and say Slash! He can just stand on stage with his frizzy hair and top hat for the whole set….
In general, what will you be up to for the rest of the year and beyond?
We aim to do this tour then the supports in April, then talking about another e.p the end of the year maybe another UK tour and hopefully get back to Germany, but we shall see what happens.
What would you like to say to any fans out there reading the Interview?
Don't be put off by the Glam part of the band, we have some heavy stuff and some lighter stuff and really it's just good old Rock n Roll so check us out before you judge!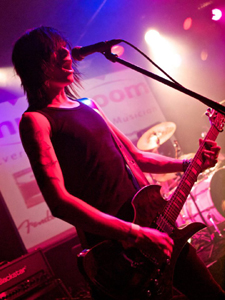 Cool Words Marty!