An Interview with up and coming Californian Rocker, Marya Roxx in December, 2009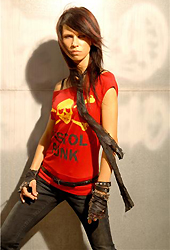 Who are your main vocal influences and why? How have they helped you?
There are a lot of influences in every musician`s life, but as far as vocal, it's different since every singer is unique and different and to be really influenced that way ,would be just copying which is not interesting at all. But I admire a few and it changes too throughout time, I discover something new constantly as there are many gifted vocalist out there. One of them would be Freddie Mercury from Queen, wonderful technique and
showmanship together in the same package; Eddie Vedder from Pearl Jam ,very
interesting voice ,different from anything else I`ve heard and whose new album I currently enjoy and Sandra Nasic from Guano Apes, very powerful voice plus wonderful harmonies .

What are your career aspirations in the music business and what made you decide to go for a career in it?
Well, for now I am having fun already doing lots of gigs everywhere- in USA, England and Germany, but I would like to go to other countries too, and get bigger and better on the way .In the end it would be nice to have a big following and do massive concerts everywhere .There you have it , my main inspiration in life is music and to have fun with it and to hopefully inspire other people with my music as well .There's really nothing more to it .
How did you go about assembling the band and is it a permanent unit?
I met my album and EP producer Kevin "Caveman" Shirley few years ago, and he was interested enough to go to the studio with me. And for that he suggested a few musicians for the studio and that`s how the Studio Team as I call it came together- Paul Crook on guitar ( Anthrax, Meat Loaf ) ,Scott Metaxas on bass ( Nuclear Assault ) , Derek Sherinian on Keyboard (Dream Theatre) and Brian Tichy on drums (Billy Idol, Foreigner).We instantly clicked musically with Paul Crook and he suggested some of his friends for the live band .The line-up for live gigs has been constantly changing due to scheduling conflicts, musicians are obviously busy doing other bands too. For now the band consists of - Paul Crook on guitar, Jim Roe on drums and Scott Metaxas on bass.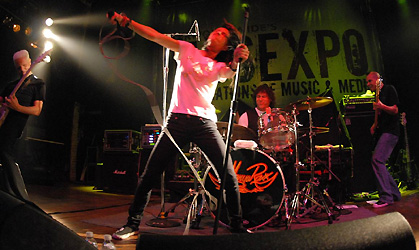 What have been your most monumental gigs so far and why?
I think HammerFest and Hard Rock Hell III this year, just because it was fun to perform on both occasions and obviously there was loads of people too, which is important for getting my music out there to more people.
If you had the chance, where would you like to perform and who with and why?
It would be cool if I would have had the chance to perform at Live-Aid with all the other wonderful artists. I think it was for a great cause and in fact I am looking forward to any kind of similar event to take part in the future.
Tell us about playing Hard Rock Hell III - what where the highlights (of your set and being there overall)?
Hard Rock Hell III was loads of fun, lot of cool bands performing and that made it even more enticing for me to perform on the same stage as them. I have a kick out of playing in front of an audience every time cause of the positive energy I get from them, and it was as fun as ever this time too.
What are your favourite songs you have written so far and why – what influenced them?
I am influenced by anything really, from a good concert to a dream or an issue that is important to me. I love all my songs, cause each one of them has a different meaning to it. But as far as performing them live my favourites are Rebel, Oh Yeah, Boneyard, Payback Time.
How was it working with Kevin Shirley and how did it come to be?
He is a very gifted producer and a very quick one as well, he is a very straightforward man and he doesn't take any bullsh*t from anyone, and that's what I like about him a lot. He gets me somehow, without too much talk which is awesome and I am looking forward to any kind of future project together . We met 4 years ago through a band he was producing at that time.
Who have you been compared to as a vocalist and a performer overall and how does it make you feel?
It is always a tough one with comparisons, they are flattering in many cases, but as an artist aspiring to be unique it is frustrating sometimes. Although recently someone said my voice being as powerful as Ronnie James Dio's, was extremely flattering to me and blew my mind!
What are your thoughts of the music business right now?
It is hard to get noticed as a new and aspiring artist and music labels now are not that enthusiastic about spending money for promotions on new bands. So it is very tough out there, the more the point I make out is to have fun with music and see where it gets you!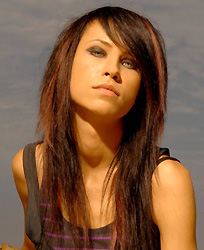 How are album plans shaping up and what is planned for it?
It is ready to be released and just waiting for the right time to do it - hopefully next year .
What made you decide to record the Clawfinger song "Nothing Going on" and what do they think to your version of it?
I just liked the idea behind the song and and we discussed with Kevin about it and he was into it too The singer of Clawfinger was very pleased with the results, so it turned out great!
You got any cool road stories worth talking about?
Well it is always something going on while touring and that's what makes it fun. On this tour in the UK I guess we had bad luck with the band vans, cause we barely made it to the first gig in Brighton cause the van was second away from burning down, while we were driving it ! Some wiring problems... and the second van we got broke down as well. Finally the third one was okay and we made it to the airport on the last day of the tour, but what a mess!
How was your time over in California and what did you get up to and where, apart from recording the '21' EP?
It is beautiful in California. I didn't have much time to do anything else than recording, cause that`s all you do in the studio period, just focus on getting it done and as good as possible. But I did go to the beach, which was nice! Anyway for me, because I live there in L.A, I have always time to do whatever I want apart from work periods in the studio or touring, so it is not as essential for me to go out all the time.
What are your immediate and future plans for 2010?
To do more Festivals and gigs everywhere in Europe and USA, hopefully Asia and Australia too and to get my record out.
What else do you do outside of music?
I am a big movie fan and go to the movies a lot and I enjoy going to different concerts as well.
What would you like to say to fans and future fans reading the interview?
I would say : believe in yourself and do what you love to do the most, then anything is possible! We all come from our childhood, the future is ours!
Happy Holidays to all Metalliville fans!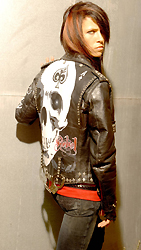 A big thankyou to Marya Roxx & Claire Lloyd @ 7pm Management for setting up the Interview