An Interview with
Matt Starr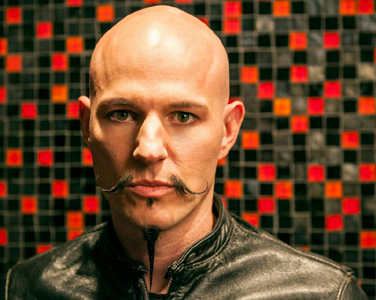 Drummer of Ace Frehley and Hookers & Blow that took place mid October 2013.
Interviewed by Glenn Milligan.
Glenn: What's your musical background and how was it for you growing up in Rocky Hill, Connecticut?
Matt: ROCKY HILL WAS COOL. A NICE SMALL TOWN. SAFE & QUIET. NO GOOD FOR ROCK & ROLL. I STARTED WITH DRUM LESSONS IN 6TH GRADE & THEN AFTER I TAUGHT MYSELF SHOUT AT THE DEVIL, I QUIT LESSONS. PLAYED TO RECORDS & THEN STARTED WITH BAND WHEN I WAS 14….HASN'T STOPPED YET.

Glenn: What turned you onto drums in the first place and why the drums?

Matt: I WANTED A GUITAR BUT I GOT DRUM STICKS INSTEAD, SO IT SORTA JUST HAPPENED. BUT I WAS JUST OBSESSED WITH RECORDS & THE PHOTOS INSIDE & I WANTED TO BE IN THAT WORLD WITH THEM.

Glenn: Who were your favourite drummers while growing up in your early stage of playing any why?

Matt: TOMMY LEE, CLIVE BURR, PHIL RUDD, BUN E CARLOS, JOEY KRAMER. THESE GUYS WERE PLAYING ON ALL MY FAVORITE RECORDS. TOMMY ESPECIALLY GOT MY ATTENTION BECAUSE OF MOTLEY'S VISUAL THING.

Glenn: What was your first kit, where did you get it from and when did you get it?

Matt: A HAND ME DOWN 70'S LUDWIG WITH NO FLOOR TOM. IT CAME FROM A FAMILY MEMBER. ALL I COULD AFFORD AT THE TIME WAS A HIHAT STAND & A SET OF 505 CYMBALS.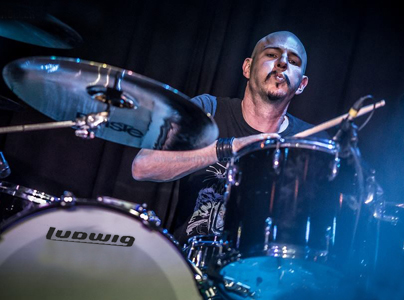 Glenn: What bands did you join that you got excited about early on and what was it about them?

Matt: WELL THE FIRST BAND WE HAD CALLED BATTLE AXE, THAT WAS IN 7TH GRADE. I WAS SO EXCITED TO PLAY MUSIC & BE ON STAGE & DO WHAT MY HEROES WERE DOING.

Glenn: How were your early shows and where were they?

Matt: WE PLAYED TOWN FAIRS, PARTIES, & OUR SINGERS BROTHER RAN A NIGHT CLUB SO WE GOT PLAY AT A BAR WHEN WE WERE 15 YEARS OLD.

Glenn: How did you come to know Run 21 and replace Stet Howland?

Matt: MUTUAL FRIENDS HAD A BAND CALLED SEQUIN ROUGE & THEY MOVED TO LA & AT THEIR GOING AWAY PARTY I MET DOUG & WE JAMMED. HE CALLED ME A COUPLE WEEKS LATER & ASKED ME TO JOIN.

Glenn: Why do you think they chose you as the drummer as opposed to any other drummers around in the are at the time?

Matt: YOU'D HAVE TO ASK THEM, BUT RIGHT PLACE RIGHT TIME.

Glenn: What the most memorable times in Run 21 and why?

Matt: THE SHOWS WERE A LOT OF FUN. VERY THEATRICAL & THE WALK ON WAS ALWAYS FUN 7. I GOT TO BE VERY CREATIVE WITH THOSE GUYS. I LEARNED A LOT FROM BOTH JIMMY CARTER & DOUG BLAIR.

Glenn: What led you to become the drummer for Ace Frehley and what has been the staying power in the band?

Matt: I HEARD THAT HIS DRUMMER HAD LEFT SO I MADE A BUNCH OF CALLS TO MY MUSICIAN FRIENDS UNTIL I FOUND SOMEONE WHO KNEW THE BASS PLAYER IN THE BAND & HE RECOMMENDED ME & THEN I FLEW TO NYC TO AUDITION & GOT THE GIG A FEW WEEKS LATER.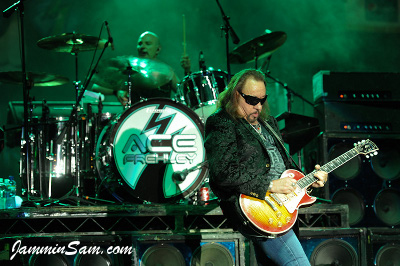 Glenn: What is Ace like to work with on and off-stage?

Matt: ACE IS GREAT. HE IS A MUSICIAN FIRST & FOREMOST. SO HE'S VERY DOWN TO EARTH & LOTS OF FUN.

Glenn: What are your songs that you perform with Ace Frehley and why?
Matt: WELL WE DO A LOT OF SONGS BUT THE ONES I SING ARE 'LOVE GUN', 'I WANT YOU', 'LOVE HER ALL I CAN', 'SHE' & PARTS OF 'SHOUT IT OUT LOUD'. IT'S A GREAT PLEASURE TO PLAY THESE SONGS WITH ACE EVERY NIGHT.

Glenn: Do any particular shows with Ace stand out to you and why do they over countless others you have played so far?

Matt: THE FIRST ONE IN NYC WHICH IS ACE'S HOMETOWN & NEAR MINE AS WELL. ANTON FIG WAS THERE & IT WAS ALL VERY SURREAL. MY FOLKS WERE THERE WITH HALF OF MY HOMETOWN. VERY COOL.

Glenn: How would you describe the drum style of Matt Starr?

Matt: WELL LOUD. THAT MUCH I KNOW FOR SURE. HOPEFULLY POWERFUL & MUSICAL, EXCITING & INSPIRING.

Glenn: When did your first realise you had a superb high singing voice?

Matt: WHEN I WOULD SING ZEPPELIN SONGS & PEOPLE MADE A BIG DEAL ABOUT IT.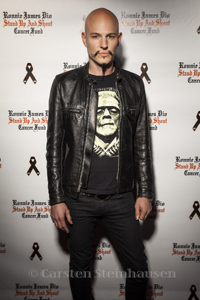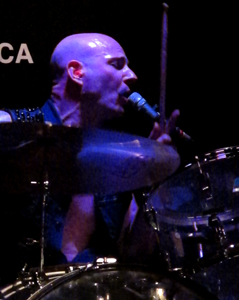 Glenn: Who would you say are a major influence on you as a vocalist and how has their sound and style personally helped you?

Matt: ROBIN ZANDER, BON SCOTT & PAUL STANLEY. THEY ALWAYS SOUND GOOD TO ME & IM SURE IVE ABSORBED WHAT THEY DO AFTER LISTENING SO MANY TIMES.

Glenn: What's the key to you being a singer and keeping it in shape?

Matt: SINGING. ALSO FOR ME NO ALCOHOL BEFORE I PLAY & STAYING AWAY FROM SMOKE. GETTING SLEEP & LOTS OF WATER HELP TOO.

Glenn: What started your interest in becoming a studio co-producer and was it down to knowing Alex that led you to recording the Hotel Diablo album for them?

Matt: I'VE ALWAYS ENJOYED PRODUCING & HAVE STEPPED INTO THAT ROLE WITH ALL THE BANDS IVE BEEN IN SO IT MADE SENSE TO DO IT FOR OTHER ARTISTS. YES, KNOWING ALEX LEAD TO THE HOTEL DIABLO RECORD.
Glenn: What stood out from recording the Hotel Diablo album and what was the view of it from the band after completion?

Matt: THEY REALLY HAVE ALL THE PIECES. A GREAT SINGER, A GREAT BAND THAT PLAYS WELL TOGETHER & THEY KNOW HOW TO WRITE SONGS WITH A GREAT SENSE OF MELODY.

Glenn: What were your fave songs on it and why?
Matt: BURY YOU. IT'S REALLY STRONG.

Glenn: Did you take on any backing vocals and drum sections at all since you are skilled in both as well or at tempted to?

Matt: NO I DIDN'T THEY ARE ALL QUITE COMPETENT.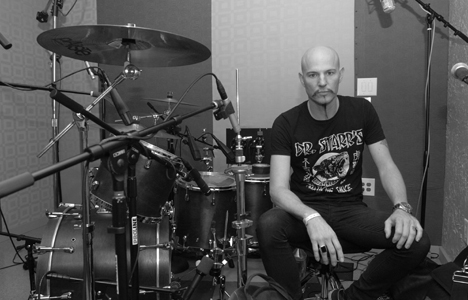 Glenn: What's your thoughts on LA these days and how do you see it has changed over the years since you first moved there?
Matt: I'M NOT REALLY SURE. WHAT I DO IS GET HIRED BY ESTABLISHED ARTISTS TO TOUR & RECORD. SO FOR ME IM NOT OUT IN THE CLUBS TRYING TO 'MAKE IT'. SO I'M NOT SURE WHATS HAPPENING IN THAT WORLD.

Glenn: What are your favourite things about LA and not so favourite things and for what reasons?

Matt: THE FOOD, THE ENERGY, THE CREATIVITY. THE TRAFFIC IS A DRAG..LITERALLY!

Glenn: Talking of LA, you are the drummer in Hookers and Blow - how did this come to be and what have been the highlights so far?

Matt: WHEN ALEX & I WERE RECORDING THE BEAUTIFUL CREATURES CD 'DEUCE' DIZZY REED PLAYED KEYS ON IT. DIZZY, ALEX & I WERE TALKING & THE IDEA CAME UP & IT'S BEEN GOING EVER SINCE…ALMOST 10 YEARS!

Glenn: What were the coolest parts of the run of 'Toxic Tuesday' shows at the Whisky A Go-Go that have stood out to you and why?

Matt: IT'S ALWAYS A PLEASURE TO WATCH FRANKIE BANALI PLAY DRUMS. I'M REMINDED OF HOW I FELT WHEN I FIRST SAW HIM ON MTV. ALSO HAVING MY BUD CHRIS WYSE FROM THE CULT PLAY ELECTRIC UPRIGHT BASS WAS PRETTY AWESOME TOO.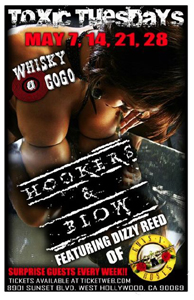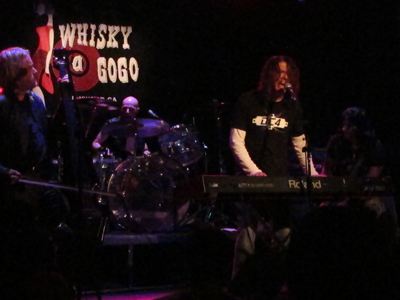 Glenn: What do you enjoy doing when you aren't behind the kit and for what reasons?

Matt: SPENDING TIME AT HOME WITH MY WIFE & OUR BEAUTIFUL SON ZANDER. LISTENING TO & COLLECTING RECORDS. HANGING OUT WITH FRIENDS, HAVING A GUINNESS & A CIGAR.

Glenn: Who would you say are your favourite drummers these days that you admire and why?

Matt: VINNIE APPICE IS STILL SO INSPIRING, JOHN HUMMEL IS A NEW GUY WHO'S FANTASTIC & BRIAN TICHY IS ALWAYS INSPIRING & SCARY WHEN I SEE HIM PLAY.

Glenn: I understand you are endorsed, how did that come about and how is it all going?

Matt: ALL MY COMPANIES ARE GREAT. IT'S ALL ABOUT RELATIONSHIPS & I'VE HAD A FEW INTRODUCTIONS THANKS TO DRUMMER FRIENDS ALONG THE WAY. MY COMPANIES ARE LUDWIG, PAISTE, VATER & AQUARIAN. I'M VERY GRATEFUL TO BE PART OF THEIR FAMILIES.

Glenn: What would you say overall are some of the best shows you have been part of and why?

Matt: ACE IN NYC, PLAYING WITH KEVIN DUBROW & REHEARSING WITH THE ORIGINAL MEMBERS OF LOVE/HATE. THE SHOW NEVER HAPPENED CAUSE SKID DISAPPEARED, BUT THAT'S ROCK & ROLL.

Glenn: What are you up to at the moment and what are you looking forward to for the next year or so?

Matt: WORKING ON A RECORD WITH ACE. LOOKING FORWARD TO TOURING ON IT ONCE IT'S RELEASED & ALSO ALL OF THE NEW ARTISTS THAT I HAVEN'T PLAYED WITH YET.
Glenn: What would you say have been your best Spinal Tap moments & Tour Stories so far- what happened?

Matt: WELL THE SPINAL TAP MOMENTS ARE EMBARRASSING & PLENTY. BUY ME A DRINK & I'LL TELL YOU A FEW.

Glenn: What else would you like to talk about that I haven't mentioned already?

Matt: OUR LINE OF T-SHIRTS, DR STARR'S MUSTACHE APPAREL IS DOING GREAT & GETTING OUT ALL OVER THE WORLD. WWW.DRSTARRSMUSTACHEAPPAREL.COM

Glenn: What would you like to say to all the people reading this interview?

Matt: HEY ALL! HOPE TO MEET YOU & PLAY SOME ROCK & ROLL FOR YOU VERY SOON. CELEBRATE LIFE & SAY YES! THANKS FOR READING!
All the Best,
Matt Starr
www.mattstarrmusic.com
www.facebook.com/mattstarrmusic
www.twitter.com/mattstarrmusic
www.drstarrsmustacheapparel.com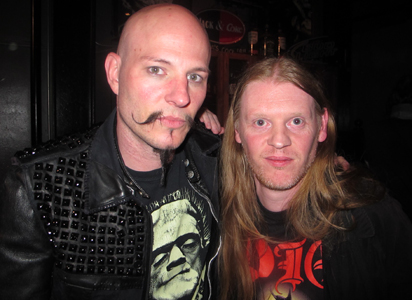 A big thank you to Matt for going well out of his way to excellently answer a mass of questions for us. Be sure to see him on stage when you can!