An Interview with
'Michael Devin'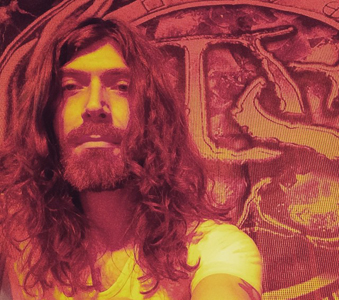 The Bassist of Whitesnake
that took place on 9th July, 2015.
Interviewed by Glenn Milligan.
Glenn: What exactly made you want to learn how to play the bass?
Michael: I believe I was about 11 or 12 years old. I had a neighborhood friend who was a few years older than me. He was a cool kid, a greaser, he drove an old Thunderbird, rode a motorcycle, always in a leather jacket and smoking cigarettes. He also happened to play bass. I remember one day hearing these thunderous sounds coming from his basement. It was hypnotizing and I knew my calling ... it was loud! Word got around the neighborhood that this greaser was selling his old bass, and if somebody didn't buy it by the weekend, he was going to light it on fire at a bonfire party.
So I gathered up every dollar I had, raced on my bike to his house and bought it off of him for 40 bucks. He was just about to burn it. The next day I went to his house and he showed me a few riffs like 'Tom Sawyer', 'Iron Man' and 'Sweet Leaf'... I was on my way. I was all about John Paul Jones, Geezer Butler, John Entwistle, Andy Fraser, Jack Bruce, Paul McCartney, Roger Waters, Steve Harris and Geddy Lee. These were my first and favorite teachers.
Glenn: Can you tell us about the formative years of Michael Devin?
Michael: The formative years began at an early age and spent sitting on the floor of my bedroom with headphones, a cassette deck and the bass guitar. I'd spend entire days figuring out the bass-lines off my favorite albums. Not all bass parts are mixed equally, let me tell you. AC/DC's bass lines are lower in the mix whereas Geddy Lee is loud in the mix.
So I spent most of my time deciphering what my heroes were playing, using my ears. I joined my first band at 14, I believe. They were in their late 20's and they used to sneak me into clubs and bars to do gigs. I played all the time. I still do.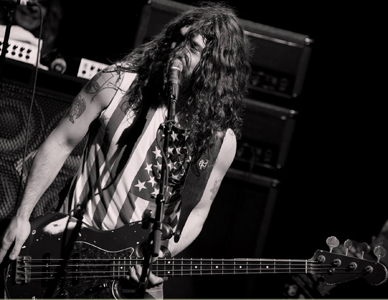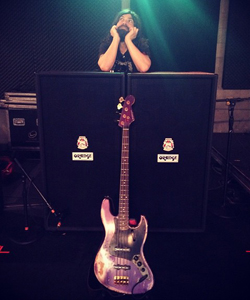 (Photo on left By Gergana Manolova)
Glenn: What is it about the Fender Bass that draws you to it so much as opposed to other basses on the market?
Michael: Interestingly enough, I'm not playing Fender bass on this tour. I'm actually playing the Gibson bass. I'm loving it. It is a 1971 EB 3L Gibson SG style with a slotted headstock. I'm running that through Orange Amplification and it just growls. It sounds so Ballsy. But most of my collection is comprised of Fender basses. I love Fender basses. That's the sound of the bass, isn't it? That's James Jamerson and the Motown sound... That's Duck Dunn... That's the sound of John Paul Jones, Geezer Butler, Geddy Lee, Steve Harris... On and on it goes.
Glenn: You live in Venice, California and such a beautiful area it is too! Does it have any impact at all on your writing and state of mind? If so, how?
Michael: Venice Beach is a state of mind. It is a very groovy headspace to be in... The Venice Beach state of mind. I love it down there and always will.
Glenn: While recording 'The Purple Album', which songs did you get the most joy out of playing and why?
Michael: Well, I can tell you what I am really enjoying playing live out here on the road. I like the groove of the 'Gypsy', I like the psychedelic vibe of 'You Keep on Moving', I love playing 'Mistreated', I dig playing 'You Fool No One - it's a very fast and fun riff to play. In the studio, ;Mistreated' was my favorite to cut because it was done in one or two takes with Tommy ... Just bass and drums together, like a proper rhythm section.
Glenn: What songs from the 'The Purple Album' would you say you identify with most and why?
Michael: I relate to the slower tempo songs like the 'Gypsy' and 'You Keep On Moving' and 'Mistreated'. I know I mentioned them earlier, but I lose myself in those songs when we play them live. I'm taken away, into the music, with the music. I dig that. I like 'Burn' a lot. We open the show with that song and it always delivers the goods.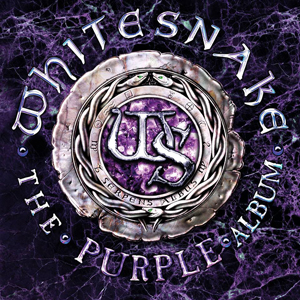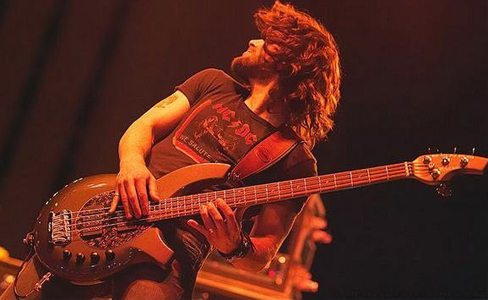 Glenn: How were the rehearsals for you and what cool things went down during them as well? There must have been some really funny episodes during it right?
Michael: Rehearsals were great, they were swift, actually, it was the smoothest week or so of rehearsals I've ever had with this band. Everybody came in really prepared and really excited. It's new material, it's challenging and fun and just exciting for us to get out play the songs that we've been living with for months. So we had a lot of laughs at rehearsal and we are having a lot of laughs on the road. It's just been a great time all around.
Glenn: Did you find you could place your own stamp on the songs or did you stick to the original way they were played in Deep Purple?
Michael: Well, I think Glenn Hughes is a fantastic bass player. He's a remarkable singer as well. I didn't want to disrespect him or the music he put down on those original tracks by reinventing them. Or by diminishing them with sloppy playing or simplifying them for simplicity's sake. I wanted to honor the songs and honor the player. I listened very carefully to those bass-lines of Glenn's and I wanted to make sure that all of the signature riffs and fills were present and accounted for.
There are sections on the record where I'm playing for me, but I always had Glenn in mind. David is a very encouraging person to be with in the studio and he wanted me to interpret, not clone, the bass-lines and I think I did a pretty good job of it, if I may say so.
Glenn: You are now on Tour with the rest of the Whitesnake boys. What preparation did you have to do beforehand in order to get yourself ready both mentally and physically and why?
Michael: Well, I've been touring as a musician for some years now, so I know what to expect and I expect the unexpected. Preparation is all mental and learning the material is the fun part. Saying goodbye to the ones you love - that's the more difficult part.
But I'm in a band with a bunch of really good-hearted guys and that's a blessing to have while on the road. We are family out here. We are close. All of us. Band and crew. Everyone. That's not always the case. It's not as common as you'd think.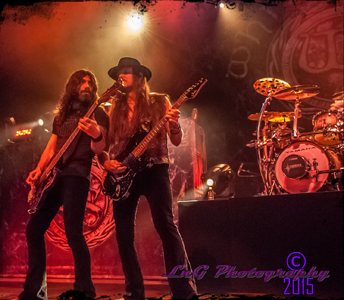 (Photo By Geoff Fauver)
Glenn: What do you like and dislike about touring?
Michael: There aren't many things I dislike about touring. In fact, with Whitesnake, I'm truly at peace out here. I love travelling. I love seeing the world and I love absorbing new environs. I love meeting new people, I love seeing unfamiliar sights and I want to absorb it all. I want to soak it all in now while I'm young enough and full of fire. The only difficulty, as I say, is not seeing enough of the people I love. It's been months since I've seen my family.
Glenn: Are there any particular parts of the world you are really looking forward to playing in and for what reasons?
Michael: We will be touring Japan in October. I always look forward to visiting Japan. I just love Japan. It's beautiful there, it's efficient, it's clean, the people are courteous and the nightlife is fantastic. I love the cuisine and the architecture. It has also been really cool to tour the United States in the Summer months. Usually, we don't do that. Usually we are overseas doing the big festivals in Europe all summer, but we decided to do the States and change it up a bit. I'm really enjoying the road through the U.S. - I just love the U.S.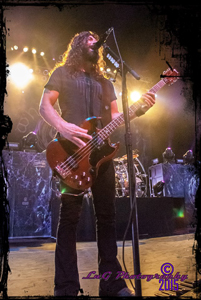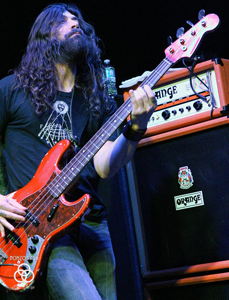 (Photo on left By Geoff Fauver)
Glenn: When you have off-days from shows or a few hours spare before hitting the stage, how do you like to spend them?
Michael: I read a lot, like an old curmudgeon in his favorite old chair. I enjoy a good book. I enjoy a good movie too. I go to the movies often. I like watching soccer.
Glenn: Would you say there have been certain places that have had a big impact on you?
Michael: Everywhere I go, every place I visit has some kind of impact on me.
Glenn: Over the years what have been your favourite parts of a show that you look forward to getting to and why?
Michael: Well, every year's different, every tour is unique, so I can only speak for this tour. On this tour, I look forward to my harmonica feature, I get a kick out of that and I like Tommy Aldridge's drum solo. I have the best seat in the house for that. He's the man. Tommy 'F*ck*n' Aldridge. I like taking a photo of the audience at the end of every gig too. I love zooming in on all of the faces.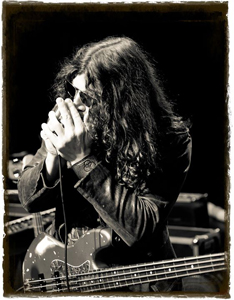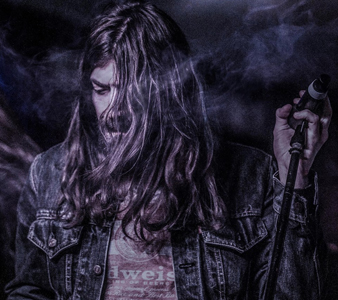 (Photo on left By Helenmarie Aston)
Glenn: Can you see yourself releasing your own album one day and if so, do you have songs already in the can waiting for the release one day that you can tell us about?
Well, actually I have a six song EP that will be coming out at some point in the next few weeks. The songs are being mastered right now. The artwork is complete. It's a good hard rock E.P. and there's a little bit for everyone I'd say. It's called 'Machine Devil' (an anagram of Michael Devin). I do have a video for one of the singles, 'Evil Men Do'. A little bit about that video. The ever-so-exquisite and beautiful actress, Drea DeMatteo of 'The Sopranos', 'Sons Of Anarchy', and the soon-to-be-aired NBC series, 'Shades Of Blue' (with Jennifer Lopez and Ray Liotta) is my love and my partner in life. How's that for a plug!
Anyway, last year she made a reality web series called 'The Muthaship' and in one of the episodes we made a video on the fly for one of the songs off of the forthcoming E.P. Check it out! But yes, the EP comes out soon ... Get yourself a copy!
Here are those links:
Evil Men Do Video - http://youtu.be/T1je3y1qPn4
The Muthaship Episode - http://youtu.be/BVg4dy29saM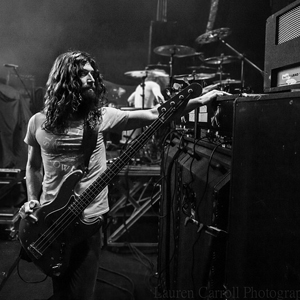 (Photo By Lauren Carroll)
A Big thank you to Michael Devin for doing the Interview while out on tour with Whitesnake and supplying all the images used!