An Interview with Keyboard Extraordinaire, Michael T. Ross on September 2nd, 2009 who has played with artists like Hardline, Lita Ford, Angel & Missing Persons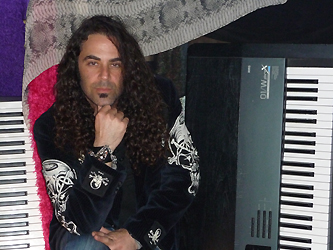 (Photo by Michael Fishman)
What influenced you to become a Piano/Keyboard player?
As a little kid, my older brother always played Pink Floyd, Yes and Queen records. I really got influenced by what I was hearing and since my brother was taking piano lessons, I also got into music. I was around eight years old and I never stopped playing since.

Are you self taught or have you been tutored from an early age? What's your history?
I took classical piano lessons for about ten years. I then studied with Dixie Dregs keyboardist T Lavitz, then later Derek Sherinian.

Who were your favourite players at the time and why?
Rick Wakeman was my favorite growing up, but when he left Yes, I started getting into Patrick Moraz, Keith Emerson and Freddie Mercury. When the whole progressive rock exploded on the scene in the 80's, my favorite then became Tony MacAlpine.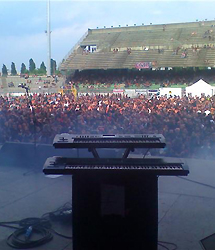 (Gods of Metal - 27th June 2009)
Who would you say are the best ones out there today (apart from your good self of course)?
Definitely I would say Jordan Rudess is the master keyboardist today, he's a prodigy. Also, Vitalij Kuprij is fantastic. I've met some great keyboard players on the road like Michael Troy (Yngwie), Eric Ragno (China Blue) and Andrea Di Paolo from Italy. As far as singers, I would say Nils K. Rue (Pagan's Mind) and Tony Harnell (TNT) are some of the best out there. It was nice getting to hang out with Jonathan Cain from Journey in Sweden and Germany this summer and getting to talk keyboards.
What were your first ever gigs like? Who were they with and where?
Wow, that goes way back, let me think. I would say my first serious gig was with the band Roxanne who later went on to become Boogie Knights with singer Jeff Scott Soto. Bassist Doug McRoy also played on Jeff's Prism record. I only did one show with them in Southern California, but I mark this one as my first real gig. I then joined many groups right out of high school and started playing the Sunset Strip, where I really started to learn the business.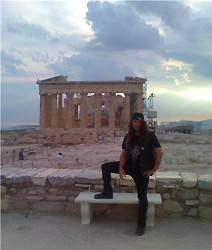 (Athens, Greece, July 1st, 2009 - Photo by Chris Kiska)
What albums would you say impress you the most with piano and keyboards and why - especially ones you are featured on?
Early on I was much influenced by Yes "Fragile", Journey "Frontiers", Return To Forever "Romantic Warrior", and Deep Purple "Machine Head", especially with Jon Lord's heavy organ playing, that was life changing. And of course when Yngwie Malmsteen's "Rising Force" came out, that changed the rules in progressive rock. Kevin Moore's keyboard playing on Dream Theater "Images and Words" was amazing. As far as my stuff, I like the keys I recorded on the latest Lizzy Borden release "Appointment with Death." The last track is a ballad called 'The Darker Side' and I like the way the piano came out on it. Very daunting, mysterious and very classical. Also, I like the keys on Hardline II with the track "Only A Night." I used an airplane sample sound in the opening of the track, mixed in with some strings, which made a really unique sound and anticipating feel, working great as an opening intro.

What bands in the past have you most enjoyed being part of and for what reasons?
I really enjoyed playing with a band out of Orange County, California called "Strangers in The Night" a UFO Tribute band because I got to play guitar and keys and rock to their music. One night I went to see Michael Schenker in Orange County and met their keyboardist/guitarist Wayne Findlay. I later had the opportunity to play with Wayne in one of his other groups called Slavior, along with drummer Mark Zonder (Fates Warning). We did a few gigs in LA in 2007.

What have been your favourite tours you have been a part of?
My favorite was playing in England with Hardline. Getting to gig with Johnny Gioeli and Josh Ramos was a great experience. Although we played at 1am, it was still worth it and a lot of fun. Again, playing with Slavior was great. Their label, Inside Out Music, recorded a live dvd of us at a couple locations in LA, but I never saw a release from it. Playing with Angel at the Kiss Convention in New Jersey last year was a kick ass show and goes down as one of my favorite gigs.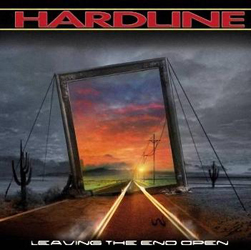 How would you describe the style of Michael T. Ross?
The root of everything I play is from a classical foundation. That's why I got so excited when I heard Yngwie mixing classical and rock. Growing up playing piano, I took on an early appreciation for ballads and good vocals. Listening to Journey so much growing up, I would say my style is definitely Melodic Rock, then comes the Yngwie and later Dream Theater influences, making my sound more progressive/instrumental. In one category, I would say I'm a Melodic Hard Rock keyboardist, swaying toward Progressive Rock.

What would you say the average day is for you both on and off tour?
When I'm home during the day, I spend most of my time tracking keyboards at my studio for various projects or practicing a set list for the next upcoming gig. After rehearsal I like hanging with my friends in Hollywood and going to cool jazz shows. On the road, I'm traveling, meeting new people, playing the piano in the hotel lobbies, or going sight seeing when not gigging.
If you could have wrote a certain piece that's well known - what would it be and why?
Dream Theater's "Pull Me Under" because it is a seven minute masterpiece with all the keyboard interludes, the awesome keyboard sounds and unbelievable musicianship.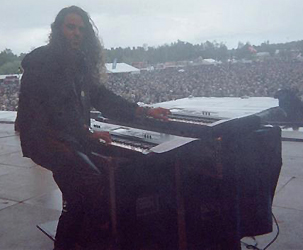 (Sweden Rock June 2009)
Would you have plans to bring out a solo album of piano keyboard pieces and be like a Metal version of Rick Wakeman any time soon - Yes or no and Reasons for answer?
I'm working on a solo record and it has been a long work in progress. No, because I would say the record is more Hard Rock than Metal but it does have it's moments. With lots of piano, keyboard solos, and overall classically influenced, it will be more on the progressive instrumental side.

One of my favourite parts of the Lita show at Ricochet, Fort Myers was your solo - what influenced it and what made you decide on incorporating Mr. Crowley into it?
Mr. Crowley was a monumental piece to me when learning how to play keyboards. With the pipe organs and the deep bass lines, this keyboard intro was so cool live. Ironically, while playing "The Angel Theme" with Angel live, I noticed the strong similarities between the two songs. The Angel Theme was written by Gregg Giuffria in 1978 and Don Airey wrote the Mr. Crowley intro released on Blizzard of Oz in 1981. The more and more I played The Angel Theme, I was getting the urge to start playing Mr. Crowley live too.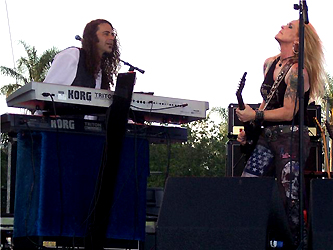 (Taste of Pinellas, Tampa, May '09 with Lita Ford - Photo by Zach Alger)
What is you preference and why with regard to clubs and festival gigs?
I really love playing the European festivals especially 'Bang Your Head' in Balingen, Germany. It is such a rush to get up there on stage in front of thousands of people and get to rock out for an hour. Even though there have been some real special nights while playing at clubs, it doesn't match the love you feel from a big crowd.
What would you say the strangest gig (or gigs even) you have ever done and why?
When Accomplice flew to West Virginia for the Rock It Fest, where we were told thousands of people were going to be there, and I'd say there was more or less 50 people there total. I had a few words with the promoter then we left and flew back to LA.
(Bang Your Head, 26th June, 2009 - Photo by Victor Alexadrov)
What is your view of the current state of the music business at the moment?
It's nice to see more control going to the artists and having the ability through the internet to sell your own products directly to the fans. Downloads are a good thing because it's the one click mentality and that sells, but also with all the pirating going on, I just hope there are new safety measures being taken to help curb the illegal downloads.

What would you say are the disadvantages and more importantly advantages for you as being the keyboard player in a band?
The disadvantage that I've most experienced was when there are already two guitarists in the band, it can make things a bit crowded. During the photo shoot for the Hardline II CD cover, I remember feeling a bit out of place because I know most rock groups like to have four or five members. Singer Johnny Gioeli said for sure he wanted me in the photo, so that was cool. I can recall many groups that don't photo their keyboardist such as Aerosmith and Goo Goo Dolls. The advantage of being a rock keyboardist is there is a more demand than supply for us.
What have been the hardest songs you have had to learn and why? How did you get around the problem?
Learning the song "Bad Streets" by Missing Persons. For some reason, I was stuck on figuring out a couple things. Sometimes you can listen to the CD over and over, and each time you hear a different thing. I persuaded drummer Jake Hayden to come to my place and work on it with me.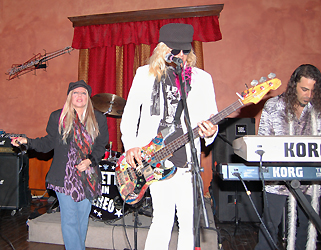 (With Missing Persons, Jan. 2009)
If you could meet any particular piano/keyboard player and play with them - who would they be and why and what songs/music would you like them to be?
I would like to play with Chick Corea and play the song "Romantic Warrior" because there are so many cool parts in this song. It would probably take me forever to learn it though, such a masterpiece.

What are your favourite pianos/keyboards to play and why?
I play Korg keyboards and at this time, really enjoying the M3. I also like Nord modules and find myself bringing them on the road too.

What do you like to do as hobbies or interests outside of music and why?
I like playing chess, watching Brazilian Jiu Jitsu fighters compete in the UFC and hiking.

What are you most proud of so far?
Just the fact that I'm still playing and recording, the two things I like doing the most.

What other things would you like to achieve in your career?
Sell a million records

What would you like to say to your fans who have read this interview?
Thanks for letting me share my keyboard world with you all and look forward to seeing many of you on the road. Check out the new Hardline "Leaving The End Open" out now on Frontiers Records. For more information, please go to www.myspace.com/michaeltross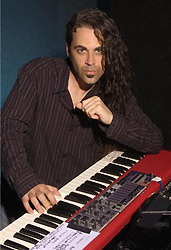 (Photo by Alex Solca)
Thanks Again Michael for the great Interview