An Interview with
Mickey Ripley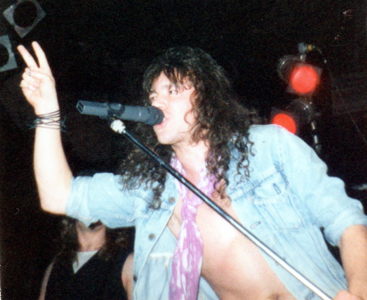 frontman of late 80's UK Hard Rockers, 'The Red Dogs' & now of Folk Band, 'Gally's Folly '
that took place on 25th June 2013.
Interviewed by Glenn Milligan.

Glenn: What made you decide to become a singer and who were your influences at the time?
Mickey: Well, I was very young, but I do remember singing along to the Beatles' double A-side of 'Strawberry Fields' and, especially, 'Penny Lane', when that first came out (I must have been three years old). After that, there was 'Baby Loves Lovin'' by a group called The White Plains and then I played 'Starman' by David Bowie about a dozen times each morning before I went to school in the early 70s. Somewhere in there I was also listening to Frank Sinatra singing, 'I Will Drink the Wine' and trying to croon along with 'My Way'. All that was a pretty good melting pot, but then I heard the first two Rainbow albums with Ronnie James Dio, looked at the pictures on the inside sleeve, and thought "I fancy a bit o' that".
Glenn: How did the Red Dogs come to be and how were your first shows and where?
Mickey: I'd actually spent six months out in Australia living the life of an authentic Bondi Beach bum. I was planning on joining or putting together a band over there, although at that time (around '88) I had had no real experience as such. I couldn't find the music nor the people I was looking for in Sydney, so moved back to England in January '89. Almost immediately came across an ad in one of the music papers from a band based in London looking for a new singer, and two weeks later we were all happily shacked up together in a little terraced house in Tottenham and a whole lotta fun was about to begin…
When I joined the band they already had a bit of a pub circuit going in London and the south coast, but very quickly things began to pick up pace. We started garnering lots of excellent reviews in the music press, which actually led to Ginger (Wildhearts), who was just putting his band together at that time, coming down to a gig at Bethnal Green (the ol' Stick of Rock, if anyone remembers that) with a view to poaching our bassist. He'd actually brought along Kerrang! journalist, Ray Zell, with him and they both decided we were too good a band to be split up! As it happened, Ray Zell's girlfriend at the time was working for a record company and so it was recommended to them that they sign us. So within six months, we had a record deal and were able to play to sell-out shows at the Marquee.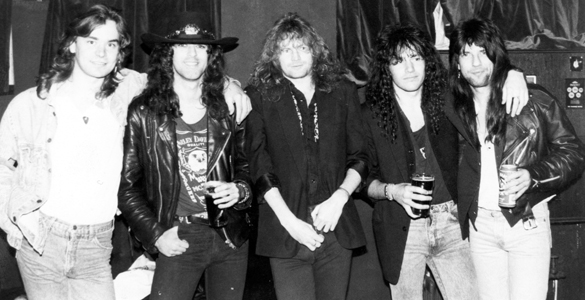 Glenn: Where did the name 'Red Dogs' come from and what made you decide on that one?
Mickey: Well, when I joined the band, they were heavily influenced by bands such as Lynyrd Skynyrd, Georgia Satellites, etc. and consequently had named themselves after an American card game, Montana Red Dog. Initially the stage backdrop was the Southern Cross confederate flag. I just thought it was stupid for four Geordies and a Welshman to be taking on such Americana, and so the Montana was dropped and the plural added.
Glenn: What were your fave headlining tours and gigs in general and why?
Mickey: A lot of the tours merge into one, to be honest. We had a lot of great times on the road. I actually met my wife on a Red Dogs tour in '89, although we only got back together after a 14 year hiatus in between, so that was a pretty good one! (Actually on a side note, if anyone reading this remembers the date of the Red Dogs gig at Buckley Tivoli some time towards the end of '89, my wife would be grateful to know. She was chauffeuring a journalist who was interviewing us and that was the night we met.)
Glenn: What songs you did in the Red Dogs are you most proud of and had the must fun with in the writing, recording and live stages of them and why?
Mickey: 'Sweet Little Ruby' would have to be one, because it was the first song I wrote with the band (Paul Guerin, guitarist, and myself actually). It was probably also the first song I sang in a studio environment. It then became our first single (also our first video – albeit a dire one!! Ha ha), but in those days it was still magic to have that bit of plastic in your hands, real vinyl(!), and to be able to hear it getting played around the clubs in London and seeing it fill the dance floors on the rock nights, also on the various radio shows at the time – it was fairly heady and exciting stuff back then. 'Pays to be Pretty' would be another. We'd been put into the rehearsal rooms by the executives and told to write a new album. Guerin kicked in with this simple G to C arpeggio whilst I was reading the newspaper, the lads are jamming away, and then as soon as I heard the A minor chord kick in, the chorus and title immediately came jumping out of my mouth. The whole thing, lyrics and melody, came almost straight away and I still think it's a half decent song. Originally it had a fabulous violin hook but that got lost somewhere along the way. Could still be a Country hit down the line for somebody that one!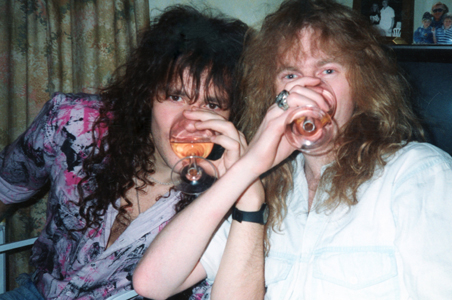 Glenn: What made you decide to record 'I Shall Be Released' and what was it like working alongside Who Producer, Bob Pridden in John Entwistle's studio 'Hammerhead'?
Mickey: Well, I think that Bob Dylan is the greatest artist of our times. In those days, however, I would never have dreamt of presenting a Bob Dylan cover to the band. It was actually Chris John, our rhythm guitarist, who, at the end of one long writing/rehearsal session, when we all felt like we needed a ballad, launched into that particular tune. It took on a life of its own and ended up on the 'Working Late' album. Although, funnily enough, my favourite, killer, minor chord (which is the way Dylan wrote it) doesn't feature in the way we ended up arranging it – what does that tell ya?!?!
I spent six weeks living at John Entwistle's place while we were recording the "Working Late" album (and I have to say, John was a great host). I do have some wonderful and precious memories of those days, which probably should remain private. ( Nowt too flash, mind…just things like sharing cold London Grill straight from the tin together [apparently what The Who used to live on back in the day] washed down with a seriously expensive brandy from the cellars at about 5am. most mornings - that kinda thing..!) After the lads had recorded all the backing tracks and returned to London, I stayed on for a week polishing off the vocals, and I can credit Bob Pridden, during that time, with enlightening me on the delights of 'Withnail and I'. For the uninitiated, do it the way Bob did it for me…full roast lamb dinner, several bottles of red wine, several bottles of cider, large bottle of gin, bottle of sherry. Enjoy!
Glenn: What kind of sound and style did you intend to create with the Red Dogs and did it go the way you wanted?
Mickey: That's a very good question. Before I headed off for Australia in the summer of '88, although half my day would have been spent listening to Black Sabbath, Thin Lizzy, UFO, etc., the other half of my day I could have been listening to Sandy Denny, The Cure, The Smiths or REM. Consequently when I came back to England, looking for a band, my musical tastes were quite broad, although at that time I felt my voice was more suited to the harder, heavier stuff and that was what I was looking to do. Probably, more importantly, it was about finding a band of people I could get on with, and who I felt had some kind of charisma and potential that I felt I'd be able to contribute to. We went through all kinds of experiences that I am very happy to have stored in my memory banks, and from my point of view all the lads in the band are still my brothers. We shared more together than most families ever do.
Musically it reached a stage, fairly quickly in retrospect, when I think all of us in the band were just ready to push our boundaries a bit, beyond the constrictions of what we felt we could get away with in the Red Dogs. I know for a fact that I certainly was. I'd begun to write stuff that just wouldn't have fit into the band context.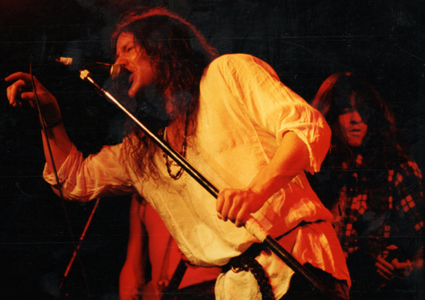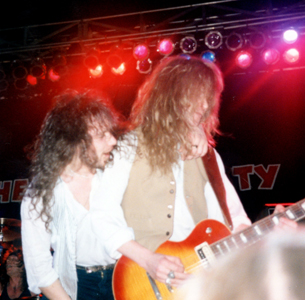 Glenn: What bands were you likened to and what were your thoughts of that and why?
Mickey: That's a good 'un too! Our first big break in the band was the Quireboys and Sharon Osbourne stepping off a plane from Hawaii and coming immediately to catch us play a gig in Walthamstow. We got off stage and Spike (QB vox) immediately offered us the support for their London "come-back gig", which was also their launch party for 'A Bit of What You Fancy'. I don't think anyone believed this but, at that point, I'd neither heard nor seen The Quireboys. I walked onstage at that sold-out Marquee show and announced, "We are the Red Dogs and THIS is Rock 'n' Roll'!! Completely unaware that for two or three years before that, Spike had started every gig by saying "We are The Quireboys and THIS is Rock 'n' Roll' ha ha! It mattered not to either of the two bands, we had the same influences, the same likes, we went on to tour together three or four times in the next few years and had great times.
Unfortunately for us, as The Quireboys had established themselves in what the press perceived as "their niche", and as it was the dawn of the nu-metal, grunge era of Nirvana, Soundgarden etc. we kinda got touted as being somehow not "progressive" enough. Still rankles a bit if pushed cos especially live we could get in the ring with anybody. At the time, even though 90% of our reviews were favourable through to excellent, there were elements within the British music press that gave us a harder time than, I feel, we deserved. At one point, it seemed as if you weren't American, and you were just content to be playing good old fashioned rock n roll, then that simply wasn't good enough! It seemed stupid to us then, and still does now.
Glenn: Who were you most proudest to have supported on tour and what were the highlights of these and why?
Mickey: As an avid Kerrang! reader from its first issue, I always remember reading an interview with a band called Shy, who later became Tobruk. They were waxing lyrical and over the moon because they'd just been given the latest UFO tour support slot. I had a huge UFO poster by my bed and practised my singing by singing along with Phil Mogg on record(!), he had a similar range to me and his keys seemed to suit my voice. Anyway the years pass and suddenly there's Phil Mogg and Pete Way giving us a blinding review for our 'Working Late' single in Raw magazine. Next thing Paul and I are in a bar in Argyle Street, off Oxford Circus, while Pete Way is regaling us with tales of rock 'n' roll excess in the USA in the mid-seventies, and then, a short while after that, we're on tour with UFO ourselves. It all seemed to happen so quickly, and those were pretty good times. Funnily enough, by then UFO's ex-drummer, Jim Simpson, had joined us! I'd actually seen Jim play at Knebworth back in '85 on the Deep Purple bill, and he'd also played on one of my favourite albums from that era, Magnum's "On A Storyteller's Night". Never dreamed we'd end up in a band together.

Glenn: In your opinion, why do you think Red Dogs never got to be a national and international recognised band like many others did? What would you say were the main factors of this?
Mickey: That's for others to say really. We had a decent following and a lot of people didn't want us to split up. There is a case to be made that we could have bided our time, stuck it out, and also knuckled down and put the work into writing new and better material. In retrospect there was probably a certain laziness on our part with regards to that, and I can blame myself as much as anybody in that respect. We did tend to enjoy the rock n roll lifestyle, and the inherent extra- curricular activities that go along with it, possibly to the detriment of putting more hours into what we should have been concentrating on. However, that's easy to say now, from this vantage point. There were also a lot of management and record company issues which seemed to put obstacles in our way that we couldn't seem to get resolved to our satisfaction. That was a big issue and certainly didn't help our cause. Hindsight is a great thing though, isn't it? There were things we could have done differently ("..if I knew then what I know now..!) but, hey, we were pretty green back then.
Glenn: What do you miss most of the Red Dogs heyday and why?
Mickey: You didn't hear my missus laugh and say, "your long curly hair ha ha!!!" (I should point out that it's only the sides that are shaved and my beard reaches down to my waist anyway! Ha!) I threw myself wholeheartedly into stripped down, very basic, totally acoustic, small pub-type gigs immediately after the Red Dogs, and that was just the direction I knew I needed to go in. It was almost like learning a new craft because you're playing to a whole different clientele, and I was also playing a completely different style of music from what I'd previously presented to anyone. It was excellent experience though, and I learned a lot of good lessons.
Once in a while I may have thought "It would be nice to be playing, say, Hull City Hall tonight", and not some tiny god-forsaken hole in the back of beyond, but we've all got to grow in our own way, and it was kind of a case of me paying my rock 'n' roll dues all over again.
Doing your own thing in that particular field is a doubled edged sword. I'm very lucky to be able to live my life playing my own music and being able to support myself by those means. We each make our own choices. There is a great buzz to be had from steppin' out and fronting a crackin' rock n roll band, on a big stage, in a sweaty an' heavin' venue. However, I wouldn't swap that for what I'm doing now.
Glenn: What are some of your best tour stories you can tell?
Mickey: You KNOW I can't tell ya!!!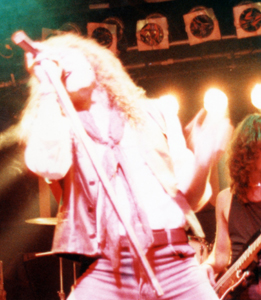 Glenn: How would you describe the vocal style and sound of Mickey Ripley?
Mickey: I never sound on tape the way I sound in my head! I think that's a curse for quite a few singers to be honest.
Glenn: Has your voice changed much over the years and if so, how and why?
Mickey: I constantly jam with all kinds of musicians and, if called upon, I surprise myself by being able to belt out Robert Plant stuff from the first coupla Zep albums, even though that's all pitched a lot higher than any of the Red Dogs stuff ever was. Wouldn't want to be doing that all the time though! It's all about the way you naturally develop. I do sing differently now, and I hope it will continue to evolve. I don't like vocal gymnastics really, although I appreciate technique. Bob Dylan is my favourite singer. I've come to appreciate phrasing, and little vocal nuances etc. a lot more over the years, where as in the early days it was always power and range that would impress me.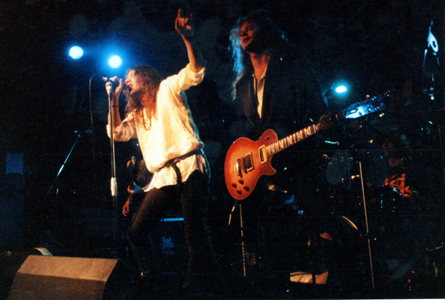 Glenn: What things have you been up to since Red Dogs disbanded musically and outside of music too?
Mickey: Luckily I've never done anything outside of music. I'm very thankful that I'm able to say that.
Glenn: Can we ever expect a full reformation of the Red Dogs for a while with a new album and tour or not? What would your reasons be either way?
Mickey: Never occurred to me til a couple of years ago, when the suggestion was put to me that maybe I could assemble a new version of the band. However, I don't think I'd really be interested in doing so unless at least most of the original members were involved, and we're all fairly busy with our own various individual commitments. There's a part of me that thinks it could be a lot of fun (for a while!) and I've learned enough by now never to say never to anything. I'm not sure how great it might be to try and revisit and rekindle the past though. Ask me again in another ten years!
Glenn: How did you go from hard rock to folk or did you always like both but the rock was where it was at, at that period in time?
Mickey: Well, I always loved folk music. It never seemed much of a stretch from a Black Sabbath or Led Zep ballad to Steeleye Span's stuff. Jethro Tull's music seemed to sit happily between the two also. We actually ended up making the "Wrong Side Of Town" album with their former drummer Barrie Barlow, an experience I can look back on fondly. When the Red Dogs split it just seemed the natural time to grasp the opportunity to do something completely different. There were a couple of offers of work on the table at the time, Brian Robertson was putting a new band together (which became The Clan), and I seem to remember Neil Jeffries (Kerrang! journo) touting me for that. Also, Paul and myself had already started writing and demoing songs for a proposed project with Pete Way, but by then my heart lay in a different direction to be honest. I was ready to stop swinging a mic stand around my head, and pick up an acoustic guitar instead. I threw myself heavily into traditional music for a long time and really studied the roots of what I wanted to do.
Glenn: Hypothetically, what do think 'Red Dog Mickey' would think of 'Gallys Folly Mickey' both musically and on a one to one man to man basis and why if this was realistically possible and would they get on or not?
Mickey: Oh, we'd get along famously!! I haven't changed that much. Just slightly older and, I'd like to think, quite a bit wiser. Red Dog Mickey would think Gally's Folly Mickey was a better musician than him – if that makes sense?!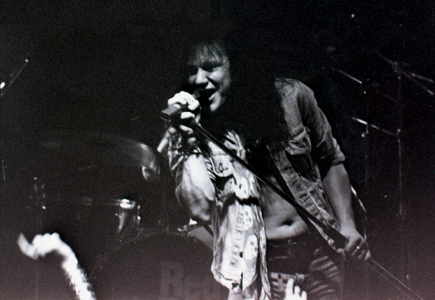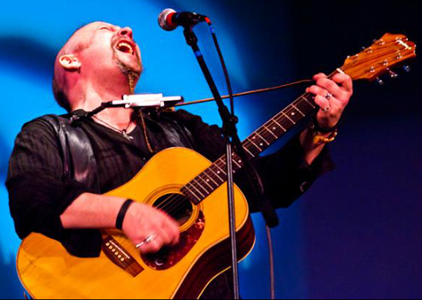 Glenn: How did Gallys Folly come to be and how would you say it differs for you with regard to enjoyment to the hard rock stuff?
Mickey: I actually much prefer the singing side of things now. I'm totally in control of my own environment and don't have to battle against a Marshall backline anymore! Gally's Folly has kind of had two lives. Initially, Mandy Gallagher (flute, whistles, concertina, vocals) and I worked as a duo. We started off by only performing our own original material, but as life dictated, and as a way of paying the bills and earning a living in London, we began to branch out into playing all kinds of different venues, Irish bars and the like, and so would need to occasionally alter our set, tailoring it to suit the gig really. At that point it becomes much more like going to work rather than just performing for the pure love of the music. We still enjoyed a good few years in that incarnation, and that was as close as I've ever been to having anything approaching what you could possibly remotely call a "real job", so that ain't bad, no complaints.
It's a great time at the moment though. We're based in Cornwall, right by the sea in beautiful St.Ives, my wife Gayl is now in the band on violin, and we've recently added Max Dean on bass which has given the music a whole new kick up the *rs*.
I have two weekly residencies at venues in the town where we can pretty much do what we want. It works really well because, with it being a year round holiday destination here, we're able to play to a whole new crowd every week, from all over the country. We reach a big enough audience without the necessity and hassles of constant touring. Although, having said that, we do venture out on the road when the fancy takes us, and the festival circuit in the summer is a nice thing to get involved with too. I'm a confirmed hedonist, I'm afraid! I really won't do anything unless I'm 100% enjoying it. I've always tried to live my life by that premise.
Glenn: Do you feel kind of feel you are like a 'Paul and Linda McCartney' of the folk world and how does this affect the day to day running of the band and what challenges have you overcome over the result of this over the years during the life of 'Gally's Folly'?
Mickey: Ha ha! No, it's not quite like that, although Gayl IS an excellent photographer and has a separate career selling her own photographic work, funnily enough. Our band is a bit more like Fleetwood Mac to be honest with you. Mandy and I were actually a couple for a good many years (!) but no, it doesn't present any problems at all working together. We're all each others best friends and it's a fabulous relationship, I wouldn't have it any other way.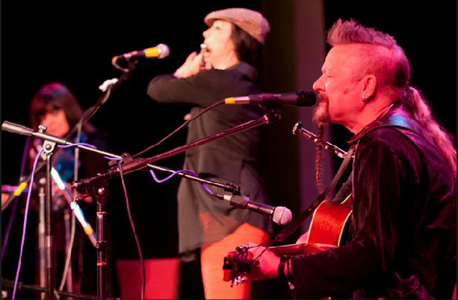 Glenn: What have the highlights been so far in Gally's Folly and what kind of audience to you seem to attract?
Mickey: Well, audience-wise we've played to all types of crowds, from full-on rowdy and raucous Irish bars, to the more cerebral and slightly (on occasion) more antiseptic environment of the folk clubs, which I've actually found I don't enjoy so much. I think our more natural home is the kind of crowd the festival season attracts. Throw us on a bill with the likes The Levellers, Justin Sullivan, Mike Scott, 3 Daft Monkeys etc. and we're probably going to go down okay. We've done quite a few BIG concerts over the past couple of years, with people like Seth Lakeman and north-eastern singer/songwriter Jez Lowe (a personal favourite of mine). We've also supported quite a few of the stalwarts of the folk scene, Martin Carthy, his daughter Eliza, Vin Garbutt, all people I admire enormously. I've also been lucky enough to share the stage and perform with a real legend, Wizz Jones, and that was a thrill for me as he was one of the first guys I really got into when I started this whole acoustic folk exploration.
Glenn: Do you ever stick Red Dogs songs that'll work into a Gallys Folly set and how do they go down with the audience and if you don't what songs do you reckon would work and why?
Mickey: Well' oddly enough, there are a couple of Red Dogs fans from back in the day, who actually live in town here in St. Ives. One of whom is a guitarist himself. So yeah, on occasion if we're havin' a bit of a jam and I'm in the mood, it's not been unknown that, on request, we've launched into an impromptu version of "Pays to be Pretty" or "Eye of a Needle". It does happen.
Glenn: Do you ever get original Red Dogs fans coming to Gallys Folly shows and if so, how does it make you feel and what goes through your mind?
Mickey: Yeah, that happens from time to time, people do come up saying "I recognise that voice!", or "I saw you in Bristol in 1989!" or "I still play Wrong Side of Town and Working Late" - that kind of thing. Well, it's nice to know you made a bit of a mark somewhere down the line.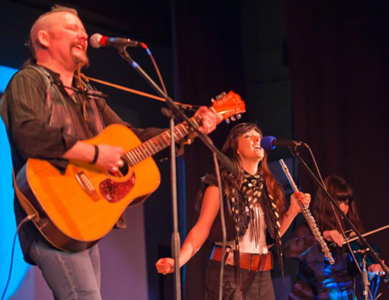 Glenn: Do the members of Red Dogs keep in touch a lot and regularly get together and if so how often and do the guitars etc come out and what do you guys like to jam? Are there any recordings of this - any plans to release anything?
Mickey: Well, we're all still in touch to varying degrees via the internet. The last time I saw Mick (Young, bassist) and Chris (John, guitar) in person, was in Camden about four years back. It was good craic. I seem to remember Mick getting up at a Gally's Folly gig in Archway around that time (although it's equally possible that is false, drunk memory syndrome!) I saw our original drummer Stow up in the north-east around the same time, and we definitely DID end up on stage together at a show some mutual friends of ours were playing. It was a blast, really great to hook up with him. Paul is busy with the Quireboys obviously, and also Joe Elliott's Down n Outz, but we actually were together just 5 weeks ago. The Quireboys and ourselves were both on the same bill at a festival up in Derby so we managed to find time to hang out and do a bit of catching up backstage. You can blame them for my currently broken ankle! Shouldn't have got me dancing in all that mud..!
There are no recent recordings of us playing together, although I am aware of unreleased early Red Dogs material, live stuff etc. lurking in a mysterious vault somewhere. We don't have access to that though, and I'm not sure of the quality of it, so it's doubtful it will ever see the light of day.
Glenn: What are you currently up to right now?
Mickey: Waiting for this bloody ankle to heal and looking forward to getting the cast removed next week! The enforced hiatus has turned out to be something of a blessing though. The ol' guitars and bouzoukis have taken a helluva bashing over the past month or so and I've ended up writing two albums' worth of new material. There are plans in place to record a new cd soon, which is overdue. The tracks currently available on the likes of youtube etc. are really just demos of the songs, done as they were been written and recorded in a very basic form. They were not really intended to be "performances" as such, so it's about time we had some decent recordings that capture us the way we sound live. To say we're an acoustic folk band we do still give it plenty of balls on stage, I assure you. Once a rocker always a rocker… finger in the ear merchants we definitely are not!
Glenn: What would we find on you hobbies and interests part of your CV/Resume and why?
Mickey: Lifelong and passionate Leeds United fan! Also love history, and one of the big draws to Cornwall for me is the amount of Neolithic, Bronze Age, and Iron Age sites nearby and up on the moors. There are stone circles a-plenty and I love all that.
Glenn: How would you say you have changed as a person since the Red Dog days and why?
Mickey: Well, as I said before, just a wee bit wiser, really. I'm also a much better musician, and thankfully I'm finding that is something I'm able to continue to improve upon.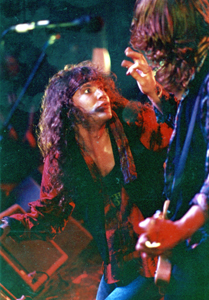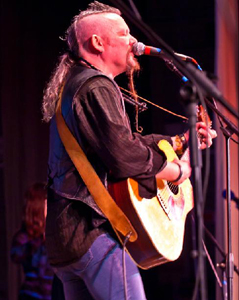 Glenn: What would you like to talk about that I've not mentioned so far?
Mickey: Christ, we've probably done enough to fill a book already! How about this for a chance to put the record straight..? Back in about '92 a football match was set up between a Kerrang! XI and an Iron Maiden XI. The Kerrang! team was mainly made up of their journalists obviously, but they hired in myself and Blaze Bailey to play up front for them. I still maintain that Iron Maiden's side was, in reality, Steve Harris plus West Ham Utd's reserve team!
At the break there was only one goal in it, and I'd managed to find the back of the net for our lot. Come full-time and we somehow found ourselves on the wrong end of a 23-1 scoreline! To this day I've always blamed our defeat on the half-time oranges, so it's a nice opportunity to finally put the record straight – we was robbed, guv, honest..! Ha ha!
Glenn: What could you see yourself doing if you weren't involved in music?
Mickey: I honestly can't imagine that. It's a non-starter.
Glenn: What would you like to say to people who have read the interview?
Mickey: Good Luck!
Glenn: Overall what would you say you are most proud of and why?
Mickey: I'm not really one who takes pride in any kind of personal achievements. Whenever I feel like I've written what I consider to be a good song, for instance, it comes very easily and very quickly, almost like it's just been waiting in the ether, it's always existed, and I just happen to be the one who has plucked it out of the air and put it down on paper and tape (in the pre-digital days!).
I am lucky to have the most fantastic friends, family, and loved ones around me though, and I'm proud of them.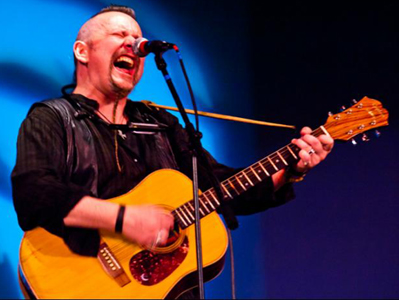 Nice one Mickey - Great Answers Matey! - A big thankyou to Gayl Ripley too for setting up this interview and getting it down for us @ Metalliville