A Interview with
'Mike Dupke'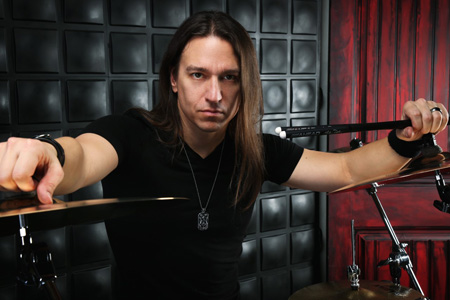 Former Drummer of W.A.S.P. & Hair Of The Dog
that took place on 28th September, 2016.
Interviewed by Glenn Milligan.
Mike: Hello!
Glenn: Hi Mike, it's Glenn, how are you doing?
Mike: Hi, how are you man?
Glenn: Good. Are you recovered from last night at The Ultimate Jam Night?
Mike: Hahahaha! Last night was a late one.
Glenn: Yeah.
Mike: Matt Starr, the usual house drummer was out of town so they asked me to sit in. I was there from start to finish and had to load out my drums at the end of the night. So yeah, it was a late one but it was pretty great. It's always an honour to do it and always a kick. You never know who's gonna show up for that one.
Glenn: I know. That's what I love about it. I've said before to people. I've gone when it was at Lucky Strike Live! last year and I was at the premier this year as well on 29th March at The Whisky A Go-Go.
Mike: Oh cool!
Glenn: I think it's one of the best things that ever happened to Hollywood. It's proof in the pudding there because other jam nights have sprung up near as well. How's Los Angeles, California today anyway?
Mike: California is hot. We thought that in the fall when Autumn began, the temperatures might be going down a little but no they actually gone up a little bit (I laugh). A couple of places in the city it got up to 90 degrees and above. We don't get seasons out here anyway – it's hot. Other than that it's sunny and beautiful. The fires are down to a minimum so that's always a plus.
Glenn: Yeah that's good then. I noticed from your facebook page that you've got a number of different musical situations happening that you refer to as 'Aronoffing' – as in Kenny Aronoff. What things have you got coming up that you are excited about right now?
Mike: I believe that Annabella Lwin is going to have some more shows coming up this fall and she is always a blast to play for. I know it's a completely different musical situation than I've ever been used to before. But since the opportunity to play with her came around, I've been turned onto the classic Bow Wow Wow stuff. Just from a drummer's standpoint it's amazing. It's unlike any kind of groove I've done before. Most drummers play with kickstand and hi-hat on most songs but the Bow Wow Wow is mostly toms and timpanis and keeping all the tribal rhythms going as opposed to just a standard groove. The rhythms that you have to do are real specific. It's always really, really fun to play with her.
I've got into teaching quite a bit. I've had the honour of turning some kids onto the first classic rock, hard rock and metal bands who want to learn how to play drums or learn how to play in their first rock band. That's always a hell of a lot of fun. I've got a few things coming up but if there's one thing I've learned, there's always a million things that might happen for players in the music industry. I'm hesitant to say something only because there's a couple of connections, a couple of possibilities that have been thrown up but nothing's definite yet.
There's another guitar player I am going to be gigging with who has actually participated in the jam and was there last night as a matter of a fact. His name is Adrian Galysh who is more like a rock, jazz, fusion guitar player. An incredible guitar player. I got to do a gig with him at the famous Baked Potato club a couple of months back and I have another one of those coming up in October – on October 25th. I'm tryin to do as much stuff as I can. I have some more projects planned, videos I'm going to make for my own website as well and just trying to get any gig or opportunity that comes my way.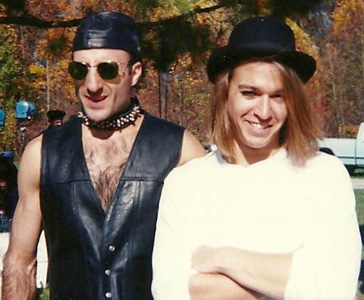 Glenn: Awesome. How did you start doing the Bow Wow Wow stuff? How did that come to be? It's like Earth to Pluto kind of thing! It's so far away from what you are recoginised for?
Mike: (Laughs) It really is. There was another guitar player that was playing with her at the time, a guy named Alex Kane who used to play in an awesome band called 'Life, Sex & Death'. I had known Alex for a number of years. He was playing with Annabella or starting to play with Annabella a little bit and she was looking to put a new group together. When it came to drummers he thought of me. I auditioned and got the gig and I've been playing with her ever since.
Glenn: Awesome!
Mike: It's a little bit out of the box for Alex as well but the music itself is so much fun. I think that anybody who plays the old Bow Wow Wow tunes, they would find it easy to adapt to.
Glenn: It's weird – from Blackie to Bow Wow! (we laugh) What??
Mike: Exactly.
Glenn: That's awesome!
Mike: I just view it as, 'it's playing drums'. If the music and the people and the opportunities arise – absolutely why not? We were just in the UK a couple of weeks ago. One guy came up and said, "I wasn't sure what to expect but every song is a giant drum solo", and I said, "Yeah! I know!". I really get to go nuts. It's really strange because as far as some of the W.A.S.P. material is concerned and definitely the more modern stuff, mainly from The Crimson Idol on when he had drummers like Frankie Banali and Stet Howland doing the tracks, there's a lot of tom work.
Most of the W.A.S.P. stuff isn't just straight-ahead AC/DC style grooves through the whole song. Some of the parts can be real tribal and really complex. That's not too far removed from what Annabella is wanting most of the time. I se the two as very, very distant cousins but tied together with a bunch of toms when it comes to drums.
Glenn: Stet is a good friend of mine as well.
Mike: Oh yeah, I'm sure. Stet is a great guy. I have only met him in person one time and it was right after I got the gig. He was real gracious. He said, "Man, you've got that spot. You must be a hell of a player. Good luck and have a blast". He was very cool. I've talked with him online before. That's pretty awesome.
Glenn: That's great. When you were in the UK, you went to a haunted pub called 'The Golden Fleece' and you tried to get a shot of 'One Eyed Jack' – that must have been pretty crazy!
Mike: We just figured he had his own spot reserved at the bar and myself and the rest of the band went in there, hoping we would see something after watching a bunch of those TV shows like 'Ghost Hunters' but I didn't see anything unfortunately. But I would love to get rental of one of the rooms for the night. Maybe if we could find a nice ghost who would come up and say "Hi" and tell me where some bootleg Randy Rhoads was being hidden at.
Glenn: That's classic. Obviously you must have enjoyed it because you wrote about the English Camels and you were in York at the Castle. What stood out to you from being across this time?
Mike: I tried haggis!
Glenn: Yeah?
Mike: For the first time. Yeah! We had one gig in Scotland in Glasgow and Meno, the bass player and I, he had always wanted to try haggis, he had never tried it before either. We ordered some and we got to try it. It was pretty good. I can't say it was all bad. It was pretty cool. I sure got to say the thing I remember the most of from this trip is I think it was warmer than any other time I had been to the UK before. We got there and somebody said, "Perfect, you are here during our week of Summer".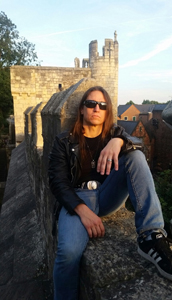 Glenn: You were!
Mike: Everything seemed to warm up and the weather that we had was just beautiful most days. I always love the UK. It's some of the most beautiful countryside I've ever seen. The fans and the people you meet and everybody just seems to be really cool and really gracious over there. It's always a kick to go there for sure!
Glenn: Awesome! Did you find that people came to the shows because they were fans of what you've done in the past as well or were they mostly fans of Bow Wow Wow?
Mike: With Annabella, I'm pretty sure it's mostly with Bow Wow Wow. I had a couple, I think I saw a handful of W.A.S.P fans that had just seen that I was going to be over there. But Bow Wow Wow having its own underground following for so long, I would say that the overwhelming vast majority were Bow Wow Wow fans. People that had followed Annabella through the years. But you never know. In bands that I've done in the past with W.A.S.P. gigs, there was a band I was in about 16 years ago called 'Hair Of The Dog' and even up to a couple of years ago I had W.A.S.P fans coming up with Hair Of The Dog CD's in Belgium. I said, "This is cool. How did you get this?" I'm flattered if anybody takes that kind of interest like that. They bring a few photos and get things signed. I'm always very touched when that happens.
Glenn: Yeah! I've been running the Metalliville Website since 2001 and I remember Darren Edwards from Spitfire/Eagle Records sending me Hair Of The Dog CD's – the last couple of albums that you are on. They are great albums, especially the song that comes mind which was '5 To 9'. They were great albums! What happened to that band? That band should have gone so far and just disappeared!
Mike: (Laughs) So many people thought so and certainly we did too but for whatever reason it was just not quite in the cards. We had a great team behind us. I certainly loved all those guys in the band and still good friends with them. Unfortunately it's just the story that has repeated itself thousands of times over in L.A. or anywhere else where a band has got the talent and got the drive and really wants to do it but it just did not quite happen. I was happy to see though that Ryan Cook actually in Nashville was with his own band and going to have a 'Hair Of The Dog' night where just celebrated the music off of all those 'Hair Of The Dog' discs. I wish I could be there but I'm not going to be able to fly out. It's cool to see that people still remember it and still love it. It's always awesome!
Glenn: Yeah and technology these day, I guess if you wanted to and you all had the timeframes that work, you could put stuff together, record your tracks and fly them in e-mail wise if everyone was at the same table so to speak at the right time.
Mike: (Laughs) That's probably true… very true that we could probably record. I know that the bass player Boot is basically retired from music. I don't believe he's played in a number of years. But certainly if Ryan, John and I wanted to do something like that, it was always be welcome. I'll have to tell Ryan about that, "Hey let's record something via e-mail, even just for fun it would be a big kick!".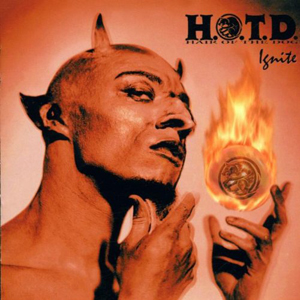 Glenn: Yeah! You could do a couple of L.A. shows or somewhere else. Just a little small help if you could manage it. I bet I've gone and set the ball rolling in your heads. I must apologise for that!
Mike: Hahahahahahaha!
Glenn: But yeah, I never got the chance to see 'Hair Of The Dog' because I don't think you ever came over to the UK but I remember when you played Sheffield when you were in W.A.S.P. – it was the 'Babylon' Tour or something like that – the first album that you were on. You played 'Corporation, Sheffield' and one of the things I was most looking forward to apart from seeing Blackie, though it was weird not to have Stet there, but I was looking forward to seeing you there because you were from a band I really liked who were 'Hair Of The Dog'.
Mike: Oh cool!
Glenn: I didn't get chance to see ya although I got to say "Hi" to Doug Blair. Do you remember much about that first UK Tour at all, that gig at Sheffield or is it just a complete blur?
Mike: Unfortunately I'll have to side with 'a complete blur'.
Glenn: I thought you might.
Mike: You just mentioned Doug. Doug has the memory for things like that. If you ask him about that gig he'd probably say, "Oh yeah, that was on August 25th, we were on stage at 8.35pm and the attendance was…", you know something like that. I have to go back and look through the tour books to see where we were because as a far as remembering stuff like that I've never been good at that. I do remember, like I said everytime we've been to the UK, it's always been great. The audiences there were always killer especially during 'The Crimson Idol Tour' – we the record from front to back – the UK audiences in particular were especially 'Wow' during that tour! I would have to go and look up stuff about the different gigs but overall I always have fond memories of the UK for sure.
Glenn: Back up to now though, what gigs in the UK stood out on the recent Bow Wow Wow Tour?
Mike: My favourite and this might be true for some of the others in the band too was London – the very last show. That was the biggest crowd, the biggest venue and the biggest audience that we had for that tour. I remember the energy being really, really great with that show. She had started to get… word had gotten around about the shows that we were doing… I guess reviews were good so by the time we got to the end of it our attendance was going up. I enjoyed that one very much. I had a really, really great Pearl kit that was on loan that was so much fun to play.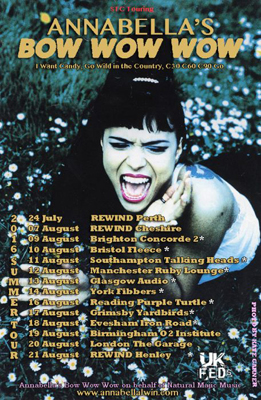 Glenn: You got to meet Boy George as well, how was that? I saw the photo and I thought, 'That's pretty f*ck*ng cool to meet George like that!'.
Mike: Oh yeah! They were great. I was excited just after being a child of the 80's to be opening for Culture Club. The fact that it was all the original guys, I figured. 'This is going to be cool and we'll get to hear 'Karma Chameleon' and that'll be nice but the band that they had was huge. They had the four original members, they had an additional guitar player, additional keyboard player, a percussionist, three horns and three back-up singers so you had this wall of sound coming at you and it was all incredibly tight. You go and see them and you think, 'Oh that's that song! Oh that's that song!' They played 'Church Of The Poisoned Mind' and 'Do You Really Wanna Hurt Me?', 'Time (Clock Of The Heart)' and you say, "Oh my god, these guys had a number of massive hits".
But even more so than that, Boy George was really funny. He kept joking with the crowd especially about the weather because it being Florida and having it just rained, the humidity as just off the chart – it was fuzzy beyond belief. He'd do a couple of songs and say, "Florida, how do you deal with this heat? Don't you know heat is the enemy of fashion?" and he had everybody cracking up.
He made me laugh because before he went on, Annabella has known George for a long time so we got to meet them before he went on and took the photo that we put up on facebook, we're going up and Boy George said, "Where's the drummer? Where's the drummer?" I go up and he shakes my hand and he said, "I was watching you and I wanted to think, 'Who's that girl with the great hair?' and I just blushed! Oh my God, I'm honoured. I couldn't believe he said something like that. It made me very happy.
Glenn: Hahahahaha! That's funny as sh*t! That's classic that! You can't make it up can you?
Mike: No, I cant!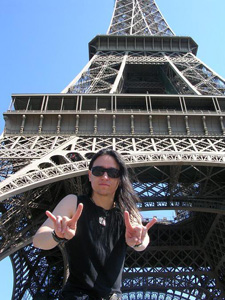 Glenn: It means you've got great hair – don't knock that! Hahahahaha!
Mike: Haha! Yeah! Boy George said I've got great hair! That's a ringing endorsement! I mean, how do you tell this guy, I listened to his records in grade school. He went big when music-video was just starting to become a thing. You never know when running into these people that you've listened to or heard about for years and years and years and then all of a sudden you meet him and he says I have great hair! Oh man, you're right, you can't right this stuff! It's too wonderful.
Glenn: I'll type the f*ck*r though, pardon my French. (We laugh) Anyway, endorsement apart from hair, you've got quite a few. Who would you say your favourite endorsers are?
Mike: I've got to say the first endorsement I ever got was the company I had used the longest and that was Pearl – Pearl Drums. The first drum kit I ever had was Pearl and actually every drum kit that I've own has been Pearl. I love the company. I think they make the best drums and the best hardware on the planet. I've got stuff from the first drum kit that I ever had that I'm still using, just because, especially the hardware holds up so well and they never change their sizes.
The pieces of hardware I had in 1989 fit the cymbal stands that I just got last week. It's all the same so you basically have this big erect-a-set that you can build whatever you want out of. I got lucky enough to get hooked up with them because I said, "Hey, can I just order through you guys? I've already got Pearl, I'm not looking for free stuff, I just want to go through you guys?" and the said, "Yeah!". That was an honour.
With cymbals I have Sabian. I got to be hooked up to them when I was playing with Eric Sardinas. Those have definitely become my favourite cymbals I've ever played. Definitely the crashes – they have the AAX line – they are just so wonderful and juicy – a perfect amount of high end and body as well. They are not too mid-rangey but they are not too high and pierced either.
Then in drumsticks, I have used for a long time as well – in fact, I was using them back in college and just fell in love with them. I know some guys go back and forth about the feel of them because they do feel a little different than wood but I love them and for hard-hitting, especially the W.A.S.P. stuff where I'm doing rim-shots swinging from the back row, they feel great and they sound every bit as good as wood.
Then in drum-heads, the reason I got hooked up with Evans who I knew always made quality stuff before but a couple of years ago, they completely restructured their manufacturing process and they put out what they call the 'Level 360'; which means the drumhead sits on the bearing edge of almost any bearing edge of any drum manufacturer better than any before. The sound is noticeable. I wrote my Evans guy after trying a set and said, "You know I don't need to blow smoke up your ass because I am already with you guys but I've tried these and it's made me stand back and go 'Wow!' just because my drums which are already top of the line have never sounded that good before". I'm very honoured to be with all those guys. It's a huge honour that they support me like they do.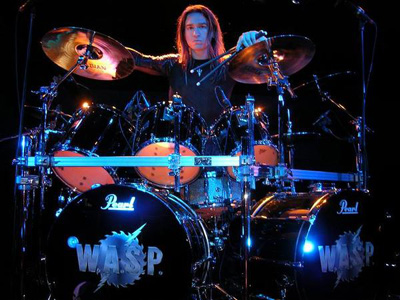 Glenn: What got you into teaching?
Mike: I remember when I was in high school, in my junior and senior years of high school occasionally there were a couple of middle school kids or freshmen that I would show a couple of things to and I found that I really enjoyed it. Obviously if you're a struggling musician, it's a great option because it's always something that you can do because there's always going to be a young kid or anybody, not even a young kid but some adults too who just want to learn one-on-one what you're doing.
I'm lucky also enough to be still in touch with the teachers that I had. Not just Kenny Aronoff but guys that I had when I was first learning how to play. I would love to do for someone what they did for me. The first real drum teacher I ever had, he was the first guy to introduce me to Buddy Rich and the first to really show me what Led Zeppelin was or to show me different kinds of jazz. He would say, "Hey, check out this really weird guy, his name's Frank Zappa." Then put on some of the weirdest music I've ever heard.
Years later, you remember stuff like that. I find the one on one teaching, especially when you find a student who is really into it and wants to learn, it can be so much much. It's like this, if you ask me about my gear I can talk for four hours. It's also the same with a kid who to find out the same thing. He discovers he really loves it too and wants to talk drum gear. At times I can't believe I'm getting paid for it.
Glenn: It's like a hobby to you isn't it? But it's a paying hobby. It's perfect. It's like being on stage but you've just got one kid who is your audience but also the guy that's playing along with you as well. It's a win-win!
Mike: That's definitely true and sometimes, especially when you get a kid who maybe has been playing a couple of years, is really getting into the licks and the tricks of it and you show him a real simple lick that he can do at the end of drum solo. You show him real slow and go, "But when you speed it up it sounds like this!" Just to see his eyes light up and he goes 'Wow!! That's what my teacher did for me.
Some of the things that they showed me, that was the first time I ever saw someone do that in person. So of course, I wanted to imitate it and do it over and over and over again much to my parent's dislike. I'm on it! To be able to do something like that. At the same time you get the occasional student… parents have come to me and I've taught students as young as four.
That's a little difficult because they might have an interest but a couple of those kids, they just want to treat the drum set as some big kind of playtime jungle jam. When they are really hard to deal with I wonder at times if the parents just want a half hour break as though I'm physically being paid to babysit. It's like, "Alright – just take him!" Let him beat on something loud for half an hour while they can sit down and have a coffee. That might have been the case once or twice.
But when they are really into it, it's a lot of fun to say, "Hey, have you ever heard of Black Sabbath?" and they say, "Oh no!", so you say, "Oh well back in 1969…" and you can play them the entire catalogue of these bands that have been around forever like AC/DC, Zeppelin or someone like that.
Glenn: Yeah I've interviewed Bill Ward last year – great guy and Simon Wright in 2014 – solid guys. Down to earth and they tell you all sorts of stuff. Lovely people.
Mike: I'm sure.
Glenn: Yeah! Totally man!
Mike: Simon has come to the jam a couple of times.
Glenn: That's great. Do you do drum clinics quiet a bit as well?
Mike: Yes! I've done a couple of clinics before. Those are a lot of fun because it's like teaching on a big scale where you have a whole room full of drummers who a lot of the time want to talk about the same thing – the same thing that you would talk about in lessons. Usually on clinics, it's fun for me also because usually I get to bring out the big double bass monster kit. Sometimes it's as much fun for people to see it as it is for me to play it because I don't always get a chance to do that. And to do other stuff that you wouldn't get to normally on stage. It's just me and a room full of drummers so you can be creative, silly with it and just have fun.
Glenn: Yeah! Awesome! No doubt! I know you've been to NAMM quite a few times. Are you attending NAMM in 2017?
Mike: I definitely will yeah. Always excited to go to the NAMM show.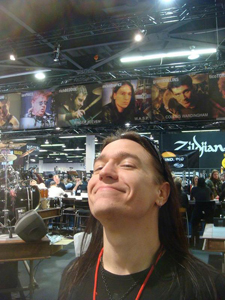 Glenn: What were your favourite parts of Ultimate Jam last night?
Mike: I got to do 'It's A Long Way To The Top' by AC/DC and I got to rock that out with two Japanese sister, they are called The Okai Sisters – one plays bass and the other one plays guitar. They are so metally - it's awesome. They are really killer players and it's always fun to bang heads in unison with them. Also, they had a bagpiper – a real life bagpiper in a kilt come and do the bagpipe part! People lost their minds – it was really cool!
Glenn: Jesus! Even AC/DC never did that! That's pretty mind-blowing because even tribute bands don't do that. Wow! That is one to pull out the bag - scuse the pun!
Mike: That was one and the other moment because last night was 'Mash-Up Night' so there were a bunch of different cross-overs, mixtures and styles in too. With the house guys, we did a mixture. We called it 'A Whole Lotta Skelter' which was a mixture of 'Whole Lotta Love' and 'Helter Skelter' with an amazing female vocalist named Debby Holiday who has a killer voice.
Glenn: Yep! She's amazing!
Mike: She sang 'Helter Skelter' over the Zeppelin riff and we got to play with the arrangement and stuff like that. That went over great and was a ton of fun to play. Those two were the big highlights for sure.
Glenn: She's gone from being one of Rod Stewart's backing vocalists, kind of an enigma to this! That voice of hers – it's phenomenal. She's like a black Janis Joplin or something with so much soul and emotion – it's Debby Holiday! What can you say? She's phenomenal!
Mike: Definitely!
Glenn: Yeah!
Mike: Last week for Ultimate Jam Night they did 'Metal Night'. She actually did 'Changes', the Black Sabbath tune. Man! No disrespect to Ozzy but I've never heard it sung like that before. It was so cool!
Glenn: Nice! I must sit down and watch that! Did you get into the Ultimate Jam Night through Chuck Wright giving you a call?
Mike: Yeah! Chuck and Matt Starr have been friends for a number of years. I definitely went and started checking it out when it started. I said, "Hey can you get me up and have a song?" "Little by little", They said, "You can do our first song" and without completely blowing it they tried to get me back in. I worked my way in that way. Now I have got a good enough reputation and been friends with those guys. When Matt's out of town, they say, "Hey, can you help out and be house drummer?" and I said, "Absolutely!". It's an honour for me because you never know what you're gonna play and you never know who's gonna show up! The night before they will say, "Learn this Cheap Trick, this Montrose and this Night Ranger tune and we're gonna get someone else like a TV personality to sing it that you've never met before". I think that's the whole part of the fun that most of the time, the line-ups that they have, have never even met before, much less played before".
Glenn: Yeah! It's pretty incredible!
Mike: Yes! So when everyone knows the tune and everything's goes well it's like there's nothing like it. Afterward if it goes really good you meet the guitar player and then you can make a connection that way too because you know they can obviously play. It's a lot of fun.
Glenn: Yeah! There's not a lot of safety net there at all and it always seems to pull off great. I guess the standard of the people that are playing that night, you guys are the absolute cream of the crop without blowing your trumpet too much. But when you've been the drummer for a guy like Blackie Lawless, you've got to be good because he doesn't suffer fools gladly at all – he's very much a perfectionist and you've got to be good to keep him happy.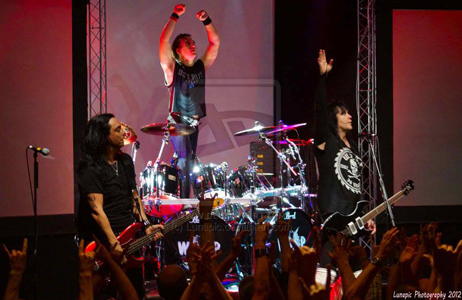 Mike: Yeah! Definitely! Definitely!
Glenn: What would you say your favourite moments have been in the WASP days regarding tours, albums and anything else you want to throw in there?
Mike: Oh man! There've been so many. The Crimson Idol Tour when we did the record front to back, that was huge because I know how revered that record is in the eyes of the hardcore fans, especially over in Europe. In fact, mostly in Europe. That's whre we tended to tour the most when I as in. That was a big one.
The recording of the latest record 'Golgotha'. I can't pick one particular moment because the creation of that record spans literally years. You can read about the whole process on the official W.A.S.P site where Blackie talks about the accident that he had where he almost destroyed his legs. How he had that worked on and was laid out for quite some time. It was a real honour to be part of that record because at that point we were all real comfortable with each and everyone was bouncing ideas of each other. It seemed like he was trying to hit yet another peak as far as his song-writing went. Just crafting and straining over every note, making sure that whatever melody, arrangement or key and tempo, that it was the absolute best it could be.
He would always amaze me because I would think, 'Oh wow, man – this is great!' and he would say, "Woah! Hold on. Let me take a look at this bridge again" and I would think, 'Oh cow!' You are thinking, 'Stop now – you've got it'. But he would work on something, bring it back' and you would say, "Alright Man! Wow! That's even better!". He has a secret knack for that. He has a really good nose for exactly what a song needs and won't stop until he finds it. It's like he's never like, "Oh that's good enough!". He never stopped at that point. He always wanted to make sure that everything was the best that it could be.
As far as certain memories, certain things happened on tour that I'll always remember. One tour like the very lasy time that we did the U.S. in one week we got to see a tour of the Pentagon because Blackie had actually met a submarine captain in the Navy that had been a fan of the band for a long time. He gave us a tour of the Pentagon when no-one else was there. That was fun. We got to see Graceland, Elvis' estate in Tennessee and we got to see the legendary Les Paul play live in New York City with his Jazz Combo. That was shortly before he died.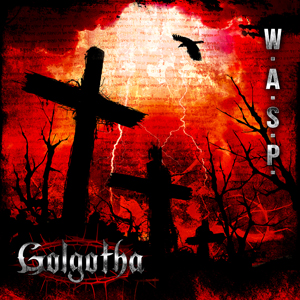 Glenn: Wow! That's amazing.
Mike: That was one week! That happened all within seven days of each other. That stuff happened and it was like 'Oh wow! – this is why I do what I do!"
Glenn: That is absolutely mind-blowing! Pentagon, Graceland, Les Paul!
Mike: That's right! Yes!
Glenn: Holy Hell! Out of all the songs in W.A.S.P. from your Classic W.A.S.P. or the W.A.S.P. albums that you were involved with, what would you say were your favourite songs to play and what songs meant the most to you and why?
Mike: One of the biggest ones that I always looked forward to every night, especially during The Crimson Idol Tour was a tune of that record called 'I Am One'. Aside from the drum part being really challenging.. I don't know if I can put it into words but that song really struck a chord with me. It was always so much fun to play especially because at that point in the show when we did the full record, it's about halfway through the record.. and that record is one big drum solo in itself. Usually when we got to that point during the night, if I was struggling for any reason, that was the point in the show where I needed to call on my 4th, 5th and 6th wind to try and gather the energy to do that song. It became a pinnacle moment in the show for me.
Other ones more recent that I got to be involved in, 'Babylon's Burning' I always thought went over really well live. That was a treat to add to the show too because that was the only video that the band shot while I was in the band. With the live show being what it is, we got to show that video while playing it at the same time. That was a kick – that driving groove – that gallop style feel is always a blast to play from behind the kit. His version of Elvis's version of the Chuck Berry tune off of 'Babylon', a song called 'Promised Land' – that was pure fun as well.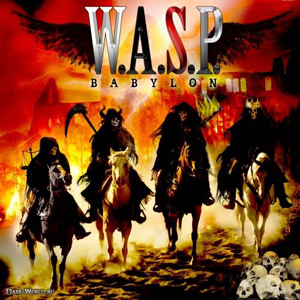 Glenn: Didn't he do 'Burn' as well by Deep Purple on that album?
Mike: That's right! That was actually one of the first tracks I did when I joined the band. We actually recorded that when we were recording 'Dominator' in 2006. He decided not to put it on 'Dominator'. He chucked it around and decided it would fit well on 'Babylon'. That was a challenge to do too. Ian Paice – what can you say? That dude is just a legend. Anything he touches turns to groove. An absolutely fantastic drummer.
Glenn: Yeah! Awesome! What do you personally miss about being a member of W.A.S.P.?
Mike: As a professional band, the show always came first and the playing was always the most important thing. That's not exclusive to W.A.S.P. but with a band that has that kind of following especially in Europe with music that has that kind of energy where I can go in an really feel like I'm going to pass out at the end of every show, it was always very satisfying. I felt like if I was wanted to collapse by the time I came off stage then I was doing something right. Blackie always said that I would sweat so much st certain shows that I looked like a sprinkler when I'm playing, then when I came off stage I looked like a drowned rat. Doing that and playing really, really hard and bashing the living hell out of my drums has always been fun for me. I don't always get to do that as quick as hard with other guys that I'm playing with. But anytime I get a chance to it's a plus. The good news with W.A.S.P. is that I got to do that a lot. I am stil very good friend with all of them and especially with Mike Duda – he was definitely my brother from another mother. I always loved Duda. He and I were the ones that tended to hang out together on tour and go and check out the town before we had to come back for Soundcheck. I will always have a kinship especially with Duda.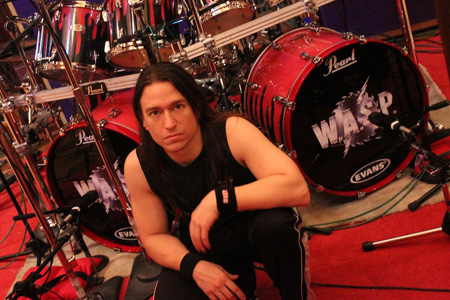 Glenn: Stet got on amazing with Duda as well.
Mike: Oh sure! Yeah!
Glenn: I must ask though, what was he like to deal with Blackie?
Mike: I would say that it was great to deal with Blackie. He had a certain kind of temperament that was definitely all business, he was very serious most of the time but could alo be really funny. He's one of those guys that when you get to know him and you start opening up to each other a little bit, you realise he's got an incredibly great sense of humour but also got that quality that he could be mad as hell about something else with something that happened on tour or something wrong with the gig – he'd be so upset – he'd never take it out on you. Like if I said, "How are you doing?" he would never be "Arggghh leave me alone!" – he was never like that. He was always very fair when it came to his temperament.
But that's not to say he was very easy going. He definitely expected the best from you every night, every show. He knew if you were slacking. If you were performing and you had food poisoning, okay, he would definitely understand that. But if certain things were starting to get away or if I was starting to get a little too liberal with some of my drum parts, like let me put this really fun double-bass lick in 'Wild Child' then he would be like 'No! Maybe not do that! Let's bring it back to what was there before", "Oh Okay!" (We laugh).
But I know he tended to be a little bit quiet. A lot of the times when we were on tour he's not the most social guy in the world but I always acclaim Blackie to the teacher that you had in high school that will always push you and push you and maybe drive you nuts sometimes but then after you go 'Wow! That guy's one of the greatest teachers I ever had", just because by hook or by crook they'd tend to bring the best out of you. When you are pushed to your best that consistently you try and make it a habit and that's always a good thing.
Glenn: You must have learned so much from him from a professional point of view?
Mike: Definitely. He certainly was incredibly protective as far as the band was concerned, so much so that, God bless him, he never took crap from anybody as far as the band, the business and the show. There was on more than one occasion, we'd show u to the venue, in fact I think this happened somewhere in Pennsylvania where we showed up, the crew was given lunch because that was provided in the contract, the equipment had been all set up and we were ready to Soundcheck and I guess and I think it was someone from the venue came up and said, "Oh by the way, we get 40% of all merch sales" or whatever it was.
Our team, we point to the contract and say, "No you don't, that's not in here". "Well that's just how it's done!", ""No you can't do that, that's not in the contract". They said, "Well if you don't like it you can leave!", So we left because he's not going to be ripped off like that. The funny part was because even though it was in the contract for the venue to provide lunch for whoever wanted it – I think 3 or 4 of our crew guys got something to eat.
But when we packed up our stuff and tried to leave , he called the Police and tried to say that we were leaving without paying the food bill. We just held up the contract and went 'Nope – that was it right here' and the cops just kind of laughed because it looked like they had been called out to deal with the people at that club numerous times before and they were sick of it. That was just one instance but he was always really protective of the business side of it.
It happened again in New York City of all places where the venue tried to do a special 'VIP Package' that included special seating and a meet and greet with the band. Blackie and all of us, we never found out anything about that until that day. We didn't know the venue was charging certain people extra for this 'VIP Package' and he demanded that that extra money outside the regular ticket price be returned to all of them. They said, "Well we can't do that!" so Blackie cancelled the show right then and there and stood on the steps of the tour bus outside the venue and addressed the fans. He said, "You can't allow people to rip you off like" . In the end it was the venue that was cheating the fans and cheating the band and he's not going to put up with it.
Glenn: Yeah. I can remember reading that on the W.A.S.P. website. That's honesty and sincere to his fans, his band and everybody else – that's good karma really. I mean, you don't do that to people. Anyway, you and Duda…
Mike: O-Oh!! As far as Duda, he was the guy that I tended to.. we were going to go out and get a beer, I'd definitely want to go out and get a beer with Duda after the show. That was the fun part about Duda. He and I could spend hours and just hang and talk about anything. Talk about food, talk about music.. Blackie often joked that we should have our own show that we'd talk about food in such a way that we disagreed so much. I would love something that he would think is crap and he would tell me why. He was the kind of guy that I found it really easy to talk to. We could sit and do nothing if that's what it came down to. Spending time with Duda… when you're rolling around in a plastic container on tour for a month at a time, you've got to be able to get along with the people who around you and Duda and I got along all the time. That's what made it so much fun.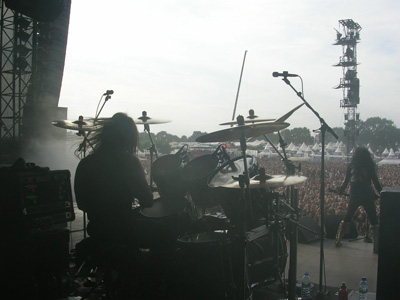 Glenn: I guess that's what you really miss about the band, as well as being in W.A.S.P. you are just hanging out with Duda all the time.
Mike: Hahaha! And the rest of the guys too. Talking about baseball with Blackie or talking about… Doug is a huge music freak too who loves a whole bunch of obscure bands and stuff like that. There was always something to talk about – always a good fun way you could spend the time. Yeah! I do miss that. I do miss hanging out with the guys. And, like I said, beating the crap out of the drums.
Glenn: I'm not even doubting that Doug Blair played with Stet Howland in Run 21 and when Stet left, Matt Starr took over his drum stool. That sort of stuff. You know, it's weird how things work out like that.
Mike: Oh yeah! Oh dude the whole musical world just continues to shrink once you find out who knew who and who has played with who back in the day. You find out that certain guys you have just met on opposite ends of the spectrum have been best friends for 20, 30 years – it's always fun.
Glenn: It's all just crazy… it's like the chances of that.. that's how it goes. So anyway, the band, Hotel Diablo, how did that come about?
Mike: That came through mainly Duda and Alex Grossi. They were talking about doing a side project and just recording a couple of tunes. They asked if I would be interested in being the drummer for it and I said "Absolutely" because I am good buddies and Alex knew Rick Stitch who I believe had done a few things with him before. He said, "Oh we are going to get Rick to sing", so I said, "Oh awesome".
Then it basically out of that became a band that did one project. We got to work on the songs together. I don't write I can kind of collaborate but those guys can write the songs and come up with the melody ideas. But then we got to see it come together and Matt Starr actually produced at his studio a couple of the tracks and Gilby Clarke. We did the other half of the record under his guiding hand.
All of a sudden we had a little bit of a buzz going and people were hearing about it and really digging it. That was cool to see too. That happened on the Annabella Tour recently – someone brought a Hotel Diablo CD. I said, "Wow! Thank You. I'm so glad you are hearing about it", and the fact that thy like it is even better.
To see it mention on 'That Metal Show' on VH-1 when Don Jamison gave it a push there – that was awesome to see! I don't know if we'll do anything else because Rick actually had to move back into Canada and Alex is living in Vegas now. But I think, given the right opportunity, we would all love to do it again. It was a whole bunch of fun doing straight up rock like that.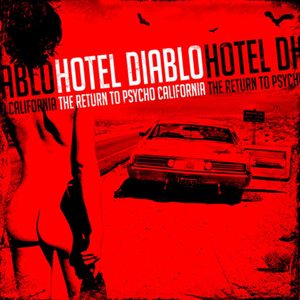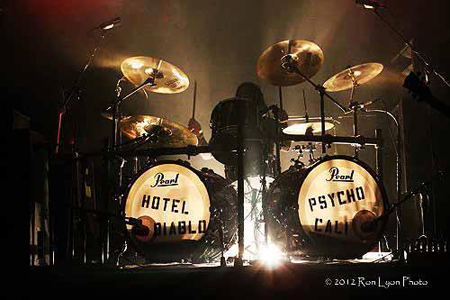 Glenn: It's a pity you aren't together now because I was going to ask, "When are you going to bring a new album out?" and "When are you going to come to the U.K.?" because I don't think you've been yet? (We laugh)
Mike: We did shows but Hotel Diablo never toured in bonafide tour. I don't know if we will but like I was telling you earlier, who knows whatever happens in the music industry but given the chance, absolutely. We did some more material first so we have more than one record to play. It would be a blast with those guys.
Glenn: At least you got one of your songs on a soundtrack on the 'Criticised' film which I have to say I havent't seen yet. A track called 'Bury You'.
Mike: I saw that. I heard about that recently yes.
Glenn: So that's something you can writer down for your band as well. I must ask you this and I bet you have been asked this a million times but why did you leave W.A.S.P.?
Mike: Well as far as the details, I've got to say that that will stay between me and Blackie. I've got to say that circumstances came around that really didn't allow me to stay in the band any longer. I look back with no ill will. It was a great nine years that I was in the band and I'm just looking forward to the future.
Glenn: I notice people keep writing, "Go back to W.A.S.P. it's where you belong" but how can they say that? A lot of things go off that fans don't know about!
Mike: Well that's completely true. I mean, we see that with 'Hair Of The Dog' too. When Ryan posted that he was going to have a 'Hair Of The Dog' night, you see people responding to comments that say, "Oh you guys should come tour Belgium!" and it's like, "Okay, easier said than done in every sense of the word". But that's not to say that it's not nice to hear that some of the demand is still out there. But I would agree with you and I'm no expert either when it comes to everything evolving around the music business. But I would say, yeah a lot of times people who only know the music and not so much of the business side think that it's incredibly easy maybe to get a project or a tour or something like that together and go, "Oh you know, just do it!". I say, "Well there's a little bit more to it than that!".
Glenn: It's so easy to write a sentence down isn't it? All you guys are in different parts of America, the logistics of it are just ridiculous and the financial restraints are just phenomenal. And they want you to go to another country? It's like, you what?
Mike: Exactly yeah! You have to pay so much more attention to making sure that touring is worth it now because in the state that the music industry is in that's where people are making their money in touring and merch because obviously no-one's buying records anymore. That all has to be done very carefully and it's always interesting to see that certain people with their own personal projects will go and put them out on tour knowing that they're going to lose money but they just want to get out and do it and maybe take a gamble that way. In more and more practical sense, you've got to do it right. You do have to plan and have it ironed out in great detail and no-one comes away from it saying, "Oh God, why did I do that?" It's like it wasn'y worth it in the end.
Glenn: Your routing has got to be perfect as well because you can lose so much money in gas for some shows. It's all got to fit around. It's got to be tip-top, spot on! It's got to be done with a proper SatNav and know where your roads are and everything else. Otherwise it's like, "You what?"
Mike: Yes!
Glenn: But that's touring for you.
Mike: Exactly! Yes!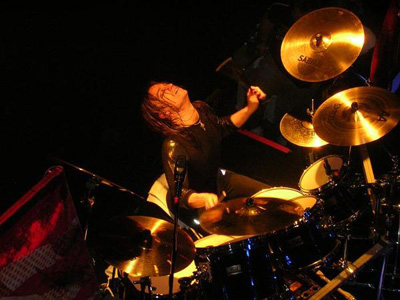 Glenn: What tour stories come to mind while we are on about touring?
Mike: Well a lot of people have watched a few too many documentaries about Motley Crue and the 80's and think that it's a whole bunch of stuff! They go 'Backstage, can you get me backstage, I want to see backstage"
Glenn: Nothing happens!
Mike: I say to them, "You want to see backstage? You've got two couches and you get six guys all with their laptops out. That's backstage! Everynight!"
Glenn: I've seen it.
Mike: That's all it is. Usually you are seeing what kind of local peanut butter is going to be provided by the venue. That's it. There's a moment in that Lemmy documentary where there's a guy interviewing backstage and he says to Lemmy, "Where are all the girls backstage?" and Lemmy points to the empty room and says, "Do you see any?"
Glenn: Yeah! Hahaha!
Mike: I think a lot of people would surprised to see how… I wouldn't say boring because exciting things do happen on tour like Graceland, Pentagon and Les Paul but for the most part there is a certain amount of routine and a whole bunch of downtime that takes place when you're out on tour.
I look back at certain memories that stick out to me. Like when we talked about drum teachers before, one of the times I was ever most scared to perform in my life was in 2010 when W.A.S.P. toured the U.S. again. In Michigan, where I was born and raised, my first real drum teacher that I ever had came out to see the show and I was petrified. You want to do well. I really went for it and really focussed. He told me after the show how proud he was and I could not have been happier.
I wanted to make him proud because I'm here because of you - so cool memories like that. Actually the fourth show I ever played with W.A.S.P. – we did a small U.S. Tour that was only a couple of weeks – Lizzy Borden was out with us. I was brand new to the band – literally brand new at the time and getting the first of the W.A.S.P. shows under my belt.
I was nervous, I was messing up left and right and I remember that Blackie really was not happy with what I had been doing. We had the click track thing to play along with the videos – that thing was messing up and misfiring and screwing up while I was playing. I had been really nervous about it. Then the very fourth show which I want to say was in Arizona was the very first one that went beautifully. The first three were really rough and then the fourth show went great.
My Dad who had seen me play everything from high school talent shows to playing blues in the local bar to marching bands in college and everything else, that was the first time he ever saw me perform in front of a W.A.S.P. audience and saw the kind of reaction the band got at that show and the kind of show we were able to put together and play.
That one, I will always remember that one too because that one was where my brain and my soul got to rest for a second and I thought, 'Alright, this is going to be okay, I can do this'. Shows like that I tend to remember more than anything else.
Glenn: Yeah! I guess it's special people in the crowd. When you've got your teacher and you've got to impress him and you've got to keep your boss happy as well, that must have been so nerve-wracking for you?
Mike: Oh it really was. Those first couple of shows were nerve-wracking to say the least and by the time the fourth one went, the first we did that went really well. It's like, 'Okay, sigh of relief, we can do this, let's move forward and make it the best it can be.' That's exactly what we did.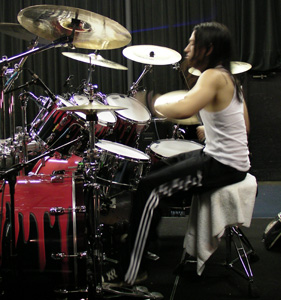 Glenn: That's awesome. How was it playing with John Mellancamp? What highlights form that period can you recollect from about 1994? I know it was only a short period but I know you did some stuff for one album.
Mike: That came about me getting to study with Kenny Aronoff at Indiana University. At the time they brought me aboard, Mellancamp had just put out a record that had a whole bunch of extra percussion on it. He had Kenny playing a bunch of sound objects like potato chip cans and stuff like that for some weird percussion to have alongside. I guess Mellancamp had a vision of getting some kid to come in and bang on a potato chip can.
He asked Kenny about a drummer who had been in the basketball Pep band which I had been in. He said, "What about that kid in the pep band?" and Kenny said, "Oh that's my student." So I got to come aboard that way. Then later on after doing a T.V. appearance and videos and stuff like that, Mellancamp hit a point where he on the spur of the moment wanted to do a real fast rock record like a garage style rock record in a real short period of time. Kenny was already booked.
I don't believe at the time that he and Kenny were on the greatest terms because Kenny was getting really busy at the time. Kenny had become one of the most in-demand guys and was booking his schedule weeks and months in advance. He wasn't always ready to just put aside that big chunk of time to do a record with Mellancamp on the spur of the moment. I think as much as I like to believe it was down to my superior, dynamic drum abilities, I think John Mellancamp might have thought, 'Well I'll show you, I'll get your student in to come and play drums'. But I had Kenny's blessing. He said, "Dude like go! Yeah definitely! This'll be a great opportunity! Go and check it out!".
They rented me a car because I didn't have a car at the time to get from the I.U. campus out to his studio outside of town. I remember little things like when we did the Arsenio Hall Show, the original Arsenio Hall Show. They flew me out and then came back. I took a red eye flight back and they said, "We'll arrange a car for you to give you a ride back to Bloomington where I.U was. They got me the stretch limousine. I remember the limousine pulled up I front of my dormitory at 6 in the morning before anybody was up yet. I said, "Can you wait here just another couple of hours?" so a bunch of people could see me get out of this limousine. He said, "I'm really sorry man, I gotta go", I said "Okay damn, alright!".
You're right, it was a very short period of time. We never actually toured but I did get to do a couple of live shows, one video and think I did about four or five tracks on drums for that record that came out after that which he got Kenny to do most of the songs on anyway. He kept one of the ones that I did on the record, the 'Dance Naked' record. That was a big honour. I was 19 at the time. That was my first taste of anything big in the music industry and I realised I wanted more. (We laugh)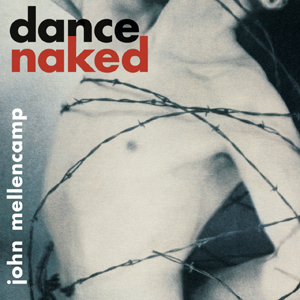 Glenn: You got a bit of the cake and the cake just got bigger (We laugh)
Mike: I did yeah. Definitely.
Glenn: Awesome! Eric Sardinas – how did that come to be and what turned you on for that style because that's a different thing altogether. It's more your bluesy stuff.
Mike: Sure! I knew Eric actually through 'Hair Of The Dogs' Management. The Manager was also handling Eric, handling Steve Vai and also that band Writ that had a record that absolutely blew up – those guys were getting to be huge. She also handled Eric so we became friends and Eric played in L.A. frequently so we'd go out to see him.
At one point I knew that Eric was looking for a new drummer so I kind of had my in that way. It was a big education in blues because Eric is big on traditional blues. But the way that he plays it I think is real exclusive to him. No-one else is playing really, really old style blues with a Dobro through a Marshall stack.
I never wanted to be a blues drummer but I did want to be Eric's drummer because I saw very few other blues guys that had that kind of fire and intensity and brought the entertainment factor to a blues show. We're talking about a guy who would get up on the bar at the club and set it on fire. I mean, how can you not love that?
But I got in after doing some blues homework that he had given me. With joining his band, that was my first real taste of international touring. In fact, the first show that I ever played with him was in Germany. That was nerve-wracking as well but eventually settled into a good groove and that was a fun couple of years.
Actually it went back to Ultimate Jam Night again. I hadn't seen Eric in a number of years then he showed up with some friends to one of the jam nights and it was just great to see him. He's still doing great, still plays his ass off and he must have done the blues thing where 'making a deal with the devil' because I swear the guy has not aged 10 minutes in over a decade. God bless that guy!
Glenn: Most of the cases thy just stay clean – no bad vices – no drink, no drugs or whatever else. They just live a clean, happy, healthy life or something. I don't know but there are people that seem to never age and I just don't know hoe they do it. It's amazing.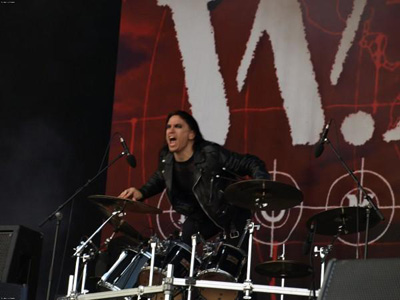 Mike: Me too – definitely. Everyone's looking for the secret. So am I for sure. It's selling your soul to Satan and stuff like that. It's weird, I mean look at someone like Keith Richards. For his age, you talk about clean living but that guy's still looking pretty good and he's going to outlive everybody.
Glenn: Oh god yeah! I know! (We laugh) Do you know what I noticed and it's only because I put the things together – as in wrote the band names down was a H and a D – you've got Hair of the Dog and you've got Hotel Diablo – is that total chance or what? (We laugh)
Mike: You know, that never occurred to me. I've never thought about that until now but it is yeah, I'll have to start playing that out to people. It's an interesting coincidence fore sure.
Glenn: I never thought about it either until I looked at it and thought, 'What the hell? Is there some sort of planet alignement? The Gods have put this H and D together to make something special. (We laugh). Of course there's W.A.S.P. in the middle of all that but you know? It's just weird!
Talking of weird stuff – from weird to wind – 'Dust In The Wind' I was watching you do that drum work for it that is on youtube. What went through your mind? That was so funny but it kind of works. You 'Miked' it up a bit!
Mike: Oh sure, sure. That was actually something that I came up with for a drum clinic. We were talking about double bass drums and learning how to play double bass drums. I wanted it to be a good exercise and a whole lotta fun to not only practise double bass drums to a metronome but also to practise double bass to tunes that double bass has absolutely no place in. I did a clinic one time where I put on a couple of James Brown tunes like 'Superbad' and 'Funky Drummer' and started doing double bass exercises to it. Of course, if you played with someone who wanted to recreate some James Brown music and you threw in double kicks all over the place, I think you'd be more than fired, I think you'd probably be shot at and rightly so.
But just for fun or just for practise it can be a blast. I thought, 'Okay, what's a cool tune that has not only no double bass but no drums whatsoever. I was really getting into a lot of power metal at the time. I tried doing it like that – that fast power metal style beat along with 'Dust In The Wind' and I did it at one of my clinics at 'Musicians Institute'. Everybody really seemed to enjoy it. I thought, 'Alright, I'll see if I can get this down in the studio on camera'. Most people seemed to like it and a couple of people went, "Oh God! What's this?" I kind of like that rehash. I call it 'Inappropriate Metal Drum Covers' because I get it – it's not meant to be taken seriously, it's just meant to be fun. When I look at it like that, I try to come up with a drum part that is really challenging and fun to play.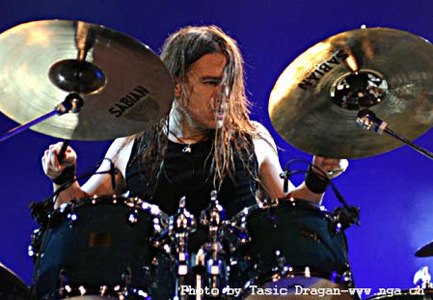 Glenn: When you put the fills in, it's mind-blowing. It's incredible. It all fits into th bloody song! Did you rehearse much for that song?
Mike: I did. Yeah, I did. I tried to come up with creative parts mirroring whatever was going on with the song and stealing a lot of ideas actually from one of my absolute drummers on the Planet, a guy named Gene Hoglan who played with one of my favourite bands, Strapping Young Lad who records.. Oh… I cannot get enough of them, I'm a Devin Townsend freak.
A lot of what you see on the 'Dust In The Wind' track is me imitating some of my favourite stuff that I hear on Strapping recoerds and especially what Gene Hoglan plays. As far as drums are concerned, he's an inspiration to everybody – the guys brilliant – he's ridiculous. I call him a 'Bonfire' drummer where you see him do a drum click and you just want to throw the entire kit into the furnace and go, "That's it! Screw It! I'm Done!". There's no way! He's a mountain of a guy and yet he plays double-bass that fast with old Camco bass drum pedals in motorcycle booths that are 2.5 lbs each with ankle weights on – he's not human. I don't know how he does it. I'm glad that he does because he's a true inspiration.
Glenn: Yeah! Incredible! You did what you don't expect. You're like laid back, tapping the cymbals really soft and then all of a sudden it's like 'What the hell?' It's amazing! I don't know about other people but I'd love to see a series of different songs you're doing as 'Dupke plays…. Whatever'. I can imagine you having an actual album of you playing all these songs with original tracks on with their drum track being lifted off and yours placed on. If you could get the clearance for it that is! It's pretty mind-blowing and I don't think it's ever been done. But Kudos there!
Mike: I love to do stuff like that and 'Yes'. I would definitely love to and certainly love anytime, any band and can take a song that is already a cool song – a great song and just turn it up and hear it played through Marshall Amps. One of my favourite concerts I've ever been to in my life was a 'Bee Gees Metal Tribute Band' – they were called 'Tragedy'.
Glenn: I've seen them.
Mike: Oh you've seen them. They are amazing.
Glenn: Yeah I saw them a few years ago, 9th March 2009 to be exact at the O2 Academy in Sheffield.
Mike: They wear the outfits but I like that they look like plumbers but they wear the same skintight outfits that the Gibb Brothers had back in the day.
Mike: They wear the outfits but I like that they look like plumbers but they wear the same skintight outfits that the Gibb Brothers had back in the day. You could tell that they loved the songs and they sounded great – nailing those falsetto harmonies and everything. One of my favourites they do is 'How Deep Is Your Love?' – their version of that song which is originally a real soft, laid back, love ballad. But you hear them crank up with the big guitar sound and the big drums with those vocals on top of it and you're lijke 'God Damn! That's a good song made even better to my ears'. I thought they were amazing. I like it when everyone does that. They take the songs that you like and cranks it up to 11 – it's always fun.
Glenn: LA Kiss – you played with that band for a bit. Was that through Matt Starr or was that through Monte Pittman?
Mike: That was through Matt. Matt also became the house drummer for the LA Kiss band. There were a couple of those that he couldn't do so he asked me to sit in there too.
Glenn: Are there any particular highlights of that?
Mike: I got to meet just real briefly. I got to do it twice. On the first one I did I got to meet Paul (Stanley) and the second one I got to meet Gene (Simmons) – just a real quick handshake but that meant the world to me just being a fan of those guys since I was about four. That was a blast. Obviously, you're playing an arena so it doesn't get much more fun than that as far as that's concerned - playing a big stage with a high volume rock band. Also, Monte is a killer guitar play and Patrick Stone is a great singer and really enjoys being the frontman of something like that. Yeah! It's a total blast.
To see the behind the scenes part of it too as in the Director, who says, "Alright, in 30 seconds we're going to have a time-out and you guys are going to play 20 seconds of 'Running With The Devil' and come back in. So you wait for the countdown and you kick it in the same way a band does on T.V. when they are coming back from commercials. It's fun to be part of that as well. It's unfortunate that I'll have to break Matt Starr's arms so that I can keep doing these gigs and do more nights at Ultimate Jam Night and with the LA Kiss because I've got to do a whole bunch of fun stuff because of Matt. (We laugh)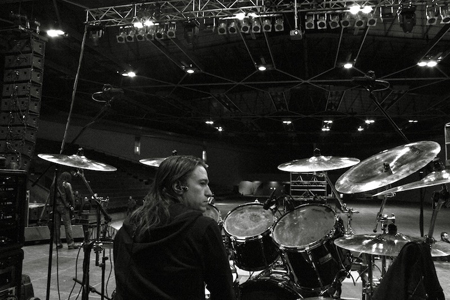 Glenn: I noticed your nickname is 'Spud' according to somewhere! (Mike laughs) Where did that come from? That's weord that you're called 'Spud' because the original drummer from Status Quo, John Coghlan was also nicknamed 'Spud'! So what's your story to being nicknamed 'Spud'?
Mike: Spud actually was limited to the John Mellancamp stuff. That was the nickname he came up (with) for me. I think it came from two places. One, I know that Dupke is not the most easy to remember, easy to pronounce name in the world and there was a show, you might have seen it before – it was big in the late 80's, early 90's called 'Married With Children'. The son in that TV family was named 'Bud' – Bud Bundy – the actors name was Dave Faustino. Back in the day if you look at my incredibly embarrassing high school senior picture, I look exactly like him. We had the same kind of haircut. We were distant twins for sure. So 'Bud' kinda turned into 'Spud'. So 'Spud' just became Mellancamp's nickname for me. I think he was the lat one to call me that. Everyone else has come up with 'Fairhead' and a whole bunch of other ones.
Glenn: Has Stevie Rachelle ever got hold of that picture and stuck it on 'Metal Sludge' and said, "Who's this guy back in the day?" He embarrasses every single person with a school photo or something!
Mike: (Laughs) Yes! It's funny you said that because Stevie was at the jam last night.
Glenn: This is amazing isn't it?
Mike: Oh yes! We got to do Judas Priest's 'You've Got Another Thing Coming' and Alice Cooper's 'I'm Eighteen'. He came up and said, "Hi, I think we've met before". I said, "We actually met 16 years ago because I got to meet him through the 'Hair Of The Dog Guys' – they had known him as well. I met Stevie in 2000 or 2001. Again, Music Industry – small world! Here we are a decade and a half later and getting to perform with the guy. That's really cool.
Glenn: Yeah! That's great that! You placed an EPK together and I see you on stage, you're playing in W.A.S.P. in concert, but yet there's no W.A.S.P. songs at all. It's either 'Hair Of The Dog' or 'Hotel Diablo'. How come there's no W.A.S.P. material on it? Is it down to getting rights to put that on the soundtrack?
Mike: The one that is on my website?
Glenn: Yeah!
Mike: I never thought that I consciously made the decision that I couldn't put W.A.S.P. songs in there. I certainly could have. You might hear a second or so of a couple of them when I've done the very intro, when I am doing the countdown. Maybe just the tunes that I picked fit a little bit better. I had the 'Hair Of The Dog' song as the very last one, the song 'Colour Me Fire' that ends with a very big crowd noise as if it was a live show. With the fade-out, the slow-down and the big finish at the end that worked out perfectly to be the last one.
Glenn: Awesome!
Mike: I certainly could have put some W.A.S.P. stuff in but I'll have to do that on the next one then. (We laugh)
Glenn: How do you keep in shape to keep in tip-top condition? Do you work out quite a bit because it's pretty exhilarating, exhausting sort of job that you've got right there?
Mike: When W.A.S.P. was out on tour, I didn't really have to work out because the show was a work-out in itself. When I'm home, I try to work out as much as possible. It hasn't been as easy since my son arrived but you still try to eat right and get as much cardio as you can and exercise. You try and do little stuff like small cardio routines or weights. Mainly, if I had a choice I would just play drums for 6 hours a day and have that be my work-out. That's pretty much what I want to stay in shape for in the first place. We'd come home from tour and maybe I'm recovering so I sit on my butt for a month.
One time I got a call after doing that from a friend of mine who wanted to record a big metal record with some really fast, double-bass, pretty intense parts on it. I said, "Oh sure! Yeah, no problem, I'll do it" and after a couple of songs in the studio I thought, "Oh jesus, I let myself get out of shape!" because in that respect it really is down to muscle memory. When your muscles forget to do it even though you haven't you've got to play 'catch-up' there and make sure that whatever you're doing, you still have enough in health reserve to be able to go on and play a big long metal gig or something like that where you can hit hard the entire show.
Glenn: I guess because you're a family man as well, you can't play constantly because you'd drive your Wife and your Son crazy. Or does your Son love it anyway and get used to the fact that that's what dad does?
Mike: I think he's starting to learn that that's what Dad does because I'm constantly bringing home a snare that I've got to put a new head on or having a bunch of cymbal cases so I can organise my cymbals so there's a bunch of those things that will be lying around that he likes to bang and make noise on. I'm excited and terrified at the same time that he really seems to be taken with the drums and loves grabbing the sticks out of my stick bag and leaving them all over the place and banging on whatever he decides makes his favourite noise at the time.
It's funny too and this might change in a couple of years because he's only 15 months, but right now cartoons and kids shows don't do a whole lot for him. I'll put on T.V. or put YouTube on the T.V. A couple of weeks ago, I put on a Rammstein clip of a live show and he sat and just stared at the tv and not moving for about 15 minutes. I'm thinking, 'Oh, that's my boy!'. He's a big Beatles fan as well. Watching bands and especially watching drummers like a Gene Hoglan clip or some other drummer. He tends to be already drawn to that more so than the typical kids stuff. We'll have to see if that stays the same. I'm certainly not going to force him into, "You've got to play music" but he might find that very well on his own.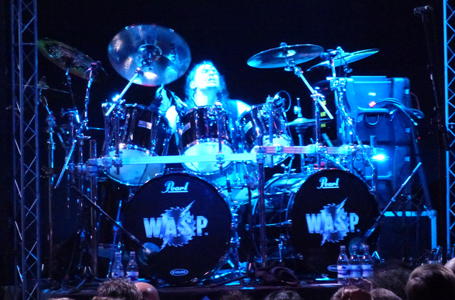 Glenn: My nephew Ben, when he is in the car he bangs his head to Led Zeppelin. His Mum and Dad plays it and that's just the norm to him. They don't realise it's a band who haven't been together properly for years – it's just something they take a liking to.
Mike: Exactly yeah!
Glenn: Of course, your interested but it's in his DNA and his make-up like it's part of you.
Mike: Exactly. There was a funny moment at the metal night. In the area where all the musicians were I see a couple of kids that looked about 10 or 11 years old. When our group of guys were on stage and they were doing 'Angel Of Death' by Slayer, there were these kids singing every word back at the top of their lungs. Then I find out they were the sons of Jessica Chase who is involved in the organisation part. It was, "Oh that's Jessica's kids!". I said, "Of course they are! That's so awesome!" It doesn't seem like they got forced to love Slayer songs, it's like it's in their blood and what they're drawn to as well. I love that.
Glenn: Especially when they spend time with Ira as well.
Mike: Oh definitely yeah!
Glenn: It's either love it or hate it!
Mike: Ira was on stage playing at that time too. It was just saw awesome to see kids screaming 'Angel Of Death'. Slayer's being passed down to the generations – that's a beautiful thing.
Glenn: Like when they go to school and the teacher askes who their favourite band are and they say "Slayer" and the teacher says, "What? What about Justin Bieber?" and the kids turn around and instantly say, "No!" (We laugh). You know what I mean?
Mike: Exactly!
Glenn: Your kid will probably be the same no doubt by the sounds of this!
Mike: He might be.
Glenn: yeah, you never know.
Mike: Yes. I'll certainly play him Kiss, I'll play him a whole bunch of stuff and I'll say, "Here's this" or "Here's AC/DC" or even other stuff like The Beatles or even some jazz stuff like Thelonius Monk or Dave Brubeck but what he's gonna like is going to be up to him. He might love something that I hate. He might love music that I can't stand. I have never in talking to kids and introducing them to styles or finding out what they like…. it's like everyone is entitled to be into music that they can be embarrassed about later. A whole bunch of Justin Bieber fans in ten years might very well grow up and say, "Oh God, I was really into that", but who cares? If you are into it and if you enjoy it then listen to it. There's certainly nothing wrong with that and you can certainly use that as a frame. If the first music that a kid discovers is Britney Spears or Justin Bieber, you say, "Hey that's great and by the way there's all these other styles too, check 'em out", instead of trying to school them on what good music is because if a parent says, "No! You must listen to this!", of course the kid is not going to like it.
Glenn: It's how it is isn't it. You hate what you're Mum and Dad like and if they tell you not to something you go and do it. It's weird because I actually grew up on the sort of stuff that my Mum and Dad were into and it went from there. The early 60's stuff, The Beatles and The Rolling Stones and then got into The Who and everything. I guess I was introduced to the good stuff from the start thank God!
Mike: Yes!
Glenn: Not to be biased or anything. What did you grow up with originally? Was it bands like Kiss?
Mike: It was definitely Kiss. I was one of the kids that attracted to them probably by the time I discovered them I when I was in kindergarten. It was actually the song I heard first. The big hit at the time was 'I Was Made For Loving You' and I was going through a big disco phase at the time when I was four or five. Then of course I saw what they looked like and thought, 'Oh my God, this is great. These guys are superheroes and they play great disco music. Then I checked the record out from the library which was of course 'Alive!' and I heard what they really sound like. You get that brain explosion and you're like '"Oh Wow! Okay! This is good!". I was a huuuuuge Kiss fan all through the years following all of their non make-up years too like 'Asylum', 'Animalize' and 'Crazy Nights' and stuff like that. They were a huge influence. I'd say Dave Brubeck because Dave Brubeck and Modern Jass Quartet were definitely some of my Dad's favourites because he wa a big Jazz fan. A lot of what I found and discovered came through music videos and I love all sorts of stuff. I was a big Huey Lewis fan when I was a kid. I would always fight with my sister when I was growing up because she was into stuff like 'Duran Duran'….
Glenn: I knew you were going to say that.
Mike: … so yeah! Because of that I had to hate Duran Duran. Not because of Duran Duran but because my Sister liked 'em and that's what she thought about Kiss too.
Glenn: Yeah, we are about the same age as well because when I was between 8 and 10 all the girls at school were obsessed with Duran Duran, so you just got to hate them because it was like thy were the coolest thing out so it wasn't cool to like Duran Duran. I was a Beatles fan and I just got mocked because I liked The Beatles and of course, what goes around comes around, the apple spun around a bit and The Beatles became the biggest band out 20 or 30 years later. I used to think, 'Who is laughing now?'
Mike: Hahaha! Exactly!
Glenn: It's amazing!
Mike: Yeah and stuff like that… the good music… the music that people love will always get handed down. Kiss say that too. "Now we people bringing children and even grandchildren to see Kiss." It might be some 5 or 5 year olds first concert and this is last week they might have done because Kiss are still out (on tour) Then you realise after you can get past the sibling rivalry as far as music is concerned, years and years later I hear some Duran Duran stuff and I say, "Oh my God, John Taylor is one of the most baddest bass players on the planet. My Sister actually changed her mind as well because she ended up going to see the very first Kiss reunion show in '96 in Tiger Stadium in Detroit and of course making me jealous because I didn't get to see them until about a month after that.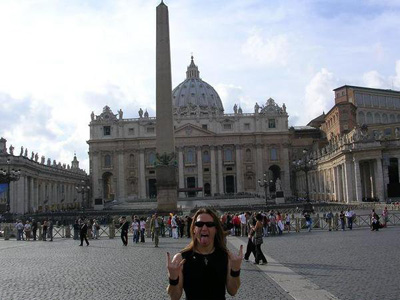 Glenn: Yeah I saw them when they played Donington in 1996. When they had that walkway for security in the middle, we were at the end of that and you could still feel the fire from the stage. I dread to think how hot it was up there for those guys. It would have been like walking about in a furnace. Amazing!
Mike: Oh yeah, definitely.
Glenn: Talking of gigs, what was the first gig that you went to?
Mike: The very first real concert I went to was actually Rush on the 'Roll The Bones Tour'. I was kind of a late bloomer as far as concerts were concerned because that wasn't until 1991 that I got to see them and a guitar player, Eric Johnson – I remember that. I don't think I slept for about a week after that because I was so excited and so blown away by seeing that show. It was just another nail in the coffin for deciding what I definitely wanted to do.
Glenn: My 1st was an old Teddy Boy Rock 'n' Roll band from the UK called 'Showaddywaddy' at the City Hall Sheffield about 77/78 and my 2nd was The Who at the NEC in '89 and still in the top ten of all the shows I have seen over the years and I've seen a lot over the years since running this website.
So if you were a Superhero, that is your own Superhero, what would yours be and why? What sort of powers would you have?
Mike: Oh man! I would definitely love to have flight – that would be great or teleportation that would obviously make touring a whole lot easier – I have three flights to get 100 miles, Besides that, breathing underwater would probably be a whole lot of fun, then after that, being a big fan of Spiderman I think I would probably always tray and give off the amusing quip after saving the day but people would say, "Alright, okay thanks, just get out of here – that's just fine".
Glenn: What name would that character have?
Mike: (laughs) I think I'd be 'The Black Ferret' (I laugh) because I'm sure my costume would be black. I tend to wear black more often than not anyway. When I take those 'What animal are you?', I always tend to get those small furry animals that burrow into places and hoard things. So probably that. I'd probably be 'The Black Ferret'.
Glenn: That's cool. I like that, That's a good one that. (Mike laughs). Yeah you've got to invent that as some sort of a thing. I want to see that on your facebook page 'I am The Black Ferret'. That's funny!
Mike: Copyright 2016 Michael Dupke!
Glenn: You got that one in quick!
Mike: I've got to trademark that right away.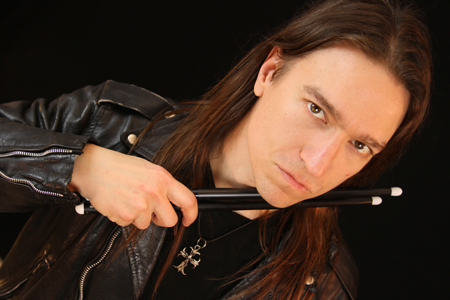 Glenn: It's great that. That's quality buddy. Here's an American Picker type question. Through the years in your career or outside of your career or whatever, yopu must have acquired different possessions from various points in it, either given to you or you've bought or found or acquired. Out of things like that, what things would you say mean the most to you and why if you had top pick one particular item and what's the story behind that item?
Mike: I don't think it would be 'The Favourite' but I still have the first copy of Kiss' 'Destroyer' Record that I had when I was four. I still have the nylon tips out of the first drumsticks I ever owned. Going back to Kiss for a second, I still have a special position from when they did the Convention Tour in '95 before they put the make-up back on. I went there with a buddy of mine and I guess it had been coming for people to get married at these Kiss Conventions. The one I went to, they had one as well. Paul Stanley was the 'Best Man' and Gene Simmons gave away the bride. Then when it was time for the ring ceremony, the bride had these long velvet gloves on that went up her ams. She took off one of the gloves, handed it to Gene and Gene signed it, then handed it to Paul and Paul signed it. Then they threw it into the crowd and I got it.
Glenn: Nice!
Mike: It's a stupid little thing but it's kind of like those one of a kind memories… those one of a kind moments that no-one else is going to have. I still have the very first drum kit I ever had. I never want to get rid of that and have been advised not to because you could and you could sell it and you'd regret it instantly because you're never going to get that one back.
Glenn: Which kit is that?
Mike: That's a white Pearl sport kit that I got in 1989 that I still have and still use for practise.
Glenn: That's awesome. What do you like to do outside drums?
Mike: Outside of drums I'm a total geek. You talk about Superheroes. I always like going an seeing the latest Marvel Movie. I'm a big fan of horror movies for sure. Lately, I've tried to get my cooking skills a little bit more honed. Trying to do stuff other than hotdogs in a microwave. It's actually interesting seeing what cut of meat suits my needs for this particular dish. I definitely love steak and beef or dishes that involve just putting a whole bunch of stuff into a pan and mix them altogether like jambalaya. I love doing things like that. I'm always up for a good laugh and a good scare. Halloween is coming up which is definitely a favourite time of year for my wife and I for sure.
Glenn: When you got to meet Paul or Gene, did you ever get to say to them, "Oh I've got the signed glove that you threw into the crowd at that wedding from '95!'?
Mike: Hahahaha! I didn't really get to talk to them because they were moving on shaking and then they were gone. I didn't get to engage them in conversation. I'm sure I could have talked their ear off. Maybe some time if I get to tell Paul or I get to meet him under different circumstances. Yeah, I'd be happy to talk about the different collectibles including the glove that I've got over the years. Yeah! For Sure!
Glenn: That's awesome. We've discussed so, so much stuff, is there anything not covered that you'd love to cover that you'd like to talk about?
Mike: The only thing I 'd like to add is right now, I'm still looking for the next big permanent project. Like I said, there are a couple of things that might happen but you never know. I just want to put it out there that I am available for your drumming needs, for touring and recording and would love to and can't wait until I hook up with the band or that artist that is going to be the next big musical chapter in my life.
Glenn: Cool!
Mike: Yes!
Glenn: Now one I always finish on this one. Could you pinpoint some of the proudest moments so far in your career or in your life?
Mike: Proud? Oh man! I don't know if I could point to just one. I would like to think that in each stage when it comes to 'Hair Of The Dog' or playing with Eric (Sardinas) or (John) Mellancamp or any of the other things that I've done that I always want to try and do better. I always want to try and get another great moment and don't want to lean on what I've done so far just because I see the Music Industry – it's full of surprises and the beauty and the tragedy that you never know what's going to happen. That works both ways when I've done things. I think, 'Oh man, this is going to be great and this is going to explode and turn..' then it turns into nothing.
Then there have been artists, there have been shows, there have been tours and opportunities that I think, 'Oh well, you know this is probably going to be bad' or 'I'm going to hate this' or 'This is not going to be a good gig' or something like, then all of a sudden for reasons that you didn't see, it turns into something wonderful. Just like you said, 'one of the proudest moments in your life, or just a moment that you'll always remember you didn't see coming. I cannot get enough of that. I know that even though there might be downtimes, there might be times that are really hard, it's like there's always something good around the corner, you just never know when it's going to be.
Glenn: Yeah!
Mike: Good amazing things always do happen. That's definitely why I stay involved.
Glenn: One last thing, what would you like to say to the people and the fans out there that have been reading and have read all this interview?
Mike: I would say thank you. If someone is that interested in what I've been up to and continue to be up to, I'd like to say, "Thank you from the bottom of my little black ferret heart and I hope to bring you more surprises in 2016 and beyond. Thank you above all else, yes!
Glenn: That's great. This interview has been a blast. I've really, really enjoyed this from the bottom of my ginger heart. You take care Mike, have a great rest of your day. It's been great.
Mike: Thank you Glenn. Thank you so much. I really appreciate it. I've had a good time.
Glenn: You too man. Thanks a lot. Take care Brother. Bye.
Mike: Okay, bye-bye.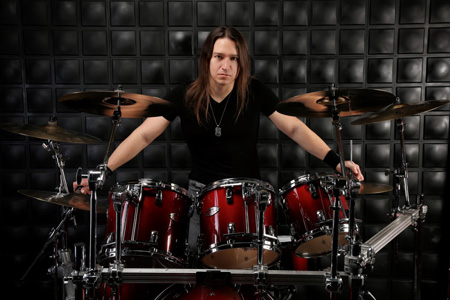 A big thank you to Lisa Morton Woodard for setting up the Interview
and of course Mike Dupke himself for a really enjoyable, in-depth, long Interview!