An Interview with Jason Hook via e-mail
(Guitarist of new rock band Monkeyhead and The legendary Bullet Boys)
(Recieved - 14th September 2001)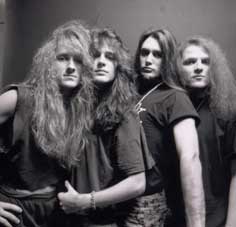 1. Do you class your music as classic hair metal or would you define it differently now?
I hate the term hair metal.............I'm not sure I would even classify myself as a "metaler"....... I do like heavy music cause of the energy rush it gives you. It's not so much of an anger thing though, and it certainly has little to do with a hair-style.
2. What's the attitude to bands of your style on the East Coast?
Music here is returning to a more light hearted heavy zone.....I say light-hearted
'cause for a while it was all doom and gloom..............i think people are starting to remember that music is fun.

3. What touring is planned in the future ? Where and When? How long
for?
Well for now there are no touring plans.....I'm hoping that the Monkey Head record takes off and we have a chance to do some promotional shows in Europe.

4. Will you be playing the U.K.?
I really hope so.

5. What was the overall reaction when the Bullet Boys got back together e.g. fans/media/band?
I think it was really exciting...I remember calling Mick to be put on the guest list when they played their first reunion show in Hollywood. It was great to hear those classic riffs ripping my head off......little did I know I would be playing them less than a year later.

6a. Will there be any new Bullet Boys material?
We have recorded a bunch of Material and are trying to get it out before the end of the year.....
b. What's your favourite Bullet Boys song?
My favourite song is F#9.

7. What were Simon, Paul and Steve doing before they were
part of Monkeyhead?
Those guys were all playing in clubs since birth..... really dedicated musicians........ some of the best I've played with.

8. Do you see a popular interest in this great style of music?
I don't know................and don't really care. I have learned over the years that if you try to mould yourself into what you think is the most popular style, it becomes harder and harder to create..... You have to do what comes naturally or it becomes work.

9. Do you consider that image is still as important as it was in the late 80's/early 90's?
I think so.............it's basic human nature to enjoy glamour.(I use the word glamour lightly) I always found Kiss way more interesting than 38 Special and Kiss wore lipstick...............now you have bands like 'N Sync and Backstreet Boys that have captivated the American youth.......a lot of it has to do with the way they look.

10. Which bands (out of all your influences) would you most like to tour with and why?
I LOVE KISS. That would be a dream come true...... except I hear they're assholes ..... :-)

11. What are you favourite songs on the self-titled debut album?
I like "Anything for Money" the riff sounds powerful to me..............I also like Guns of July.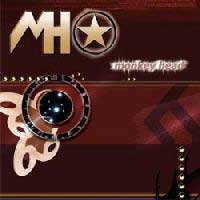 (The cover of the 'Monkeyhead' album - check out the review in the 'M' section)

12. What influnces you songs ? Real life/fiction or a mixture of both?
Girls, Money. You know, the same old bullsh*t.

13. Is 'Bow to your master' about any person in particular?
Simon had more to do with that Lyric....we should ask him.

14. What influenced the songs 'Morphine' and 'All my friends in heaven'?

Again, another great question for Simon, however, 'All my friends in heaven was a song that was inspired by a friend of ours that was killed by a drunk driver. The whole community was shaken. It was terrible. His name was Ron Summers.
15. What's the story behind getting Beau Hill to produce the album - was it through the 'Bullet Boys'?

No.............I've known Beau for years. We used to play tennis together.

16. How long did it take before the band received label interest - how did you go about getting signed?
6 years.........I got the deal..... just a lot of banging on doors.........................
Frontiers is an awesome label........Hi Serration/Mario...........!!!!