What turned you onto playing the Bass and what was the 1st one you got?
My 1st bass was a Gibson Ripper, then a 4001 Ricky, then a Mustang. I've been playing Mustangs ever since, with the occasional exception of a Longhorn, a 60's hollow body K, and an upright.
You've no doubt been asked this many times, so I will apologize for that now, but how did Mark Dutton become Muddy Stardust?
Marc Ford nicknamed me muddy in the early 90's. I was listening to a lot of Muddy Waters at the time. Slim Jim Phantom later added Stardust because he liked the way I sank "Ziggy Stardust" at his club (The Catclub on Sunset). We also share a fascination and admiration for the Lawn Gnome.
What songs do you enjoy playing for fun most and why?
Anything from the 70's. It depends on what instrument I am playing also.
What songs have you most enjoyed playing on a professional level and who with?
Dwight Yoakam . Definitely a highlight of my career. L.A. Guns was probably the most fun for the longest amount of time. Gilby keeps me in check!
What attracted you to Hollywood and what are your favorite hangouts and why?
First, the expression of art, then the fame-game, then back to art again. Even I mature! Movies and music have always been appealing to me.
In your opinion, how would you say it has changed since you have been there with regard to the Rock Scene and venues?
I've had the opportunity to travel over a great part of this small planet, and there is a scene anywhere you have a collection of enthusiastic young people. Los Angeles is just one of them. Focused Collective Energy is an organic phenomenon and by its nature, it is always changing and moving.
Troy (from Pretty Boy Floyd/White Lion) was recently telling me about you guys having a cover band called 'Lost Angels' - what have been the highlights of being a member of the band and what do you miss about it when you aren't doing it? Any cool stories regarding the band and when you played in India?
Too many great moments in India to go into in type. I will say, it was one of the most memorable tour experiences I have ever had. The poverty is overwhelming, as is the spirit of its young people. I love and respect the band members, so it's always fun!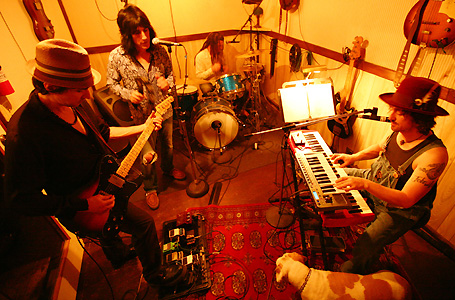 (Stereo @ Muddy's Studio, April, 2009)
Where have you most enjoyed playing worldwide, with who and why?
What,... are you tryin' to get my ass kicked?
What were the most memorable points of being a member of LA Guns and how was that UK Tour with them for you - what were the highlights of it?
Lets put it this way......our bus was nick-named Caligula. I also met a lot of nice young ladies.
You must have some great road stories - care to spill the beans on some legendary ones?
Buy me a drink 1st.
What albums and songs have you most enjoyed being part of and why?
Col. Parker record was fun and I like the material. Of course, the Burning Tree Record (Back when I was Mark Dutton) Marc and Doni are still two of my favorite musicians.
How would you describe the bass style of Muddy Stardust?
Lane, Entwistle, McCartney, Jones, Foxton, Wood, Wyman
What is your favourite bass and why?
My Mustang. Because she has seen me at my worst and my best for most of my life.
What have been the hardest songs you have had to learn and how did you overcome the challenges?
The Dwight set was very difficult for me. He is such a legend, and I really wanted to get it right. He actually was the reason I started to play Upright bass. I learned on stage at his request at an Indian Casino gig! He had more confidence in me than I did.
If you could duet with any particular bassist, who would it be and why? What would you like to play with them?
James Jamerson. Anything he would like to show me! He understood the importance of space between notes.
What would you say the average day is for you?
Blessed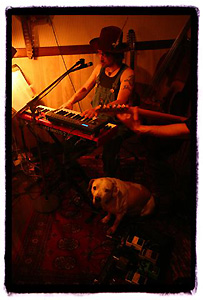 What got you involved in producing and what have been the most memorable times in the studio for you as a producer?
Without question, the most memorable experience was Brian Jonestown Massacre. Anton taught me a great deal about letting go. He is truly one of the purist artists I have ever met. Recently, I loved working with Jessica Simpson. Very sweet, very talented.
What's the odds of a 'Burning Tree' reunion in the future, since many bands seem to be doing it in the last few years? Are you all still in touch with each other?
Recently did an album and tour with Marc and a reunion a few years ago. It was recorded. Maybe we should release it? hmmmmm
Tell us what you are up to right now - Up the Dose by any chance? How did the band come to be?
I write and occasionally play out with Paul Black and Jo Almeida in a band called Stereo. The material and company is amongst my favorite ever. I think we are putting out and CD soon.
What's your preference - being a Producer or being on stage playing Bass and reasons why?
I love the physical energy of the stage and the creative energy of the studio. Gotta have both!
What could you see yourself doing if you weren't in the music business?
Living under a bridge with my dogs.
What other things would you like to talk about that I haven't talked about already?
Come on people, enough with the auto tune!
What are you most looking forward to in 2010?
Everyday.
What are your plans of 'Up The Dose' doing some dates in Europe & the UK?
Stereo is my personal thing now. We are available for funerals, bar mitzvahs and weddings.
What are you most proud of in your career so far both as a bassist, producer and all round person?
I've never quit. I'm in therapy for that.
What would you like to say to the fans who have read the interview?
Thanks for being interested. Be good to each other and love the planet.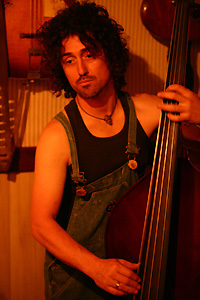 Nice One Muddy - Thanks for the straight to the point answers!!