An Interview with Novembre's Carmelo Orlando
(Frontman/Rhythm Guitarist)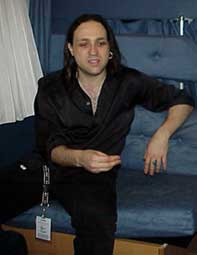 On 5th December 2001 we witnessed an awesome set by Sicilian Metal band, Novembre (on Century Media Records) at Bradford Rio's (supporting Opeth with Katatonia) and later caught up with the lead voice of the band 'Carmelo Orlando' where we had a good ole chat in their campa van about the band, tour and miles more to keep you interested.

Interview conducted by Glenn Milligan and Tony Watson. Photos taken by Paul Milligan.

So here we go -

Glenn: What's the history of 'Novembre' ?

Carmelo: Personally I wasn't interested in music - but got into it. I went from being a bass player to being a guitarist. Back where we lived in Sicily there were no big chances to form a band or anything.

When we moved to Rome (Carmelo and his brother Giuseppe) we thought 'Why Not?'. I never took lessons at all, so I never learnt how to play technically.


Glenn: What are your influences?

Carmelo: In the beginning it was Grindcore - Carcass, Napalm Death - bands like that. I wasn't originally into Death Metal but started to like it more and more. I got into bands like Morbid Angel and Entombed and then went onto doomy melodic stuff like Paradise Lost - it was like I went from total noise to melody.

In the type of music we play, we incorporate different changes - we play a mixture. Nothing is forgotten or denied.


Tony: Do you have a concept to your songs/albums?

Carmelo: No - there's no concept - not lyrically. The way we write is the lyrics after the music - we write blindly - composing the music first gives us a need to write something - whatever it inspires or maybe nothing inspires.

My favourite songs are 'Swim Seagull in the Sky' and 'It's gaze behind my window' from the 1st album (Wish I could dream it again... - released October 1994)

and 'Will' and 'Carnival' from the second album

('Arte Novecemto' released February 1996).



Glenn: How do you place your songs together from the start of its creation?

Carmelo: I play classical guitar - It's interesting what comes out. I keep the ideas in my mind. It's basically me and then other guitarists come in and make the spine of the song. When you hear about all the band members writing the song - it's a lie - usually the others do nothing.

I do 90% of it.


Glenn: What's your view of MP3 downloads?

Carmelo: It's O.K. - if you like a song or two which you've downloaded it encourages you to buy the whole album - as opposed to downloading.


Glenn: What touring have you done in the United Kingdom and Europe overall?

Carmelo: Last year (2000) we played with Moonspell and Witchery. It was a Euro-tour. In the U.K. we only played London, though but we played in Scandinavia at a couple of festivals. We did this Gothic Festival last year (2000) but this year (2001) there wasn't much metal - it was very much Goth - not that good !!!


Tony: Are you recognised in you own country?

Carmelo: In Italy - yes - they have a Metal thing - and in Barcelona. We are also recognised in Germany.


Tony: How was the gig in London (4th December 2001) last night?

Carmelo: It was excellent - it sold out in two weeks. Some people were paying £20 to get in !!!


Tony: Have you spent time with Opeth?

Carmelo: Yes - we've known Opeth and Katatonia for about 10 years - we met Opeth in a square, back in Italy. We talked and had a few drinks with them and realised we had the same musical tastes.

The three of us (Novembre, Opeth and Katatonia) recorded our albums at similar times. We are very similar artists - in image and general mood. We have influenced each others music. When Opeth recorded the album 'Morning Rights' we heard it in the studio with them before it came out. We noticed the similarities.

Anders from Katatonia was meant to do a solo album.

In Germany Opeth sang one of our songs, Katatonia have been known to as well.


Tony: What's your thoughts on being the opening act to Opeth?

Carmelo: It's weird having to go on first. In Holland we had to play to six people. We didn't want to do it but the Promoter wanted us to go on - it was like 'Please Play', so we did.

Opeth are bigger than us as they sell more. The crowds come to see them, but that has no effect on our friendship and love for each others music - we are a big happy family.

We technically appreciate Opeth's frontman - he manages to sing a different melody line to what he's playing on guitar - not many can do this apart from say Dave Mustaine or James Hetfield. It's like they're split 50/50.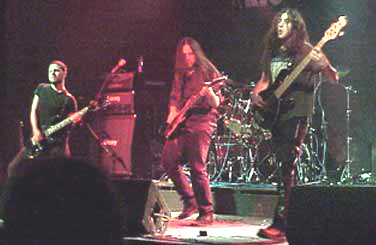 Live on-stage at Bradford Rio 5th December 2001

Glenn: Do members of Novembre fall out much?

Carmelo: We had a fall out with our guitarist, Massimiliano Pagliuso, this Summer (2001) and he left the band. Later my brother had to undergo surgery and we sorted out our problems. He's now back in the band - but he's not credited on the new album.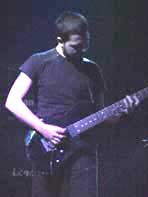 Massimiliano Pagliuso

Glenn: Who came up with the artwork on the album sleeve for the new album, 'Novembrine Waltz'?

Carmelo: That was by 'Travis Mate' whose done sleeves for many artists like death, Nevermore, Devin Townsend and many more - he has a large list of bands to his credit. Travis knew the band after we did a tour in the U.S. He wanted to see the lyrics, titles of songs and what we wanted to call the album. He then got on with it. He produced 4 sleeves and we chose this one.



Glenn: Why did you name the band 'Novembre' ?

Carmelo: There's a certain mood to the songs that goes with the month 'Novembre'. I got the name idea from an Author that my Father was into - it was a piece called 'Novembre'. I thought it was a nice name and I also like the fact that it is not completely English.

It might be easier to remember due to the name.

Saying this though - not all the songs are in a minor key (to give a negative feel), some songs on the album are major (positive sounding) as well. As long as you keep your style and atmosphere it's O.K.


Glenn: Do you have any interesting tour stories to tell?

Carmelo: Yesterday in London (4th December 2001) the Stage Engineer didn't want to help us when we had trouble with the sound. We had to play 2 songs without vocals. He was there and wasn't interested. The monitors weren't even switched on - we were livid.


Glenn: Where do you see the band going in the future?

Carmelo: It depends on the promoting of the album. We want to get the next album out in about 10 months because I have a lot of music in me to get out. We've had good tours with Moonspell and Kreator and on this tour with Opeth there's been better playing.

Thanks for the top-class Interview Carmelo. Good luck for the future!!!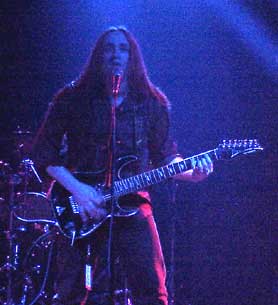 So there you have it - that's the band, Novembre.
To find out more about them Check out their website http//:www.novembre.nu Buy their latest album 'Novembrine Waltz' from all good Rock and Metal Stores or purchase direct from www.centurymedia.com Tell them that I sent ya !!! - Glenn Milligan, BA Hons CS (DJ Ginge)
Special Thanks to Donna O'Connor @ Century Media for setting the Interview up and Tour Manager, Danielle for her helpful co-operation.