An Interview with
'P.J. Farley'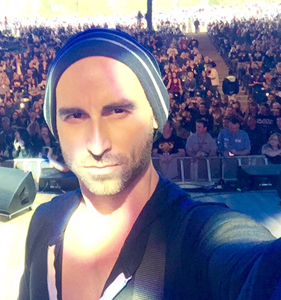 Bassist of Trixter
that took place July 1st, 2015.
Interviewed by Glenn Milligan.
Glenn: You play Cathouse Live on August 15, 2015. What are you looking forward to from that show mostly and why?
P.J: It will be great to be back in Irvine Meadows. We played 2 sold out shows there in 1990 and was a very fond memory. Looking forward to seeing all the other bands as well.
Glenn: Which bands at Cathouse Live are you looking forward to hanging with and seeing live in particular and why?
P.J: Tom Keifer because I haven't seen his solo band yet.
Glenn: What do you miss about the scene that was happening in the heyday?
P.J: I miss people buying records, I miss MTV playing videos and turning bands into Rockstars!! It was a lot more interesting and fun. Social media is amazing in different ways but it has stripped away some of the magic.
Glenn: How was the scene in New Jersey when Trixter first formed in comparison to how it is now? How would you say the area has changed with regard to the music scene and venues?
P.J: Well for one, there WAS a scene and now there isn't. That would be the biggest difference. The scene back then was just oozing with bands and people excited to see bands... UNSIGNED LOCAL BANDS as well as nationals.
We would pack 400-600 people in all ages clubs before ever getting signed!
Glenn: What goes through your mind when you play the old material on stage in present days?
P.J: I wonder if the crowd misses my hair flip?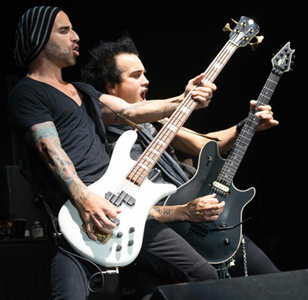 Glenn: What were your initial thoughts when the band got back together and how would you say your had changed as people since the heyday?
P.J: I was cautious and curious at first. I wanted/hoped it would be easy to bring it like we used to. I think we do a pretty good and honest job of it. We haven't changed much as people so it works out - lol.
Glenn: I remember around 2001/2, Steve Brown sent me an advance promo copy of the band you guys formed called 40ft Ringo. Where did that name come from?
P.J: A friend of ours came up with it from seeing some Beatles movie in a theatre. He saw Ringo and said, "Oh look .. a 40ft Ringo!!
Glenn: What were the highlights for you in 40ft Ringo?
P.J: Honestly just the music we made. It was a struggle the entire lifespan of the band but I think we put together an amazing band and an amazing record.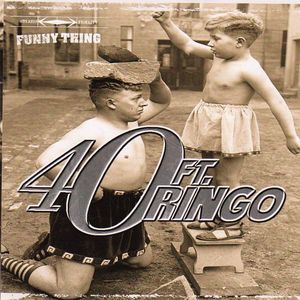 Glenn: What led you to become a member of Lita Ford's band – who contacted who? How did it all go down? Did you audition? What songs were played and did you expect to get the position?
P.J: A mutual friend/booking agent Danny Stanton put me in touch with Lita's then husband Jim Gillette. I learned 15 songs in a day and flew down to her house to do a little audition between me and one other player. It's funny because I got there and she, Bumblefoot, Dennis Leeflang and Michael T Ross were in mid jam when I walked in. They didn't even stop playing. I just plugged in and started playing. It might have been 'Black Widow' and 'Larger than Life'. I landed the gig and went on to do about 3 1/2 years or so with her. Did some really great things with her.
Glenn: You worked with Lita from 2009 to 2012. What would you say are both the similarities and differences between playing with her or with Trixter and for what reasons?
P.J: Well the way we tour is very similar so, mostly fly dates etc... festivals. With her obviously the focus was on her (rightfully so) and with Trixter it's the 4 of us so it's a little different approach. I liked the 2 perspectives.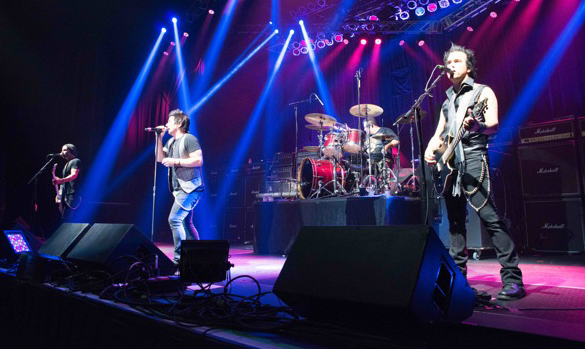 Glenn: Which would you say are your favourite parts of Lita's show and why?
P.J: My favorite part of her show was certainly playing songs like 'Close My Eyes Forever' and 'Gotta Let Go' - my personal fave. Also, hearing some of the things she would say onstage. Lita has no filter and its part of her charm. Always makes for a fun show.
Glenn: Do certain countries and/or venues you have played out stand out and if so, which ones and why?
P.J: Germany was amazing as was Italy - crowds were just killer. As for venues, Red Rocks in Denver, Colorado is a place that everyone should get a chance to play. Right in the mountains.. just beautiful.
Glenn: With regard to touring, when can we expect to see you and/or Trixter doing a tour of the UK?
P.J: I'll play with anyone, anywhere, anytime. It's just a check away!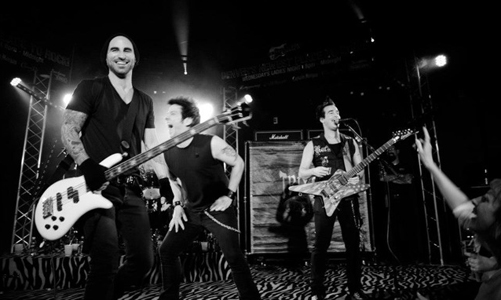 Glenn: What do you like to do when not on stage and for what reasons?
P.J: I have 2 young daughters so that keeps me very busy when not onstage :)
Glenn: How would you say your bass style has changed over the years?
P.J: Its matured naturally but hasn't really changed in other ways.
Glenn: Which is your preferred bass and why?
P.J: Spector is my go to bass always. I use them live and in the studio as well as a Fender P Bass. Spectors fit me very well live and are very versatile. I can get my sound out of any amp with my Spector. Fenders record perfectly and are a standard.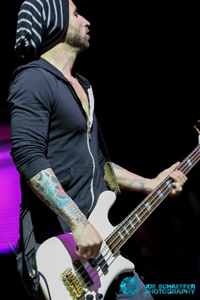 Glenn: Why Frontiers Records to sign a deal with? What was it specifically about them that stood out to you?
P.J: They approached us and we knew of them as one (if not only) real label carrying the torch for our genre.
Glenn: Why did you decide to name the new studio album 'Human Era'?
P.J: I had the title floating in my head for about a year. Its kind of a nod to times before cellphones and computers and the things we use everyday now. The things that connect us the most ironically disconnect us the most and I think Trixter is still together because of when we started the band. In an era when we had to be communicate on a face to face personal level. Not text!
Glenn: Which songs on there are you proudest of and why? What influenced them?
P.J: Our First single, 'Rockin' To The Edge Of The Night' is the first song on the record and our oldest song. I'm proud of how we brought it up to speed and put it on the record. Ironically, 'Human Era' is the last song on the record and was the last song we wrote for the record. That song just sums up what we are and I like how those songs are bookends to the record.
Glenn: What songs came together quick and which ones took longer to complete with regard to writing and recording them?
P.J: I know Steve wrote a few very quickly. He and I worked on a few that came together quickly like 'Crash that Party'. Recording of all of them went pretty quick and smooth because we don't even enter the studio until 99% is ironed out.
Glenn: How would say the recording technique has changed since the heyday of the band and what are your personal thoughts to any changes in the overall process?
P.J: Hellovalot easier and cheaper. We work at our own pace being that Steve has a home studio. There was a beauty to locking out a studio for 2-3 months and living in the bubble of making a record but nowadays who can afford that? Financially or timewise?
Glenn: How is the new album 'Human Era' being received overall and which countries appear to have taken to it best?
P.J: I've heard nothing (yet lol) but stellar reviews so I'm really happy so far. That goes for around the world.
Glenn: What else would you like to discuss that we haven't touched on?
P.J: I just put together a video for the song 'Human Era' that was released on June 22nd. It's made of vintage Trixter archive footage from my personal stash as well as footage from our most recent show in may 2015. It's a great journey through our career with old school Road/backstage footage that we all love to see. It's a video that every band would love to make!!
Glenn: What would you say you are most proud of in your career so far and why?
P.J: I'm most proud of just having made a career in music all my life. I've always been part of a band that I truly am passionate about.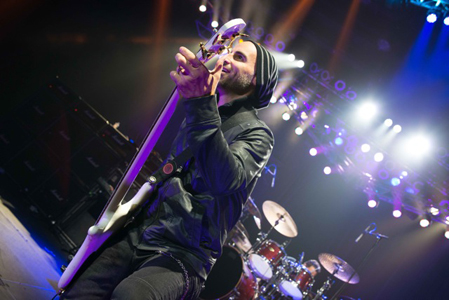 All photographs have been supplied and used by kind permission of P.J. Farley