An Interview with
Peter Scheithauer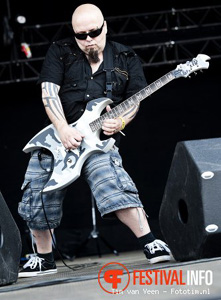 Guitarist and founding member of Temple Of Brutality, Killing Machine & Stream
that took place late August, 2013.
Interview by Glenn Milligan
Glenn: What turned you on to music and who were your first influences?
Peter: I grew up with music. My Grandfather used to drum in a "jazz" band. I listened to classical first - then metal which I think Metal is the logical step after Classical. My influences went from Bach to Pink Floyd to Kiss/Sabbath hahahhahha. As a guitar player I loved a lot of players - Ace Frehley, Billy Gibbons, Gary Moore, Ted Nugent, Rick Nielsen etc - people with true feelings.
Glenn: What made you choose guitar?
Peter: ACE FREHLEY!!!!!! I saw Kiss and that was it. Of course after I saw Ted Nugent, Rory Gallagher, ZZ Top, Gary Moore etc I saw Ace and it was like x-men on stage - loved the sound.... the look...... everything lol
Glenn: What was the first guitar you ever had and what did you learn to play on it in those early days?
Peter: Hahahah - my first guitar was an SG copy. I can't even remember the company who made it !!! Terrible guitar but I was happy with it - lol. I played a lot of Sabbath, AC/DC, Kiss, Priest stuff - well trying to at the time. Those are the bands I grew up with and those are still bands that I love to listen to. Oh I think the guitar was a Brooklyn hahahhahahhahahahahah
Glenn: Tell us about the 1st band(s) you were in and and how they came to be?
Peter: My first band was 'Stream'. I was recording demos in a small studio and I heard that singer recording demos at the same studio. I really liked his voice at the time and I asked him to sing on my demos. We had the same passion for US Arena Rock such as Kiss, Motley crue, Angel, etc Phil, the singer, loved the more melodic stuff but it was a cool combo. We than auditioned bass players and drummers. Not always easy and was a lot of changes until we found a line up that we were pleased with.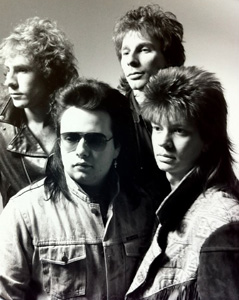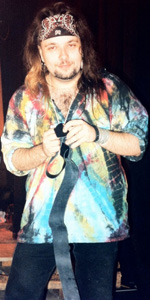 Glenn: What was the first initial step from going from amateur bands to being or forming a pro-level band?
Peter: Well we kept working on 'Stream' and we started to get interest from labels and promoters. We recorded our first album in Germany and started to have a following. Clubbing was fun and really the first step to becoming a solid band.
Glenn: How was the 1st band you were part of on the pro-level?
Peter: 'Stream' was getting there we did shows with Mama's Boys, Sergeant Fury, Victory, Joe Satriani but even though it was kind of fun something was missing. People start to have families, real jobs etc. making it very difficult to schedule everything as priorities because some members were not music anymore. I think it's the usual story for many many bands. My life is music so it was time for me to grow balls and move on to the next level and try and see if Ican really "make it".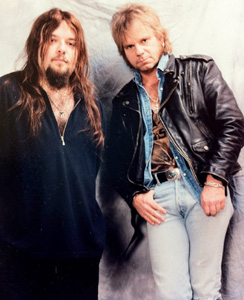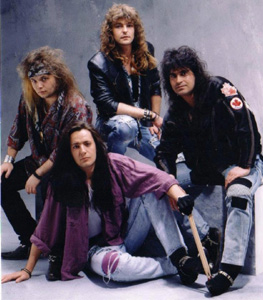 Glenn: What made you relocate to Los Angeles and what did you like and love about it most and why?
Peter: The will to try something at another level. I gave myself a year to go there and make a record with great musicians, build something strong for myself and also get familiar with another aspect of music which is business. As a musician if you want to go forward and survive, you have to be aware of all the sides of that business as sh*tty as it can be lol!!! LA was the place to be to meet great people and musicians and grow as a person - as a musician. I went to GIT and that helped a lot to meet some amazing talents.
Glenn: What were your fave places to go while there and what cool stories can you tell of being there?
Peter: Well I love LA. - everything about it. Love a lot of places from Sunset Blvd with all the clubs to the Valley where a lot of my friends lived. At the time my favorites places were the "classics" lol - FM station, The Whisky, The Rainbow of course, Troubadour etc the best stories were meeting a lot of musicians I grew up with and seeing also those guys in groceries stores etc. I always thought it was funny as more and more it became reality instead of a dream or trying to fantasize, imagine how those guys live. It's breaking one part of the dream as you are less and less a fan being part of a certain "circle" but also make you realize it's only music and people. Seeing guys like Gene Simmons, Axl, Nikki etc in clubs just being themselves checking other bands. When I moved in studio city you'll have a lot of them living close to each other. So you were crossing paths quiet often talking about whatever but not necessary music!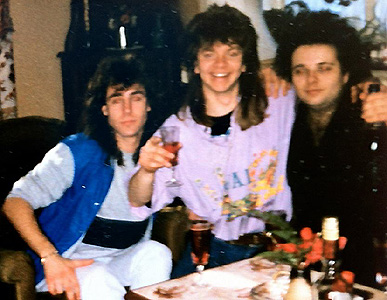 Glenn: What folks did you get to know while there that are worth mentioning and what moments stand out most in your mind?
Peter: Honestly they are all great mentioning as they are all part of successful bands and have an amazing career. Just for that - respect is due. Now of course some are really great people and some well lol.... but of course Stet Howland, Eric Singer, Dave Spitz Bob Daisley, David Reece, Mike Duda, Pat Torpey, Gilby Clarke, David Glen Eisley, Bruce Kulick, Dave Lombardo, Vinny Appice etc are all great people... meeting people like Gene, Billy Sheehan, Paul Stanley, Paul Gilbert, Lynch, Ace, Yngwie, Dio etc was always a great moment as a fan and musician.
The best moment was really every minute I was in LA as you never knew what was up for the next day lol.
Glenn: Where did you first meet Stet Howland and what do you remember most of the times hanging with him?
Peter: That's still one of my favorite storie (if not my all time best - lol) as Stet and I became and still are great friends. I met Dave Spitz a few weeks before and we started to work on some of my demos together. At one point we were ready to record some material for a cd. Beast asked me if i had already decided who would drum on it. I didn't and wasn't sure at all as I just came in and didn't know a lot of people there. He invited me to his birthday party at the FM station as he had a few friends coming to the party including Stet Howland and Eric Singer.....
I was at the bar talking to Beast when I felt someone grabbing me and pull me off the ground and said : "Hey buddy nice to meet you I heard we'll make a great record together !!!!". So on one hand he was holding me off the ground and in the other a beer lol - it was Stet - hahahahahha.
Can you say no to a guy that just pulls you off ground with one arm hahahaha? NO!!!! Just kidding - it just clicked Stet is an amazing human being!!!! I really have to enforce that as through BS, disagreement, deceptions and all we are still friends.... and of course that's not even including that Stet is a f*ck*ng amazing drummer and musical talent!!!! If people only knew what he brought to another band of his who someone else took credit for (no need to mention names lol) and helped friends in their careers or should I say, 'to have one' - hahahahaahh !!!!
I remember a lot of our parties (well at least I think I do or I hope I do lol).... and work and rehearsals ....... I think we can say we were dysfunctional efficient musicians hahahahahahahhahaha and that's really all I will and can say now :).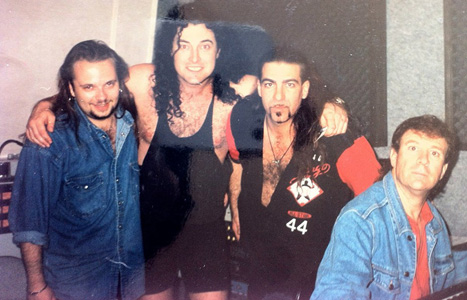 Glenn: How was it working with Joey Belladonna on his 'Spells Of Fear' album and how did that come to be for you and Stet?
Peter: Hmm - that's a tough one hahahahhahahaha - I love Joey - he is a cool guy. Working with Joey was different as first we were in Camillus, NY so like a football team we were playing on hostile ground - lol no. But Syracuse,NY was very, very, very slow compared to LA hahahhaahha. So being at Joey's the only thing was writing, writing, writing.... The first 3 days there I wrote more for a cd than I ever did .... probably 29 songs structures in 3 days!!!!! Joey had a German drummer Martin Claas (we are still friends btw) - a very cool drummer but Joey was complaining about him and me, I am used to Stet so I suggested to get Stet over there as Stet was already in Boston and i knew it would be a great record with him.
In LA Imet Fleisch (the bass player) and again it clicked so he was there with me. We did great takes on that record .... really but I wanted Liz Sroka, a friend of mine, who worked with Steve Vai etc to mix the cd. Well Joey didn't feel that way and wanted to mix the cd. That I have to say was a f*ck*ng big mistake. I brought the label in (as it was Stream's label USG/EastWest). They loved the demos we recorded at Gilby's place in LA. I think the drumming and the riffs on that record are great (yeah yeah I know of course I won't say anything else lol) .... but the frustrating, part as a songwriter, I wanted to hear the vocal lines and I didn't right away ... it took forever to get the vocals. Anyway not my best record as an experience but great riffs and drums hahahahhaha.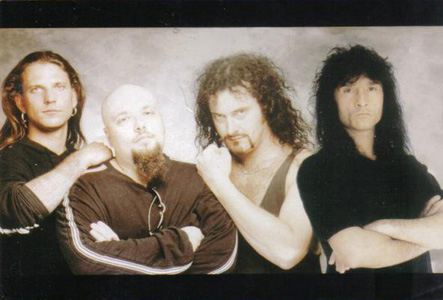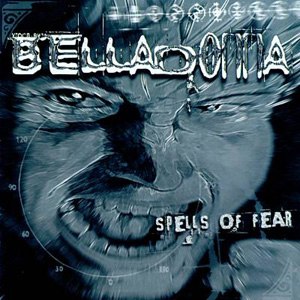 Glenn: What were the highlights of working with Joey and why?
Peter: Really easy .... Joey is a very intense musician and music fan!!!! When we were rehearsing and I showed him the songs etc it was like a first UFC round. We checked everybodys moves and I have to say, to me, very boring... but two amazing points .... once Joey went behind the drums (Stet wasn't there yet) and Joey has a great feel on drums!!!!! great groove. Second is when he knew the songs structures and melodies he started to sing while rehearsing. Okay give Joey a mic and f*ck - here comes Mister 1000000000000 Volts - this guy is pure energy ... period !!!!!!!! so respect ....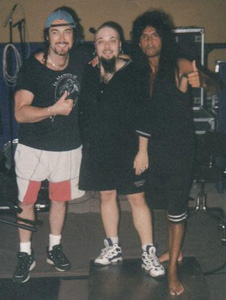 Glenn: What led to the formation of 'Killing Machine' and what stood out to you about this period with both line-ups?
Peter: Well I was rehearsing with Stet at drumdudes the rehearsing place that Stet created and built (again some else took credit for it!!!!! and we were just going through riffs etc and one of my main influences is Priest and I had tons of riffs like that. So we started to work on that while thinking about bass players and singers.
Stet suggested Duda and Vescera... Stet again always helped for his friends. When it came to the second cd, well Mike Duda was busy with WASP and I wasn't ready to wait. When I talked to James Rivera I knew he was the real metal deal :) I will come back about James on a next question lol ..... so I was working with David Ellefson on the 'Temple Of Brutality' and we talked about 'Killing Machine'.
Stet was also busy and was working on 'Temple' and I wanted and still am on TOB with it being my main band :) so I didn't want to mix the entire line up between KM and TOB..... and to answer some questions or comments... my heart is with 'Temple of Brutality' and my nostalgia as a musician is into 'Killing Machine'
'Killing Machine' was and is and will be (lol) true to my influences but who really cares about a clone of Judas Priest? Yes i get it - reviews were great, reactions from the fans were great. Do I love to play that sh*t ? Hell yeah !!!! Do I want to play that live? Hell yeah!!!!!! Do we have amazing offers compared to TOB ? Hell no!!!!!! I agree with James - the record is great .... but would have been huge? No !!!!! We didn't get amazing offers and it's old school tribute.
Do I want to make another one and play a few festivals? Yes but i'm not delusional. I know that, as of today, and at the time too KM can just be KM period. I don't have a band like Steel panther hahahahahhahahahah - Really do you see me in spandex and wearing a wig? Hell f*ck*ng no. I don't want to be sued - hahhhaha. I love James ....... he's a great guy .... he was one of my best men but KM can only be KM ..... I love his views and enthusiasm and he is an amazing singer and human being and yes I want to make another cd with him and finally some shows but no it won't be the next be sh*t hahahahahhahahahah but KM with James is without any doubt the best line-up possible...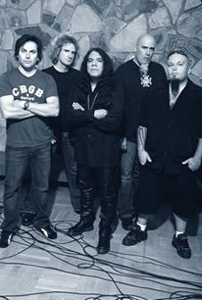 Glenn: What made you decide to call the band 'Killing Machine'?
Peter: Well I didn't!!! As much as I'm a Priest fan, the name was an idea from Mike Duda that loved the name 'Tracii Gun's 'Killing Machine' and got the name from there. When Mike suggested Killing Machine I agreed right away as I'm a priest fan and and fits the band :) Mike being busy with WASP, we kept the bands name as we had a deal and I had already written a few more cd's worth of material.
Glenn: How did Dave Ellefson come to be part of the band and how was it working alongside such a Metal Legend?
Peter: With David, we did TOB recording's in Florida. It's the first time I met David and again, David 's playing and personality clicked. We did TOB in one week and we planned the Killing Machine recording right there as we also loved the old school metal. David and I really came from the same influences/generation. We grew up on Kiss, Priest, Sabbath etc. I don't see David as a legend but as David :) David is just a great guy, a great musician and cares about his surrounding and like i said before.... we click when we play together. I was never a hge Megadeth fan except for the very first records and til Countdown... so I think David and I didn't know what to expect from each other. But TOB was/is and will be an amazing experience as it is the most fun recording sessions and touring. This band is just fun as there is no game. We are all happy to be there and to hang together. I'll come back to that later - lol.
Glenn: What were the highlights of 'Killing Machine' and why?
Peter: Beside recording the 'Metalmorphosis' record it was to come to europe and play with AC/DC and festivals like Graspop/Wacken/Stade De France etc.
The biggest mistake I made? Playing those shows with people that were not into it. Some are amazing musicians like Jari ..... amazing bass player, amazing guy but not his stuff. When Jochen Mayer came in this guy is great!!!! Great bass player and human being but vox were all f*ck*d up. The singer was amazing on demos - he is a friend of mine, Csaba, but had no clue stage-wise - big mistake on my part and i will take all the blame for it. I should have stuck to the people I knew would deliver but those shows were amazing!!!! Not the performances but the shows. And again - Jari amazing ..... Jochen - overall amazing and that's it lol. Also thanks to my friend and amazing Promoter, Gerard Drouot as it's because of him that I'm here today !!!! and me - lol.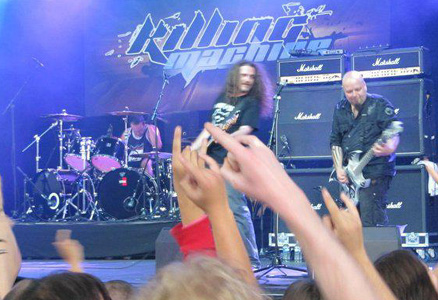 Glenn: Why did you decide not to go any further with 'Killing Machine' after the incredible 'Metalmorphosis' album as like James Rivera said to me himself, 'That band could have gone all the way'?
Peter: Hahahah yes I get it and thanks. All the way in 1984 of course but timing was all wrong let's face it, Priest are not doing the numbers they used to do - even live. So another "rip off "? We were/are 20 years late and that's ok. Let's live with our time and enjoy what it is !!!!
Glenn: How was it for you reuniting with Stet Howland again when you formed 'Temple Of Brutality', while bringing Dave Ellefson in there too?
Peter: I never reunited with Stet. We are friends and also we are musical twins - hahahahahahaahhahaah. David and Stet are the best rhythm section you can dream of. Like I said before about the Belladonna's recording - Stet is my balance. Yes I played with great drummers but this is again and again and again (I had to do it 3 times as I'm a Status Quo fan - lol). We all click... plus Stet can play whatever - jazz, metal, rock, blues and he will show you - hahahahahahaha. And David - What can you say? That he is the best big four player so the best metal player ever! And to answer the feeling about the band ..... being soooooo different we still love each other !!!!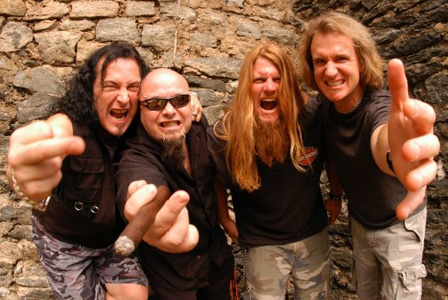 Glenn: Why did you decide to got for that brasher kinda style - was it because that is what was in at time or was there other reasons for it?
Peter: Nothing decided me to have a style or another. I love metal from Sabbath to Slayer :). My "ears" changed since I moved to the US ..... but I'm as much influenced by Sabbath and Priest than Slayer or Pantera so I didn't change or try anything different than who I am. First I am a musician. I love to write and a lot of time I have riffs coming in that are great for a priest type of band or a Pantera type of thing. What really hapened is when I did 'Temple Of Brutality' we started to tour and the connections between us are j*st f*ck*ng amazing. I have to mention one person I didn't yet - Todd f*ck*n' Barnes (Temple Of Brutality's Singer). I saw him in LA with his former band and I was like: "Dude i need to get that guy in a band..... he just dominates that f*ck*ng stage. The guy is a natural on stage but what I love about him and TOB all together - you get what he is. You don't have fake f*ck*rs in that band ... hahahahhahahahahhaha. It is what it is though I hate that saying. Anyway, it's true to itself and if you don't like it ....... well too bad .... hahahhaa who am i kidding .... F*CK *FF hahahahahhaha.
Glenn: What were the highlights of that band for you with regard to recording, songwriting and performing live?
Peter: Hahahahahahah - Temple is the highlight
Glenn: What have you been up to since 'Temple Of Brutality' since it's seems to have gotten so quiet on the music front with you?
Peter: Not really. I played the biggest festivals and stadiums with a hybrid Killing Machine. Then as usual for a couple of years i disappear and write. It took me a bit longer as I had a surprised divorce hahahahhahaahah but i'm back ... TOB will destroy 2014 and I have another project with Bob Daisley that I will tell in a few weeks Recording with the most legendary drummer in metal history but my focus is 'Temple Of Brutality' right now ..... and I will call James as well - lol.
Glenn: I just found you record two more 'Killing Machine' albums that we never recieved or were even talked about much. Care to tell me about those albums?
Peter: Not really - hahahahahahhahahah. No kidding - the first one was with Mike Duda and Stet Howland ..... second one is more a "best of" both cd's for the shows with AC/DC and festivals.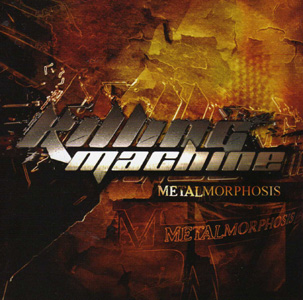 Glenn: Will be reforming 'Killing Machine' any time soon and if so, who will be in the line up and why?
Peter: Not sure. I have tons of songs for it. i'll call James as for the line up ... hum .... i'm not sure yet :) I write all the songs musically so guitar me, vocals hopefully James .... Drums hopefully Stet or Jimmy and Bass David :)
Glenn: What else have you recently been up to that you can talk about that you have in the pipeline that you are allowed to talk about and how did they come to be?
Peter: Damn - just did working with Bob Daisley on a very heavy dark cd and we are talking to Bill Ward. I'm also working on a "rock'n roll" cd with Johnny Rod, Butcho Vukovic on vox and Rob Affuso ... fun band and music - back to my roots. I am having more people involved too - just fun. That's the key from 'Temple Of Brutality' to 'Devil's Soul' (the band with Rod/Butcho and Affuso).
Glenn: What have your favourite tours been over the years and for what reasons?
Peter: 'Temple Of Brutality' anytime. This band is just great to be around - no real egos, complaining or whatever. We are just hapy to be there and love what we do!!!!!!! But thanks to Disturbed, Chimaira, Arch Enemy to be such great bands to play with!!!!!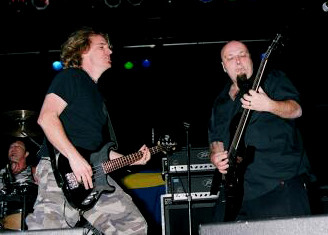 Glenn: How would you descibe the guitar style of yours and how would you say it has changed over the years?
Peter: Changes? Well my ears changed. I'm gettin more brutal in my playing. I love picking every f*cking note. I hate melodic solo's in very heavy music. It's like i'm gay but I won't say it ... a lot of those new bands - they have great f*ck*ng riffs during verses than a corny melodic chorus and a f*ck*ng gay ass melodic solo......
Ok, I feel like I have to explain the gay ass expression ... that has nothing to do with any sexual preferences - I really need to precise that as I have no judgement on a person what's or ever as long and he's not a f*ck*ng idiot, small minded *ssh*l*.... who cares about that in 2013? Answer: F*ck*ng frustrated idiots. But if you play f*ck*ng heavy riffs don't play a damn bon jovi solo!!!!!!!! Play a razor blade screaming Darrel or Jeff solo (RIP to two of the best metal players ever !!!!!!!!!). So i changed being more brutal in my approach!
Glenn: What places you have either lived in or played in have had a big impact on you on a player and a person and for what reasons?
Peter: I think LA - it's so eclectic ..... and I need my palm trees hahahahahhaahahah f*ck the snow......... the cold ......... and bitter people hahahhaha.
Glenn: What are your favourite tour stories that you can legally tell?
Peter: Wow - legally not much hahahahahahahhaha. Again the best tour as a whole Temple Of Brutality as a nice story: We were in Atlanta (love to play that City ) and Stet and I ran out of wine!!!!! That's a danger in itself - hahahahaha. Michael from Arch Enemy offered to go to his bus and get some more!!!! Mow that's Metal brotherhood hahahhahah and the legal part of the story hahahaha. Stet exploding snare skins!!! being p*ssed off - great too!!!!!! Spending nights drinking wine with Bod Daisley telling stories!!!!! Those are the ones that stuck in my head ....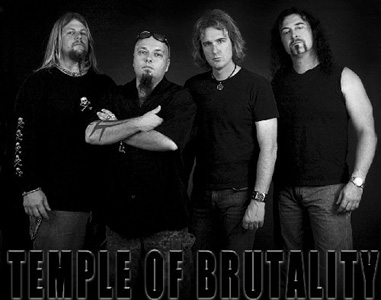 Glenn: What hobbies and interests do you have outside music and what turned you onto them?
Peter: I love history. My family was really involved in some of the crazy ones - lol. I love cooking as while cooking you're trying the wines etc hahahahhah and it's peaceful ... same as music - you're creating things :). I had that diner in LA at Stet's place in West Hollywood and I prepared some crazy chicken stuff. Suddenly Ricky Medlocke, DJ ashba etc showed up and came all for dinner. That was f*ck*ng cool hahahahha. I love art, music, history and cultures .....
Glenn: What have your learned most about the Music Business and what have been the craziest things about being in it?
Peter: Being in it IS the crazy thing about it hahahahahahahahah learned hummm just a life logic you only have a few friends - hahahahahhaah
Glenn: Who have been the best label you have been signed to over the years and for what reasons?
Peter: NONE hahahahahhaahaha but it will come hahahahahhaha. See I lied - I'm delusional hahahahah.
Glenn: What would the older Peter like to inform the younger Peter about if you had the chance and why?
Peter: Wow again - that's a nice one. I think the more you are growing up in that business the less you feel you want to tell people what it is all about. I know that some people will read that interview and say, "Look at that f*ck*ng *ssh*le!!!. Well my answer would be, "Dude I was nice right now as I didn't want to upset a lot of people" - hahahahhaa so I would tell the young Peter, "Don't dream about it, don't talk about it and don't try to understand it ... just go bully your way in and see what happen .... experience your own ........ and if you feel you have it never give up ...... but be ready to cry" - hahahahahahahha.
Glenn: When can we expect you in the UK and under what guise would we be talking band-wise?
Peter: I really hope and work on being there in 2014. I love the UK and lived there for a while and we are talking about f*ck*ng TOB.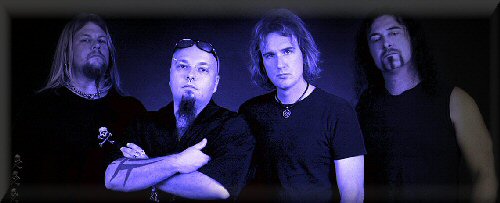 Glenn: What would you say your favorite guitar is that you like to play and why?
Peter: Wow again hard but ESP's are f*ck*ng amazing!!!!! They were great to me for the last 12 years and honestly great guitars and people ......
Glenn: What are you most proud of so far and for what reasons?
Peter: I'm really proud of the 'Stream' cd with Bob Daisley and Eric Singer! as a fan cause I played with guys I bought tickets to see when I was 14 - hahahhahaha and sounding wise great record. Going into rehearsal and have the Gary Moore rhythm section - wow dude. Working with Bob in my living room and realizing it is the legend Bob Daisley right there!!!!! and I have to say right now Bob is my friend - he is Bob not the legend - same with Ellefson. I have so much respect for him but he is my friend and I see him as David and Stet who is my bro and Todd same thing. Having those guys as friends - that's what I'm proud of!!!!! Proud of the Disturbed shows, the stade de france show. But the most - me hahahahha coming from a little sh*tty french town and ending up playing with so many great people :)
Glenn: What would you like to talk about that I haven't mentioned in the interview so far?
Peter: Not too much more hahahahahhaha except Todd Barnes (temple of brutality) is a great singer and we forget to say that. I get it some people don't like it well say for Pantera or Metallica or Testament or Manson etc... Todd is "force of nature" hahahahha and influenced a lot of people. James Rivera I love and would love to record again with him. I know it would be great but all in all I love music and that's it - lol.
Glenn: What would you like to say to the fans worldwide and the readership of Metalliville who have been reading this interview?
Peter: Support metal - any kind of metal. Be open minded. Buy records as if you don't at the end bands will just disappear. It will only be cover bands. Also we love you and we hope to see you as many as possible to our shows lol and all the shows really. Love you all and horns up!!!!!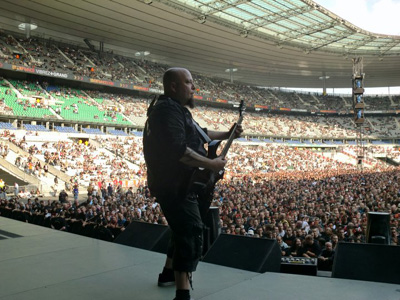 Big thanks Peter for a very riveting 'n' revealing Interview!