(Recieved 20th September, 2001)
1.Will the line-up remain or is it a one-off for the album and Tour?
This line-up will remain the same.
2.How did the recording sessions go with Gilby Clarke Producing?
This is our third cd with Gilby, and the band is very comfortable working with him because he is an old friend and great musician himself.
3.How have the reviews been so far?
All positive
4.What are your favourite songs on the 'Man in the Moon' album and why?
The title track because of the way it pushes air. "Beautiful", because of it's simplicity.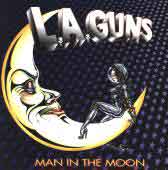 5.How has the current tour been going with regard to attendance, vibe of crowd, show overall?
Attendance has been very good. The vibe of the crowd is great because they know LAG with Faster is going to be two great shows. The performances have been on fire.
6.What can we expect to see when you guys hit the UK shores? What will be featured in the set? Are you doing much of the excellent new material?
LAG has to do 8 to 9 favourites in the show and we try to surround these with some of the new stuff. I really enjoy doing 'Beautiful', because it's a song I wrote about being with my daughter and my family. I have only recently, in the last 3 years or so been able to find alot of my family, many of whom are in Ireland & Scotland. Beautiful came together when I was visiting my folks in Ireland and we were all sitting round talking and playing guitars and singing one evening.
7.Which songs do you most enjoy performing live and why?
All the songs are so close to us, that would be hard to answer.
8.What songs are the current crowd pleasers?
Of course Ballad of Jane, Rip and Tear, Never Enough etc.
9.Why did you re-record the Cocked and Loaded album?
Because Cleopatra Records paid us. and we like working with Gilby Clarke of course. Gilby is a good friend and also played in one of my club bands around LA shortly before I re joined LA Guns. We had different names and did mainly covers and generally enjoyed ourselves.
10.Who would you say are your biggest influences and why?
My personal favorites are Mitch Mitchell and John Bonham. They both had it all.
11.How do you construct songs in the LA Guns ? Acoustically? Electrically? Is it music first? Lyrics first? or at the same time?
Tracii will bring in a ton of riffs. We will then work on these to shape into a song. I will take these arrangements back to my place and write the melodies and lyrics.
12. If there have been things you could have changed in the bands career what would they have been - if any?
Not to have broken up in the 90's.

13. Why has it been so long since you last came to the U.K.?
Scheduling
14. How did L.A. Guns and Faster Pussycat manage to get a tour together ?
We are old friends and have wanted to tour together for a while.
15. Who else would you love to Tour with in the future?
LAG and G+R would be fun.
16.If you guys weren't in a band what would you be doing for a living?
Will have to get back to you on this one.
17.What hobbies have you got outside the band?
Skating, skateboarding, working on cars, reading; I just read the Will Self book and also really liked reading Memwoirs of a Geisha and Perfume.
18.Are any solo projects gonna be happening in the future? e.g. Phil Lewis solo albums etc.?
Right now LAG is the main priority.
19.Do you have any great stories to tell with regard to touring and recording?
After doing this for so long, it's hard to zero in on any particular story, but I can say it has been a crazy ride so far. Muddies and Tracii's rendition of Terrance and Philip from South park got us in trouble , causing an aborted border crossing into Canada recently, it was a real farce. It might have been funny were it not 5am at the tail end of seven shows in a row!

Thanks for all your support Glenn.
Phil
A Big Thank-yous of course to Phil Lewis (LA Guns) and Darren Edwards @ Eagle-Rock Records for making it happen -Cheers Matey!!!
- Glenn.