An Interview with
'Phil Varone'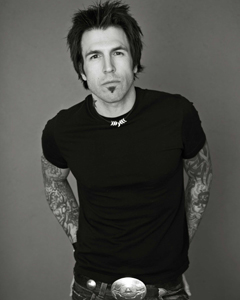 Drummer of The Bobby Kimball Band
and formerly of Skid Row, Vince Neil & Saigon Kick
that took place on August 31st, 2016.
Interviewed by Glenn Milligan.
Phil: Hello.
Glenn: Hi Phil, it's Glenn from Metalliville, how are you doing Sir?
Phil: Good. How you doing?
Glenn: I'm good man! How's your day been so far?
Phil: So far it's been amazing actually. It's been very good.
Glenn: Awesome. You just got back to playing drums professionally again, what made you decide to come back to it?
Phil: When I took a break back in '05, I was burnt out from touring and the business end of it. After some time and doing some other things I got the bug again. I had to go through a phase where I had to appreciate drumming again and realise why I started playing drums in the first place. After so long in the business and dealing with not so nice people and just the business end of it, it didn't feel like it was when I was a kid. Now, even though I am older, I feel like a kid again and that I want to play. I had to get through to the root of drumming.
I had to forget about Rockstars. I had to forget about trying to outdo people and prove things. I just wanted to be a drummer. That's why I got back into it because of the live of drumming. I think that it's made me a better drummer now. When you are older, you like to think that you are wiser in some respects. The main part is that I look back now at my career and I'm grateful for it and I respect it, whereas before I was angry and bitter. I came full circle.
Glenn: So I guess instead of being a 'Born Again Christian', you're a 'Born Again Drummer'?
Phil: Pretty much, yeah! That's a funny way to put it buy pretty much! It took the time away to really appreciate it.
Glenn: What is it about the drums now that you are enjoying more?
Phil: Well I'm not caught up in the Rockstar thing. I think that when you are a kid and you're looking for your first record deal and all you know is 'Sex, Drugs & Rock 'N' Roll', that's what you basically go after. I grew up in the 80's. That was the hey day of 'Sex, Drugs & Rock 'N' Roll'. My favourite bands were Motley Crue, Ratt and all those guys like Twisted Sister. I would listen to them non-stop. Motley Crue was one of my favourite bands so all I wanted to do was be Tommy Lee. As an influence he is an amazing drummer but I was also influenced by the antics, the chicks, the drugs and all these other things.
These days, I am not. It's like I have nothing to prove. I've already done all that stuff and I just want to have a romance with my drums now and not get caught up in all the stereotype activities that a lot of bands do. When you're a younger band, I think it's a fun thing to do. When you are my age, now it's about being a musician. It's about being a drummer and not a Rockstar.
Glenn: Yeah. Plus the fact that as you get older, you can't abuse your body as much because your body has got older and you've done all that stuff way back anyway. It would be fatal somewhat.
Phil: Yeah and I feel it today. I didn't realise how much it would come up but I know that my back hurts from drumming. Your bones ache and with all the booze and the drugs back then, you probably add a few years onto your body than you are. I've been fortunate that I've come through it pretty healthy but the aches and pains are there. There's no doubt. It takes a little bit longer to heal from it. You get a little more blisters. Things hurt a little longer but that just comes with age anyhow. Besides that, it's just the fact that I'm alive is good for me. There was a time where.. wow.. the excess was insane. So now that I've come through it, I think it's time to just focus on being a drummer. As I say, I just want to my drums, get paid and shut the f*ck up, that's what I want to do. I don't want to be a band member. I don't want to deal with band politics, I don't want to be a rockstar, I just want to be a drummer.
Glenn: Yeah!
Phil: If you pay me, I'll play great for you, I'll show up, I'll shut the f*ck up! That's good.
Glenn: Cool. I'll tell you what though, to say you have done all the excess with drinks and drugs, to look at you, you'd never think that. You'd be expect to look old and haggard but you don't.
Phil: Yeah, thank you. I'm as shocked as you are. I say the same thing. I'm going to be 49 this year and I think the biggest thing is when I really recognise the fact that I'm aging okay was when my daughter was at college at the time at FSU and I went to a parents weekend. I remember that I was at this fraternity house and I'm watching the kids play beer pong. I was looking around the room and thought, "Oh, so that's what a dad looks like? Because I don't look like the normal dad. I think a lot of it has to do with the way I think. I don't really think about age so much. I don't think that I'm 49. I'm probably 18 in my brain and in my heart. My bones tell me differently but for the most part, I'm definitely grateful that I'm aging okay. I always said, "I think I kept myself pickled for 20 years". Now I'm waiting for the reverse to happen and get old and fat but so far, so good. I try to lead a healthy life now and do the best I can.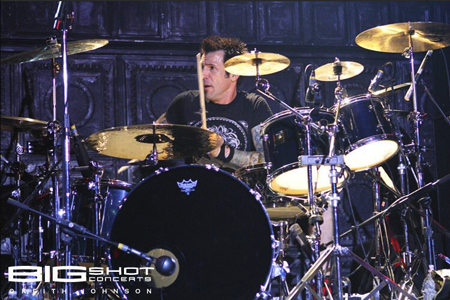 Glenn: Yeah you definitely seemed to have preserved yourself well anyway – the pickled bit!
Phil: I'll take it. As long as the hair's there – I still have the hair, I I feel good so I'll take it.
Glenn: Yeah. I find that funny that you say on your Facebook page that your hair is allowing you to have photos taken. It's like, it's not the woman that wears the trousers, it's your hair! That's pretty funny.
Phil: It's take a life of its own and so many people say, "Do you know what, you should just have a Facebook page for your hair?" What really just started as just a bit, from "How's your day, how's my hair?" has turned into something really funny. I say, "The hair's the star and I'm just along for the ride". It turns into that. "But yeah, I'll be there and my hair will be taking pictures as well". I'm just having some fun with it.
Glenn: Yeah, it's a good novelty to work with. It's almost like 'hidden agenda marketing' and people remember it.
Phil: Yeah, they do, they do. Any picture I post, and they tell you if my hair is awful too. I remember when I did 'The Oprah Winfrey Show', I was on there and I had the worst hairdo in history. It was so bad and the fans just ripped me apart – in a funny way. But even on a bad hair day they let you have it, so it's actually kind of funny. I like the playfulness that comes with it.
Glenn: That's cool. Ultimate Jam Night - How did you become part of playing for that?
Phil: I've known Chuck Wright for a while. I live in Las Vegas but I've been hearing about this jam. I sent Chuck an e-mail a couple of months back. I said, " Hey, if you ever have an opening, I'd love to come down and play", because it's a short drive – a four hour drive or a 45 minute flight to L.A. He said, "Yeah, we'd love to have you!". That's what started it. I just wanted to play. I love jamming with bands. Even if I go out around here and there's a band playing, I'll ask to sit in and have some fun. That's how it started. Then they asked me back a couple of times.
Unfortunately, the one time where we had those gigantic bush fires, they actually closed the roads and I got turned around so I actually missed that one. Then they asked my to do the Lemmy Tribute which I thought was a tremendous honour. I'm happy for the fire that I got turned around. It was great to play the Lemmy Tribute and honour such a cool dude. It actually worked out in my favour. I am looking forward to playing some more. They'll shoot me a text and say, "Hey are you available on this day? Come on down!". That's how it has been going these days.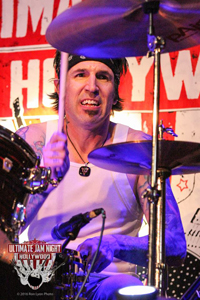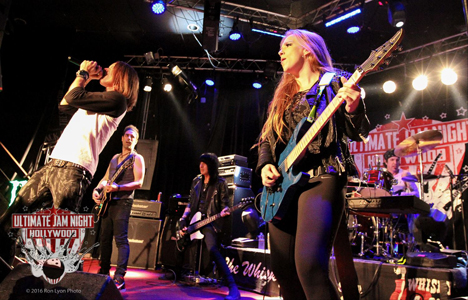 Glenn: That's great. What would you say your favourite memories of being around Lemmy are or Motorhead overall?
Phil: We were touring South America with Motorhead. We were doing the 'Monsters Of Rock' Tour and I was with Skid Row. There was Iron Maiden, Mercyful Fate, Skid Row and Motorhead and we all travelled on the same plane which was insane in itself. Our lobby called and we came in at 6 or 7am. We came in haggered – hung over from the night before, barely awake and Lemmy always looked perfect. He was dressed from top to bottom. Just slick. Just a nice guy. I didn't know him originally.
I met him on that tour and he always came over as a pleasant, classy guy. We would talk. No matter how haggered I was, we would talk. I loved that he lived it. He was in those outfits! I mean, getting on a plane with a bullet belt was pretty funny and he wore it. That's what is was about. I just remember him being a class act. There's people in this business that you meet and you're a little disappointed with and Lemmy was just a class act. Just a classy guy and will be missed.
Glenn: Yeah, I first met him back in 2003 on the Hammered Tour at Rock City and he was a straight shooter. He was great. Such a perfect gentleman.
Phil: Yeah. That's what it's about. He was real. He lived it. There's no gimmick. What you see is what you get. I thought he was just pure class and a great guy.
Glenn: Definitely. I know Scotti Hill does the Ultimate Jam Night now and again. Have you played alongside him yet there or is that a thing that's still waiting to happen?
Phil: I would love to. I haven't. It's funny because when I played the first time, we played a Skid Row song and Scotti wasn't playing. I haven't played with any of my old band mates so hopefully that will happen. That will be a lot of fun.
Glenn: Yeah. That would be awesome that. It would be like a mini-reunion or something.
Phil: Well I don't know about that but it would be fun. We haven't played together since 2005 so it would be a blast. He's such a great guitar player and a wonderful guy. So it definitely would be a lot of fun to do that.
Glenn: Yeah! When you were doing the Lemmy night, which songs were you performing and how did it feel for you to be up there?
Phil: I played 'Born To Raise Hell' and 'Killed By Death' and it was great. Dug Pinnik was playing bass from Kings X. I've always been a Kings X fan. It was just really great to play. It was a fun night. There was really a great energy in the crowd. Lemmy's Widow was there on-stage. She loved it. She came up to me before the show and said, "'Killed By Death' is my favourite song. I cannot wait for you guys to play that so do it good". In the back of my head I thought, 'Oh great! Put more pressure on me!'. But yeah, it was a blast. Like I said, playing that stuff and being a part of that was an honour. I was really grateful thy asked me to.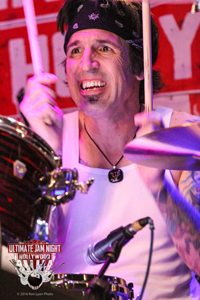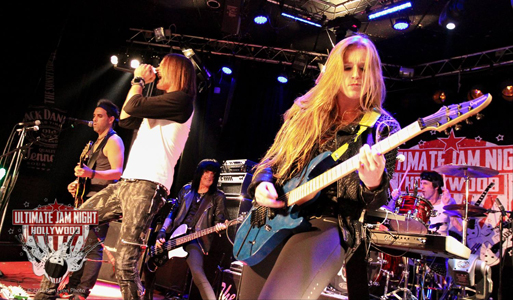 Glenn: You hosted a show not long since called 'Shelter Slam'. How did that come about?
Phil: They asked me to host it. It was a charity event to raise money for animal shelters in the New York area. I like to do a lot of charity stuff. I find that giving back… anything I can do.. anyway I can help… jam or whatever, I just love to do that. So they had asked me to do that and it was a lot of fun. It was in New York. It's funny because I'm from Long Island which is upstate New York. When it was all set down, they raised some good money for the shelters. It was a good event. I'm always open for that stuff. I get contacted to host certain things all the time and it's always fun and my pleasure to do.
Glenn: What is most about hosting that you like and how did you get into that?
Phil: Well I started doing 'Stand-Up Comedy' and I was in Los Angeles. I was doing comedy, doing stand-up and I created a show for the 'Improv' on Melrose called 'The Sex Stand-Up and Rock 'N' Roll Show' and I hosted that. Doing stand-up comedy helped me so much in public speaking and hosting because everybody has to have a little humility. When you get onstage and you bomb and people are booing you and telling you to get off the stage and go back to playing drums, that can really rattle you but for me, it just helped me.
It helped me really develop an act, learn how to host, learn how to keep a show moving if there are lulls. It really was great. I started back then and I just love hosting. I guess it's the ham in me. If there's a microphone, I like to get on it and my stand-up, doing comedy for years is a tremendous help when you've got to fill time and you've got to do stuff. You have that artillery that you can throw out there. I learned over the years doing that.
Glenn: I just had this crazy idea because when you've been in a band and it's drum solo time, you say to the crowd, "Oh I'm bored of doing drum solos, I'll tell some jokes instead".
Phil: Yeah, yeah! As a drummer I can do my own rim-shots when it's actually funny. That's another thing too when you talk about a drummer because as a drummer, we're in the back and although they hear us and we move the people, for me it was always like I had three or four guys in front of me. I felt safe playing drums because I could do that. When you do stand-up comedy, I didn't know how to do that so it pushes you and it challenges you. Some nights are brutal but what you take from it is what I did. I didn't take the band, I took the good from it. You develop. So as a drummer who was always sitting in the back, it's nice to get up front and get on the mic. I enjoy that a lot. Maybe it's my ego or whatever the case is. You have to have a little bit of an ego to even get on stage. But I found myself really enjoying it and being one on one with the crowd instead of just sitting back there playing drums.
Glenn: You've mentioned 'worst nights'. Were they on 'Melrose' at the 'Improv' or elsewhere. What made the nights so bad?
Phil: I was doing this material. It wasn't there. It was at a different club. When I got there the PA had broke. The host of the show who is a friend of mine said, "We have no PA, so if you don't want to do the show", but I said, "No, let me do it! It's going to be like 'Summerstock', we are just going to yell from the stage – who cares!". It was a small enough room and there was probably about 40 or 50 people in there. It was a small place and I was doing some material and some girl yelled, "You're not in the f*ck*n' band anymore, why don't you go back and get off the f*ck*n' stage!". It was really brutal.
I don't know what I said in return but it was something along the lines of "I'm gonna go home and stare at myself and my gold and platinum records, so f*ck you guys!". It was something like that – one of those returns – a thing that got people laughing. Just driving it home that I already have a career. I remember a comic called 'Ilisa Shlesinger', who is my friend. She won 'Last Comic Standing'(in 2008). She came over to me and said, "That's f*ck*ng hysterical. That's how you do it. Just not give a shit."
Going up there already in another career – that hurts you. It gets you into doors but no-one give a sh*t who you are until you make somebody laugh. I think I overheard Chris Rock or Jerry Seinfeld say, "Jack Nicholson can get on stage – he'll give him five minutes before they bore and tell him to get the f*ck off the stage". It's about the comedy. You learn that very soon into it that it wasn't about where I'm coming from, a guy has got to have a really good pat or they are going to let me know it so a little humility never hurts. It makes you get good fast. There isn't a comic alive who will not have a bad night. You've just got to shrug it off and go onto the next and learn from it. In their defence, they're an audience, they just need to be entertained, so it's my job to do it and if I can't, they let you know. It's plain and simple.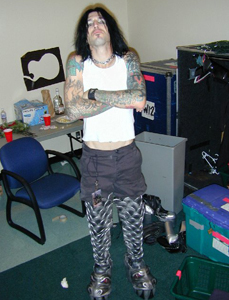 Glenn: Exactly. With regard to drums, I noticed you have some endorsements like 'Rich Sticks'. Tell us about them and how you became an endorsee.
Phil: 'Rich Sticks' is a new company. They are really great. A good bunch of guys over there. A good friend of mine, Jonathan Mover who is a fantastic drummer, a tremendous drummer, he told me about them. The industry has changed greatly. The budgets aren't there for these companies anymore. They are endorsers for the guys that are out there now, so they only have a handful of guys, like me that had a career at one point. It's really tough to get anywhere with endorsements. I spoke to them and they were gracious and told me about the company and how it worked and how they'd just started, their loyalty to endorsers and what they would do for me.
I thought it was a great fit and I signed up with them. I couldn't be happier. They make an amazing product. Top-notch on their A&R. I could call them on Sunday and he would pick up the phone if I needed something. They take care of everybody and customers as well. Everybody is taken care of so they are really just a great company. I'm happy to be with them and I'm happy to endorse them.
Glenn: Would you say that's a similar sort of thing regarding Evans Drumheads as well?
Phil: I've been with Evans Drumheads for 25 years.
Glenn: Holy Hell!
Phil: Yeah. I was with Evans before D'addario bought them. In fact, with the old man, who passed away who started the company. I've been with them ever since. They are just a great company. The loyalty again is there and they are just a wonderful brand. The brand is great, the company is great and I couldn't be happier there. Obviously, staying there for that long is proof. I have another drum endorsement coming up that will be announced soon. I've got shows coming up. I am touring Mexico with Bobby Kimball from Toto. I'm playing drums for him. Then we have some other dates next year. I'm just currently looking for a gig. I honestly want to get back on the road and looking for a band that wants to work and tour. When that happens it's a little to get other things endorsement wise. At this point, I'm pretty happy with everything.
Glenn: Yeah, I interviewed Bobby in 2012 and saw him at the Whisky A Go-Go. A phenomenally nice guy and what a voice! A faultless guy. Brilliant!
Phil: Yeah! The great part about it is the pedigree of drummers that that band has had. I really pushes you as a drummer. There's times when I'm pulling my hair out going, "Why did I agree to this?" but as a drummer, it really, really pushes me to be great. That's the situation I wanted to be in. It's really real. It's so much fun to play – Porcaro stuff and play Toto songs because as a kid I grew up listening to that stuff. To play it is an honour in itself but I am having a great time with that.
Glenn: Yeah! You were saying earlier that one of your favourite bands was Motley Crue and then later you got to be a drummer for Vince Neil. That must have been something rather special?
Phil: Oh it was amazing. It was unreal. I remember the first night of the tour. We were opening up with 'Shout At The Devil'. He ran the intro that was in the beginning of the 'Shout At The Devil' record. I'm listening to this intro playing and I flashed back to the first time I saw them opening for Ozzy in '83. I was just a kid in a bar and I'm listening to it because I used to play the grooves off of that record. Then I snapped out of it and went, "Holy Sh*t, I'm gonna play right now!". I needed to play and I sat down at the kit and started playing 'Shout At The Devil' – you can probably still see the smile. It was a dream come true and just a very surreal.
Vince and I became great friends. I was just telling a friend of mine about the stories Vince would tell me. Him and I have a couple of drinks and we're sitting around – two guys and he starts telling Motley Crue stories. I am in awe! I've said that the minute you think you've done a lot of crazy sh*t on tour just listen to Vince tell a story or Ozzy tell a story. Then you've done nothing. You've done absolutely nothing. That was a lot of fun. Hopefully, I'll play with him again. That was great fun.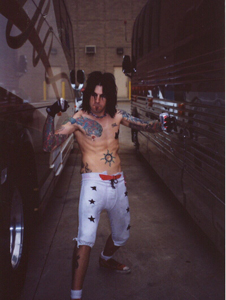 Glenn: That's cool. And of course Vince lives in Vegas as well now.
Phil: Yeah. I see Vince out here a lot actually. He's been touring a lot but we have very close mutual friends as well so we always end up in some room together when he's in town. It's always good to seem him. I just saw him in Nashville actually. I was in Nashville for a bit and he was playing. I got the chance to hang out with him over there.
Glenn: Well one of our mutual drummer friends is also playing in Las Vegas for a few months, a guy called Stet Howland.
Phil: Yeah, Stet. I literally was just talking about him today with a good friend of mine in Florida. Yeah he's got the gig over here. In fact, he had text me last week when they got here. One of my close friends, Mike Nash, his Fiance, Megan is singing in the show as well. I'm definitely going to go and see him play. He's an amazing, amazing drummer. Not to mention, just a sweetheart. An absolute sweetheart. It's going to be fun to see him. We had a Bobby Kimball gig in Florida and I was rehearsing at his place so I got to see him back then.
Glenn: Yeah he also had the Wednesday night at the Beached Whale.
Phil: Yeah, I sat in with his band, 10,000 Views. It was a blast. He's one of those guys. One of those guys in the business that you walk away and say, "They should all be like him! He's just a great guy.
Glenn: I totally agree. Completely! The stories he can tell… it's like, "You what!!!"
Phil: Yeah, those days were just fun. When you're trading them back and forth. It's a circle. Half the time you know the same girls in the same cities. It all comes together. It's always a lot of fun.
Glenn: What songs were you playing with 10,000 Views because I was in the UK at the time and couldn't be there?
Phil: I think I played 'Comfortably Numb' from Pink Floyd.
Glenn: I bet that was the 1st set that they do. When they do that dinner crowd set as they refer to it.
Phil: It was fun to get up and jam. I love jamming. Getting through it is always fun. It's usually a train-wreck but it's fun doing it because no-one gives a sh*t. It's fun. You can't take it seriously. Just get on the set and start playing. The fans enjoy it so that's always fun.
Glenn: How did you originally meet Stet?
Phil: I did a documentary back in 2006 and Stet was playing with Dave Ellefson in the band, 'Temple of Brutality'. They played the premier party. That's how I met him.
Glenn: Got ya! Cool! Do you have a similar sort of an adrenalin rush if you hosting, doing stand-up comedy or drumming? Do you have the same sort of feeling beforehand?
Phil: I think so. The difference would be because I know how to play drums, I am not concerned or scared so much. Stand-up comedy scares the sh*t out of me which is why I want to do it. The possibility of bombing and things going so bad is almost like the drug if you will. That's what makes you get up there because when you get that laugh there's nothing like it. It's almost like when they say in drugs that you are chasing the dragon, you're chasing that laugh all the time. With drums, I'm very confident as a drummer so I don't think.
As a comic I'm constantly thinking. With hosting, you're constantly thinking about stuff and moving along doing this. But when you sit down behind the kit, you know the songs and it's almost like you are not thinking. It's just natural. It's second nature so I think that's the difference but equally exciting. I love getting on stage and playing drums or hosting. I love getting on stage. I love being in front of people. I hosted a live TV show here in Vegas called 'I Love You Live'. They had guest hosts there and I guest hosted there a couple of times on television. It was absolutely amazing. I love live TV and I love being in front of the camera and having a good time. Anymore of that stuff, I'll take that stuff any day 'til the plane drops but I love drumming as well.
Glenn: Cool!
Phil: I'm keeping my options open for the future.
Glenn: And why not? You've got plenty of skills there you can work with. You may think, 'I'm bored of doing this so I'll do this or that'.
Phil: That's the idea of it. People always ask me, "Why'd you do this? Why do you do that?", "Well because I lived, I'm living!, Why not? You can do it! Anybody can go and do stand-up, get up on stage, I recommend it! You want to act? Go and take acting lessons. That's what I did." I set goals for myself and you also have to be realistic. When I was taking acting lessons, I knew I wasn't going to be Brad Pitt, okay, I knew that because that's crazy but I did know I was good enough to get the parts. That's what I did. I got on some TV shows. I did some commercials and I was good with that. I set my standards on what I would do. I'm a tattooed guy. I'm going to be able to audition for certain roles and that's what I did. I got some of them and I didn't get some.
For the most part, all I wanted to do was try stuff and I think it's sad when people do one thing their whole life and on their deathbed they say, "Damn, I just wish I would have done this or done that!" My bucket-list was being on television or being in a movie or doing stand-up. That's the stuff that I did. It was a lot of fun and everybody can do it. Just set your mind to it. It's a lot of work but that's why it keeps my options open for many things. So if something comes up I say, "I did that, I can definitely try that." That's why I continue and who knows? Who knows what's ahead?
Glenn: It's something new to stick on the Resume isn't it?
Phil: Yeah and I love it. There's so many things that I can do. But right now, landing a really good drumming gig would be the best because I really want to tour and get back out in front of the fans. It's been a while so that's what I'm setting my goals on right now.
Glenn: I was thinking that when you've done stand-up, it's almost like being a frontman but you've got no safety net whatsoever.
Phil: Exactly. There is no safety net. As I say, it's you versus the crowd. That's brutal. That's scary. But like I said before, when you get that laugh, there is nothing like it! There's those moments on stage when you're playing drums such as in Skid Row and you're playing '18&Life' and there's 20,000 lighters and you get goosebumps from head to toe. That's like what telling a good joke is to me. You're getting that laugh and you think, 'Wow – this is cool!'. You are getting that feedback – instant gratification but they also tell you that you suck too so you've got to take that sometimes.
Glenn: Why did you decide to come and live in Vegas?
Phil: I like it. It's mellow here despite what everybody thinks. I don't live on the Strip, I live about 15 miles away from it. That gives me the luxury of going to Vegas, if you will. I don't really care to go to the Strip because it's packed with tourists and it's crazy. I lived in L.A. for six years. It's very expensive there and what I realise is, is that there was really no reason for me to be there because I do the same stuff as I would there for Vegas. The commute is so quick, so if I need to be in L.A., I can be there in an hour. I just jump on a flight and go. There are flights running out of Vegas on the hour all day. It definitely makes it a lot easier.
For the most parts, it's way cheaper. L.A. prices are just insane. It's almost like New York. I'm still close enough that I can go in for these jams or go and do a studio gig or whatever. I really dig it out here. It's a transient town. There's no traffic. It's mellow. The air is clean. The mountains are beautiful and I live over by Red Rock so it's a beautiful view of Red Rock. I really like it here. The place that I live here in Vegas would probably be $4000 a month in L.A. It's a ¼ of that in a really nice area with pools and dunes. It's such a different lifestyle out here. Outside of the two miserable months of heat that are July and August – you get used to it, just like anything else.
Glenn: Got ya.
Phil: It's no different than living in New York through the snow time. It gets cold here but the heat.. it gets you. You find yourself staying in the house a lot – it's almost too much but other than that it's just a great place to live. I enjoy it out here.
Glenn: Awesome. I know Florida is like that. You get your peak time from July right through to September /October. Sometimes it's just unbearable – 100 degrees – all day! Not before 2pm but all day! I say, "How do you get used to that?" and they will tell me, "We don't go out in it!"
Phil: Yeah! You just know. You look at the weather and say, "I'm going to go grocery shopping today" and you look at the weather and it's like 115 and then say, "Okay, maybe not today!" You have to plan around it or go at night. Unfortunately it doesn't get much cooler at night here when you get those hot waves but nothing beats the weather of L.A. California by far has the best weather I've ever been in. However, the pricing is insane. You take the good with the bad and I think you can find something bad in any city you like. People like me who live there say, "Yeah, I can deal with it –it's no big deal, we've got the heat for a couple of months but we've got the rest of the year – that's amazing.
Glenn: Yeah! Exactly. You've got quite a few good tattoos. What would you say your favourite tattoos are and why did you decide to get those certain tattoos?
Phil: I don't really have a favourite one because they all have a meaning. But as far as experiences are concerned, I was on an episode of Miami Ink which is a TC show. I brought my son on there and he was about four or maybe five – he's 18 now. He wrote his name on my chest with a sharpie and they tattooed it. If you see any pictures, you will see the 'Philip' on my chest – that's my son's handwriting, He actually wrote it. Then my daughters name is underneath it. They are the two that mean the most to me because it's my kids. The rest of them are stories of life. Through the years I've had Skid Row tattoos, Saigon Kick – different bands. I have the lips of one of my ex's. Stuff like that – just life.
Glenn: My buddy down in Fort Myers, Megan Potts asked, "Do you have any tattoos you regret having now?"
Phil: There's a couple that I wish I hadn't have got because it was before I knew what I know about tattooing. It was more about guys who wanted to tattoo me for free. I have a couple of duds but the good part of them is covered up. In general, I don't want to say I regret it but I wish I hadn't had gone and had anything done on my hands from the wrist down. The sleeves, I can put a shirt on and you'd never know I'm tattooed but with your hands, that limits you. I wish hadn't taken it that far but at the time, I'm on the road being a Rockstar and it didn't really dawn on me what would happen 40 years later. It is what it is. I don't even see them anymore. It's really part of your life. They are invisible to me. I'm up for some new ink. I'll probably have things touched up and it's time now to get some stuff covered.
Glenn: Yeah!
Phil: I'll start a new phase of taking some things and adding a few things for life.
Glenn: She was also asking, "What are your plans for playing back down in South West Florida because you were playing in the last New Year there or does that really depend what band you are part of?
Phil: I played South West Florida with Bobby Kimball. I still have plans. My sister lives there and I have some very close friends that live there. Besides going back to visit, there's no shows booked for me to play in, however, if I get into a band, I'm sure we are going to come through that town without a doubt because there are so many bands that come through there. Hopefully that's when I'll go because I'll be in a band and I'll be on the road and I'll be able to see everybody.
Glenn: You were the drummer in Saigon Kick. Can you see you guys ever doing any new stuff as that band or do you think that is part of the past now? What are your thoughts about that?
Phil: That band is pretty much over. They are still playing – Matt and Jason but as far as me playing with them, I don't really see that happening. We're on two different wavelengths. It's not anything bad about them. They just have other things going on. For me, I want to tour. Matt doesn't. Matt has a vocal school and he can't commit to touring so I really don't much happening as far as anything with me on it because I'm just on a different wavelength. I just want to get in a band. I want to get back on a tour bus and play. I just want to play with no drama. As I said before – play, get paid, shut the f*ck up! I don't want to be part of bands and listening to their bullsh*t, dealing with lead singers and everything you've got to do. You're a paid guy, you play, you play well and get your pay-check. You play like sh*t, you get yelled at, you fix it and… that's what I want to do.
Glenn: Could you see yourself doing drum teaching videos or online stuff or almost like a Phil Varone solo album or something like that?
Phil: I don't know about a solo record but I've thought about doing some teaching – like some skype teaching. I have a different style of playing. Drummers ask me about certain drum beats and stuff like that. I can definitely see myself doing some kind of video – an instructional video because I do a lot of tribal stuff/world beat stuff - just to show my style of playing. I definitely see something like that. It's always fun to show people stuff. I'm a firm believer that no matter how many years a drummer has been playing drums or whatever, you can learn something from them. When I watch drummers, I listen to drummers and say, "Wow! That was pretty cool!". With the newer bands, I listen to the drumming and a lot of it is drum machine now. I like that new band 'Avatar'. The drummer is just sick! It's amazing, tasty, fun stuff. I like listening to drummers but as far as drumming I like to show people what they want to see. So I definitely would do that. That would be a lot of fun.
Glenn: As a drummer, how would you describe your style of drummer?
Phil: I don't know. It's me. I have so many influences like John Bonham, Phil Rudd, Tommy Lee, Steven Perkins and Mana Cache. There are so many influences. My advice to drummers is, "Do what you do great! That's It! Don't worry about the guy next to you! Just do you!" because I can't play like Terry Bozzio, I can't play like Simon Phillips but I can play like me. I can play like me great. That's what happens. You may not get gigs because your style is not correct for that band. It doesn't mean you are a bad drummer, it just means that your style is different. Drumming is a feel. It's an attitude. It's certain things.
You'll be amazed when bands go and audition every great drummer – the A list of drummers and they don't take them. I said, "What? They didn't take him? Like what the….?". It reminds me of listening to Al Pacino or Robert De Niro talk about auditioning for stuff and not getting the part. In our minds we think, 'How can Robert De Niro not get a part?' Easy if he's not right for it and drumming is the same way. My style is my influences and I like to think that I made it my own. There's nothing greater in the world than when a drummer comes up to you and says, "You're the reason I play drums!". I said the same exact thing to Tommy Lee the first day I met him and it's a very humbling experience. It's embarrassing and humbling but it's wonderful. That's my advice – 'Just Do You Good!' Be great!
Glenn: I mean, you're all drummers and you're all fans of drummers. So why not? We've all got our idols and people that we look up to and like playing and whatever else. It's human nature isn't it?
Phil: Yeah. I mean, I think it's the great job in the world to be honest with you. I took guitar lessons and almost fell asleep at the first f*ck*ng lesson because it's the most boring instrument on the planet. I like playing bass and I like playing piano but drumming to me is like the coolest thing. Contrary to popular belief, the drummers are the most important ones in the band, mind you, the singer will think he is! But without the drums, you can't sing on sh*t.
Glenn: No you can't.
Phil: It all starts right there.
Glenn: It's a primal thing as well. It goes back years.
Phil: Absolutely. When you think about it, look at the old documentaries on Stonehenge. They were like ancient graves if you will. They would eat natural hallicigenics and they would drum on logs like how raves are. It's moving and it moves the body. That's what it's about. Listening to a song by nature, you'll start walking at that tempo without even thinking about it. That's when we set the pace. We set it, it is very tribal and it's all part of us. It makes us move.
Glenn: Yeah. Do have certain songs that you love setting the pace for where you'll say to yourself, "Oh I love playing that one!" or "I hope we are going to play this one" for any band whatsoever?
Phil: I like mid-tempo songs. Mid tempo songs are about 102 beats per minute. Good groove and stuff. That's why I like Zeppelin so much. Bonham's grooves were just so insane. I've always said his grooves are so deep you can put a liner in it and take a swim like with water. It's one of those. I love playing songs like that. I'm not really big on playing fast songs. I like mid-tempo because that is like the heart beat speed. I love to play to that tribal stuff. I especially like to be playing toms and laying it down. To me, it connects me more because it's almost like a heartbeat, if you will. Even when I play those Motorhead songs, they were like the perfect tempo for me. I loved playing those. It was so much fun. It's right up my ally to play. But yeah, those are my favourite songs to play.
Glenn: That's cool. I'm a big fan of American Pickers so here's a great question for you. Of all the times you've been in the rock scene or whatever scene, you must have acquired/come across so many things you've been given or bought or found. What sorts of things are you proud of most of having that you've got over the years?
Phil: Yeah. There's one thing that's very special that I have. Back in 1992, I was in Saigon Kick and we were playing a show and The Stray Cats were on the bill with us. Brian Setzer had an Elvis Presley shirt on and my Mother was alive at the time. My Mother is the biggest Elvis Presley fan, almost to the point where she was obsessed. So Brian Setzer came on the bus with this Elvis Presley shirt on and my Mother goes nuts. My Mother doesn't know who Brian Setzer is but she was saying, "Elvis – My God! I'm the biggest Elvis fan". She was just the greatest woman that ever walked the earth and just a heart of gold. She immediately started talking to Brian and telling him about Elvis. About two weeks later in the mail, Brian had mailed her the shirt and on the back it was autographed to her 'Since Washed, Brian Setzer' and I still have that shirt today.
Glenn: Awesome!
Phil: Why it's so special is obviously because it's my Mother's and it was something that a Rockstar did for her which to me, I'm imbedded for life. I thought that was the most special thing ever because it made her day. And again, you talk about Rockstars and that'll tell you, "Oh yeah, I'll send it to you!" and you never hear from them again. He went out of his way to make sure she got this shirt. That's one of the most special things that I have that I remember from touring because it included my Mom like that and it was really amazing.
Glenn: Nice! That's a beautiful thing. That's a beautiful little story that. I mean, those guys on the show always say, "We love to find things especially if they have a story behind them. It makes them more sentimentally valuable. There you have it. You've ticked every box right there. What a great story. Totally.
Phil: It is a great shirt. I was afraid to wear it. I'd like to wear it because it's so cool because it still has the autograph on it. I might wear it in a photo-shoot or something just because it was one of those cool shirts.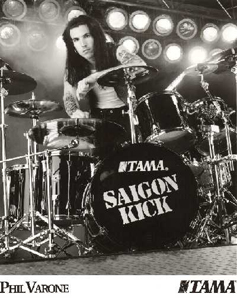 Glenn: Got ya! Awesome! If you could duet with a certain drummer on stage, whom would you like to do a duet with and what would you like to play?
Phil: Good question! I'd like to get on stage with Tommy Lee because I love Tommy so much and he is the reason why I am in this business. We have similar playing styles and it's a lot of fun. But when I did drum clinics, we would all get on stage and jam at the end. One of my favourite ones, I was on stage with Chad Smith of The Red Hot Chili Peppers, Nick Menza - he was in Megadeth at the time and Dennis Chambers. We traded drum licks. It was unbelievable. It was very surreal. I just remember sitting there going, "Why am I here?". I think if you ever lose that surrealness thing then you are doing a disservice to yourself because you have to almost pinch yourself that you're there with those people. That was great. That actually happened so I was very grateful to do that.
As far as sharing the stage though, my favourite one was with Cheap Trick. We were out on the road with them and they were wanting to play a tune and it was the last night of the tour so we were going to do this jam. I went up to Bun E. Carlos and said, "Can I play your drums?" and he said, "Yeah, Go ahead!", I said "Really? I can play them?", he said, "Yeah – have fun!" He said, "I'm going to sing" and I said, "Cool!". We ended up playing 'Highway To Hell'. I remember that I was sitting at Bun E. Carlos's kit which is blowing me away just on that alone and I'm thinking of 'Live At The Budokan'. I literally asked them to sign my record. They were the only band that I've ever asked an autograph off because I loved them so much and I brought my 'Live At Budokan' record to sin it for me.
So I'm sitting behind the kit and I look up and Rick Nielsen is playing the beginning of 'Highway To Hell'. I'm thinking, 'No way is this happening! No, this is not happening' and then I just started playing. I was thinking, 'This is the coolest sh*t'. It was so amazing to play with Cheap Trick. That's the stuff that you remember forever. It's a wonderful group to be in as far as being a signed artist but it's the little things like that that make your day forever. They stay with you and it's just something that you'll never forget. It just meant so much to me.
Glenn: That's awesome man! I mean, you can't top that. It's funny you mention Cheap Trick and Rick because he had a section on 'American Pickers' and I'd just asked you an American Pickers associated question and you bring those guys up. That's pretty surreal that.
Phil: Yeah! Again, one thing about Cheap Trick too, it was one of our first tours and those guys are again, just a class act. I remember one of the funniest things, it was the second night of the tour I think – this tells you how new we were and how green we were for touring. They announced Tom Petersson's birthday on stage and they sing 'Happy Birthday' to him. Then they tell everybody, "Listen, we're staying at the hotel, why don't you come down, we arranged it at the hotel that we can keep the bar open and come down and have some fun!". Well they weren't kidding. Literally half the venue came to the hotel and they had a bar there.
Cheap Trick came down – they were all there. So I went to Tom Petersson and said, "Hey Tom, Happy Birthday' and he said "It's not my birthday", I said, "What?", he said, "No we do it every night and say it's somebody's birthday so we can get free drinks!", I said, "You're killing me!" and that's what it was. The fans were like, "Here, have a drink, have a drink". I thought, "Ahh okay, so that's how you do it". Lesson one of touring! It was really funny. It was like the teacher schooling the students. I just started laughing and said, "That's the most brilliant thing I've ever heard".
I actually thought about writing a book about these sorts of stories because so many times, there's tour stories. It's the main ham of all that stuff. The chicks and all that stuff is like, "Yeah, yeah – we've heard it a million times". But how a situation influences an individual like myself, I have stories for days, these wonderful stories that I'll never forget. Really funny stories that I'll never forget. Really funny interesting stories to share that fans will love to hear because we have that 'All Access' to these great stories that you would never see as a fan. Again, those are the things I cherish and I'm grateful for. A lot of fun.
Glenn: Yeah because you are an Author anyway. An Author at Riverdale Avenue Books. What got you into writing and what do you enjoy most about writing?
Phil: I don't know. It just comes naturally. It's like drumming to me. I just really, really enjoy it. It's hard to say. I sit down and when the words are coming out and it's just flowing, everything's just working. A lot of it has to do with when I lived in L.A., one of my good friends, Mike Hitchcock, he's an actor but he's also a producer of 'Mad TV'. I used to date one of the people on Mad TV, Mel Collins. I was around stand-up and I was around 'Improv' a lot but Mike really showed me how to write scripts, how to write comedy and I really found that I enjoyed it. I wrote a lot of scripts and when it came to the book, I always used to do these rants on Facebook and the fans would love it because I would just write these insane things but the way it as written was… I wrote something about, 'I bought a pretzel hummus snack' in an airport and there wasn't enough pretzels to accommodate this hummus.
There was all this hummus and there was no pretzels. It was a $7 rip me off snack. So I went off on this in this letter. I addressed it to the 'Dear The Hummus To Pretzel Ratio Man' – it was something like that. I went on and on about this and how it had ruined my day. Somebody commented, "You made a snack into a Shakespearean Tragedy", and I just started cracking up. I don't know what happens. I just sit down and it comes out. I don't know where it came from, again, it comes from coming out from the drums and being in the front again because when you publish a book it's out there. You can get critiques you can do.
I remember my Agent. We got 50 turn-downs and every one of them was the nicest rejection letters. They said, "This guy is an amazing writer, it's just we cannot publish it but we laughed so much in just reading", because I sent them three chapters and it was an amazing read for them. I had a guy who edited my book – the first draft was for the 'Un-Philtered' book. I wrote about not being able to take a sh*t on the tour bus – a fun commuter story. He said, "I've never read something so elegantly written about sh*tt*ng in a plastic bag". It's that kind of thing. It's a matter as a writer that you've got to put people in there. They have to feel like they are in that hot bathroom.
Glenn: Or in that bag? (I joke)
Phil: Yeah!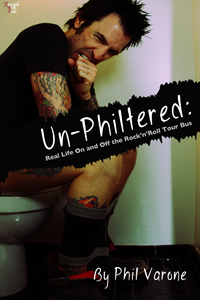 Glenn: Awesome. Have you got anymore books in the pipeline?
Phil: Well I did a few actually. One of the projects I want to do is.. it's called 'The Life Artist'. It will be the 49 years of my life, written very candidly and very open. There's good and bad in it. Then I'd like to do a college speaking tour and really talk to the kids. I have a lot of experience. I've been through a lot in my day and I can lend something out to the kids. Plus it's therapy for me. I think I need to get a lot of things out and what better way than to write and let other people read because ultimately stuff like that would help people. I have a couple of non-fiction fictions that I'm writing that actually about obsessed women in somewhere like 'L.A.' that I'm trying to turn into a thriller because I've met some interesting girls.
Glenn: I bet!
Phil: Hey, I'm not saying I'm any catch. I probably turned them crazy but whatever the case is, they turned out to be nuts. So yeah, that's something too that I'm thinking about writing. I am taking it in right now. I've been ghost writing the Sam Kinison Biography that we've stalled on right now but I have about three chapters done on that. We'll see! There's a lot of things going on. We'll see what happens.
Glenn: Cool. This is one that my buddy Megan that I kind of cringed on but she said, "Ask him this – Did Dr. Drew cure your sex addiction?"
Phil: Yeah. Let me tell you about this. The sex thing was kind of funny because my Agent called me and said, " Hey, we're doing a rehab show, do you think you are a sex addict?", and I said, "Well no?!", "But you had sex with a lot of groupies right?", and I said, "Well yeah but that's part of the business! I mean name a Rockstar that hasn't slept with 1000's?" She said, "Well we're doing this show. Maybe it would be good for you to get on TV here". I said, "Well I don't really want to be portrayed as a sex addict because I'm not". She said, "Well no, but think about it". So I thought about it.
My Mother had passed away ten years earlier so I said, "You know what, maybe I need some therapy in general, so why not? Let me just go on there and see – whatever…" It ended up turning into more of me talking about the death of my Mom. They brought my Dad on. While I was shooting my Grandmother died and it was one of those things. It turned out to be that's what the side story was because the show itself was awful. It was awfully produced and there was no stories. I went to 'Sex Anonymous Meetings' and it's frightening. I do believe there is a sex addiction, don't get me wrong, there is definitely a sex addiction and I've seen it first hand. But to identify it because I banged 3000 groupies – who hasn't?
Glenn: Exactly.
Phil: Because I also based it on when I left the music business, how many people I have sex with? Nothing! Then I realised that just being in a band was obviously the catalyst to get me laid. So as far as curing anything, you are never going to be cured for any type of addiction in general. You are always an alcoholic, you are always a drug addict – always! It's not like a cold or anything like the flu. You are never really cured. I admire Dr. Drew, I respect him greatly. He's a very soulful man and he cares about everybody. I think the show – the stuff that we did learn about sex addiction wasn't even shown on the show which I thought was a let-down. If they would have shown the lectures we went to, people would have understood a little more about the issue. Instead it looked like they just wanted to try and make drama about a bunch of horny people in f*ck*ng room in a place for three weeks. I though that was pretty bad.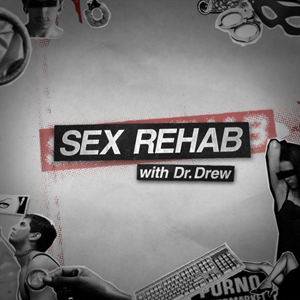 Glenn: So basically most TV that you see, it's basically b*ll*cks! Scuse the pun, but you know?
Phil: Yeah!
Glenn: Most of it's not real. It's an edit job and they'll use all the stuff they can throw together to sensationalize it and then make a headline out of it. It's all b*llsh*t!
Phil: Yeah! It is scripted. There was times when the Director would come in and say, "Listen, alright, we are going to set up this next scene, I need one of you to say this so we can get this!" There was scripted stuff.. they had to put… it's reality in a sense that they are real people – yeah! I mean, it's not scripted like f*ck*ng movie but it's scripted in the sense of they know what they want to do, they will provoke certain things, they will make one person p*ss*d off so everybody else can fight with them. It's very much manipulated. Then of course, they sensationalise it by adding the big cliff-hangers and the b*llsh*t. But that's what people like. I watch reality television. I know what it is but I catch car stuff though. I don't watch drama filmed reality b*llsh*t. I watch car shows and fun stuff about history.
Glenn: Yeah! I mean, when you've seen it from the other side of the other side of the camera, you know can't be bothered with it can you? You know what it's all about before you've even watched it?
Phil: Yeah.
Glenn: It makes a lot of sense.
Phil: Yep.
Glenn: As well as being endorsed, do you go and demonstrate things at NAMM and other and other exhibitions as well as playing there and at the external shows associated with it as well?
Phil: Yeah. The last time I went to NAMM was a few years back but I'm planning on going this year because of my new endorsements and getting back into the music business. When I've gone in the past, I was in the business and I was out for so long that I missed it all. I'll be going this year because there's a lot of people there. A lot of connections and saying "Hi" to everybody. I haven't played there yet, I'd love to. One of the funnest things I did at NAMM once when I was doing stand-up – the Tama Corporation because Tama was one of my first drum endorsements. They called me and asked me if I would host 'Simon Phillips 30 year party' which.. are you kidding me, of course I would do that! Simon Phillips is God on drums! I went back to rehearsals and I was talking to Simon who again, is a sweetheart.
I said to him, "Do you mind if I roast you a little bit?" He said, "Have fun!" 'Oh Boy', I thought, "Do whatever you want!" he said. So I wrote this really funny monologue to introduce him with all these references to famous stick caught on a hoop when he was playing with The Who and all these things and got a great laugh out of it. That was the coolest thing I ever did at NAMM as far as getting up in front of people. Then I got to see them all play which was insane. In rehearsals the day before of course was insane just to sit in the room to watch them play and watch Simon play - I was blown away. But this year, I would definitely like to play. They have a Bonham tribute together…
Glenn: The Bonzo Bash!
Phil: Yeah. I would love to play that. That would be fun to do and if one of my endorsers wants me to play with somebody else as well then we'll see but I definitely plan on going there for sure.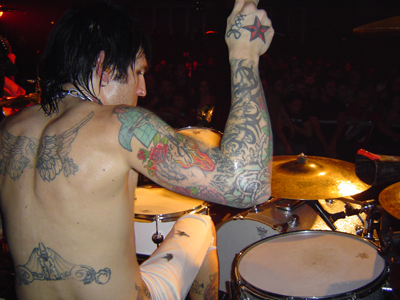 Glenn: Yeah. That's cool you mention Simon because the 2nd gig I ever went to was in Ocotber, 1989 at Birmingham NEC with Simon on drums with The Who. Wow!
Phil: Exactly!
Glenn: Mindblowing!
Phil: And I tell you, he is the stuff – you can't even begin. I mean, he played with Toto, stuff with Jeff Beck, I mean, it's insane – full stop. I have to saym as far as The Who now, I think Zak Starkey is amazing. He's the closest to Moonie that I've seen as far as drummingwise. I think he is fantastic.
Glenn: Moonie taught him.
Phil: Yeah. Simon is in a whole other place – another planet. Even to be that close to the guy was an honour.
Glenn: I do remember reading that Keith taught Zak Starkey how to play somewhat and not Ringo so that's probably why he is so close which is pretty cool.
Phil: He is close. Very close!
Glenn: The fact that you play drums for Bobby Kimball who was the original singer for Toto makes it almost surreal and you are on a parallel line or universe to Simon almost.
Phil: Yeah! It really is. It makes me sweat thinking of playing with him alone. I stay up at night just because that's one of the greatest grooves ever put down on a recording next to like 'Fool In The Rain' by Led Zeppelin. I remember that I went into rehearsals by myself and tried to learn this stuff and I am my worst enemy. I am literally in my grave. I am in my head. My tech came over to me. It was Ted (Haney), Stet's Tech. He came up to me and said, 'Look, I found this video of Jeff Porcaro doing 'Rosanna'. Why don't you watch it?". I said, "Really? There's a video?" He said, "You Tube has everything! and Porcaro explains the drum beat." I said, "Holy Sh*t – it's 'Fool In The Rain' and 'The Purdie Shuffle'. I got it the minute I saw that.". It was like, "Dude, you just played it.". Again, it's the pedigree of drummers that that band has had who get to play that stuff is pretty cool. It's a good resume thing and I'm hoping that these shows put me into the light as more of a drummer than just a Rockstar in Skid Row.
Glenn: Yeah.
Phil: I love to play in 'Skid Row'. Don't get me wrong. I'd play with Skid Row right now. I love those guys. I loved my time in the band. But when you play in Rock bands, you get pigeon-holed and stereotyped when a lot of these Rock guys are amazing players which is why they're in those bands. I think that branching out and playing with Bobby and playing drums is pushing the limits and is going to help me later on to at least be thought about for certain gigs. I just want to be considered for gig and being able to audition where I normally wouldn't. Why would they audition the drummer from Saigon Kick or Skid Row? But if I say, "I played with Bobby Kimball", they'll say, "Oh okay, in that case…", because it's already happened and they have said, "Why? What are you doing now?", "I play with Bobby Kimball", they said, "Oh sh*t! You are?", "Yeah" and they said, "Oh right – cool, I didn't know you could play like that" and I said, "Well you and the World didn't know!". So that's my whole point. I need to inform everybody.
Glenn: Yeah! That's the thing about the Rock drummers. The drummers that have come from say 'Hair Bands', dare I say that, in the 80's or the 90's, they all get stereotyped into being a certain type of drummer and that that's all they can do.
Phil: Yeah!
Glenn: Not everyone's a carbon copy and they are all different people and all influenced by different things. It just so happened at the time that that was the thing that was happening and going for money-wise and everything else, so they played that sort of style.
Phil: Yeah and look at Josh Freese for instance. Josh played in 'Perfect Circle' and some of his best work is on the 'Pole' record. This guy is an amazing f*ck*ng drummer. He's a 'Rock Cat' as far as Rock 'N' Roll in concerned. An insane drummer. Look at Gregg Bissonette. I mean, he was playing for David Lee Roth. If you didn't know who Greg Bissonette was, you'd never know his calibre of playing. I think with a lot of guys, there is some amazing drummers out there in Rock bands that wouldn't get a second look that can hold their own in many gigs. When you look at a lot of great musicians that are popping up. These kids today – they are 12 years old with voices that you can't believe are drumming and playing and all that stuff but they are still young. It's guys like us. We are 'Road Dogs' with all the experience. That's what we bring to the table. But lie I said in the beginning, everybody's great in their way and I just do me great. That's all I care about. If I have an acquired taste for a certain band, I'll find the gig and that's what it's about.
Glenn: That's cool. What would you say your proudest moments have been? I mean, there are so many. This is like 'War & Peace' now!
Phil: Yeah! I think the proudest moment in life as far as professionally was getting a publishing deal – a book job. To me, that was something that was really special because I did it myself. There was no band; there was no anything and that's such a personal thing. I have enough being a published author and it grows. That's the coolest thing I'd say professionally that's ever happened to me. There's so many great moments in professional lives. Stuff for me is the little stuff like doing an episode of 'Californication' or being in commercials or doing stand-up. Those things are always amazing moments. There's a ton of them. I know that the publishing deal – just being known as a published author is still more special to me because not a lot of people can say that. I feel it was an amazing accomplishment that somebody actually thought I was a great writer. That meant a lot to me because it's so personal.
Glenn: Yeah. That's awesome! If you could be the drummer for any particular band or artist future-wise you've not played with yet, who would that be?
Phil: Peter Gabriel for sure. Also Barry Manilow. I love to play those songs. They are such great songs. I would love to lay back. Peter Gabriel would be my all-time… I love Genesis when he was in it. I love his solo stuff. He has the greatest musicians. The 'Secret World Live Record' I would play that non-stop in rehearsal. That's what I used to play drums to. I love Manu Katché. So yeah, Peter Gabriel would be amazing to play with or Sting. Those guys! Not taking anything away from 'One Direction' or 'Justin Bieber' or any of those guys. It's just that Gabriel and Sting – they set a standard – they set the bar. To be able to play with an artist of that calibre would be one of the most amazing things. Just the amount of knowledge I would be able to get from that would be invaluable and that's what it's about. It goes beyond getting paid at that point. I would just be in awe every night to play that stuff.
Glenn: What parts of the World have you enjoyed playing in and why?
Phil: Europe is always great to play because the fans are so wonderful and different than the United States. In the United States their attention span is short so it's tough. If you're not seen you're forgotten, whereas in Europe, it's different. The fans know more about the bands. In Japan they know about the band. They know what each one of us like individually. They know so much about you and they respect it so much. I loved touring Europe. It was extreme. Japan is one of my favourite places. All of Europe was amazing. It was wonderful because the first time I went there, just to see the different cultures, the different languages and English spoken a certain way. It was really interesting.
I was talking to a friend about Scotland. I said to him, "Yeah, I had a conversation with a guy from Scotland. I had no idea what he said." He was speaking in English but I could pick words out and just agreed with him on certain things". It's like I needed a translator. Pretty much anywhere in Europe was always great. The fans were great. We did the ? festival that had 45,000 people doing the pogo. It was amazing to see. Sh*t like that! I thought, 'Oh man, this is f*ck*ng great!". I really enjoyed that. The US is always fun to play as well because the fanbase here is coming round now. Bands are older. It's a little different, Maybe in the true art of fans – they are with you. If you got a fan 20 years ago, you have them today and that's special.
Glenn: Do you have plans to come to the UK and do any gig work or anything at all?
Phil: Nothing now but in the future I hope to.. I'm in a different period now just trying to find a gig. That's my main thing and I'm hoping that whatever I fall into is a road band. They want to work because I would like to go around the world again. It was fun that first couple of times. There's a couple of places I haven't been yet like Australia and I want to go to New Zealand. I haven't been to those places so I'm hoping that my travels take me there as well.
Glenn: Awesome. It's been absolutely great. We've been talking for the best part of 90 minutes. It's been real fun, I've enjoyed it chatting away with you.
Phil: Oh thanks mate.
Glenn: Is there anything you'd like to say to the people who are going to be reading this?
Phil: I thank the fans for being there. I have a lot of fans and for tagging on for 20 years is pretty cool and special. I'm very grateful for that. I really just hope to be out there and see everybody again. It's been a while. I'm hoping to get out there. As far as keeping tabs on me, go to Philvarone.com pretty much. I'm updating my website now or rebuilding it so that it's live and I'm on Facebook. I try to get back to all the fans that send me messages. But basically, from the heart, I'm just real grateful that there's still a fan-base and I hope to be out there and see them again.
Glenn: That's great. Right Phil. Thanks so much for your time. It's been a pleasure.
Phil: My pleasure. Talk to you soon.
Glenn: Thanks man. Take care. See you later.
Phil: Bye, bye.
Glenn: Bye.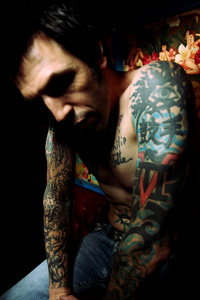 For more information, check out the following links:
https://www.facebook.com/officialphilvaronedrummer
https://twitter.com/thephilvarone @THEPHILVARONE
https://www.instagram.com/realphilvarone/
A massive thank you to Lisa Morton Woodard for setting up the interview and Phil himself for the fun-packed chat we had.
Ultimate Jam Night Photographs by Ronnie Lyon!
http://www.ronlyonphoto.com
https://m.facebook.com/ronlyonphoto
All other images are the property of Phil Varone and used with his full consent.