An Interview with Phil X (now of 'Bon Jovi') & Ninette Terhart (now of 'Silk Sisters')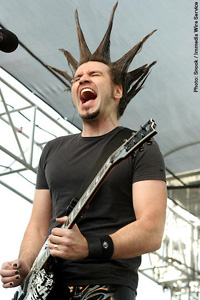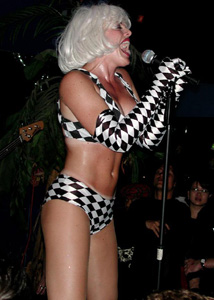 who were in the Incredible LA Based band Rock Band
'POWDER'
Interviewed by Glenn Milligan back in late January, 2009
Glenn: What are the members of the bands influences and how did they transcend to the sound and style of Powder?
Phil: Mine are Zeppelin, AC/DC, Van Halen and Black Sabbath but i also love adding techno elements to heavy guitars. Ninette loves those bands too but studying jazz and musicals has given her a melodic sense that is way left of the rock genre.

Glenn: How did you both meet up and what made you decide that there was a future for you guys as a musical unit?
Phil: Ninette and I met on a tour up in Canada where she was singing backgrounds and playing percussion and I was playing guitar. We started writing songs in the back of the bus and in hotel rooms and when we got back from the road we quit that band and started our own. We knew we were onto something right out of the gate.

Glenn: Where did find Dan & Dogboy who complete the bands live line-up?
Phil: Dan is also from Canada so we had known him for a few years. We saw Dogboy play in a band that opened up for us one time in Hollywood and we just asked him if he wanted to play with POWDER and he automatically jumped aboard.

Glenn: Where did the band name and the logo style come from?
Phil: Ninette and I were driving down Melrose in Hollywood and damn.... we hate thinking of band names but there we were... and Ninette was screaming "I f*cking hate this sh*t! Thinking of band names drives me crazy!" and then after 30 seconds of silence, she quietly asks, "what about Powder?" I go, "That's it", and it was. Then... because Ninette was getting compared to superheroes, it only made sense that the logo look like that of a superhero.

Glenn: What are your favourite songs on the 'Nothing' album and why?
Phil: I'd have to say "Dying To Live" is my very favorite because we wrote it when we first moved to LA and it kind of summed up a lot of emotions. Today, I love the arrangement. I love the melodies, the harmonies, the Queen-ish guitar hints and backgrounds, the sound of Ninette's voice (and breath) and of course, the solo, which I played on a mini guitar made by my friend John Gleneicki. I also love "Nothing" because of the intensity of the vocal. And God Damn.... Abe's drumming on that track is insane.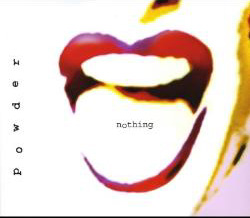 Glenn: Why did you decide to call the album 'Nothing' - was it because you liked the song so much or are their other reasons?
Ninette: I wanted the name of this cd to be simple and the cd came together quite effortlessly so it's fitting that the title reflect that. It's definitely a strong song on the record as well.
Phil: I also think we had an image of Ninette's mouth totally being the front cover with nothing in it. Then we actually put the word "NOTHING" in it and it made so much sense.

Glenn: What bands are artists do Powder seem to get compared to and what are your thoughts on that?
Ninette: In the beginning we used to get compared to bands like Blondie and Annie Lennox meets Rob Zombie... But in the last 5 years due to the shows growth in theatrics alot if people say we should be in Vegas.! That's why we've been coined the Rock 'n' Roll Cirque Xtravaganza.

Glenn: What do you guys do outside of the band and what do you enjoy for hobbies & interests outside of music?
Ninette: I am not a hobby kinda gal... Having said that I have taken to editing all our promo vids and the whole DVD and Funny Girl vids on "Nothing".
Phil: I guess I'm not a hobby guy either. I do love movies, though. LOVE movies. I also love recording in the studio and getting tones and f*ck*ng with arrangements but that's music, isn't it?
Glenn: What have been your fave gigs so far and for what reasons?
Ninette: Well I would have to say the Market Days concerts in Chicago are off the hook. The energy is thru the roof when we go out there and the fans are kick ass. What a great town. Also some of the L.A shows have been ground breaking as well. It's really given me and the girls a change to stretch beyond our comfort zone and try a shit load of new acts.
Phil: Yes, I agree with Market Days in Chicago, especially 2008. I felt like we were KISS because the volume of the audience in between songs was like a KISS live album. I just blew me away. There was one show in LA where we had a "Best Ninette Costume Contest" and the winner won an ESP guitar signed by the band. There were 4 finalists that looked fantastic and the funny thing was the winner was a dude.
But man.... he wore the wig, the goggles and sharpied her tattoo on his arm. You could tell he put a lot of time into the outfit too. He totally deserved to win but it's funny that it was a "he".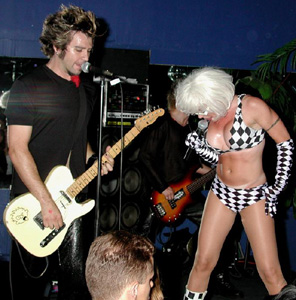 Glenn: What's your part of the USA like for gigs and where else would you really like to play and why?
Phil: We have wonderful fan bases in LA and Chicago. There's also fans scattered all over the rest of the country but it's hard for us to put what we do on the road because it doesn't fit into every venue.
Someday, though.... we will. OR... set up in Las Vegas where people just come to us. We did a small tour in the UK in 04 and totally fell in love with England and the people so we'd love to go back there.
Hell... it would be phenomenal to just bring our show to everybody all over the planet.

Glenn: Any plans to come over in Europe in the near future - if so, where and when?
Phil: No plans as of yet but we're working on it.

Glenn: How do you describe a Powder live show and what influenced the style of it as it's more than just a straigh-forward 'Rock 'n' Roll show?
Phil: Ninette, Ninette and Ninette. In the beginning, Ninette would wear different crazy costumes every time we played so people just started to come to every show to see what she would wear. The next step was "What's Ninette going to do?". That just snowballed into jumping rope, having fembot clones that mimicked her every move, stilts, blow up doll routines, choreographed pole routines and when there wasn't anything left to do on the stage, Ninette took to the air. Now Ninette and 2 or 3 fembots, depending on the show, climb 20 feet up and spin in beautiful poses. The strength required is fantastic.

Glenn: Where did you find all the other on-stage performers of the band and how long have they all been working with you?
NInette: when I started my aerial career I had the honor of working with some of the top acrobats in the city .....I became very good fast and hooked up with the right people. I was then cast in a aerial show that ran for about a year and 1/2 in Hollywood which is where I became very close with these extremely talented Aerialists. I started hiring them to be in the POWDER show and share the stage.
Many of these performers have been in Cirque de sole and have been doing this for many, many years. So for me I am really proud to have come so far in such a short span of time.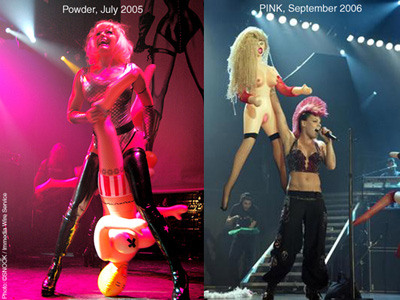 Glenn: Where did you get all the wigs and costumes from for the show and are some of them specifically designed for your stage show?
Ninette: I design and make all the costumes in the show for me and the girls. The aerial acts in the show can be very dangerous so the materials used for each separate act has to be very carefully picked.

Glenn: How long does a live show take to perfect due to all the other theatrics and acrobatics that are involved?
Ninette: It really depends on the show and how many new acts and songs we decide to add or subtract from the show. I wanted all new numbers for this show we are doing on the Jan. 24th so the girls and myself started rehearsing last Dec. of '08. A new aerial act can take weeks to perfect and that's training at least 5 times a week, 3 hrs a day.

Glenn: Who came up with the cool idea of having the big note pad on the stage to narrate one of the songs?
Ninette: me

Glenn: What would you say are the most intricate parts of the live show with regard to the choreographed routines and also the various songs?
Ninette: For me it's all about TimIng, timing, timing. All this work we put into each individual act is great but once the show is pieced together there has got to be the right flow or else it all sucks..!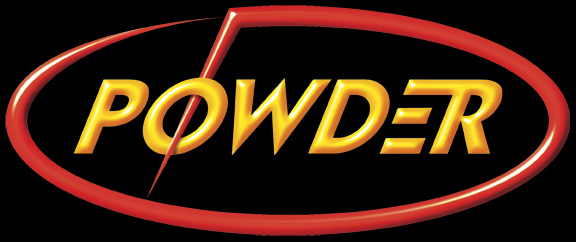 Glenn: Have you had many scary moments on stage - if so what were they, where did they happen and how did you get it back on track?
Ninette: some of the costume changes are radically fast and there have been a few close calls with that in regards to not making it out in time to sing the first few lines of the next song.... But the scariest would have to be when I decided one show to do everything in that show... The fembot number, pole act, free style jumping on a trampoline, a hammock act and the double tissue act for the finale..... Now that may not sound like a lot.... But add to the mix super fast costume changes and singing...... Mama was tired.
Anyways by the time I had climbed up the tissue did the opening drop then wrapped and flipped upside down to start basing Buffy for the double tissue aerial act all I could see was these little white dots flying from the far corners of both my eyes like glowing fireflys....and my wrists were so sweaty that Buffy could barely sustain any grip on my arms and all I remember thinking was " don't fall asleep, wake the f*ck up"! When the act was over I sat in my quick change room and told my costume assistant Mlou, "Tell Phil to lengthen his solo... And tell him NO ENCORE!" That scared the sh*t out of me.

Glenn: What are your favourite songs to play live and why?
Phil: 'Sonic Machine' is always our opener and it's kick ass. I love how heavy it is when the band kicks in and it's also the first moment when you get to meet the audience and you can see on the peoples faces if it's their first POWDER show 'cause they're goin' "what the f*ck?". "Bottom of You" is the first song the fembots come out and sometimes they're wearing outfits that I haven't even seen before so that's cool too. We do a wicked cover of AC/DC's 'Back In Black' and that's a blast. When the girls do the triple silk routine to our original 'Kashmire-esque' instrumental, it's just spectacular. Especially being on stage and witnessing the act right in front of my face but also seeing all the jaws drop in the audience. "Need a Little Help" is our finale so it's a f*ck*ng blast. Balls out/in-your-face ROCK full speed ahead and Ninette proving just how crazy she can get. I forget to breathe some times.

Glenn: What we find in a Powder gig rider?
Phil: Well if you're talking dressing room, it's typical mirror, water, fruit platter, beer and stuff like that.
But if we're flying out to do a show somewhere, aside from backline like drums and amps, we need to be able to rig our aerial apparatuses to the light truss or a beam in the ceiling or if it's outside, we sometimes get a crane which sounds crazy.... because it is but we do what we gotta do.

Glenn: What is the '99 Cent Store' that you thank in your thank-you list and what are you thanking them for?
Ninette : Every show we do I have the girls giveaway silly fun stuff like Toliet bowl brushes and cans of spam feather dusters and fly swaters... Ya know that kind of stuff. Well that's where we get it!

Glenn: Care to elaborate on any other cool peeps who helped you out on the album - especially if you have some cool stories regarding their help and contributions?
Phil: The most exciting thing for me was recording my favorite drummers on the planet. And obviously there are some that didn't make it on the record because of touring schedules but that's how it rolls. Abe Laboriel Jr., Gary Novak, Randy Cooke, Nate Morton and Robert Medici all laid down incredible drum tracks for this cd. David Applebaum recorded a beautiful piano piece at the end of "Underneath Me". Mike K, Greg Ladanyi, Jim "Bud" Monti, Frank Gryner, Chris Baseford and Chris Fuhrman all mixed songs for us and really helped take everything to another level. I would play our mixes for my buddy Mike Plotnikoff and he would be like, "sounds great but maybe shave a little 4k of the lead vocal" and really helpful comments like that. All these contributions proved invaluable. Sure there are cool stories but that may be a whole book someday (laughs).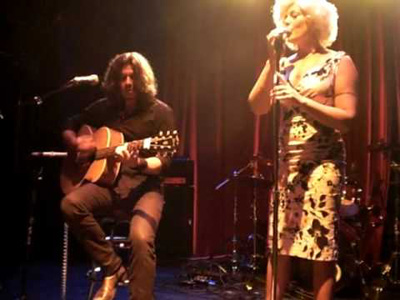 Glenn: If you don't mind me asking, who are Peter Xendis and Morgan George C who you dedicated the album to the memory of?
Phil: Peter was my dad and Morgan was Ninette's dad and they both passed away in 2005 about 4 months apart.
It was hard to create anything at all for the longest time so when we finally got around to recording this CD, it just felt right to dedicate it to the memories of two very important figures in our lives.
Glenn: How did you come to record at Korn's studio?
Phil: I was working on a metal record and the producer decided to cut tracks at Korn's studio. First of all, the place has vibe like no other studio i've ever been in and the big room in the back, where the drums are set up, sounds amazing. Secondly, Jim "Bud" Monti is the house engineer and a great one at that. Jim is also an awesome dude so when I said I wanted to bring POWDER in to track some bass and guitars, he was like "bring it on".

Glenn: What would say are your favourite studios to record at and why?
Phil: Korn because of the last question, sunset sound because of that photo of Van Halen in Studio A and Hensen because of the concrete floors which I think sound better than wood. Also our studio because it's in our home. We totally vibed it out and it's cozy as hell.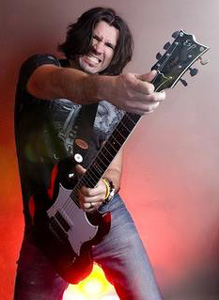 Glenn: What songs on the 'Nothing' album were the most challenging to do and why?
Phil: For me, I'd say "I Don't Believe In Your Smile" because Ninette and i had completely different visions for that song. She won but not because she can probably kick my ass. She won because she was right. I think it came out wonderfully and I couldn't hear it any other way. "State of Mind" was kind of a struggle too. We wrote that one with a friend of ours, Dee Cernile, quite a while ago and never put it on a cd until now because of a questionable section. I could never figure out why the pre-chorus bugged me so much until I put the existing riff in there. It just took it to the right place and fixed what I thought was broken.

Glenn: How long did it take to record the album from beginning to end and what were the most memorable points of the process and why?
Phil: I don't even know. Maybe 4 months but only because we were both doing other gigs and sessions and the process kept getting interrupted. As soon as we gave ourselves a deadline (a CD release party), we knew we had to complete it or be fucked. At some points, we had 2 factories going. I was tracking guitars in the studio and Ninette was editing video footage for the bonus DVD features. I look back and find it very exciting now because the energy was crazy.

Glenn: What do both like and dislike about being performers and making a living through music?
Ninette: I love that everyday is completely different. I'm constantly creating and then I go and perform my art which I put a ton of sweat, love and pain into. Aerial is painful.... But it's the most awesome way of life. It's a very elite group of people on this planet that do what we do and for that I am honored to be apart it.
Dislike? I guess the idea that your never 100% happy with what you do a lot of the times. It's truely a sickness. We are probably the hardest on ourselves and sometimes it makes me sad.
Phil: I love performing. Period. Whether it's in front of 8,000 people or 8. And I'm going to do whatever I can to rock the fuck out of those people. And with the internet, you get an immediate response through blogs and myspace comments. That is a gift. It also truly is a blessing making a living through music and performing. It's all I ever wanted out of life. As far as dislikes go, you've caught me on a good day so I can't think of any. On a bad day, I probably have a whole list (laughs).
Glenn: What are the highlights for you of making the 'Funny Girl' promo video and why and how long did it take to complete?
Ninette: It was really hilarious working with the guys when we did the band stuff and shooting the guys singing on the floor while I sat up above them in the Chanda which is an aerial apparatus while my costume assistant Mlou spun me around to get that effect I was going for as I zoomed in and out! Also, I wanted to incorporate some of my circus skills in the video ... I felt it went with the FUNNY GIRL title. The whole shoot and editing took about 4 weeks give or take a couple of days. It was a f*ck of a lot of work for one person to take on. But I'm glad I did it. And I completely sucked my iMovie program dry..!! He he! I have since moved on to Final Cut Pro so a new POWDER video is in the works.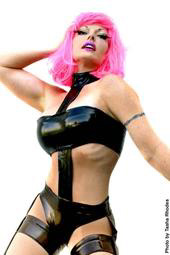 Glenn: What's the usual songwriting process for 'Powder' songs - do you come up with lyrical ideas and then see what happens musically or do you work differently due to their being more technical sounds to many of the songs?
Phil: There really isn't a "usual" process to anything in POWDER. Sometimes Ninette will have an idea or even most of a song together and we'll finish it together and vice versa. We both write lyrics, chord progressions and riffs. Personally, i come up with a lot of stuff when I drive. There's times when you can't get a melody out of your head and then before you know it, you're singing lyrics. The one constant is that Ninette and I both love matching the intensity of the music with the lyrics. No matter what the instrumentation is, it has to meld together.

Glenn: What artists these days would you say have become an influence on you and for what reasons?
Phil: If by "these days" you mean new, I can't say anyone really influences us. We still draw inspiration from the classics I mentioned earlier like Zeppelin and Sabbath but it's funny... we could just finish an amazing show with Ninette spinning and posing on several aerial apparatuses, whipping around a pole, being suspended 20 feet above the stage with a fembot hanging from her neck, all with 4 or 5 costume and wig changes and on the drive back to the hotel, she looks at me and goes, "I'm bored" (wtf?) "what else can I do? I need to come up with some more sh*t". I usually scratch my head in wonderment and reply, "Are you f*ck*ng nuts?".
Glenn: What influnced the lyrics of 'Bottom Of You'?
Phil: Ninette has a weird way of putting things and this was one of them. Falling through the "bottom of you" is like falling deep in love with someone... even the darkest parts.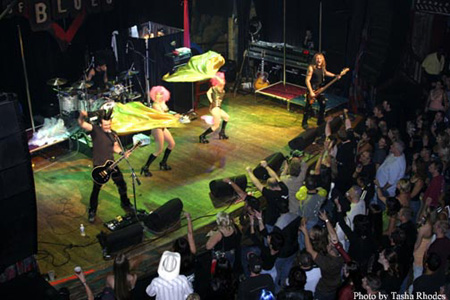 Glenn: Where did the music and lyrical ideas of 'I Don't Believe In Your Smile Come From' as its so different to the rest of the album - what with the orchestral and acoustic guitar sections on it?
Phil: We were looking for a different element that would sit in the song line-up like an intermission. Plus we have so many influences that we thought the fans would get a kick out of this expression. To me this song screamed acoustic guitar but to Ninette, it was more like lo-fi loops and orchestra so we mixed it all up. And then I couldn't deny the jazzy guitar solo even though I'm NOT a big fan of jazz. Once in a while I'll hear something and realize the coolness in the vibe and grab a bit of inspiration from it. That's the beauty of music.

Glenn: Why did you decide on including a DVD with the album and what are your fave parts of it and why?
Phil: As visual a band as we are, it was the obvious next step to include the DVD with the album. Like, "Hey man, you bought this cd because you like or love POWDER or someone that likes or loves POWDER told you to. Well you know what? We're going to give you something to look at too. Let you in on how we made the CD, how we put a show together and let you get to know us a little bit." It's something that I wish my favorites artists did when I was growing up. My favorite parts are studio footage because you're watching "that guy" actually record a track on the record. You're right there. I also love how Ninette cut a lot of her humorous side into scenes. I still laugh out loud when I see that stuff.

Glenn: How long did the DVD take to make and what were the hardest edits to perfect in it and why?
Phil: Ninette put hours upon hours into that DVD but her rhythm and timing are amazing so editing wasn't that difficult for her. It was more about going through an enormous amount of raw footage to find the real magical, interesting and/or comical parts. Ninette's goal was to produce it so that not only the people that personally know us will enjoy it but people that don't know anything about our personalities will also sit back and go "this rocks".
Let them in enough so that there's still a sense of mystery.

Glenn: What's next for Powder?
Ninnete: Vegas baby Vegas.
Phil: oh... and the world, of course.
Glenn: What are the 2 of you most proud of in your careers and why?
NInette: how far the show has come from the very first show POWDER ever did in March 2000!
Wow... Holy f*ck time flies.
Phil: I'm proud of the music we make and the show we put on and how it all touches people in a positive way.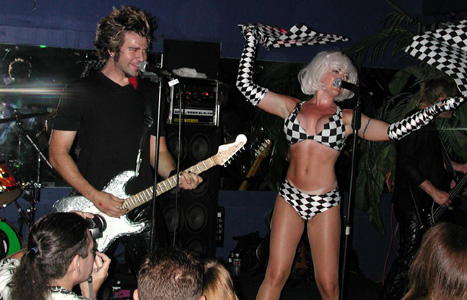 Great Interview - Big thanks to you both!
Check out their new websites - Phil X (www.philx.tv) Ninette (www.silksisters.com)